Mississippi Mud Cake is a delicious combination of moist chocolate cake, creamy frosting, and melted marshmallows! Learn how to make the best ever Mississippi Mud Cake from scratch with this easy recipe.
Chocolate and marshmallows are one of my all time favorite dessert combos. From S'mores Cookies to Rocky Road Fudge this is one flavor pair I'll never pass up.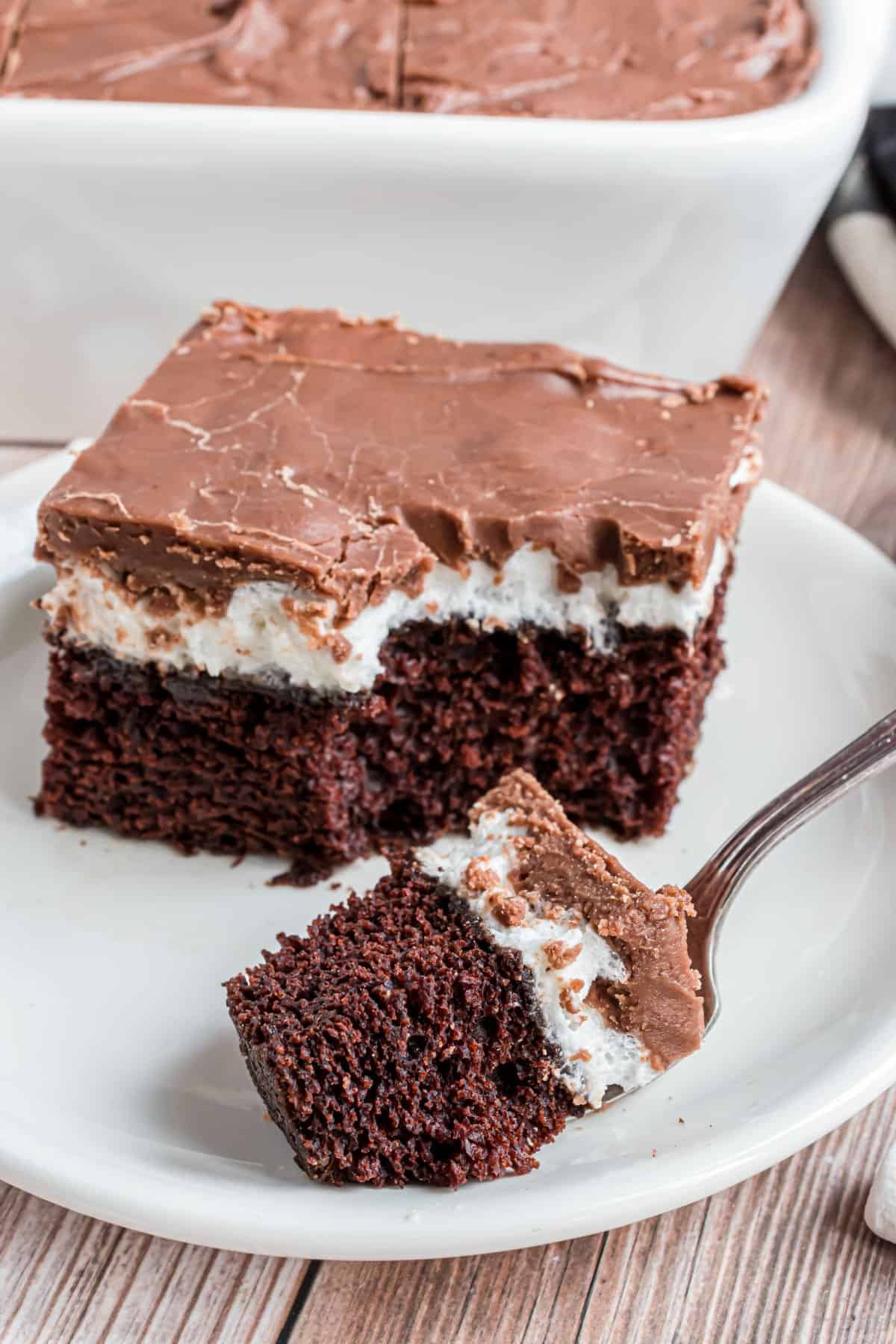 What is Mississippi Mud Cake
Mississippi Mud Cake is a classic chocolate sheet cake with southern origins.
It's made by layering:
Homemade chocolate cake
Melted marshmallow topping
Pour a warm chocolate frosting over the whole thing and dig into unbelievable chocolate decadence!
This recipe is Mississippi Mud Cake just like Grandma used to make. Keep the southern theme by serving this for dessert after a dinner of Mississippi Pot Roast and Corn Casserole.
Even if you're not southern, you're going to love this recipe. It's basically a chocolate lover's paradise. And easier to make than you might think!
If you love today's cake, be sure to try our marshmallow brownies. Same concept, but instead of cake we swapped it out with our favorite brownie recipe.
Ingredient Notes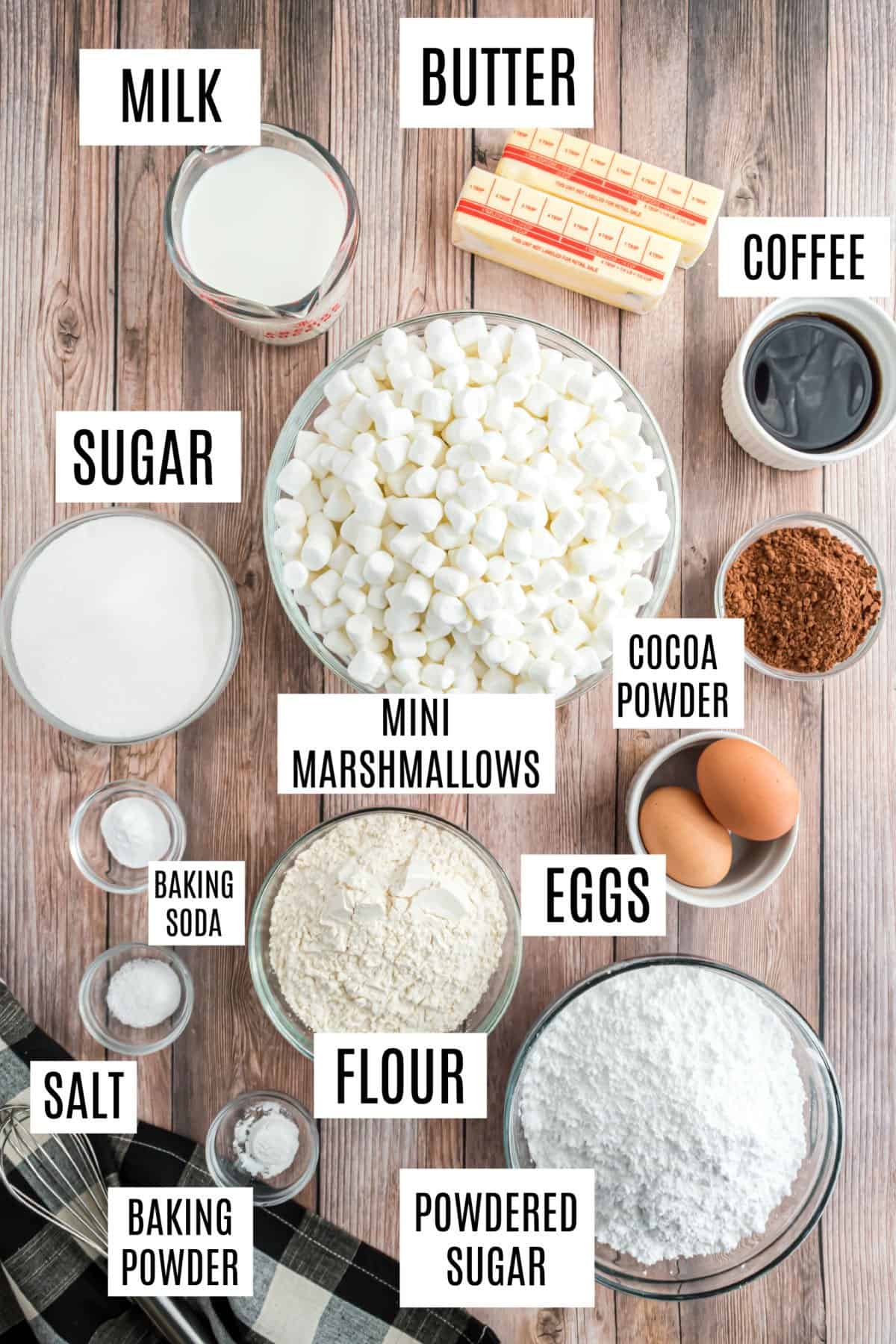 Hot brewed coffee. No, it won't make your cake taste like coffee! This is my secret ingredient for chocolate cakes with the richest chocolate flavor. The bitter coffee adds amazing depth to the cocoa.
Butter. Be sure to choose unsalted butter when baking.
Eggs. Help the cake batter stay moist and combine the dry ingredients.
Unsweetened Cocoa Powder. Be sure to choose unsweetened, and don't use Dutch Processed in today's recipe!
Mini marshmallows. You'll need a full 10 ounce bag for the melted marshmallow topping on this Mississippi Mud Cake.
Easy Instructions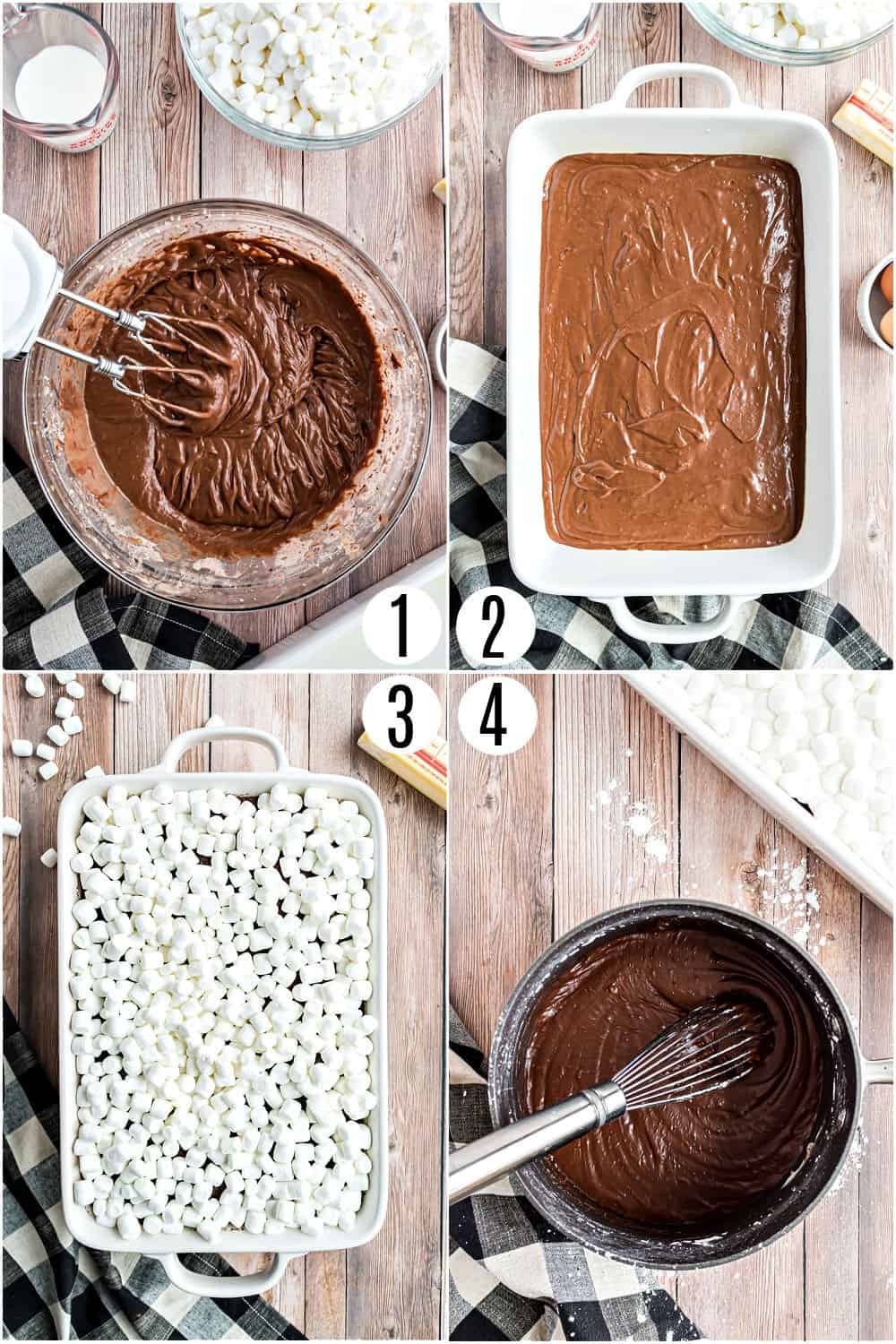 Make the chocolate cake batter. Feel free to swap this out with a devils food chocolate cake mix if you prefer. However, if you are wanting the best, you've got to try our homemade cake at least once!
Marshmallow layer. While the cake is warm, add the marshmallows and return to the oven for another 3 minutes to melt the marshmallows. (It's okay if they're not fully melted here!). Let the cake cool completely while you prepare the frosting.
Chocolate frosting. Pour the warm frosting over the cooled cake.
Chill. Chill the Mississippi Mud Cake for at least 1 hour before serving. It's delicious served cold straight from the fridge!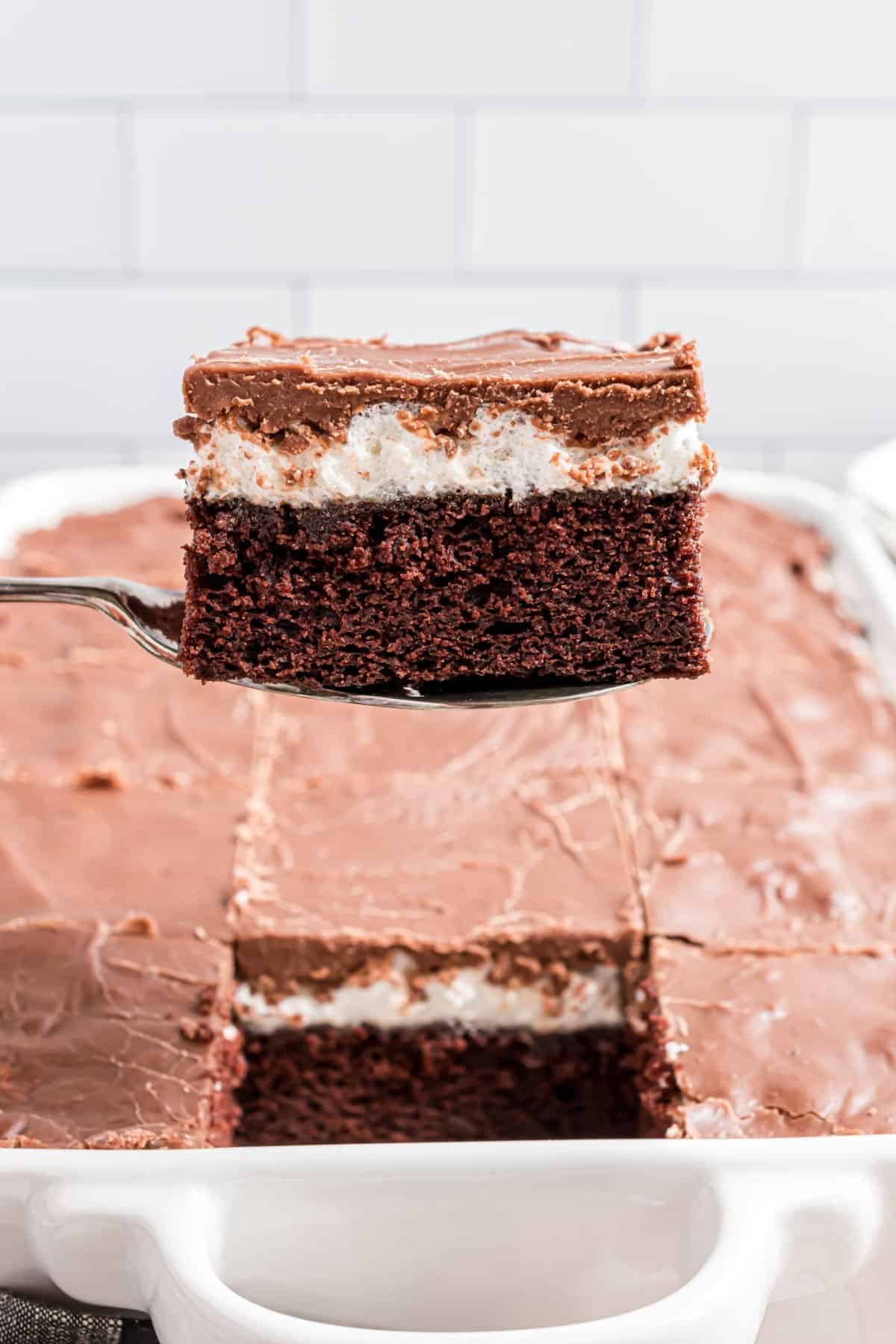 Tips and Tricks
How to prevent cake from sticking. Spray the baking pan with baking spray OR use my Homemade Cake Release.
Keep covered. Add a layer of plastic wrap over the cake pan while Mississippi Mud Cake chills. This keeps everything moist and prevents the frosting from getting dry and crackly.
Marshmallows. If you prefer your marshmallows lumpy, you can skip the melting of marshmallows and just pour the chocolate frosting over the top. You'll have a "bumpy" appearance that tastes delicious.
Optional toppings. Add more mini marshmallows or chipped pecans to Mississippi Mud Cake before serving for an extra touch.
Storing. I recommend storing this cake in the refrigerator. If you prefer to serve it room temperature, remove from the fridge about 30 minutes before serving.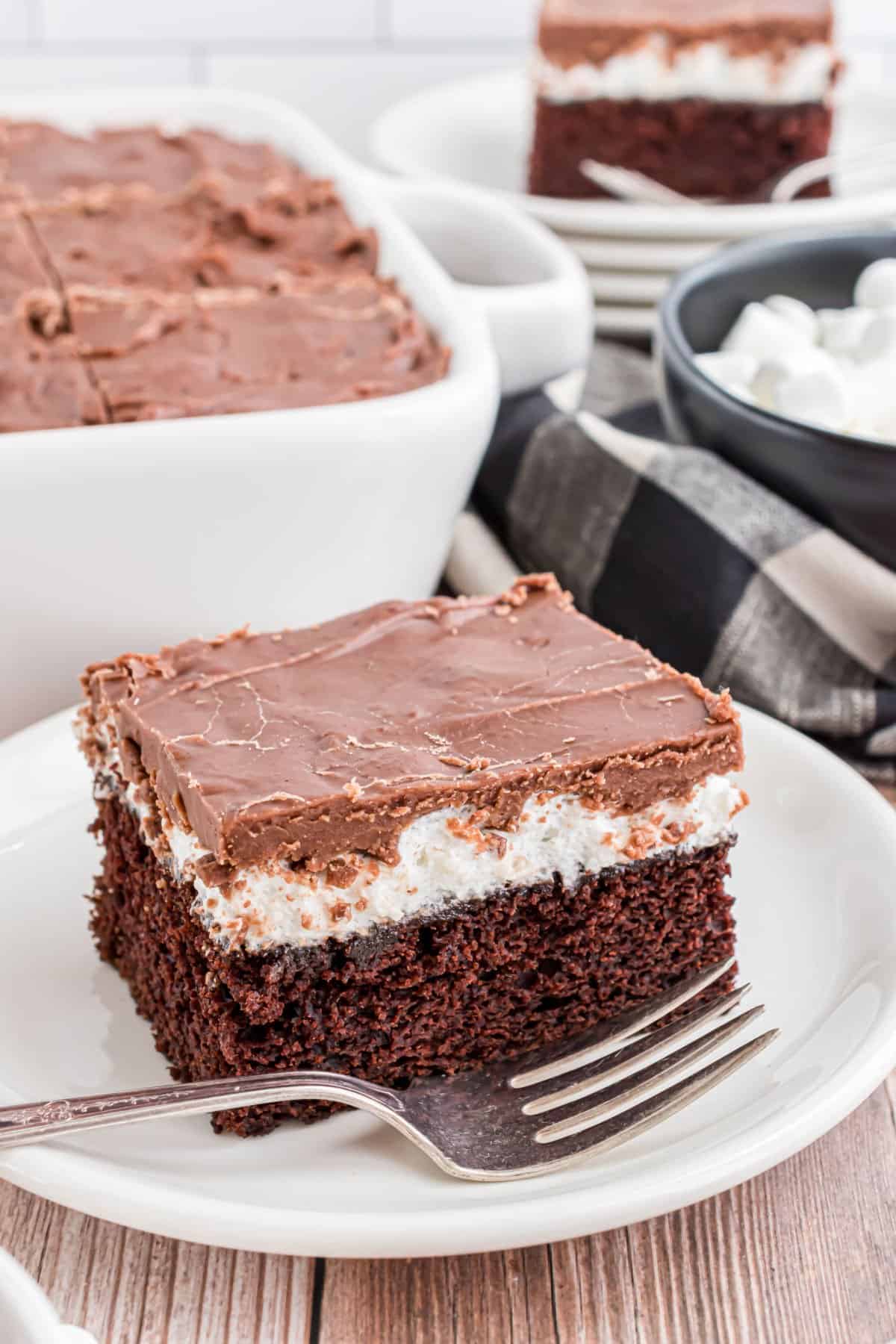 Recipe FAQs
Why did my mud cake crack on top?
If your frosting layer is cracking while the Mississippi Mud Cake chills, you may have forgotten to cover the pan tightly with plastic wrap while refrigerating.
Can I make these with regular marshmallows instead of mini?
Yes, just chop them into smaller pieces first so they soften and melt at the same rate.
What kind of pan do I need for Mississippi Mud Cake?
I use a 9 x 13 baking pan for this recipe and most of my sheet cakes. Works like a charm every time.
Fudgey chocolate + gooey marshmallows + frosting. Need I say more? Mississippi Mud Cake proves that the best classic desserts never go out of style!