This easy Butter Rum Fudge recipe is packed with flavor! Your family and friends will think you spent hours in the kitchen making this special treat, but you'll know it took just minutes of effort to make fudge this good.
Homemade candy can be so easy and rewarding. For example, try your hand at some copycat Reese's cups or easy chocolate fudge.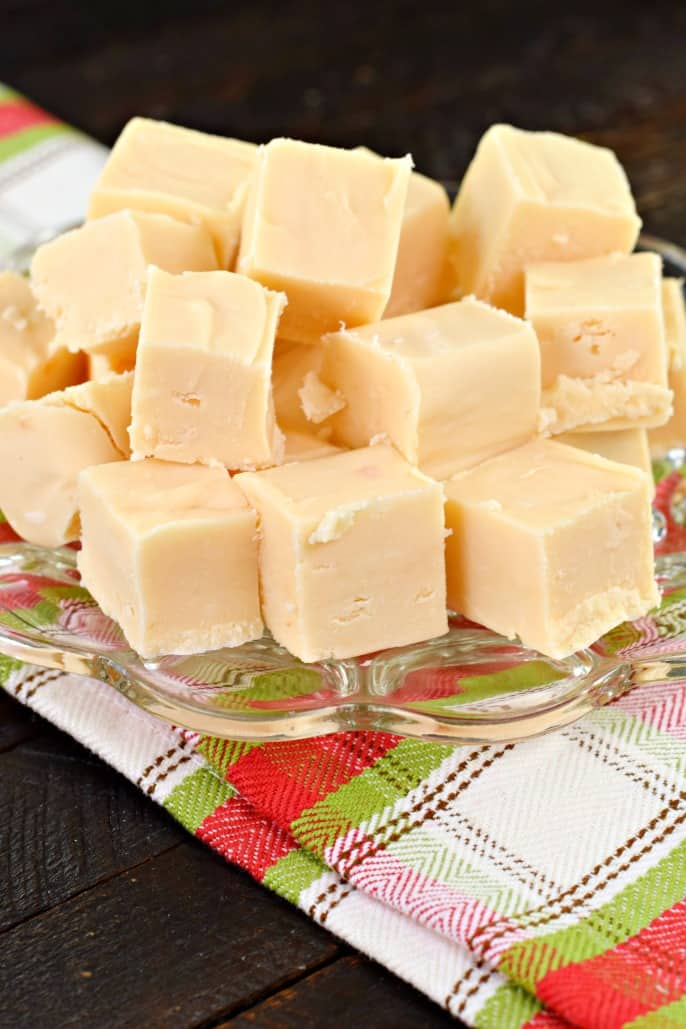 Holiday Fudge Recipe
Growing up, I loved those Brach's Royals (filled caramels), and my favorite flavor was the Butter Rum. Does anyone remember these?
That rich buttery flavor was the inspiration for today's fudge recipe. It turned out even better than I imagined. The flavor is nostalgic for me but to my kids it's just plain delicious.
If you're looking for a new fudge recipe to add to your holiday baking list, give this one a try. It's going on my regular rotation along with Eggnog Fudge and Candy Cane Fudge.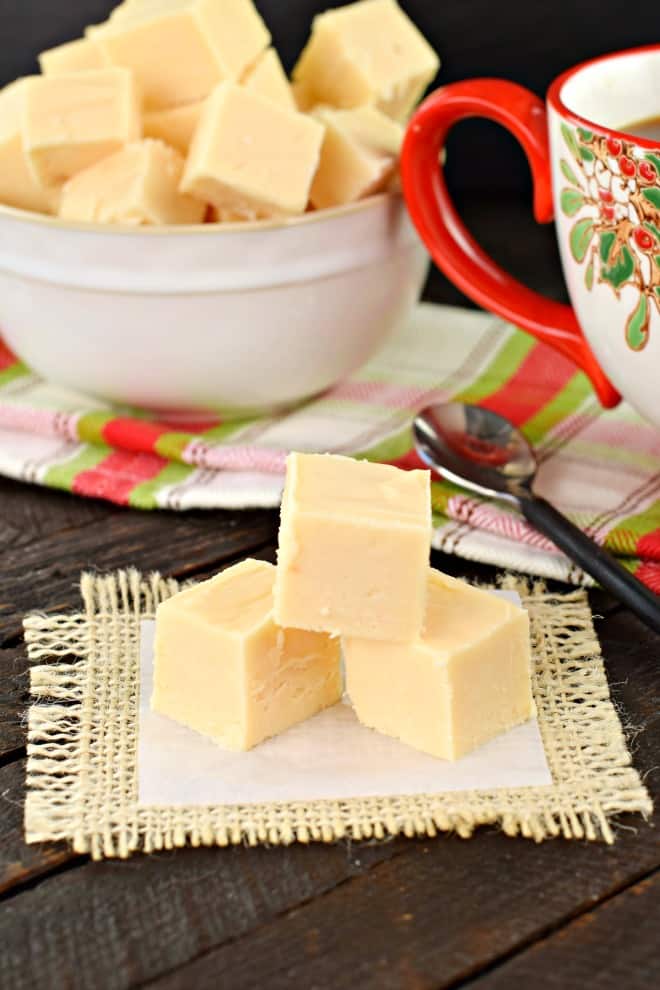 Ingredient Notes
Rum extract – This handy little extract is an amazing addition to the basic white chocolate fudge. Grab a bottle for this recipe and then you'll be prepared to make Eggnog Truffles too!
Butterscotch morsels – You'll find these in the baking aisle next to the chocolate chips.
White chocolate morsels – The white chocolate chips work best for quick melting in this recipe. If you can't find any, you can use bars of white chocolate cut into tiny pieces as a substitute.
Marshmallow cream – Also called marshmallow fluff, this ingredient is my secret to making soft and smooth fudge without a candy thermometer.
Heavy cream – Remember to use real heavy cream for making homemade fudge, not milk!
Warning: once you learn how to make fudge without a candy thermometer you're going to want to make it all the time.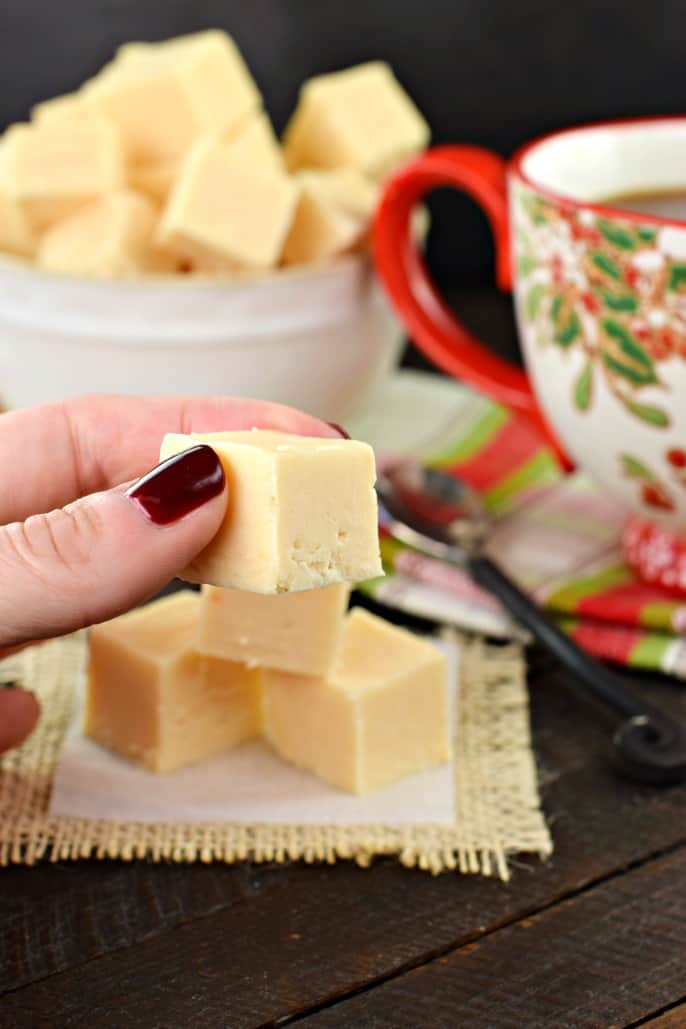 Step by Step Instructions
STEP 1. Prepare the morsels and marshmallow
Add white chocolate and butterscotch morsels to a bowl along with the marshmallow fluff and rum extract, then set it aside.
STEP 2. Boil the cream and sugar
Bring butter, sugar and heavy cream to a boil in a saucepan, then let it boil for 5 minutes and keep stirring.
STEP 3. Combine
Immediately pour the hot butter mixture into the bowl with the marshmallow cream and morsels. Use electric beaters or a stand mixer to beat everything together until smooth.
STEP 4. Chill
Pour the fudge into a baking dish lined with parchment paper and let it chill in the refrigerator for at least two hours to set.
Once set, cut the fudge into bite sized pieces and enjoy.
Pro Tip: For freshest tasting fudge, cut only what you will be eating right away then store the rest as a block until you're ready for more!
Recipe FAQs
Does butter rum fudge need to be kept refrigerated?
Once it's set, you can keep the fudge at room temperature in an airtight container.
How long does fudge keep?
Fudge will stay good for about two weeks. Cut off only what you will be eating right away for the best and freshest taste!
Do you need a candy thermometer to make fudge?
Nope! Just make sure to let the fudge mixture come to a full rolling boil and keep it boiling for 5 minutes.