Craving Rice Krispies but also chocolate and peanut butter . . . and butterscotch? Scotheroos are chewy cereal bars with a rich peanut butter flavor and topped with melted chocolate. An easy no bake treat!
For more gooey fun treats, try our Fruity Pebbles treats next. So fruity and delicious. Or give our Lucky Charms treats a try for a crunchy sweet treat.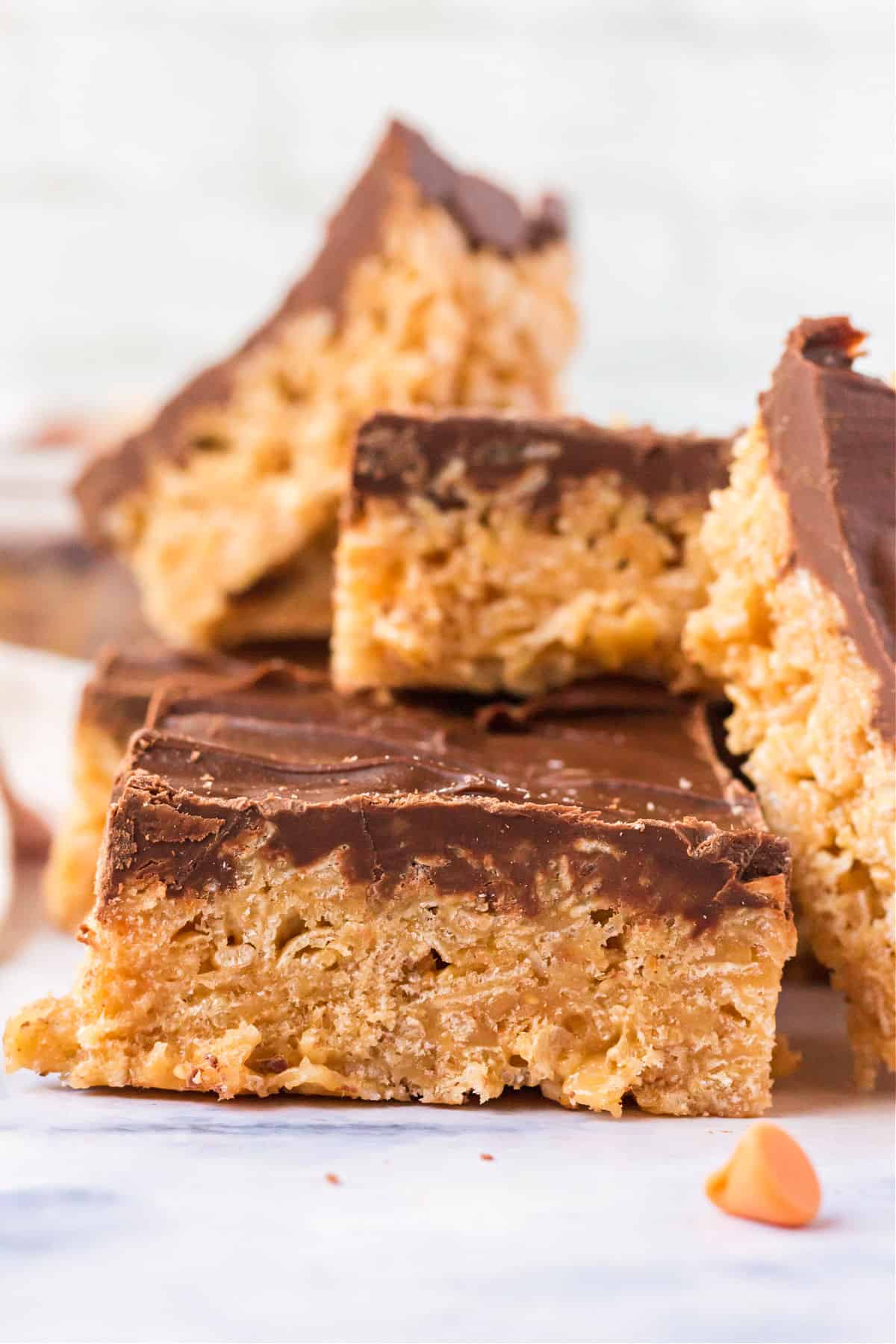 What are Scotcheroos
Everyone knows that Rice Krispie treats are my favorite treat. Not only are they easy to make and serve, you can add all types of mix-ins to create a treat everyone loves.
Our peanut butter krispie treats are always a hit. And while they are similar to scotcheroos, they are intriguingly different.
Scotcheroos are a delicious blend of Rice Krispie cereal, chocolate and butterscotch chips, and peanut butter. This magical combination of ingredients turns into a rich, chewy, and decadent dessert bar that all your friends will absolutely love.
One of the best things about our scotcheroo recipe is that it requires no baking! Instead, you use a simple candy-making technique to execute the perfect texture for the scotcharoos. I always feel like a professional candy maker after I've made a batch of these easy bars!
We Love This Recipe Because It's…
Super rich, chewy, and chocolatey
A gourmet, elevated Rice Krispie treat
A 20-minute, no-bake dessert
The perfect finger-food for parties or giving away
Once you get the hang of this recipe, you can customize it to be as soft or as crunchy as you prefer. The resulting dessert is a sheet of ooey gooey peanut butter bars topped with a thick layer of melty butterscotch and chocolate—perfect for slicing and sharing.
Be sure to give our holiday scotcheroos a try for Christmas!
Ingredient Notes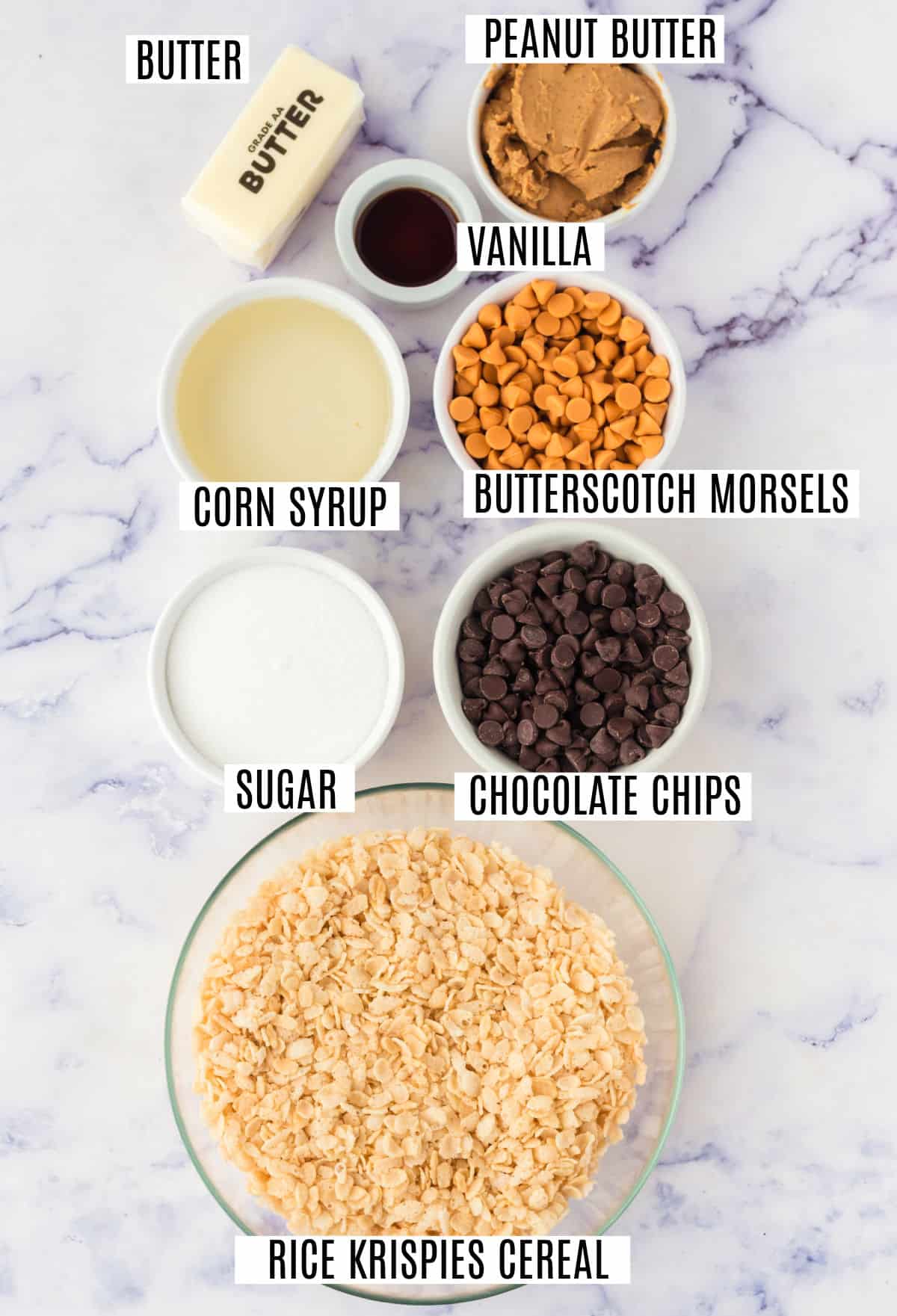 Rice Krispies—Brings a light and airy crunch that everyone loves!
Peanut Butter—Creamy and salted will add the best flavor and texture. You can use a natural peanut butter, just be sure to stir it well, before using.
Semi-Sweet Chocolate Chips—Or dark chocolate chips for an even bolder chocolate flavor.
Butterscotch Baking Chips—The "scotch" in scotcharoos. A pleasantly surprising flavor that totally elevates the chocolate topping.
Granulated Sugar— Sweetens your Rice Krispie mixture and helps to keep everything stuck together.
Corn Syrup—Your binding agent that keeps your cereal mixture from crumbling.
Salt—Just a pinch will help to enhance the other sweet flavors. Learn why we love to use kosher salt in baking.
PRO TIP- We love making our own homemade vanilla extract, but if using store bought, be sure it's pure extract, not imitation (for best flavor).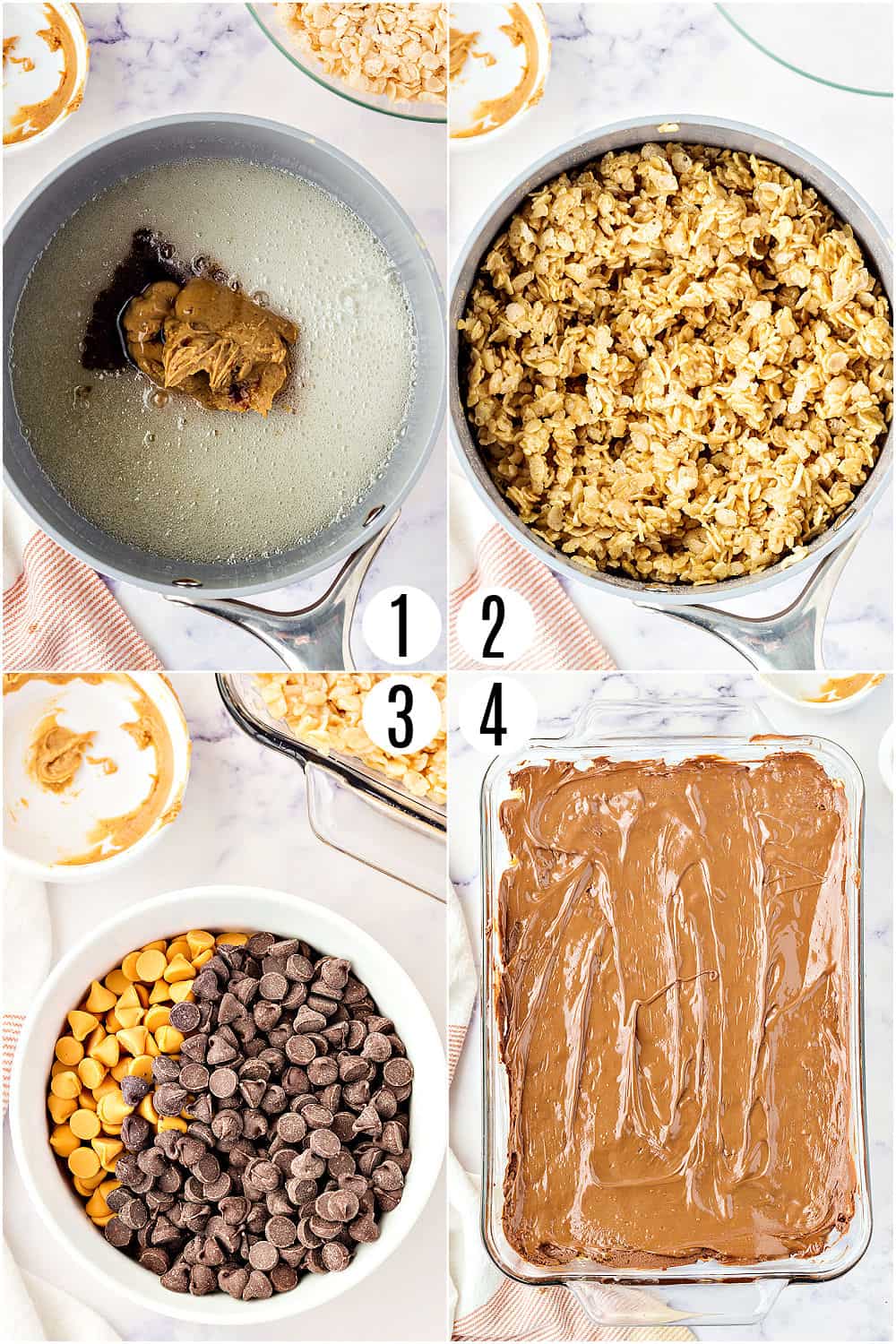 Tips and Tricks
Ingredients: Be sure to start with fresh ingredients. Stale cereal will result in stale bars.
Storeage: You can store these treats in the fridge for up to 7 days or on the counter for up to 5 days. Either way, they should be stored in an airtight container. They can be enjoyed warm, at room temperature, or even cold!
Tools: Make sure you have a large enough pot to hold all the Rice Crispies or you will have quite a mess on your hands.
Temperature: Keep an eye on the temperature of the sugar mixture—you will need to remove it from the stove very quickly. If you want a softer bar, take it off the heat as soon as it reaches 215-220°F. If you want a chewier bar, you can allow the mixture to cook for 30 more seconds.
Warm them Up: If you store these bars in the fridge, I like to pop them in the microwave for 15-30 seconds to warm them up a little bit before I eat them. This softens up the bar without causing the chocolate to get too melty.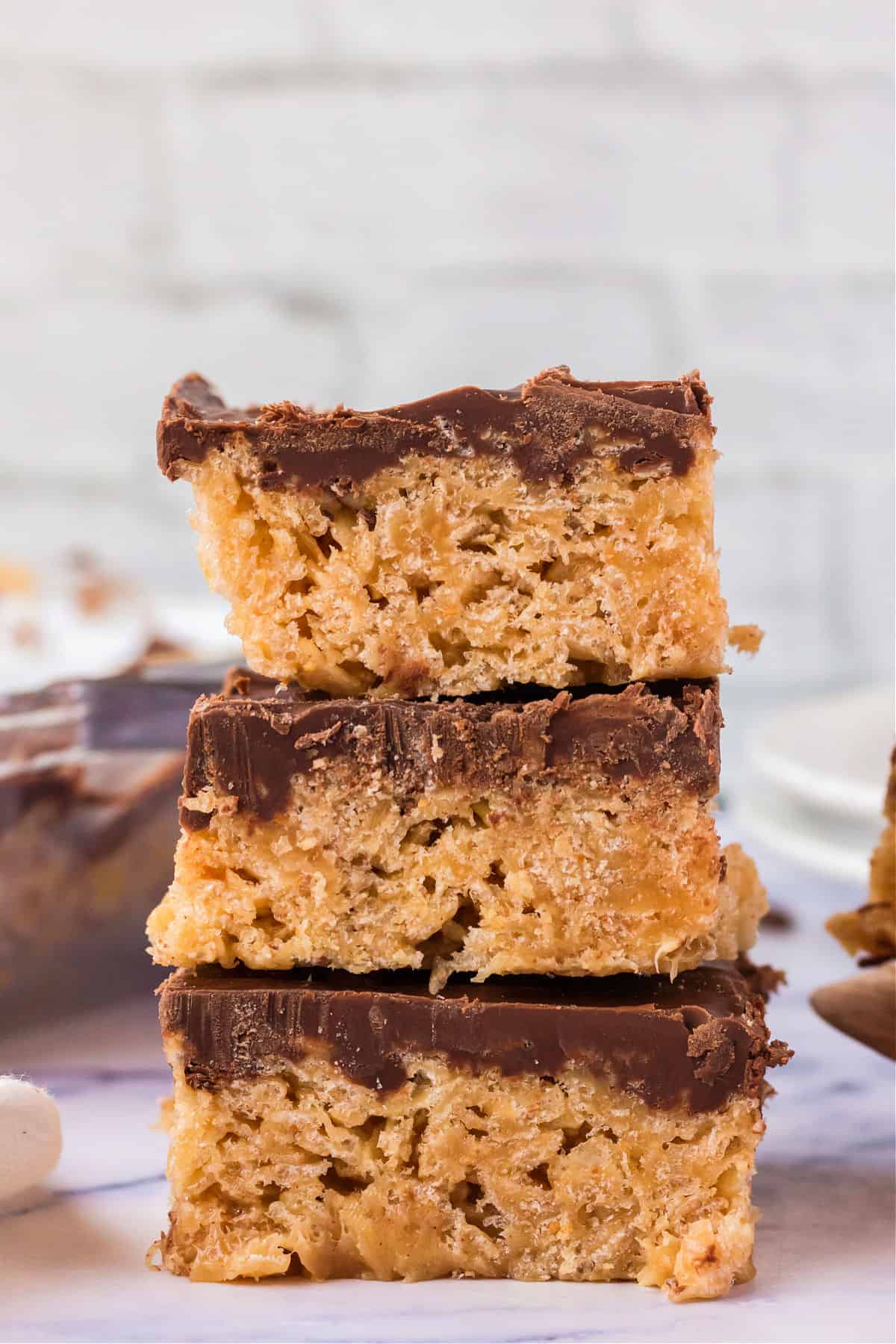 Recipe Variations
Marshmallow scotcheroos—Instead of making a corn syrup/sugar mixture, melt together marshmallows, butter, and vanilla. Then add the peanut butter and cereal as normal. The resulting bars will have the texture of regular Rice Krispie treats.
Vegan scotcheroos—Just use vegan butter and dairy free chocolate chips! Oh, and be sure to opt for the corn syrup instead of honey.
Gourmet scotcharoos—Add fancy garnishes like crushed peanuts or toffee. For themed scotcheroos, add sprinkles (or drizzle first with white chocolate) to your Rice Krispie mixture. Whether it's Halloween, Christmas, the 4th of July, or even an anniversary, you can make these festive for any party!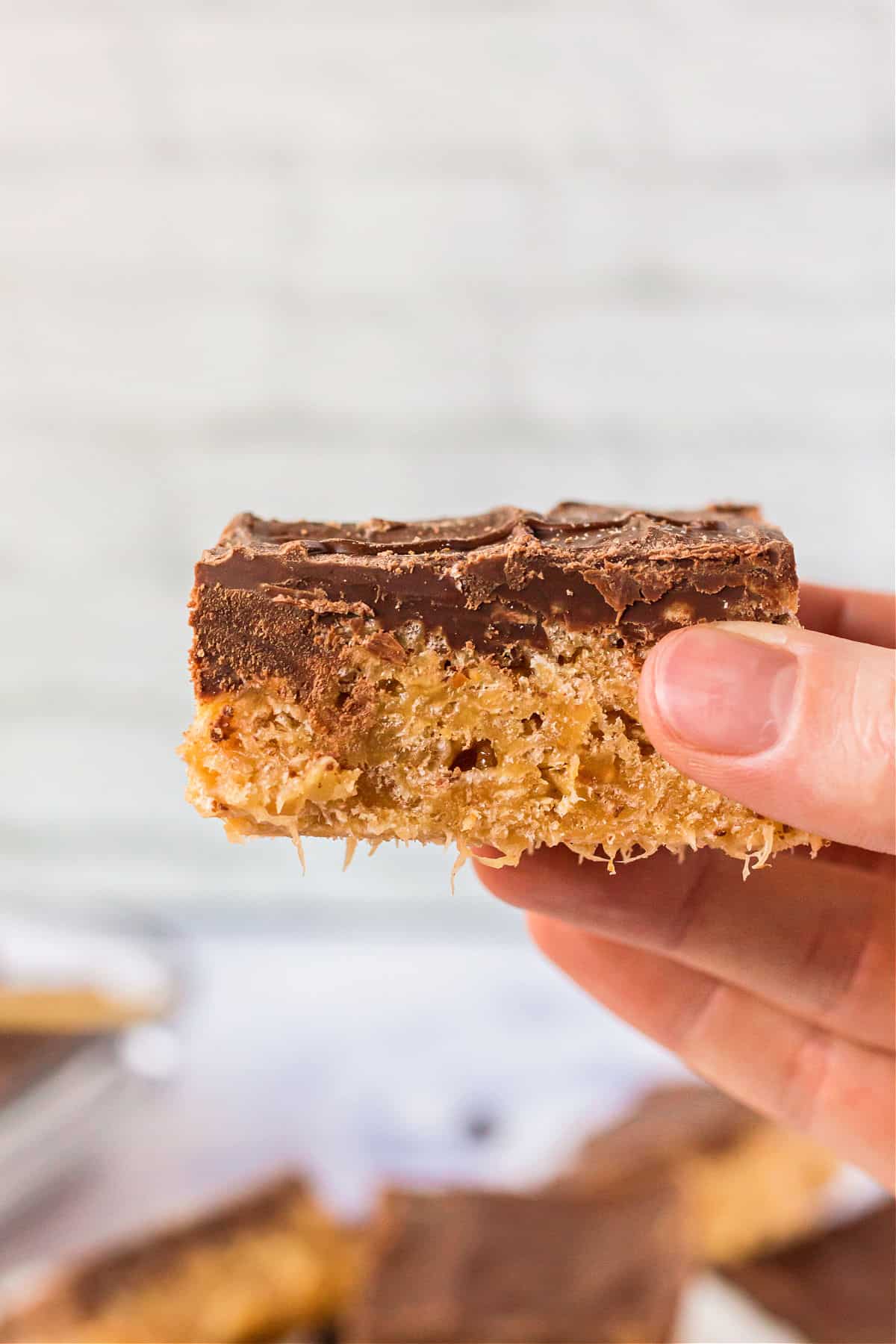 Frequently Asked Questions
Can I make scotcharoos without corn syrup?
es! Simply swap it out for honey. The finished bars will taste a bit different, but will be better for you and just as sweet and chewy!
Why are my scotcharoos dry and hard? How do I make soft scotcharoos?
Scotcharoos will turn hard if you cook the sugar and corn syrup together for too long. To make soft scotcharoos, cook the sugar and corn syrup at a lower temperature, usually peaking between 215-220oF. Once it reaches this point, quickly take it off the heat and mix in the peanut butter, vanilla, and Rice Krispies.
Are scotcharoos a Midwest thing?
They are super popular in the Midwest, especially Iowa! However, experts can't seem to pinpoint where the first scotcharoos originated.
More Classic Desserts