These White Chocolate Cranberry Oatmeal Cookies are chewy, sweet and so easy to make. Thick oatmeal cookies sweetened with brown sugar and packed with cranberries and white chocolate!
Raise your hand if you LOVE oatmeal cookies! I've been making (and gobbling down) Oatmeal Chocolate Chip Cookies for years. This version with white chocolate and cranberries might be my new favorite.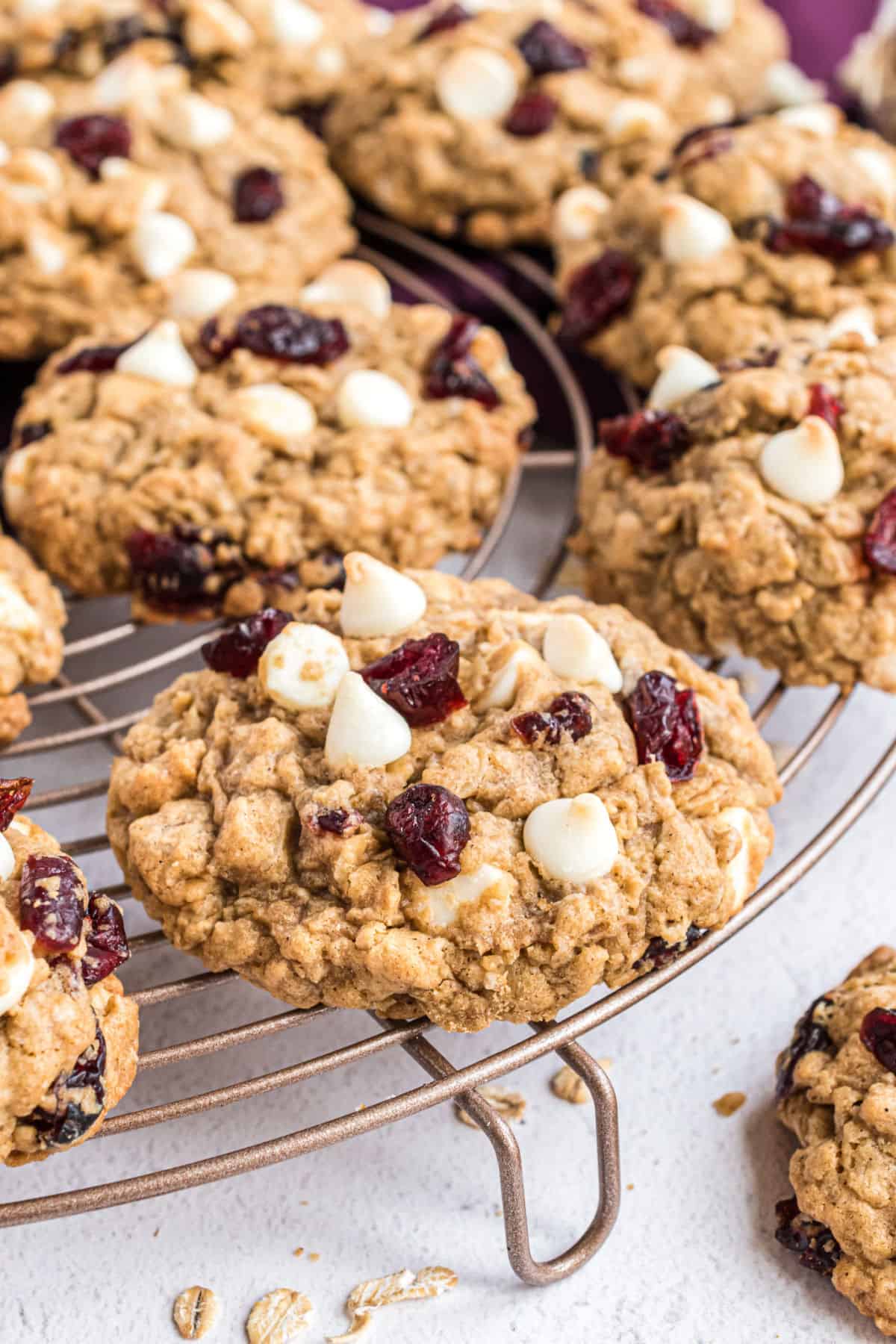 Why this Recipe Works
In my family, there are two types of oatmeal cookie lovers: the ones who want chocolate in their cookies and the ones who want dried fruit. I happen to be both.
Give me a chewy oatmeal raisin cookie or one stuffed with chocolate chips and I'm happy either way. A few years ago, I tried making oatmeal cookies with dried cranberries instead of raisins.
They were even better.
This recipe takes that basic oatmeal cranberry cookie and adds in sweet morsels of white chocolate. The result is an easy dessert that everyone in my household agrees is DELICIOUS.
You can even make the dough ahead of time and freeze it. Then, you're never more than few minutes away from decadent fresh baked cookies.
White Chocolate Oatmeal Cranberries are simple to make but have an impressive flare! Serve them with a glass of cold milk or your afternoon coffee.
And in case you're wondering, these are quite different from a classic cranberry white chocolate cookie. The oatmeal gives these a whole new dimension of texture and flavor!
Ingredient Notes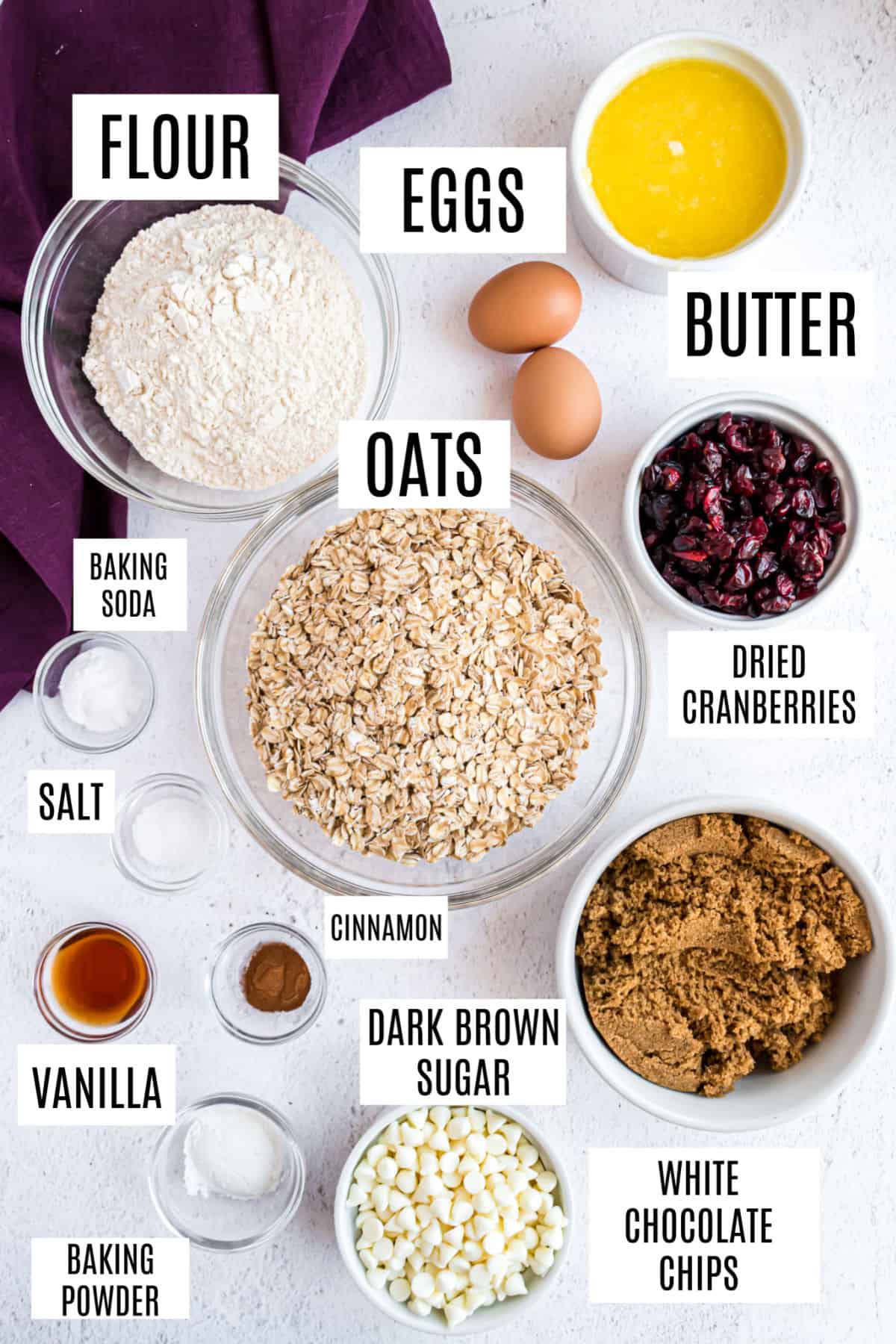 Old Fashioned Rolled Oats. Also called "whole" oats. Do not sub quick oats here! Quick oats will absorb the moisture of the dough and make the cookies crumbly.
Dark brown sugar. I prefer this to light brown sugar here for its richer molasses flavor and higher moisture content.
Vanilla extract. Use my Vanilla Extract recipe for even better flavor.
Unsalted butter. Melt the butter and let it cool slightly before using in the oatmeal cranberry cookies.
Dried Cranberries. Use a fresh bag of Craisins for this recipe, if you start with stale craisins, you end with stale craisins.
Easy Instructions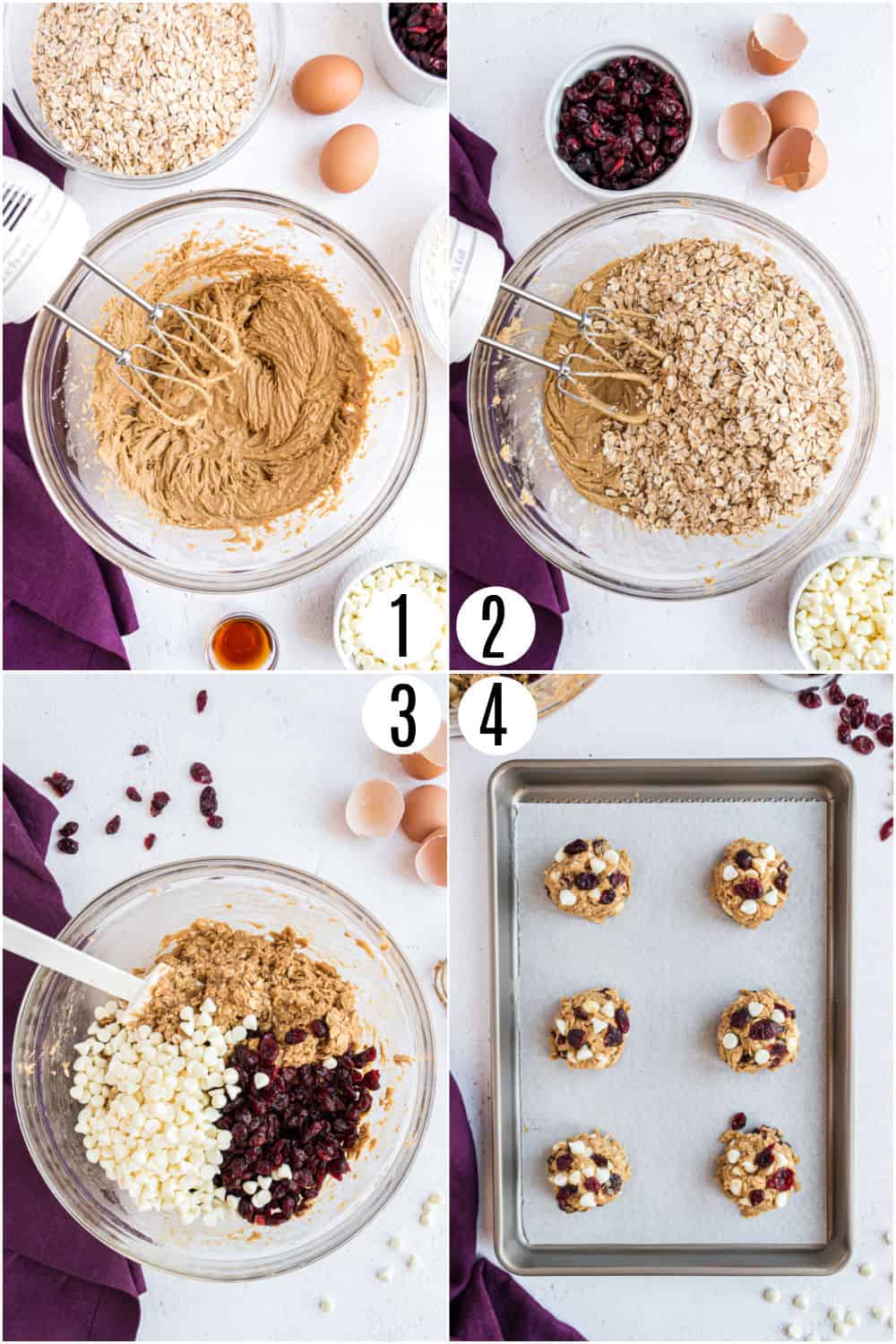 STEP 1. Make the dough
Combine dry ingredients in a large mixing bowl. In another bowl, beat butter and brown sugar with an electric mixer. Beat in eggs and vanilla.
Add the dry mixture to the wet and mix until just combined. Fold in the oats, 1 cup of dried cranberries and 1 cup of white chocolate chips.
STEP 2. Chill
Cover the dough with plastic wrap and let chill in the refrigerator for at least an hour. Meanwhile, preheat the oven and line a cookie sheet with parchment paper.
STEP 3. Bake
Drop cookie dough onto the prepared baking sheet by the spoonful. Press a few more white chocolate chips and cranberries into each one. Bake cookies for 10 to 12 minutes.
Let oatmeal cranberry cookies cool for 5 minutes on the baking sheet. Then transfer them to a wire rack to finish cooling.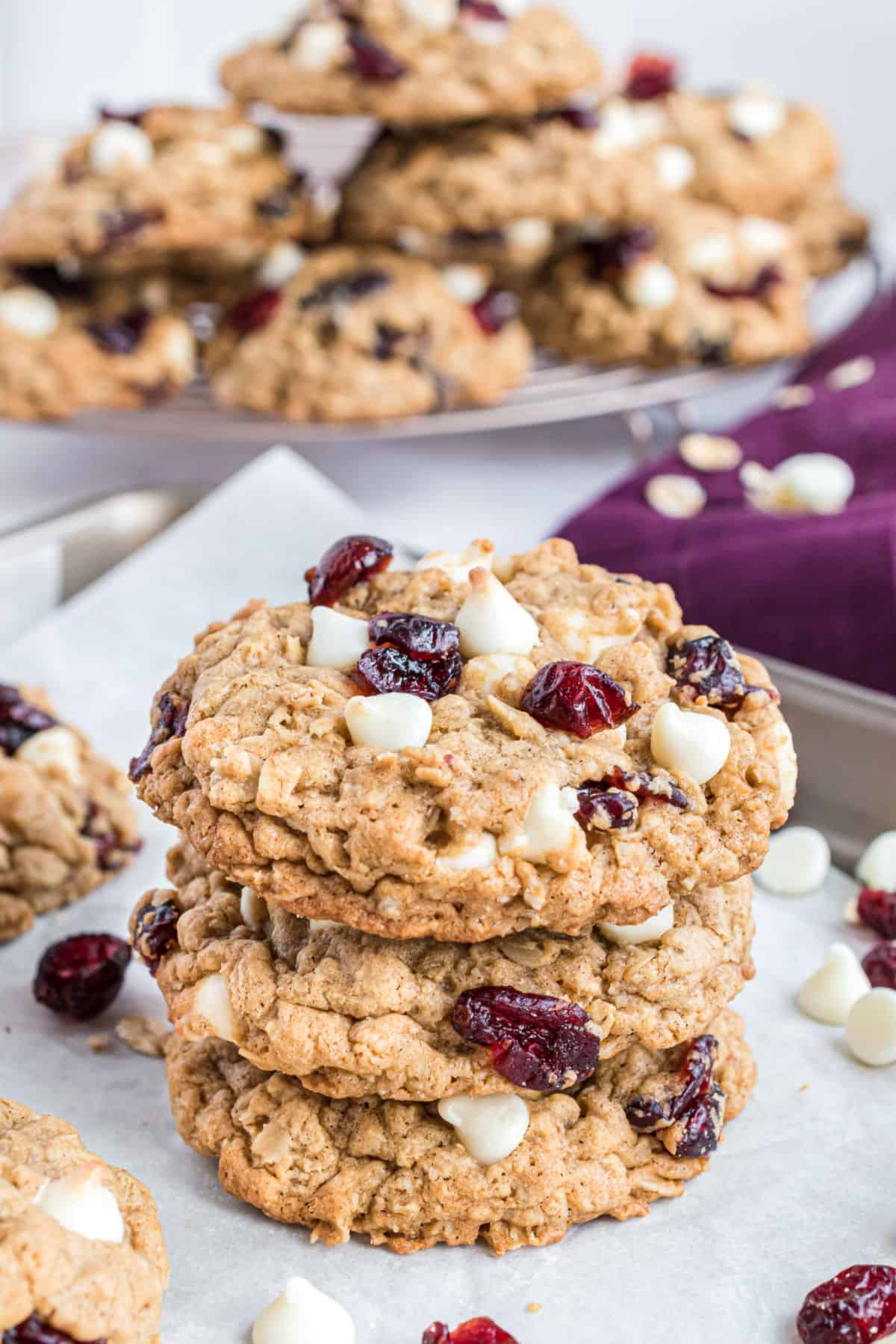 Tips and Tricks
Do not over bake. The cookies are done when the edges have started to brown. The center of the cookies will still appear soft. They continue to bake on the baking sheet after you take it out of the oven.
Freezing dough. Scoop the cookie dough into balls and let them freeze until solid on a baking sheet. Then, transfer to freezer bags and store for up to 3 months.
Baking frozen cookie dough. No need to thaw the cookie dough before using. Just place frozen cookies on the baking sheet and add 1 to 2 minutes of additional baking time.
Recipe FAQs
Why do you add more white chocolate chips and cranberries on top of cookies before baking?
Pressing the chocolate and cranberries gives these cookies a more enticing appearance. The cranberries and white chocolate are more noticeable than if you just fold them into the dough.
Are rolled oats the same as steel cut oats?
No, rolled oats and steel cut oats are not the same. Steel cut oats are much coarser and give the cookies an unpleasant texture and taste. Make sure to use old fashioned rolled oats only in this oatmeal cranberry cookies recipe!
Can you freeze these cookies after baking?
Sure, go ahead and freeze baked cookies if you like! They'll keep well in freezer bags for 2 – 3 months.
I'm in a hurry! Do I have to chill the dough before baking?
I strongly recommend letting the dough chill for a full hour. This helps the cookies develop a more pronounced brown sugar flavor and a super chewy texture. I promise it is worth it. If you need a cranberry oatmeal cookie recipe with no chill time required, check out my classic Oatmeal Raisin Cookies. Swap the raisins for cranberries and they'll be delicious!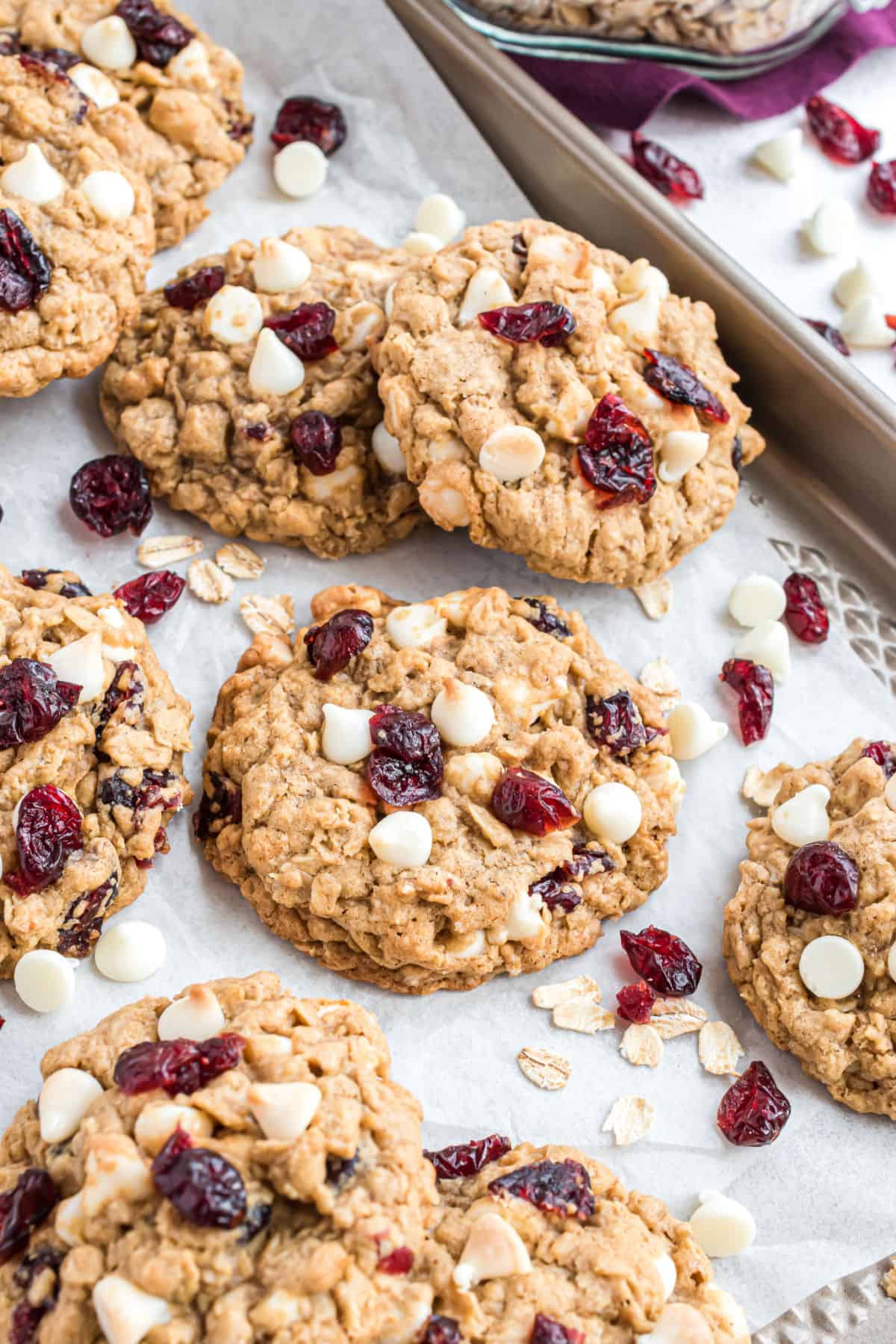 Extra chewy with a rich brown sugar flavor and flecks of white chocolate, these Oatmeal Cranberry Cookies are to die for! Bake up a batch today and watch how quickly they disappear.