Chocolate Hazelnut Tart is filled with silky chocolate mousse and drizzled with ganache for one of the dreamiest chocolate desserts you'll ever make. As beautiful as it is delicious, this chocolate tarte steals the show!
Love Nutella? Try these Ferrero Rocher Cupcakes. Topped with a dreamy nutella buttercream, these are the decadent treat you've been craving!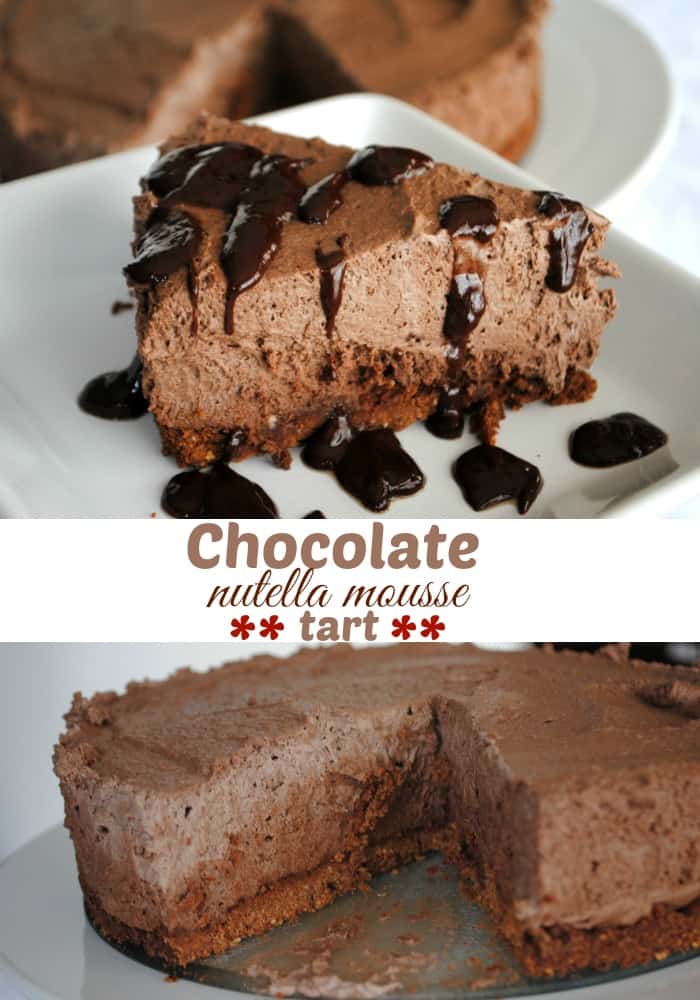 Why this Recipe Works
The only thing better than a chocolate tarte is a chocolate tarte with Nutella. And this, my friends, is it. The dessert of every chocolate lover's dreams.
I originally made this tart for Valentine's Day because nothing says "love" like chocolate on chocolate on chocolate. Make this for your special someone or just for yourself–you deserve love, too!
This tart recipe starts with making a rich crust with white chocolate and hazelnuts.
Then you top it with a creamy, nutella mousse and drizzle with chocolate ganache. So indulgent and so very worth it.
How to make crust for a chocolate tarte
If you've never made your own tart before, the crust can be the most intimidating step. Don't be worried–it's easy! Much easier than a pie crust!
Here's my method:
STEP 1. Pulse hazelnuts in food processor with sugar until finely ground. It should resemble a flour.
STEP 2. Add flour, cocoa and salt to the food processor, then pulse in the butter, until a soft crumbly dough forms.
STEP 3. Butter the bottom of a spring form pan. Spread the dough into the pan and–here's the fun part–poke it with a fork all over.
Bake the crust by itself in a 375 degree oven for 18-20 minutes. Cool completely before adding the chocolate mousse!
Nutella Chocolate Mousse
This Nutella Chocolate Mousse is almost beyond words. You know by now that I love baking with nutella and spreading it on just about everything imaginable, but I wasn't prepared for just how perfect it would taste in fluffy mousse form.
Making chocolate mousse from scratch takes a few steps but the results are well worth the while.
Here's what you do:
STEP 1. Make a gelatin mixture
Pour cold water in a sauce pan and sprinkle with gelatin. Let the gelatin powder absorb the water (bloom) for a couple of minutes, then heat it on low. Whisk the gelatin and water together for a few minutes to combine, then remove it from heat.
STEP 2. Mix with Nutella
In a mixing bowl, beat the gelatin mixture with Nutella and mascarpone cheese. Set aside.
STEP 3. Add whipped cream
In another mixing bowl, beat whipped cream with cocoa powder and sugar until soft peaks form. This takes several minutes depending on the strength of your beaters.
Fold in the Nutella-geltain mixture. Pour over cooled crust and refrigerate for several hours (or overnight).
How to remove tart from pan
You can slice and serve this chocolate tart right from the insert in your spring form pan!
Run a plastic knife along the inside edges of the pan. Release the spring and press up the inserted plate. Your tart should be set up nicely!
Serving Suggestions
Ahh, my favorite part! When you serve this tart, you drizzle a little creamy chocolate ganache over each slice. The contrast of the cold chocolate mousse and the warm ganache is absolute perfection.
I make this ganache by melting semi sweet chocolate into heavy cream on the stove. Then you pour as much of the chocolate ganache over your tart as you like. Simple, beautiful and always delicious.
Skip the ganache and use homemade whipped cream instead. Serve with some fresh berries!
Storing
Chocolate Hazelnut Tart will keep well covered in the fridge for about 3 days. I like the taste when it's cold, but you could also allow it to come to room temperature before serving.
Make the chocolate ganache immediately before serving so it doesn't soak into the crust and make the whole tart soggy!
More topping ideas
I kept this tart all chocolate (and hazlenut) this time, but it's perfect for dressing up with other garnishes! Try decorating the tart with raspberries or sliced strawberries for Valentine's Day or for adding a pop of color.
Chocolate chips, Oreo Cookies or chopped nuts would be tasty, too!
Enjoy! And tell each other "I love you." With chocolate.And nutella. And lovey dovey gushy stuff.
More Delicious Desserts
Chocolate Hazlenut Tart with Nutella Mousse is the dessert every chocolate lover will rave over. No need to wait for a special occasion–you need chocolate tarte in your life now!