A new fall favorite, the Mini Pumpkin Butterscotch Muffins may be small, but they are big with flavor! This recipe is freezer friendly too!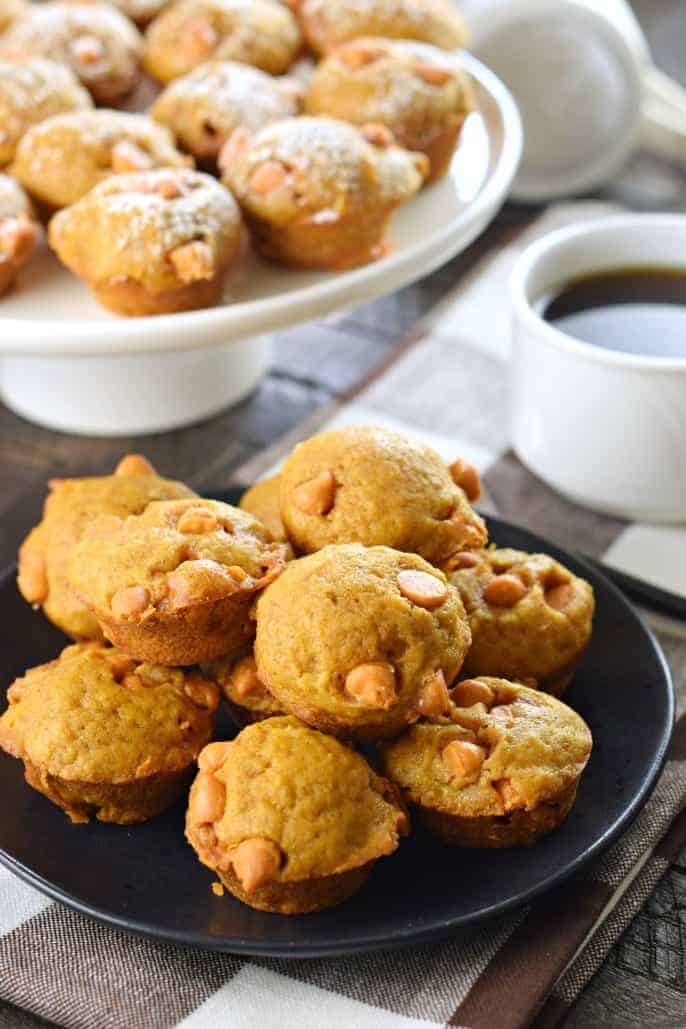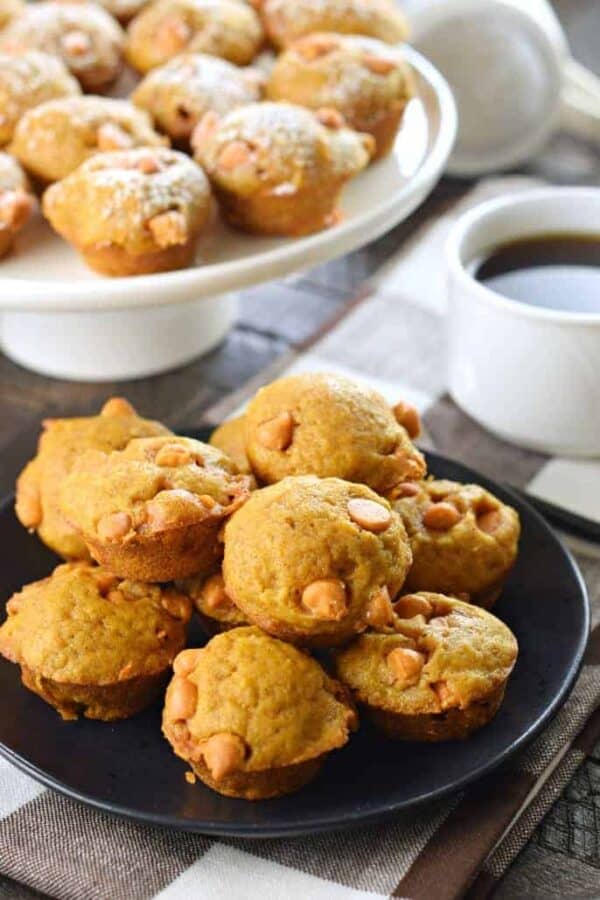 Earlier this season I bought a dozen jars of canned pumpkin puree. You never know when a shortage will hit, and I don't want to be caught without it this year!
One thing I have been craving this year is pumpkin muffins. But I wanted to switch it up and make them a little more simple. And bite sized.
If you're looking for a perfect fall breakfast, these Mini Pumpkin Butterscotch Muffins are the answer. One bite packs loads of flavor, and they can be frozen too!
I think butterscotch, unfortunately, is the lost chip. People see the bags of Butterscotch morsels at the store, but do they buy them? I know I sure do! It's seriously so addictive when used in the right recipe.
For instance, these Butterscotch Blondies are thick and chewy, and easy to make in one bowl!

How to make Mini Pumpkin Butterscotch Muffins
To start, preheat oven to 350 degrees F. Grease mini-muffin pan with baking spray and set aside.
In a large bowl, whisk together eggs, melted butter, and pumpkin. Add in flour (you do not need to sift the flour), brown sugar, granulated sugar, cinnamon, ginger, nutmeg, baking soda, baking powder, and salt. Stir until blended. Stir in the butterscotch chips.
Using a small cookie scoop (about 1 heaping TBSP), drop into muffin pan until about 3/4 full.
Bake in preheated oven for 10-12 minutes. Remove and cool completely.
Sprinkle with powdered sugar if desired.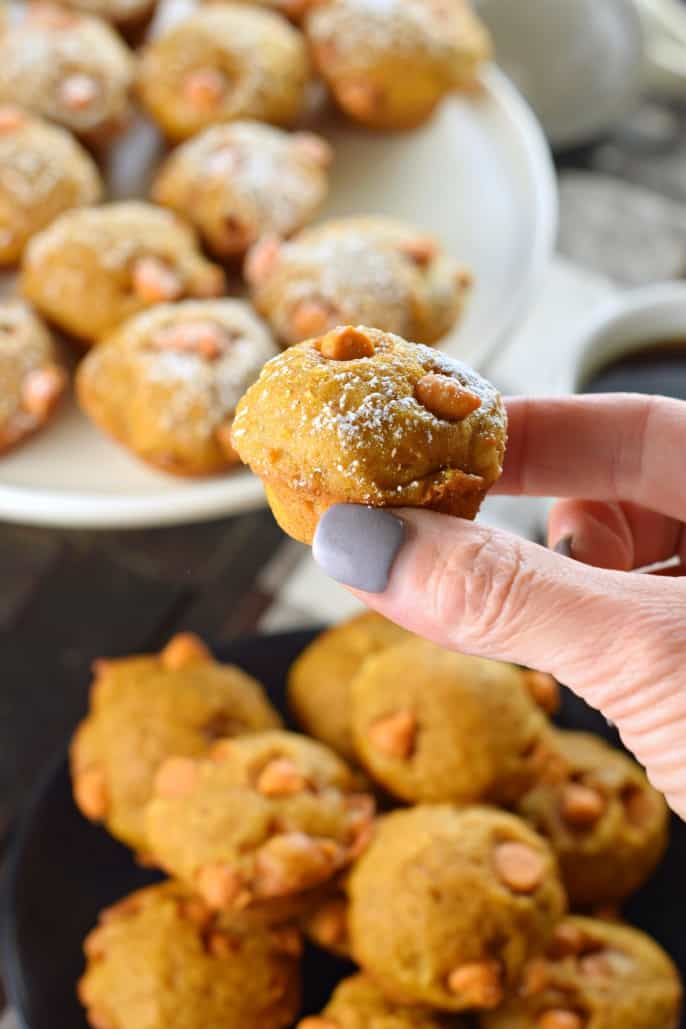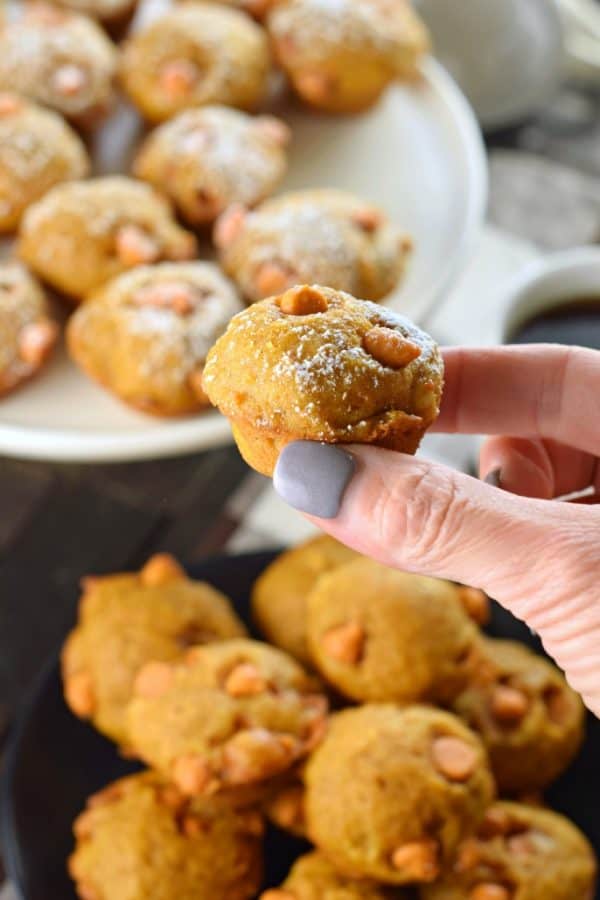 How to freeze muffins
Once your muffins are completely cooled, place them in a ziploc freezer bag (or airtight freezer-safe container). Label and freeze.
To thaw, remove from freezer, and place bag (or container) on counter overnight, or several hours. ENJOY.
Pumpkin Butterscotch Muffins are best served either chilled (in the refrigerator) or room temperature. Personally, I don't enjoy these warm from the oven, but that's just me!
For a fun twist, swap out the butterscotch morsels for chocolate chips! Or use both (half bag of each flavor).
Best Pumpkin Muffin recipes
These Pumpkin Muffins with Maple Pecan Glaze are the perfect breakfast! Small bites means you get to eat more, right?
Bite sized Pumpkin Donut Muffins! Roll in butter and cinnamon/sugar! These donut muffins freeze really well too!
Soft, moist Pumpkin Muffins topped with a Cinnamon Toffee Streusel and Maple Glaze. Fall has arrived!
Pumpkin Cream Cheese Muffins– even better than Starbucks!

Best Butterscotch recipes
If you love no bake cookies AND you love oatmeal scotchies: these NO BAKE Oatmeal Scotchies are for you! Cookies packed with butterscotch flavor and ready on your table in minutes!
Creamy, melt in your mouth Butterscotch Fudge is an easy recipe to make any time of year! This fudge requires NO candy thermometer!
Chewy and sweet, these Butterscotch Revel Bars are a wonderful dessert to make for your next potluck, bake sale or party. They are also a great treat to bake and freeze for school lunches!
There are not enough words to describe how delicious these Butterscotch Cookie Cups taste. Just scroll down and look at the ingredient list and you'll see why they are mouth watering delicious!