The classic Chocolate Chip Cookie Dough Truffle just got a touch of Pumpkin! These delicious truffles are full of fall spices and dipped in rich chocolate.
Love cookie dough? Readers rave over this Reese's Peanut Butter Cookie Dough Dip! And our peanut butter truffles are out of this world delicious.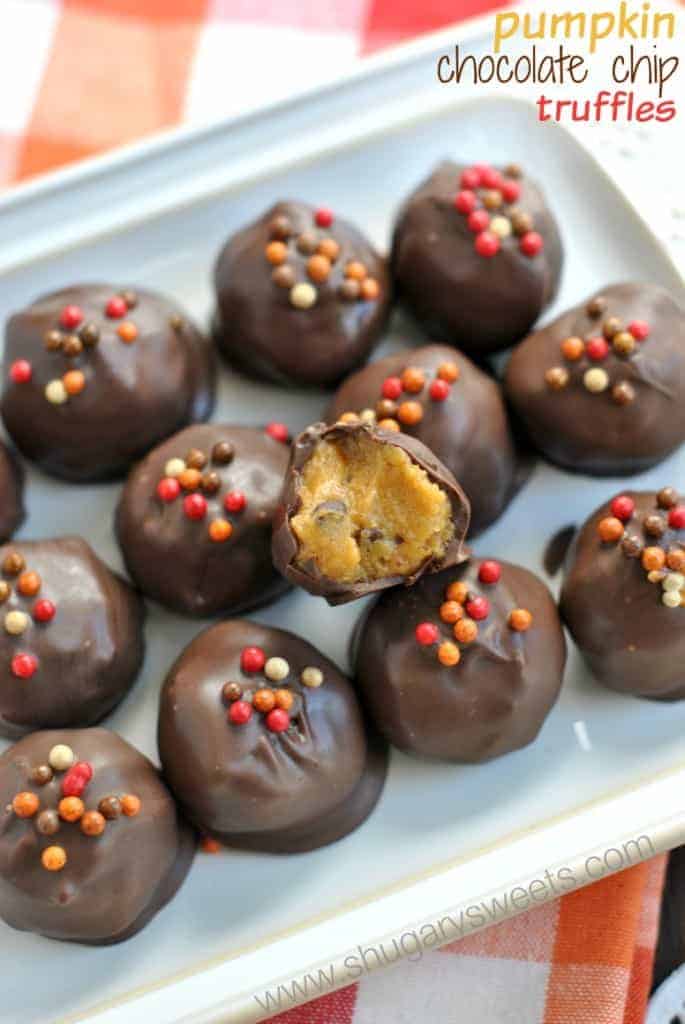 Why this recipe works
Chocolate Chip Cookie Dough truffles are one of my favorite treats on the blog. And in real life. They are really a genius treat.
Bites of cookie dough dipped in chocolate. I mean, really, who doesn't LOVE cookie dough?
Pumpkin Cookie Dough Truffles are all the best parts of cookie dough and pumpkin pie truffles combined.
We use an egg free cookie dough at the center of each truffle. No worries about eating raw dough!
The sprinkle coating gives them a pop of beautiful fall color. They look so pretty on the table!
Looking for an easy treat? Our simple easy chocolate truffles might be just what you're craving!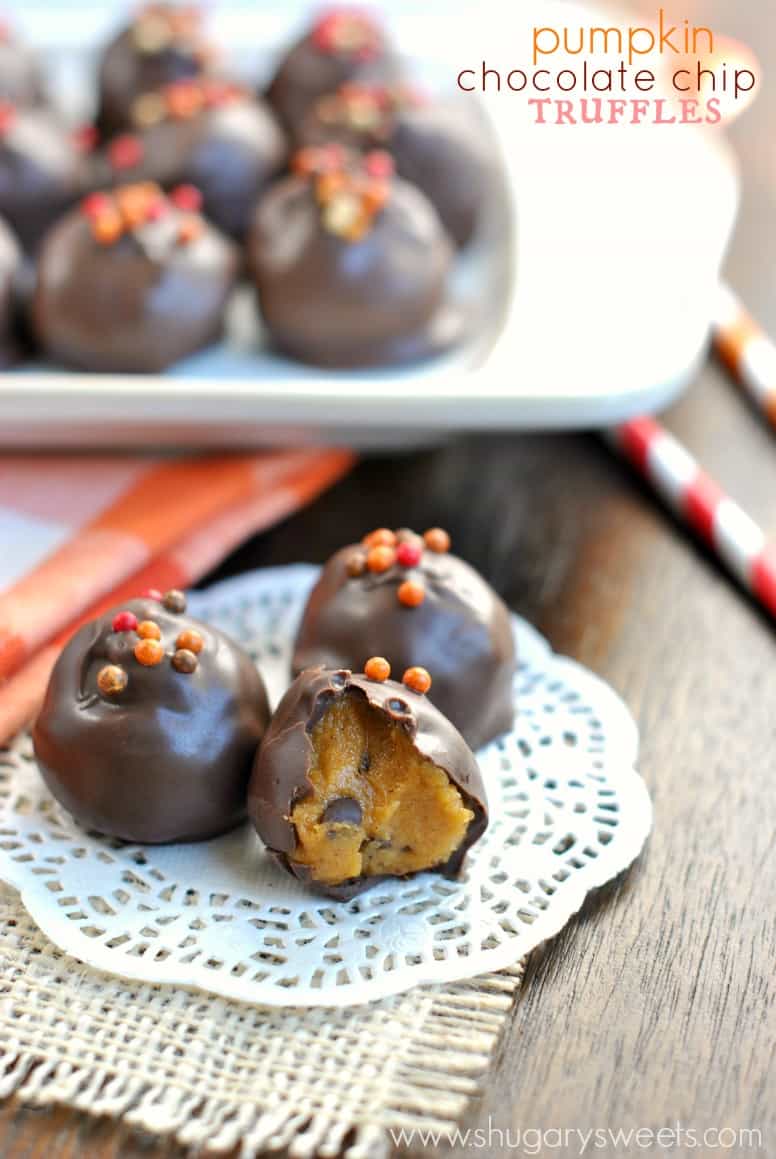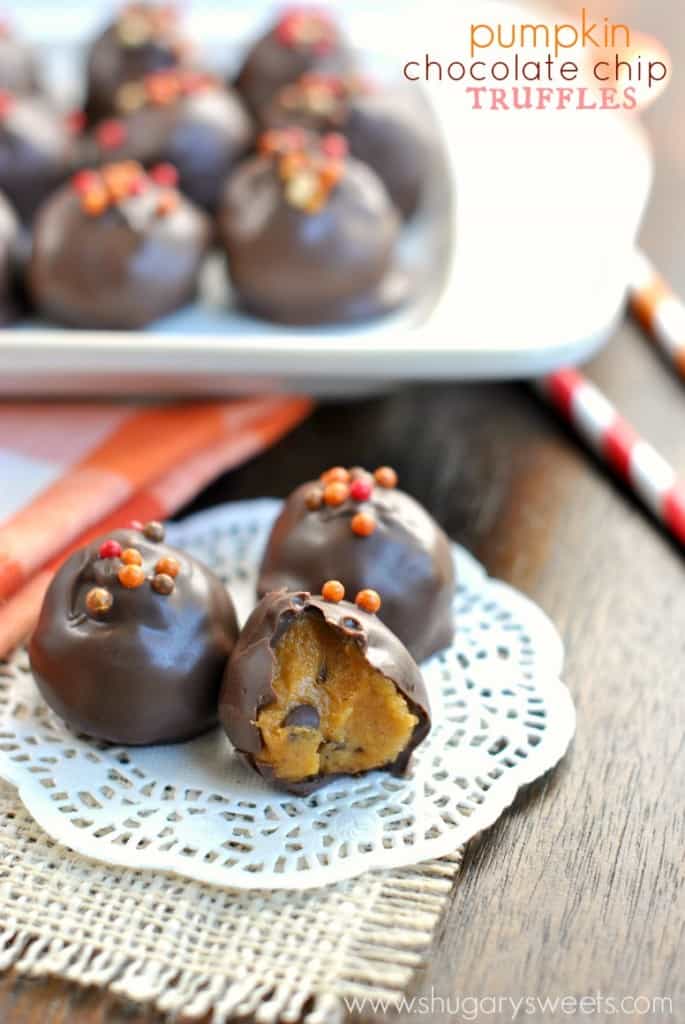 Ingredient Notes
All purpose flour. For food safety, make sure to heat treat the flour first!
Ghirardelli chocolate wafers. These melt perfectly and give the outer layer of the truffles a smooth finish.
Canned pumpkin. Be sure to use pure canned pumpkin, not pumpkin pie mix, in this pumpkin truffle recipe.
Easy Instructions
Make pumpkin cookie dough. Put the bowl of dough in the refrigerator for about an hour.
How to make truffles. Scoop tablespoons of cookie dough onto a baking sheet lined with parchment paper. Freeze for at least 2 hours.
Dipping truffles. Once the cookie dough is frozen through, melt the chocolate wafers according to package directions. Use a toothpick to dip each truffle into the melted chocolate.
Place the dipped truffles back on a backing sheet. Immediately add sprinkles. Let truffles set for a few minutes, until the chocolate firms up.
Serve immediately or store in the refrigerator until ready to eat.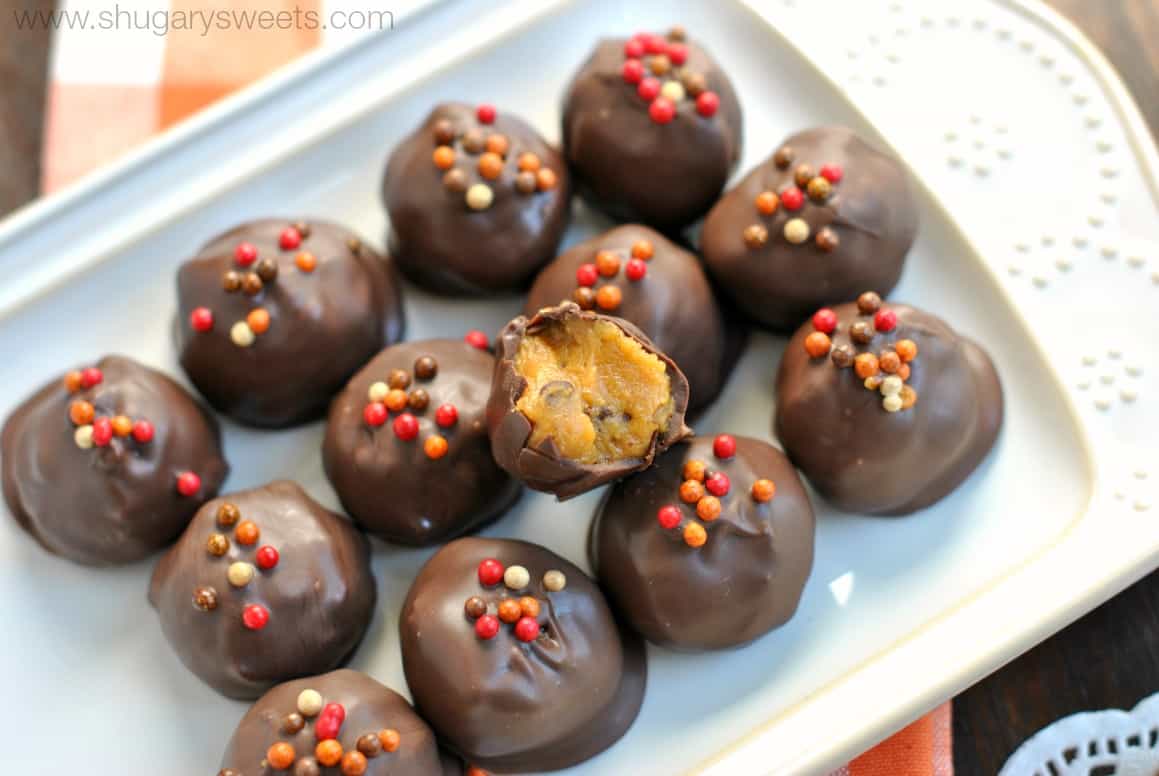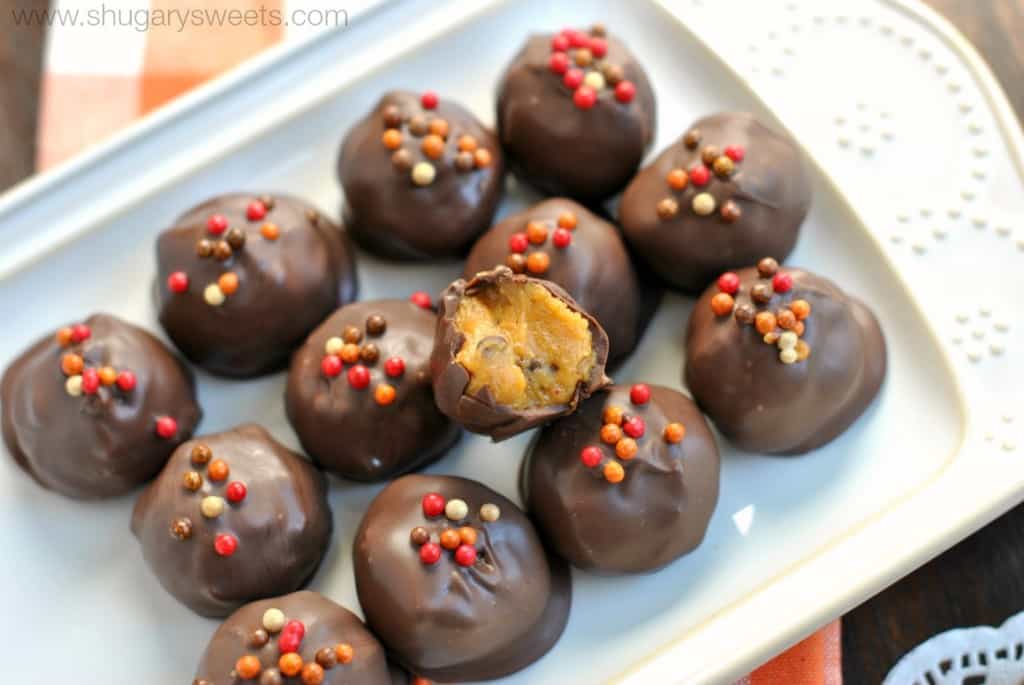 Tips and Tricks
Use a metal scoop like this one to ensure all the truffles are as evenly shaped as possible.
Store the truffles in an airtight container in the refrigerator. They stay good for about 7 days but we can never resist eating them all before then!
After dipping the truffles, allow the excess chocolate to drip off into the bowl. Removing excess prevents mess on your parchment paper and makes the bottom of the truffles smoother.
Change it up. Swap out the pumpkin cookie dough for snickerdoodles. Our snickerdoodle cookie dough truffles get great reviews!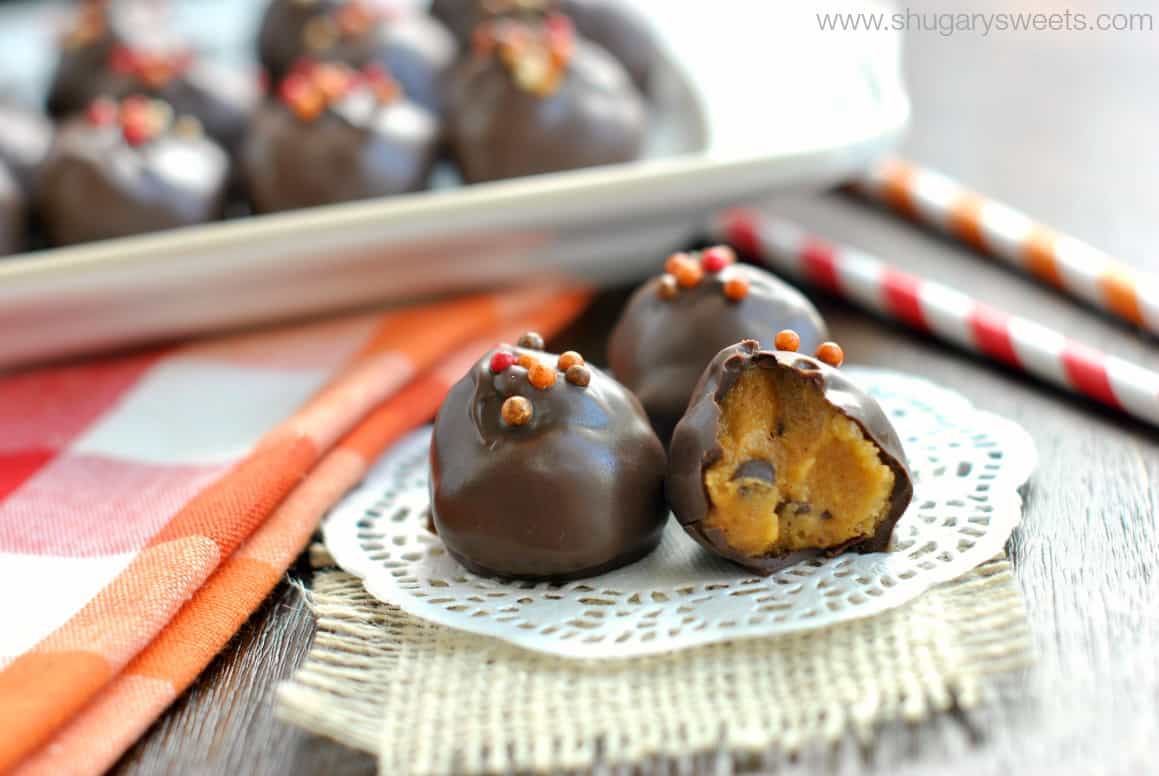 Recipe FAQs
What kind of sprinkles are best?
I used nonpareil (round) sprinkles on my pumpkin cookie dough truffles today. You can also use jimmies, sugar sprinkles or any other style sprinkle you like!
Can you freeze these truffles?
Yes, you can! After dipping, transfer truffles to a freezer safe container. They keep well in the freezer for up to 3 months.
How do I melt the chocolate wafers?
I melt mine in the microwave! It only takes a few minutes and the chocolate melts perfectly. You can also use a double boiler to melt the wafers if preferred.
Is it safe to eat raw flour?
Raw flour may contain bacteria that's usually killed off in the baking process. To make it safe to eat, you can heat treat it by baking it in the oven for 5 minutes. See all my instructions on how to heat treat flour here!
More Candy Recipes
The best ever truffle for pumpkin lovers! Pumpkin Chocolate Chip Cookie Dough Truffles are the perfect homemade candy for fall.