Chewy Pumpkin Spice Latte Krispie Treats with all the delicious fall flavors. And a pinch of espresso for good measure!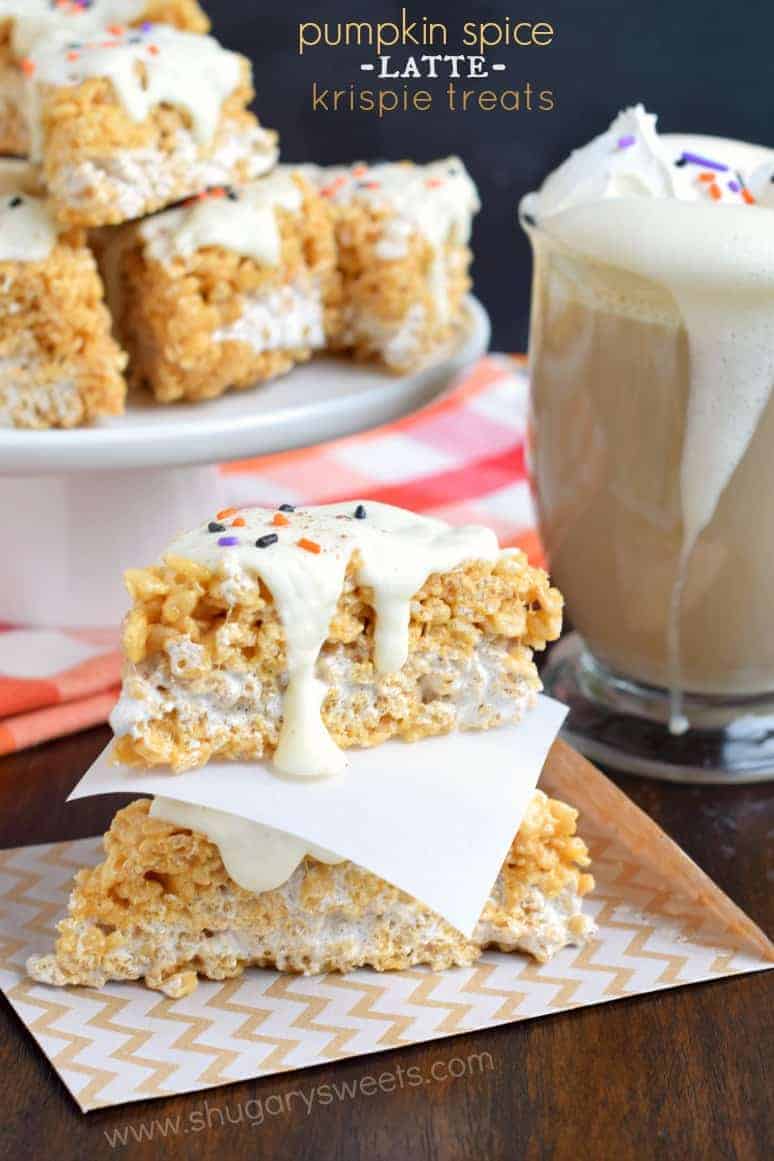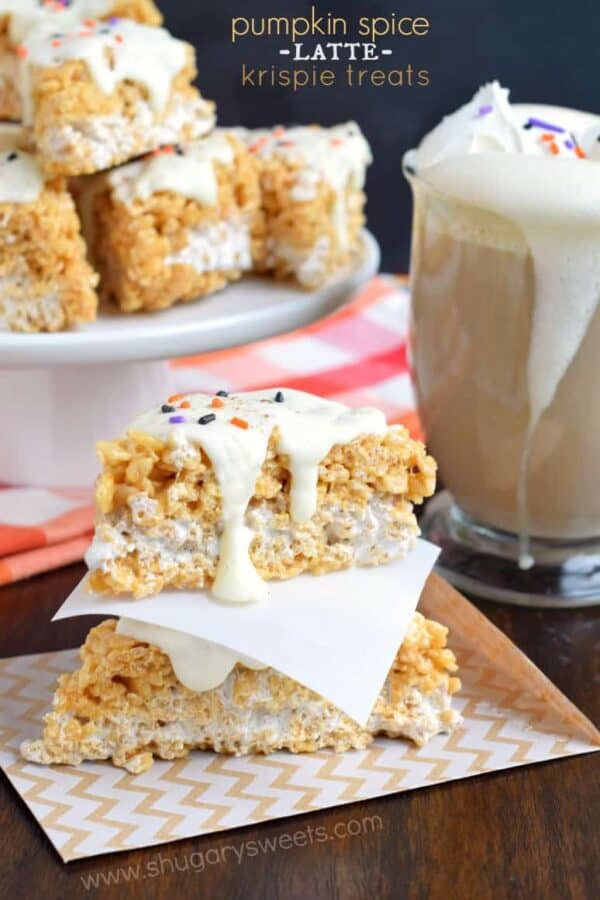 Click HERE to save recipe to Pinterest!
If you know me then you are probably looking at this post and saying..OMG yes, this is Aimee's favorite dessert. It combines my love of Pumpkin Spice Lattes with my love for Rice Krispie Treats. I mean seriously, there is nothing better in this world to treat yourself to than this.
You would think at some point I would grow up and develop a mature palate, but no. Rice Krispie Treats remain one of my favorite desserts. They are the kind of treat that I can make and devour the whole pan before my kids even get home from school. (yes, I've done that. #noshame)
I have even perfected the dessert by creating the ultimate, Perfect Rice Krispie Treats. You'll find the recipe loaded with tips and tricks on how to make rice krispie treats!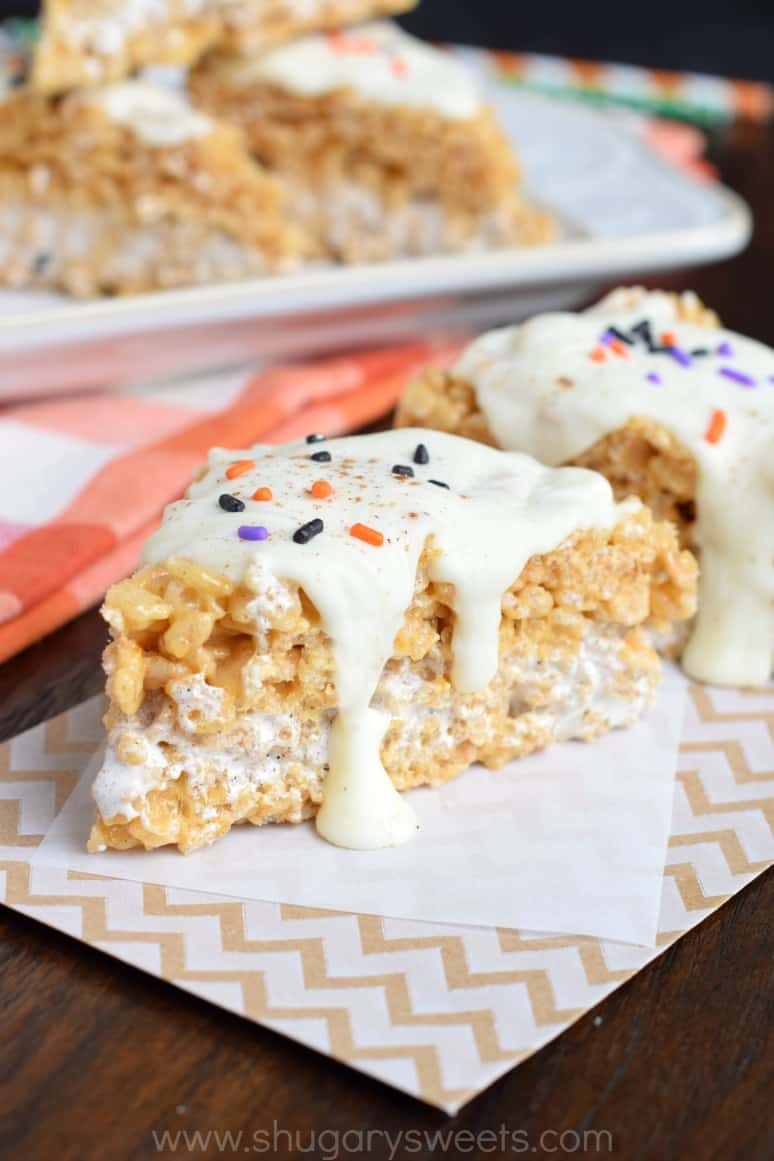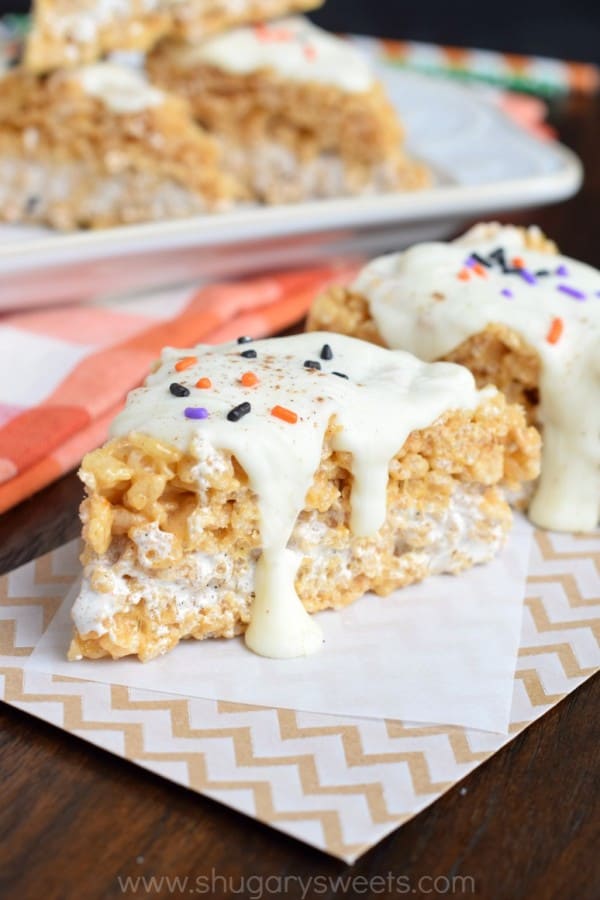 A few years ago I made Pumpkin Spice Krispie Treats using a box of JELL-O Pumpkin Pudding mix. They remain one of my favorite treats. Unfortunately, I've heard from many of you over the years that you can't find that seasonal JELL-O pudding mix. (if you want to, check out Amazon, they carry the pudding mix!). So, for you friends who still want to make Pumpkin RKT, this recipe is for you today.
Unfortunately, I had to make these a couple times to get the texture JUST RIGHT. If you add too much pumpkin they become "soggy." The end result of today's recipe is chewy. However, these are best eaten within 24 hours (48 max). They do become softer after that time (although I didn't mind the texture because the flavor was still amazing, my kids didn't care for it after 24 hours).
I used espresso powder to mimic a pumpkin spice latte and give it a little pizzazz. The creamy marshmallow filling is so fantastic, you're going to wish there was more.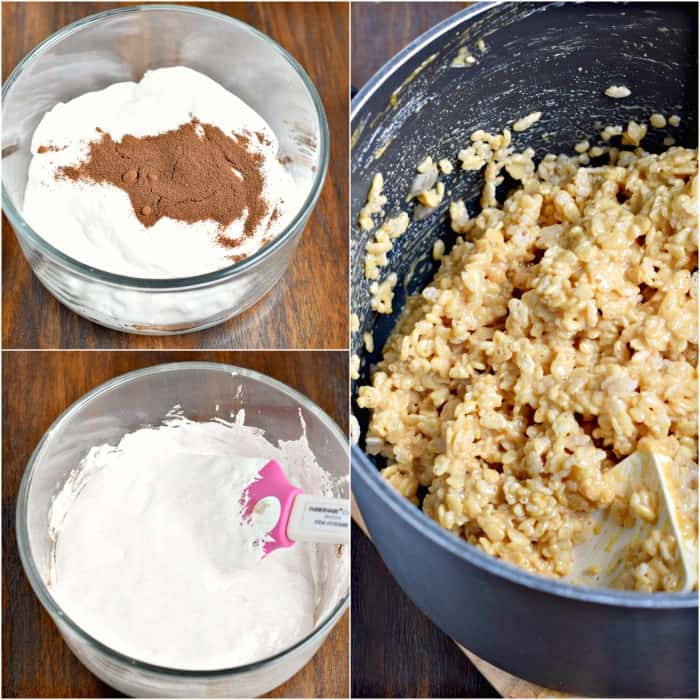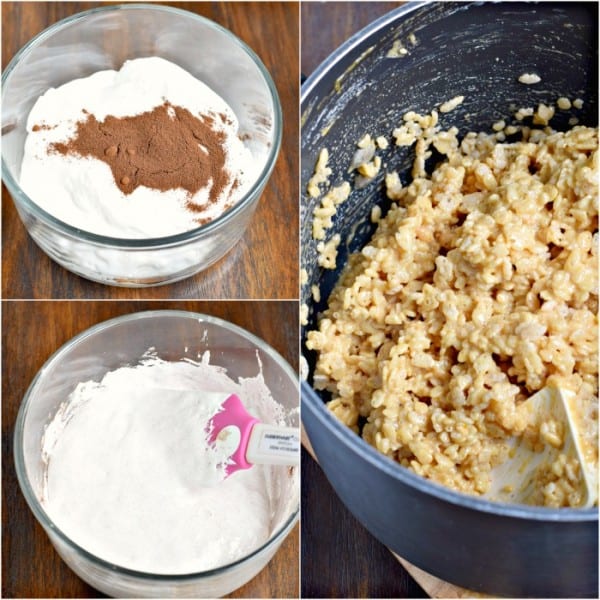 Tips for making perfect pumpkin rice krispie treats:
As you can see from the photos, these are super easy to put together. First though, to help prevent them from being soggy, you're going to cook down your pumpkin puree with butter for several minutes until the excess liquid has burned off. Then proceed by adding in your marshmallows and stirring until they are smooth. You'll want to add the cereal quickly and press half of the mixture into a parchment paper lined baking dish.
In a small bowl, you'll combine the ingredients for the marshmallow filling and then spread that over your first layer of krispies, followed by your remaining cereal mixture.
NOTE: do not press these firmly into the pan. I use my fingers (which I butter lightly) to press my krispies GENTLY. The firmer you press, the dryer and harder they become. Trust me. I'm a krispie treat expert. I wear a badge.
Pair these Rice Krispie treats with my favorite Pumpkin Cream Cold Brew recipe!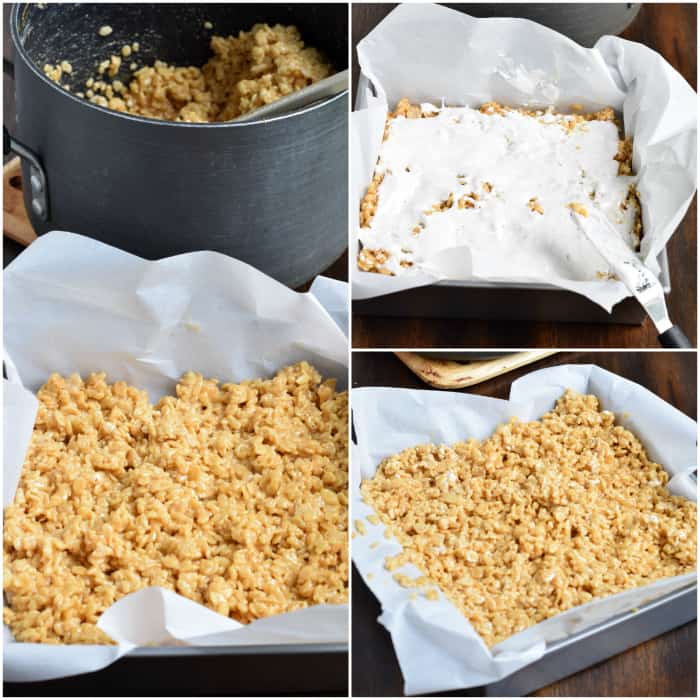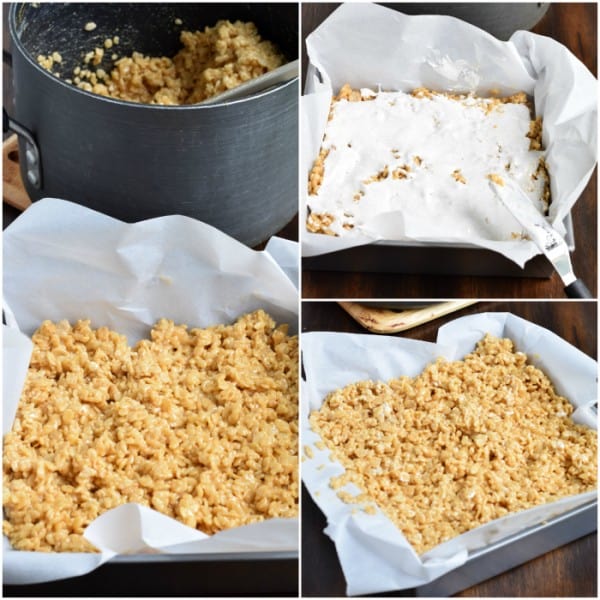 When they have finished setting up (about two hours) remove them from the pan by lifting the parchment paper. Cut into desired sized treats. Add your melted white chocolate, a pinch of nutmeg and some sprinkles. I wanted them to have the appearance of a pumpkin spice latte (nice, right???).
ENJOY!!!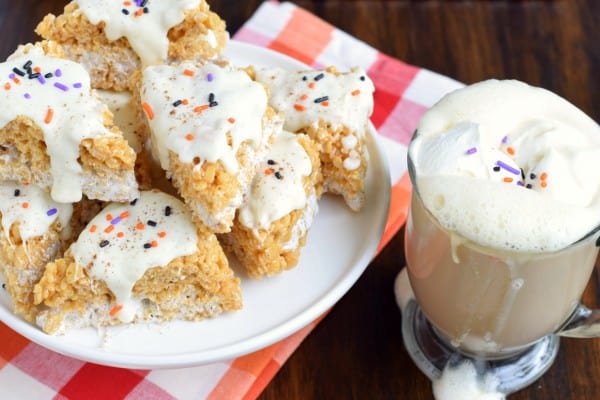 Hi. My name is Aimee. And I LOVE LOVE LOVE Rice Krispie Treats. Here are some of my favorites:
Best Rice Krispie Treat recipes: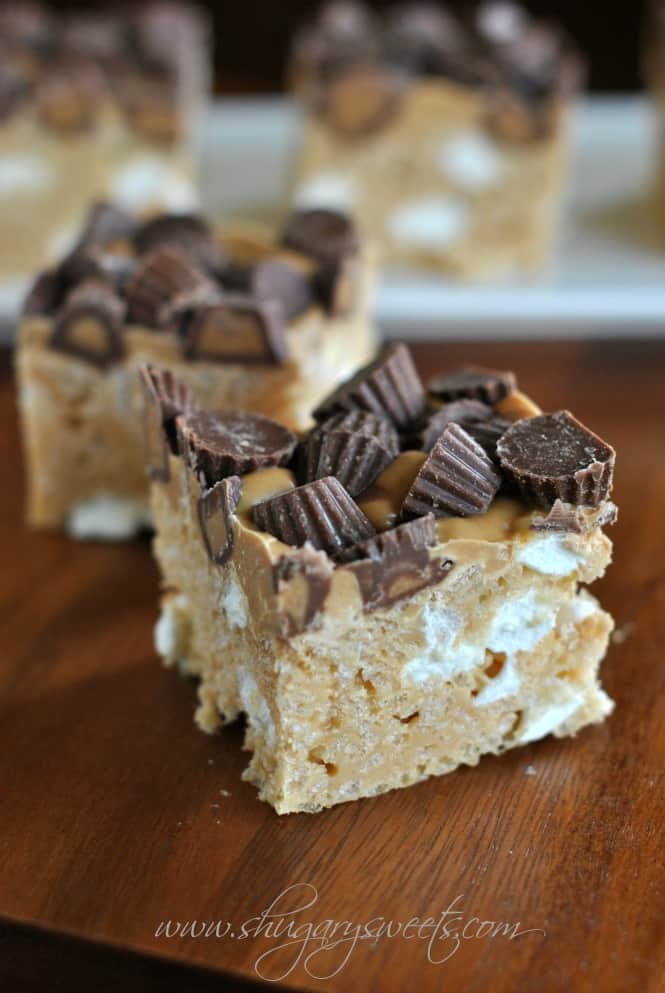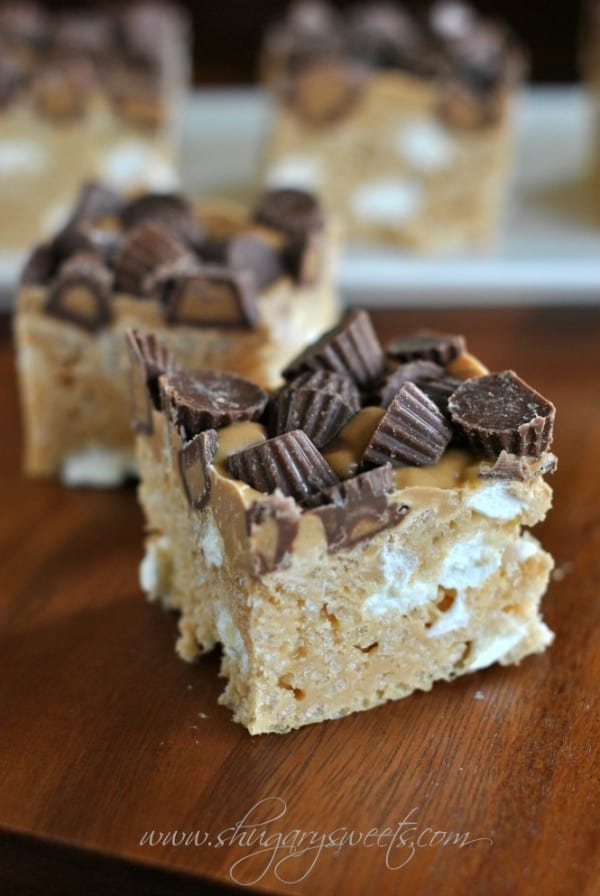 These Fluffernutter Krispie Treats are one of the most popular versions on my blog. Make them once and you'll understand the obsession!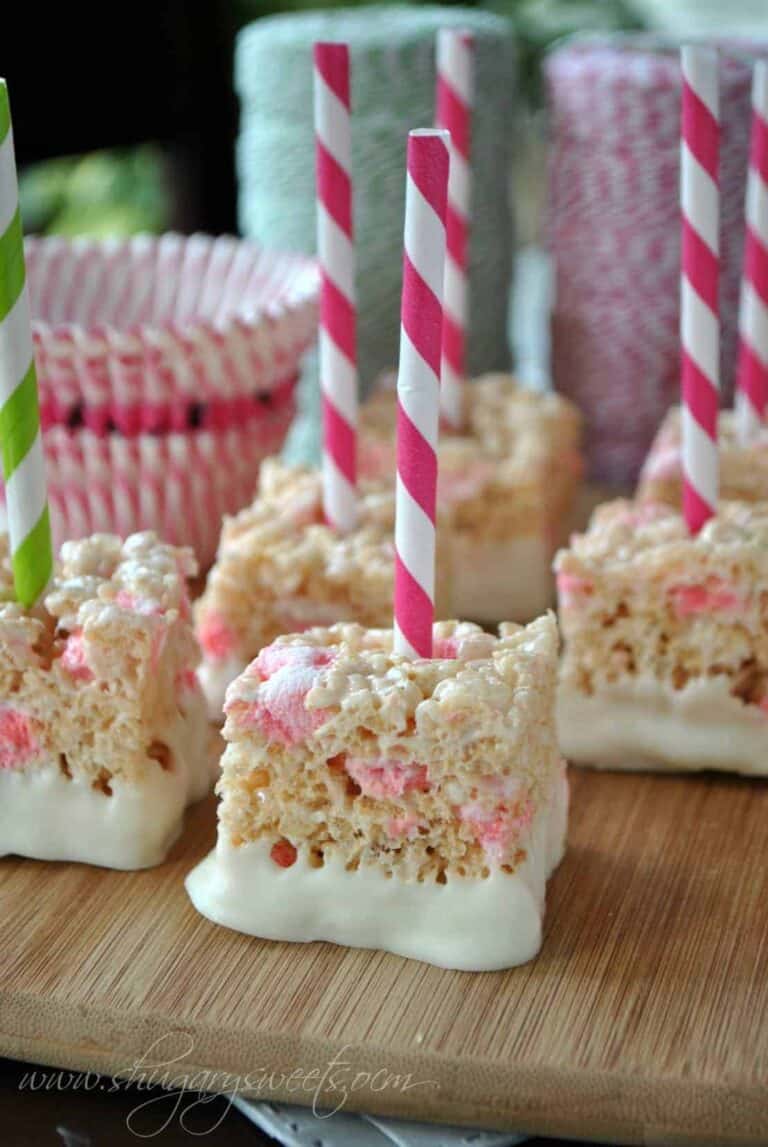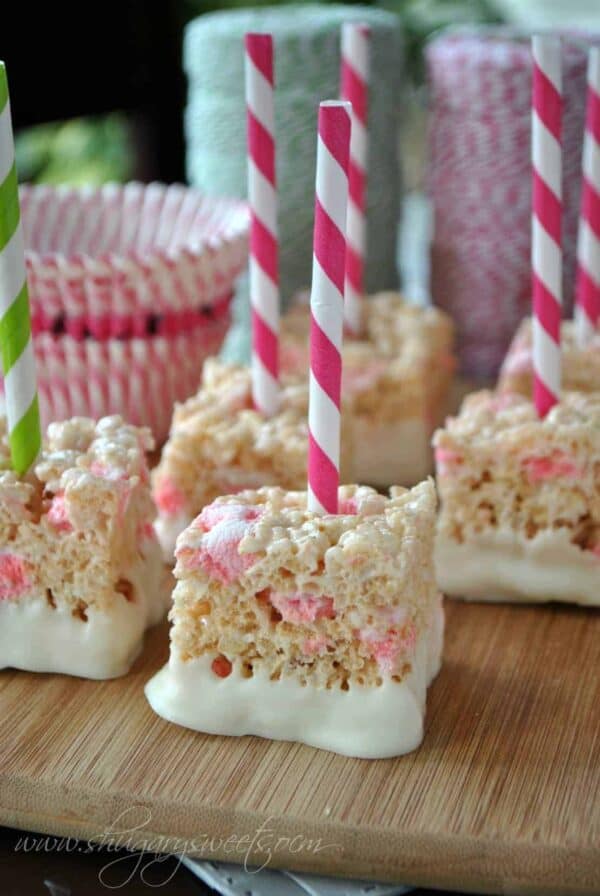 Peppermint Krispie Treats: perfect for the holidays!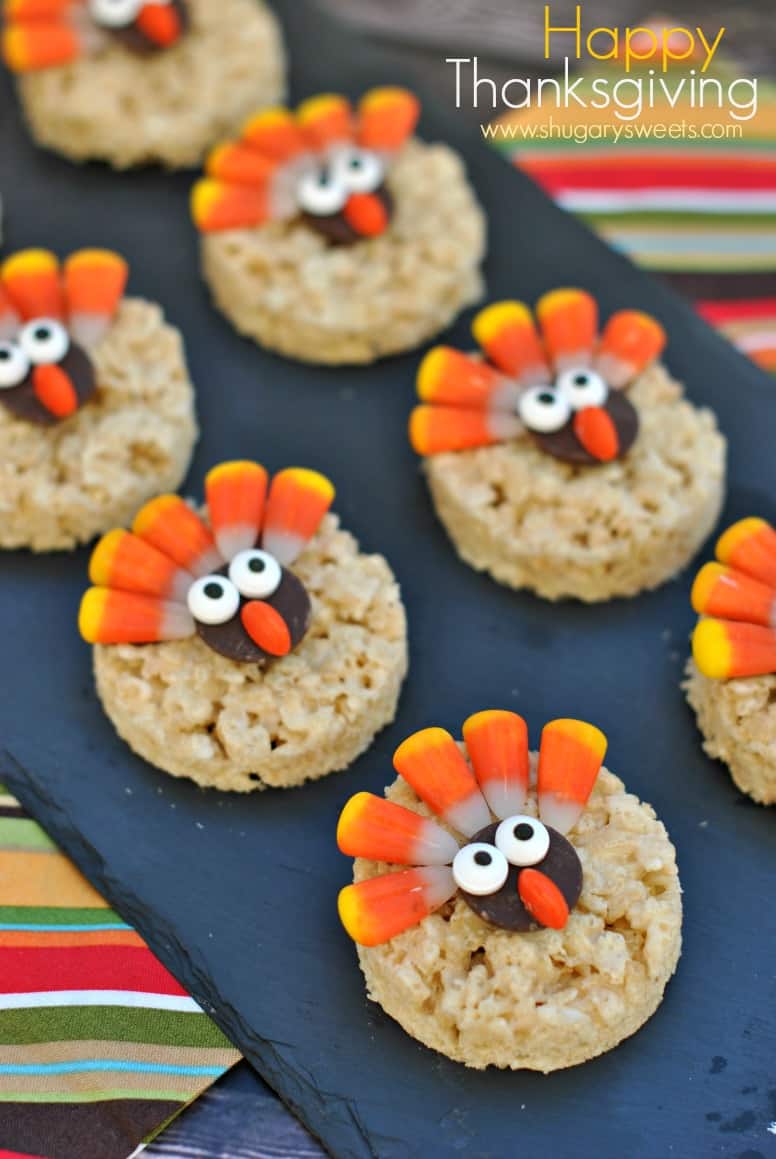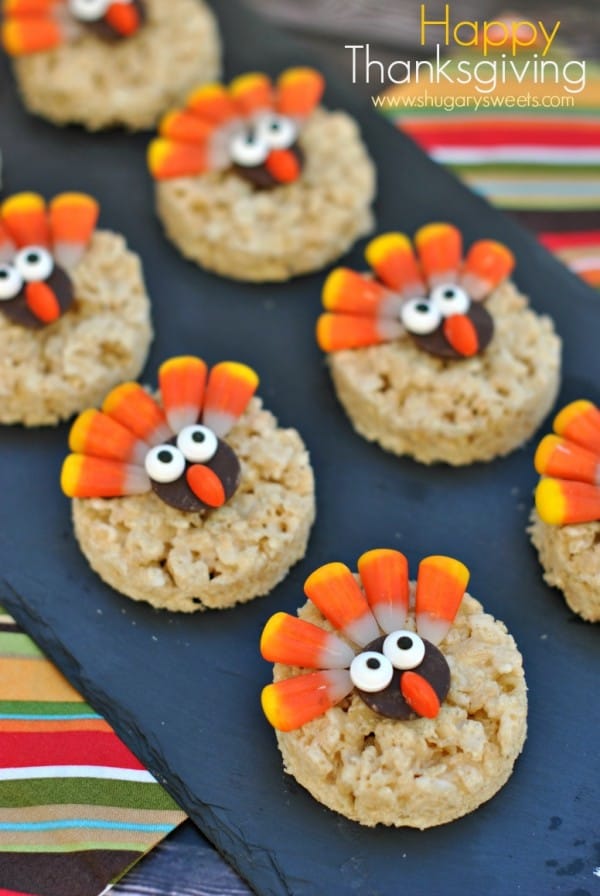 Turkey Krispie treats: almost too cute to eat. Would look great on your Thanksgiving table!
Be sure to follow me on Instagram and tag #shugarysweets so I can see all the wonderful SHUGARY SWEETS recipes YOU make!
I created a fun little group on facebook and I'd love for you to join in! It's a place where you can share YOUR favorite recipes, ask questions, and see what's new with Shugary Sweets (so that you never miss a new recipe)! If you'd like to check it out, you can request to join HERE.
Connect with Shugary Sweets!
Be sure to follow me on my social media, so you never miss a post!
Facebook | Twitter | Pinterest | instagram
More Rice Krispie Treat Recipes:
Pumpkin Spice Latte Rice Krispie Treats recipe:

Today's recipe for Pumpkin Spice Latte Rice Krispie Treats was originally published on September 21, 2015 on Shugary Sweets and has been republished in September 2018.
**This post may contain affiliate links which won't change your price but will share some commission. See my disclosure policy for more info**