Chewy Pumpkin Spice Latte Krispie Treats have all the delicious fall flavors and a marshmallow filling, plus melted white chocolate on top. And a pinch of espresso for good measure!
As a rice krispie treat expert, after trying today's recipe, be sure to try our pumpkin pie rice krispie treats. Or give our classic pumpkin krispie treats a try next!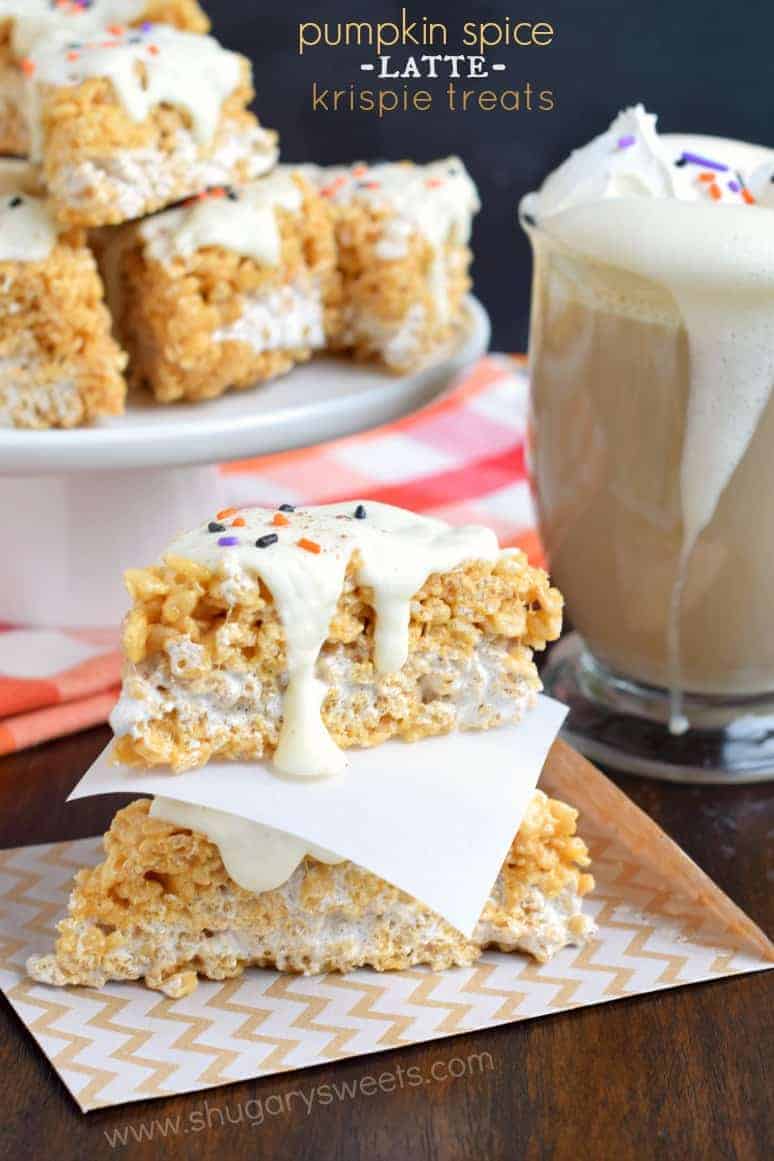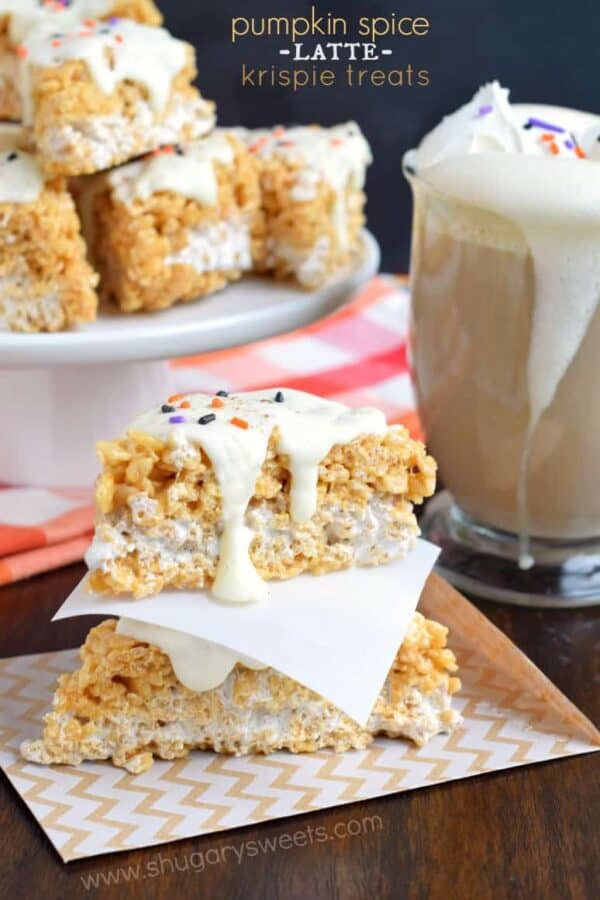 Why This Recipe Works
These Pumpkin Spice Latte Rice Krispie Treats are taken to the flavor max!
We've got warm fall flavors with pumpkin and pumpkin pie spice and a bit of espresso mixed in. Plus, they are formed into a double layer treat with a marshmallow cream filling in the middle.
They are a fall MUST make that everyone will love!
The combination of pumpkin pie spice and pumpkin puree that's been reduced down gives seriously cozy fall flavors to these treats.
A creamy filling made with marshmallow fluff adds extra flavor and interest and is super easy to make.
Melted white chocolate is drizzled over the top of each triangle piece to finish them off. Top with sprinkles or some extra espresso powder to really make them special.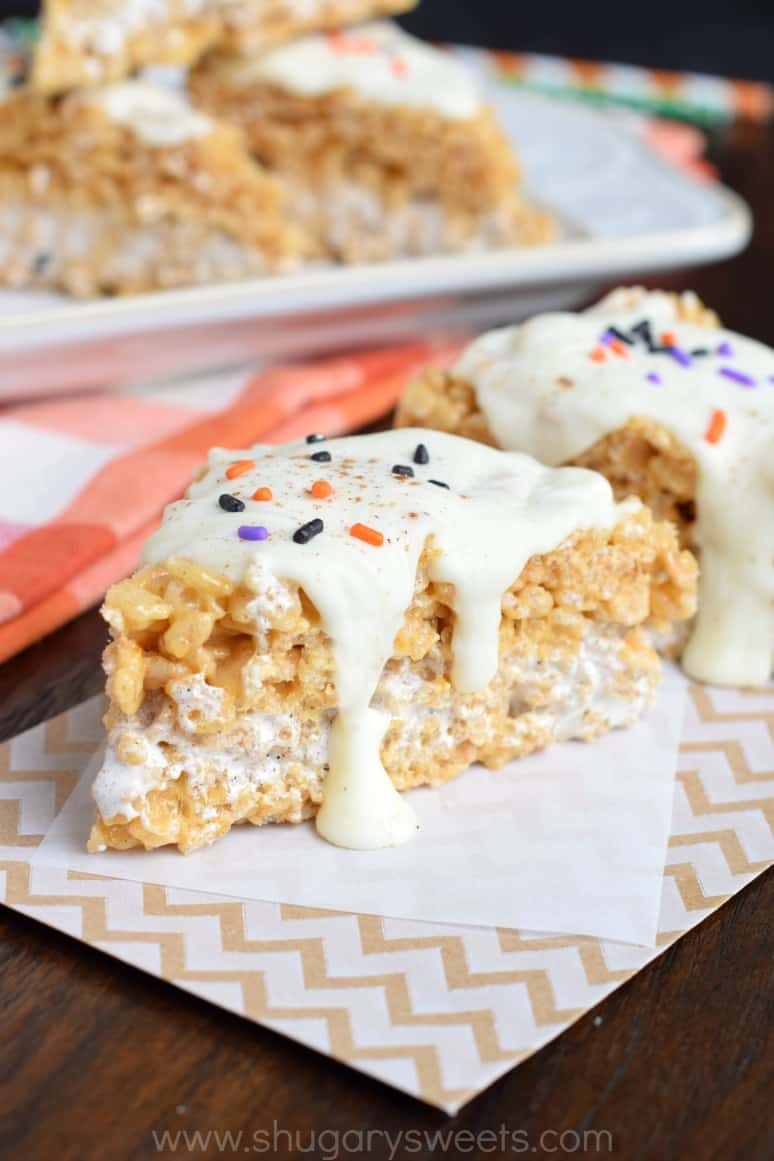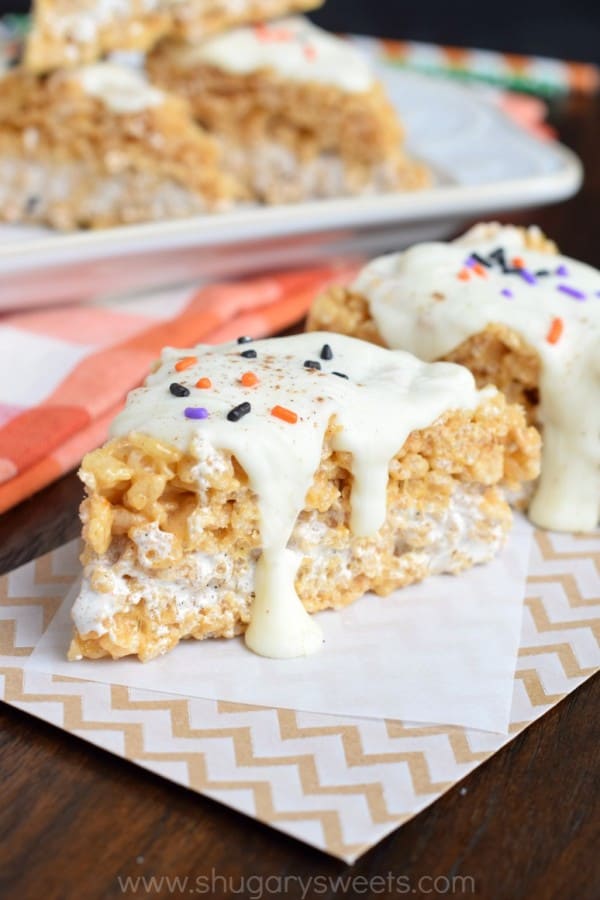 Ingredient Notes
Marshmallows – You'll need a large 16-ounce bag of regular marshmallows for this pumpkin spice latte krispie treats recipe. Fresh marshmallows are best. (Trust me and throw out the bag that's been just sitting in the back of your pantry for months.)
Rice Krispies Cereal – Any brand of crispy rice cereal will work, just make sure it's FRESH. Stale cereal equals stale rice krispie treats.
Marshmallow Creme – Also called marshmallow fluff, this is used to make a creamy middle layer in the rice krispies.
Espresso Powder – This is essentially a highly concentrated powdered coffee that helps bring the latte flavor to these treats.
Pumpkin Pie Spice – Use our homemade pumpkin pie spice mix for the best flavor!
Easy Instructions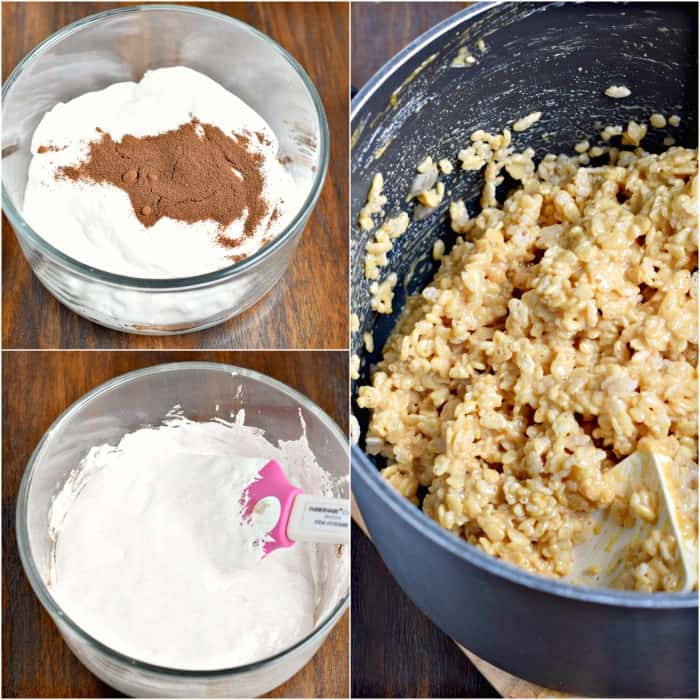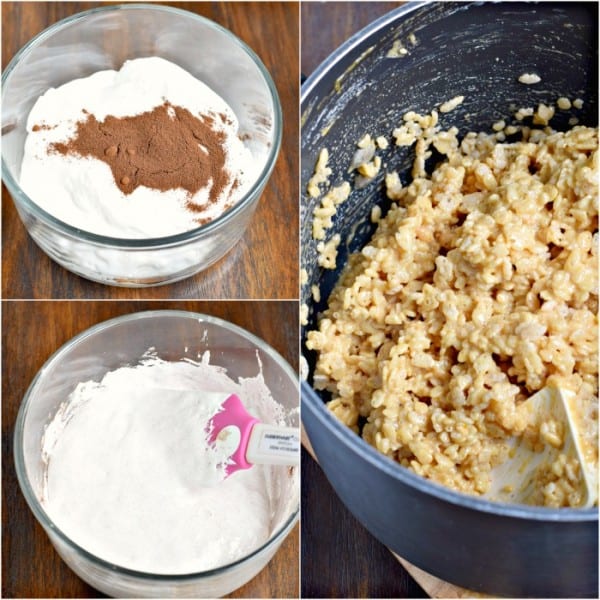 STEP 1. Make the marshmallow filling. Combine the marshmallow creme and the espresso powder until well combined. Set aside.
STEP 2. Make the Rice Krispies. Start by reducing the pumpkin and butter together to eliminate any extra water from the pumpkin puree. Then melt the marshmallows, add the pumpkin pie spice and stir in the Rice Krispies cereal.
STEP 3. Layer the treats. Add half of the rice krispy mixture to a parchment paper lined 8×8 pan. Gently press in. Top with the marshmallow creme mixture and spread it evenly over the top. Add the remaining rice krispies and gently press to make the top.
STEP 4. Set up, cut and add toppings. Let the treats set up firmly, for about 2 hours. Cut into 9 large squares and then halve those to create 18 triangle pieces. Top the pumpkin spice latte krispie treats with the melted white chocolate and add sprinkles or extra espresso powder. Enjoy!
Tips and Tricks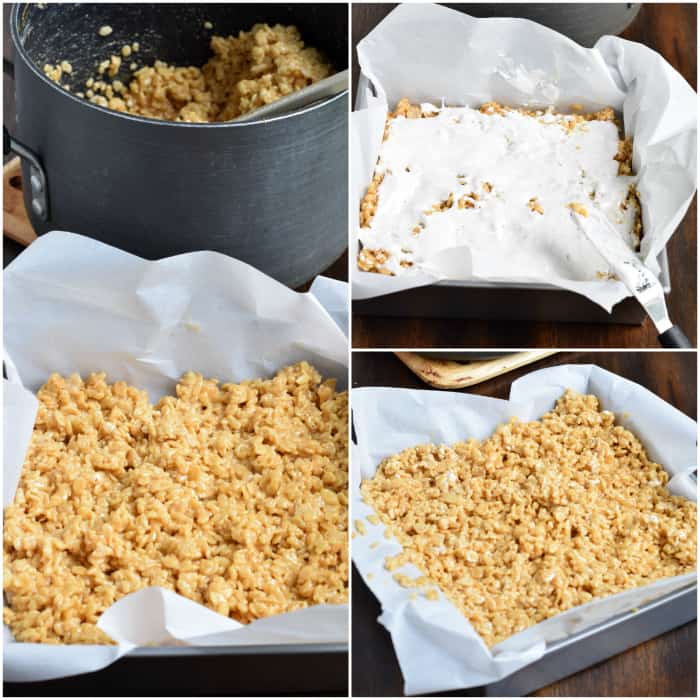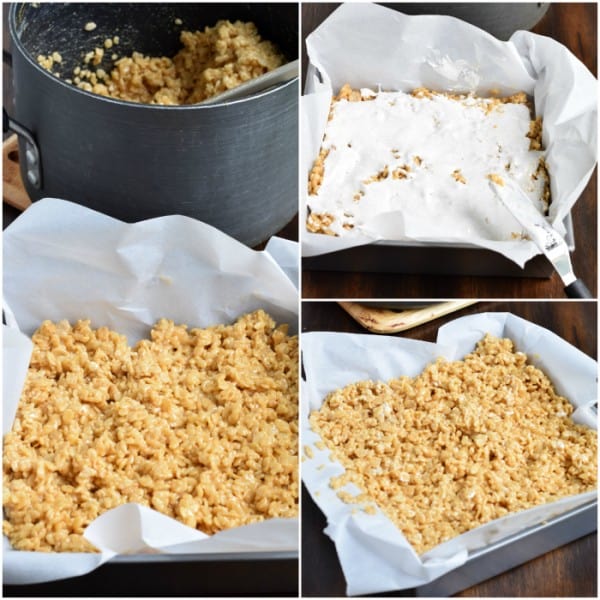 As you can see from the photos, these are super easy to put together.
First though, to help prevent them from being soggy, you're going to cook down your pumpkin puree with butter for several minutes until the excess liquid has burned off.
Then proceed by adding in your marshmallows and stirring until they are smooth. You'll want to add the cereal quickly and press half of the mixture into a parchment paper lined baking dish.
In a small bowl, you'll combine the ingredients for the marshmallow filling and then spread that over your first layer of krispies, followed by your remaining cereal mixture.
NOTE: Do not press these firmly into the pan. I use my fingers (which I butter lightly) to press my krispies GENTLY. The firmer you press, the dryer and harder they become. Trust me. I'm a krispie treat expert. I wear a badge.
Pair these Rice Krispie treats with my favorite Pumpkin Cream Cold Brew recipe!
Recipe FAQs
Can I make these rice krispies gluten-free?
Yes. Choose a crispy rice cereal that is labeled gluten free. Check your marshmallow label, too, just in case.
Why do my Rice Krispie Treats get hard?
Your krispies treats could be getting hard if you press the treats too firmly into the pan, which makes them more dense and tough. Also, be sure to start with fresh marshmallows and fresh cereal for best results.
How do I store pumpkin spice latte krispie treats?
Leftovers can be stored in an airtight container at room temperature for up to 3 days.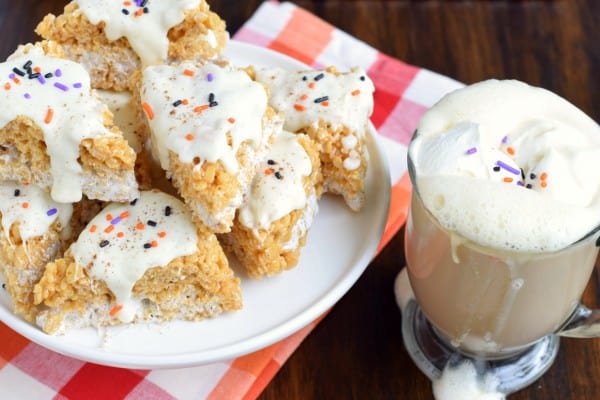 Turkey Krispie treats: almost too cute to eat. Would look great on your Thanksgiving table!
More Rice Krispie Treat Recipes: