Making your own Lemon Curd is actually quite simple! This easy, homemade recipe is bursting with sweet and tangy citrus flavor and only four ingredients!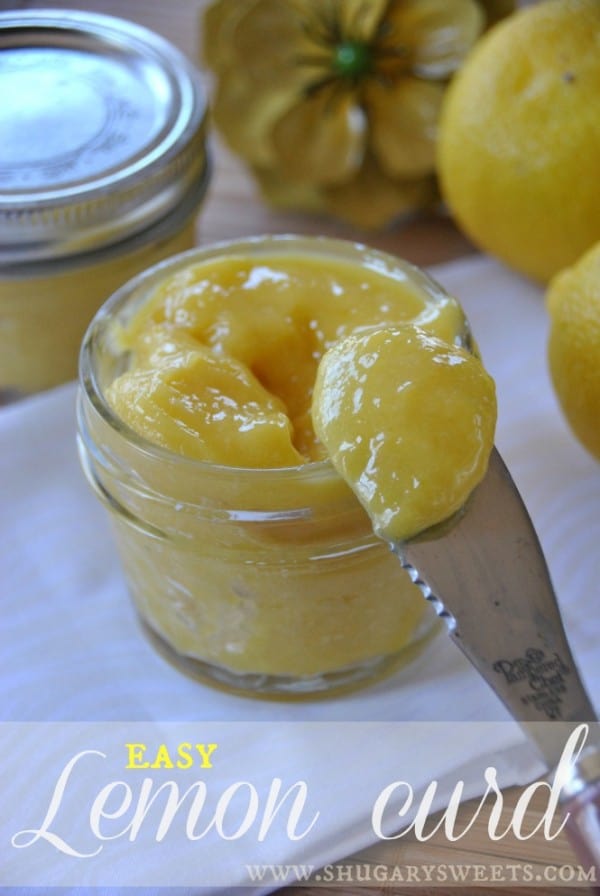 A couple weeks ago I had to make dozens of vanilla bean cupcakes for a friend. Which left me with 15 egg yolks. I've thought about making my own lemon curd in the past, but I thought it sounded like a difficult thing to do.
I mean "LEMON CURD" sounds like something I would never attempt myself. (don't worry, you don't need 15 egg yolks for today's recipe!)
Last year though I made some homemade cheesecake bites and bought a little jar of lemon curd. On a whim. I topped the cheesecake bites with the store bought lemon curd and a raspberry.
I was sold. Lemon curd is amazing.
Let's start with the basics.
What is LEMON CURD?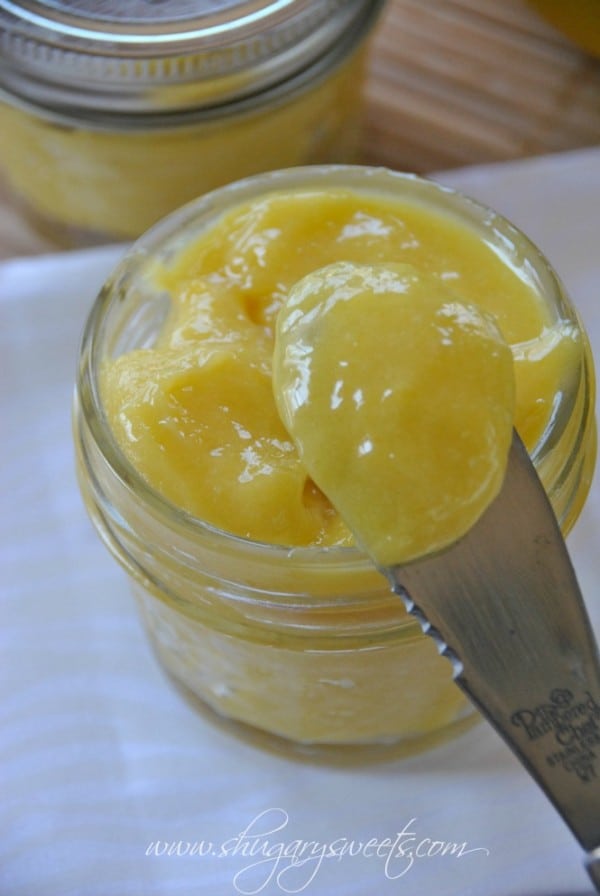 Lemon Curd is a dessert spread made using egg yolks, sugar, lemons, and butter.
While the word "curd" can sound negative, or gross to some…lemon curd, when made correctly, is smooth and creamy.
Bursting with lemon flavor, it's a delicious preserve that's perfect when paired with cookies, cakes, tarts, toast, etc.
How to Make Lemon Curd
STEP 1: In a small pan with a double boiler, heat an inch of water in the pan to boiling. In the double boiler, whisk the egg yolks and sugar together.
PRO TIP: If you don't have a double boiler, find a glass or metal bowl that will fit over the sauce pan.
STEP 2: Add lemon juice and lemon zest to the sugar mixture and continue whisking over the boiling water for about 8-10 minutes. The lemon curd will begin to slightly thicken.
STEP 3: Remove from heat. Add in butter, one tablespoon at a time, whisking until melted and smooth.
Once all the butter has been added, pour into a bowl (or glass jar), covered.
STEP 4: Refrigerate lemon curd until thickened and cooled. At LEAST 2 hours or overnight.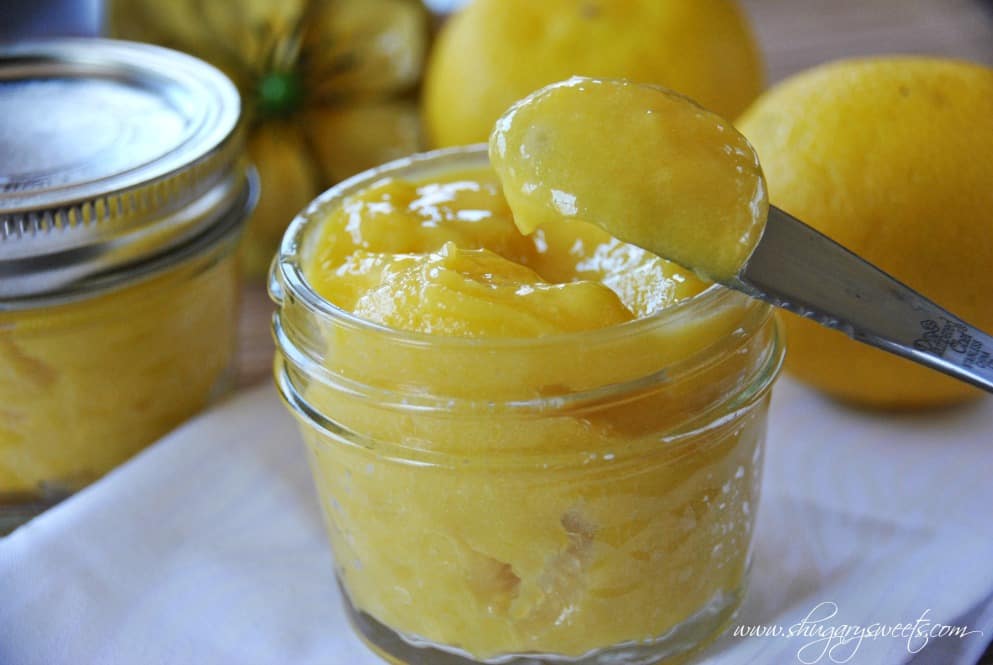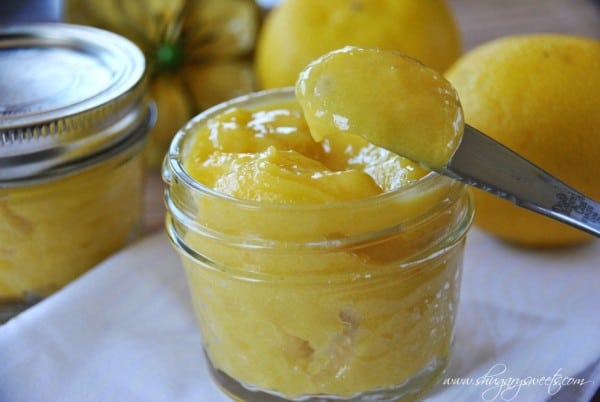 How to Store Homemade Lemon Curd
Lemon Curd can be stored in the refrigerator in a sealed container for up to two weeks.
You can also freeze lemon curd! Place in an airtight, freezer safe container with at least 1/2 inch of room at the top. Freeze for up to 6 months for best results.
To thaw, refrigerate frozen lemon curd for 24 hours. Stir and enjoy.
Lemon Curd Uses
So now that you've made this homemade Lemon Curd recipe, what next? Think of it as a jam or jelly, and that's how you can use it.
Spread lemon curd on toast, bagels, or English muffins for a tasty citrus treat in the morning!
You could also make easy Lemon Curd Hand Pies by spreading the homemade lemon curd in the center of the pie crust and bake. Sprinkle with powdered sugar for a tasty treat.
Add a layer of homemade lemon curd to cheesecake, coconut cake, or a tart!
Stir a spoonful of lemon curd into whipped cream, cottage cheese, greek yogurt, or on top of ice cream!
What You'll Need to Make Lemon Curd Recipe
If you want a quick glance at what's needed for today's recipe, look no further. For the printable recipe with measurements, scroll all the way down!
Today's lemon curd is quite easy. You'll only need FOUR ingredients. That's right. 4.
Lemons. Start with 4 juicy lemons. You'll need to zest them, and then juice them. You'll use 1/3 cup of the lemon juice.
Granulated Sugar
Unsalted Butter – cut into Tablespoon pieces.
Egg Yolks – I use large eggs for today's recipe.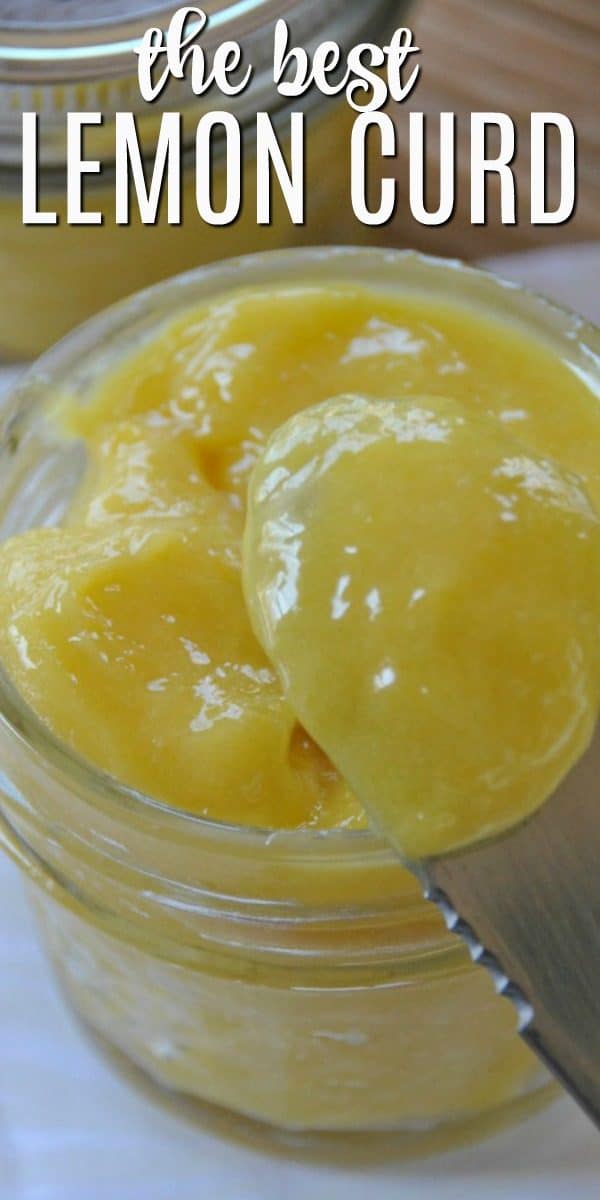 Connect with Shugary Sweets!
Be sure to follow me on my social media, so you never miss a post!
Facebook | Twitter | Pinterest | instagram
If you LOVE this recipe, share it on Instagram and tag me #shugarysweets so I can see it!
I created a fun little group on facebook and I'd love for you to join in! It's a place where you can share YOUR favorite recipes, ask questions, and see what's new with Shugary Sweets (so that you never miss a new recipe)! If you'd like to check it out, you can request to join HERE.
MORE LEMON DESSERTS:
Recipe originally published February 18, 2013
Easy Homemade Lemon Curd Recipe bursting with citrus flavor. Perfect on cakes, tarts, and more!