Making your own Lemon Curd is actually quite simple! This easy, homemade recipe is bursting with sweet and tangy citrus flavor and only four ingredients!
If you love desserts bursting with citrus flavor, this Lemon Blueberry cake is requested all the time at our house (and on the website)! Or give this classic Lemon Meringue Pie a try soon!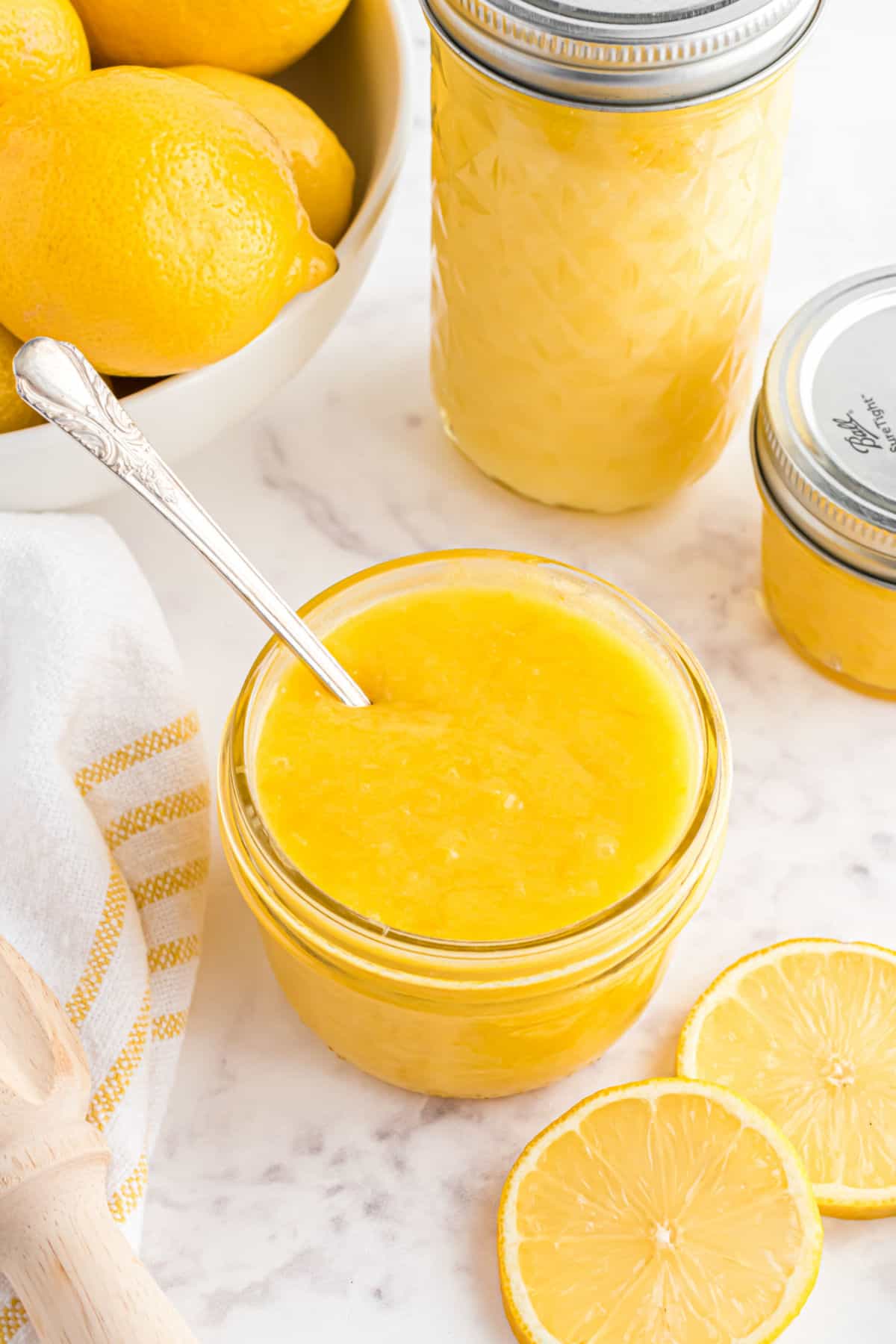 Why this Recipe Works
Lemon Curd is perfect for a burst of flavor on scones, angel food cake, cheesecake, and more!
Making this at home is SO MUCH better than buying a jar from the store. Especially if you've recently made a white cake and are wondering what to do now with all those egg yolks.
What is Lemon Curd?
Lemon Curd is a sweet dessert spread made using egg yolks, sugar, lemons, and butter.
While the word "curd" can sound negative, or gross to some…lemon curd, when made correctly, is smooth and creamy. Our version incorporates lemon zest so it has some flecks of flavor (much like the difference between preserves and jelly).
Bursting with lemon flavor, it's a delicious preserve that's perfect when paired with cookies, cakes, tarts, toast, etc.
Ingredient Notes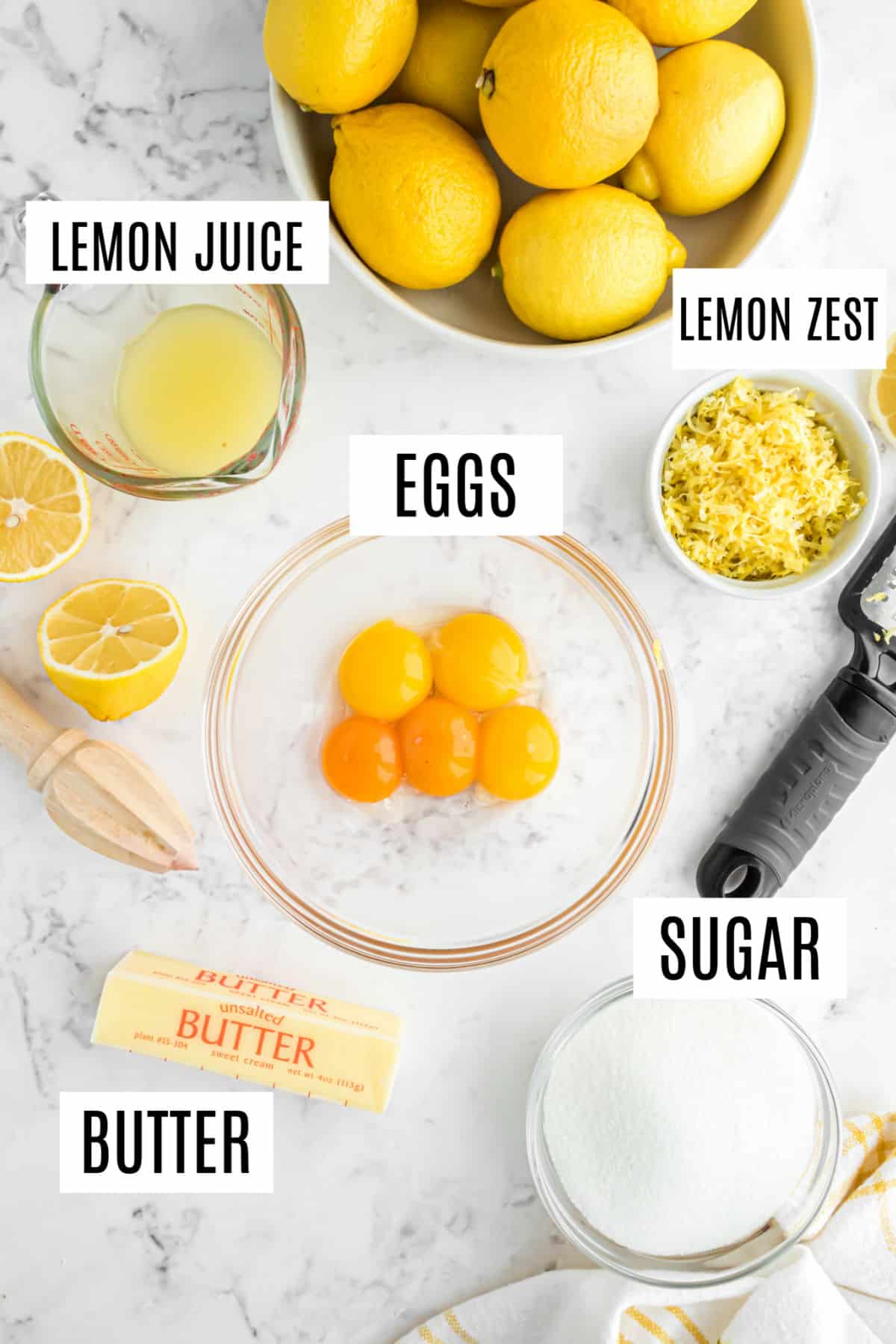 Today's lemon curd is quite easy. You'll only need FOUR ingredients.
Fresh Lemons. Start with 4 juicy lemons. You'll need to zest them, and then juice them. You'll use 1/3 cup of the lemon juice. And you'll use about 1/4 cup loosely zested lemon. Depending on the size of your lemons you'll need anywhere from 2-4 lemons. Use our tips and tricks on how to zest a lemon.
Granulated Sugar– provides the structure you need for a thick and sweet curd.
Unsalted Butter – cut into Tablespoon pieces.
Egg Yolks – I use large eggs for today's recipe. Some egg yolks are more yellow and some are more orange. This may change the final color of your curd…whether it's pale yellow or bright yellow (like my photos)! Save the egg whites for our favorite white cake recipe or a batch of meringue cookies.
How to Make Lemon Curd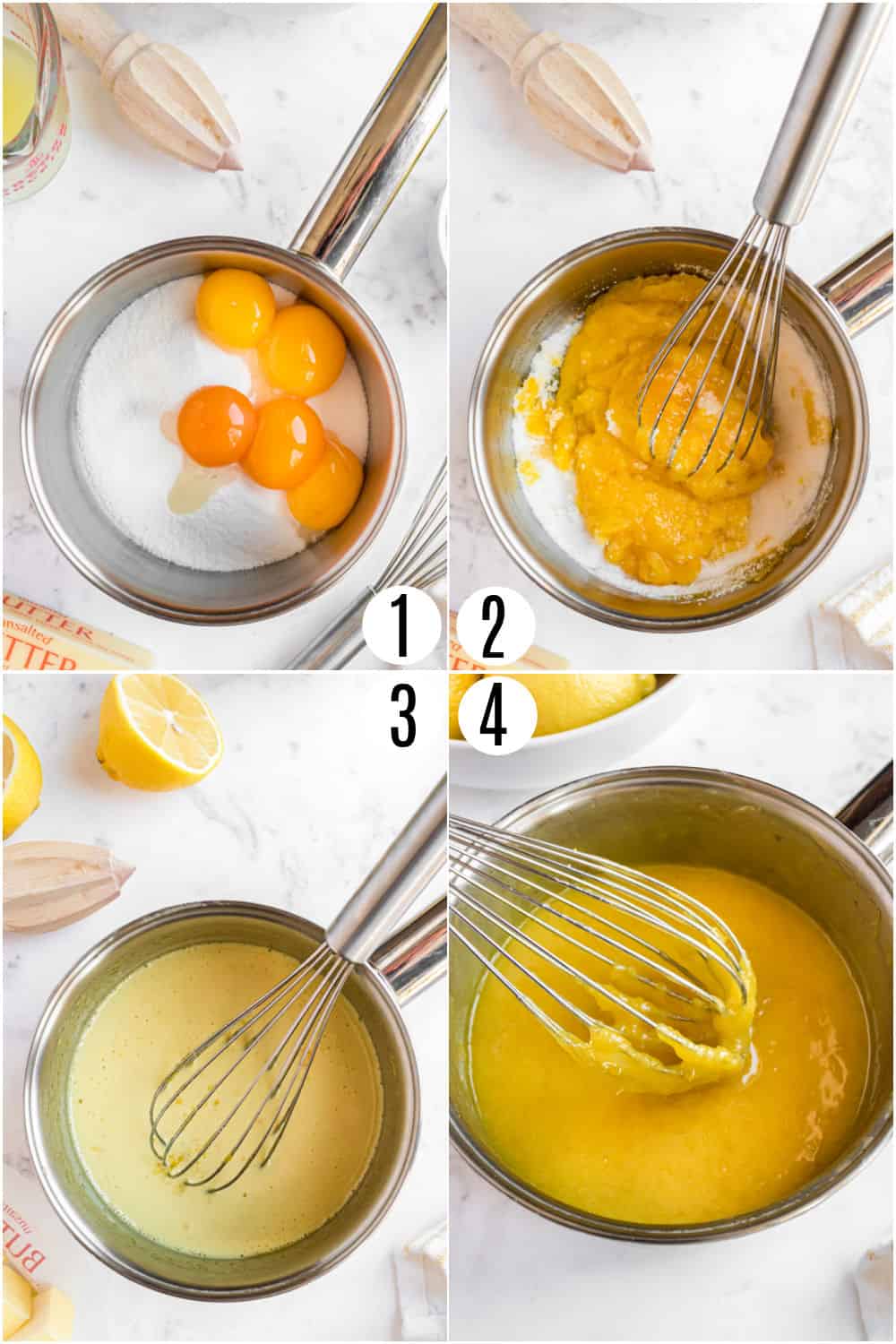 Double Boiler. In a small pan with a double boiler, heat an inch of water in the pan to boiling. In the double boiler, whisk the egg yolks and sugar together.
PRO TIP: If you don't have a double boiler, find a glass bowl that will fit over the sauce pan.
Whisk. Add lemon juice and lemon zest to the sugar mixture and continue whisking over the boiling water for about 8-10 minutes. The lemon curd will begin to slightly thicken.
Add Butter. Remove from heat. Add in butter, one tablespoon at a time, whisking until melted and smooth.
Once all the butter has been added, pour into a bowl (or glass jar), and cover loosely with a lid.
Chill. Refrigerate lemon curd until thickened and cooled. At LEAST 2 hours or overnight.
Recipe FAQs
How do you store Lemon Curd?
Lemon Curd can be stored in the refrigerator in a sealed container for up to two weeks. 
Can you freeze Lemon Curd?
You can also freeze lemon curd! Place in an airtight, freezer safe container with at least 1/2 inch of room at the top. Freeze for up to 6 months for best results. To thaw, refrigerate frozen lemon curd for 24 hours. Stir and enjoy.
Why does my lemon curd taste eggy?
If your lemon curd has an eggy taste, it could be a couple of things. First, make sure you have properly separated your egg yolk and egg white. Any bits of egg white can give you that eggy flavor. Also, using a glass bowl or porcelein double boiler gives best results and prohibits the acidic lemon from causing the metal to leach into the flavor of the lemon curd.
How much zest from one lemon?
One lemon equals approximately 1 1/2 Tablespoons of zest. Loosely measured. Be sure to zest only the yellow part of a lemon.
How much juice from one lemon?
1 lemon is approximately 1 1/2 Tablespoons of juice. Some provide more, some provide less.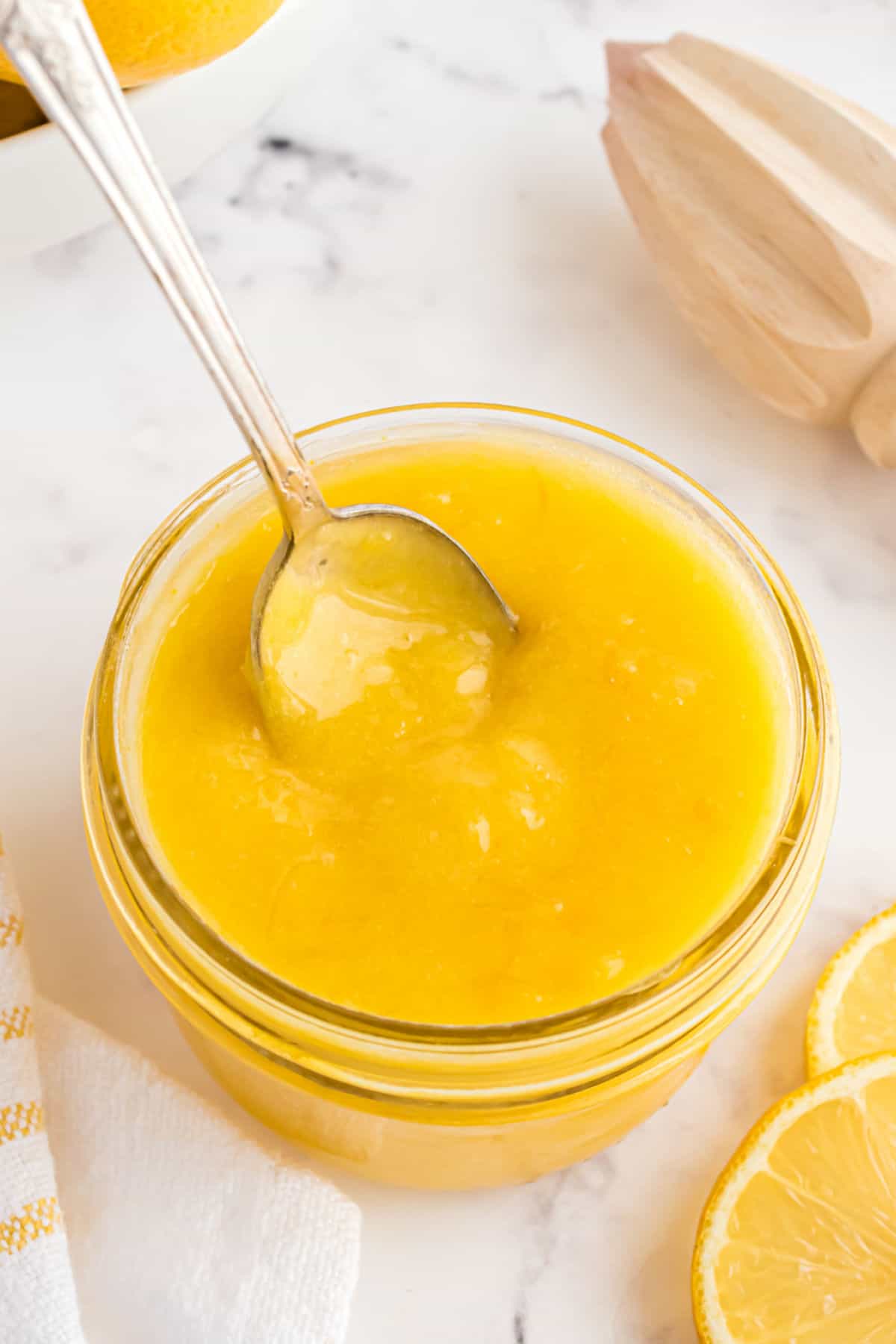 Lemon Curd Uses
So now that you've made this homemade Lemon Curd recipe, what next? Think of it as a jam or jelly, and that's how you can use it.
Tips and Tricks
Lemon Juice- make sure to use fresh lemons and not bottled juice. Fresh lemon juice has no preservatives and no bitterness.
Egg Yolks- It's easiest to separate eggs while they are cold. Use the egg whites in my wedding cake cupcakes!
Thicker Curd- Some people have added a tablespoon of cornstarch after the addition of butter to thicken the curd to use immediately. I prefer to refrigerate and allow it to naturally thicken.
Strain or No Strain- With my recipe you do not need to strain the curd. The flecks of lemon zest add color and flavor, you can hardly tell the difference in texture. If you prefer smooth though, you can push the lemon curd through fine mesh strainer.
Glass bowl/ Double boiler- if using a glass bowl, you may need to cook the curd closer to the 10 minute mark.
Simmering water- make sure while you're cooking your curd that your water in the pan is simmering (at a very low boil/bubble). If you're not simmering correctly, the curd can begin to cool and you will have trouble getting the desired thickness.
Adding butter. Add ONE tablespoon at a time, until completely melted, whisking continuously. Do not speed this process.
More Easy Lemon Desserts
Easy Homemade Lemon Curd Recipe bursting with citrus flavor. Perfect on cakes, tarts, and more!