Turn your favorite Gooey Butter Cake into a Lemon dessert! Gooey Lemon Cake Bars make everybody happy and no one has to know you started with a box of cake mix!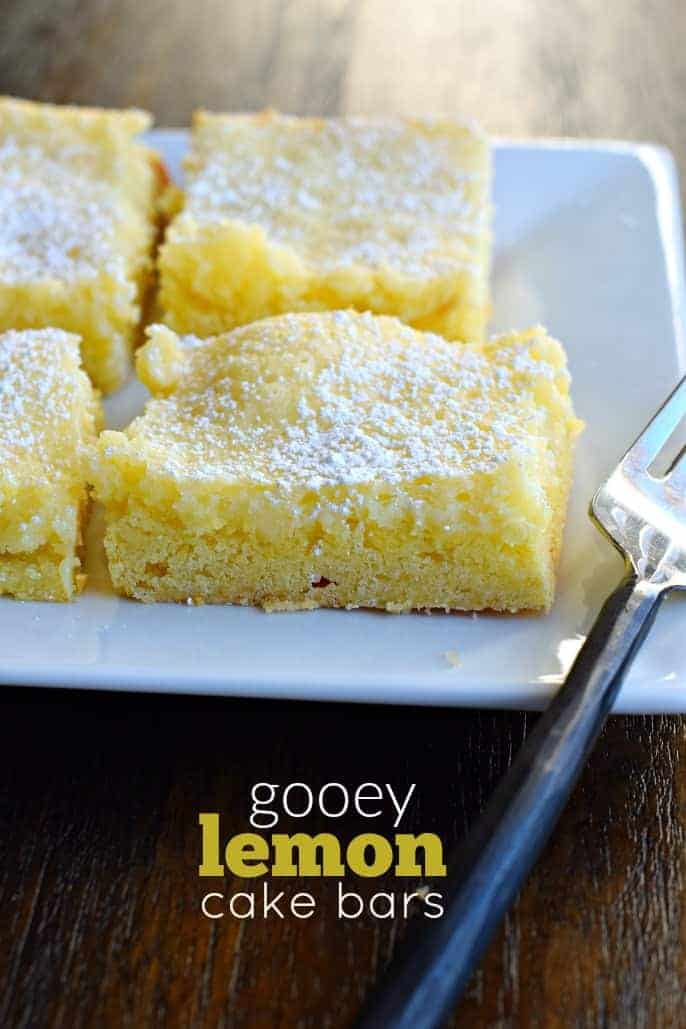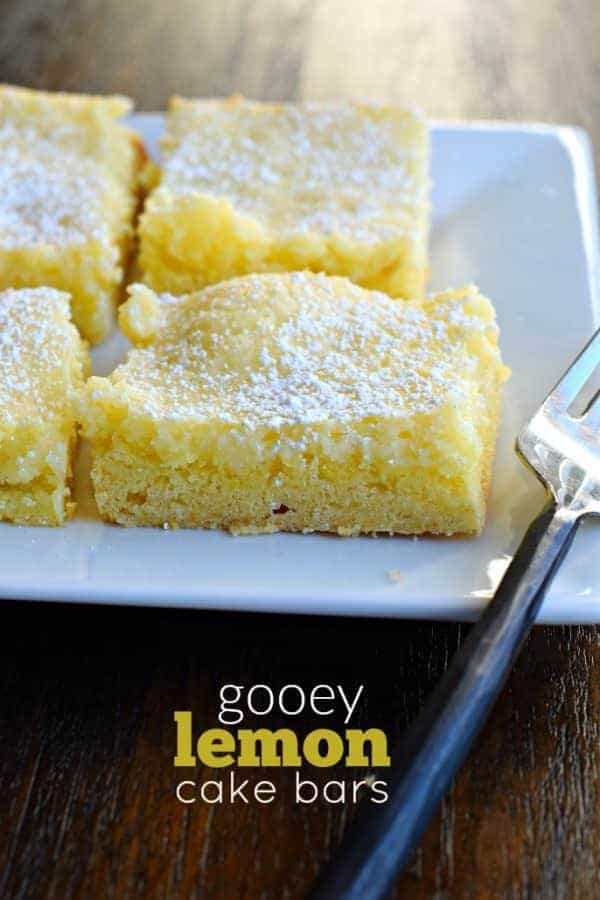 Once upon a time there was a food blogger named Aimee.
She LOVED lemon desserts. Especially lemon bars. So, when she realized she could use her favorite Butter Cake recipe to make ooey gooey buttery lemon cake bars, she rocketed straight to Cloud 9.
The end.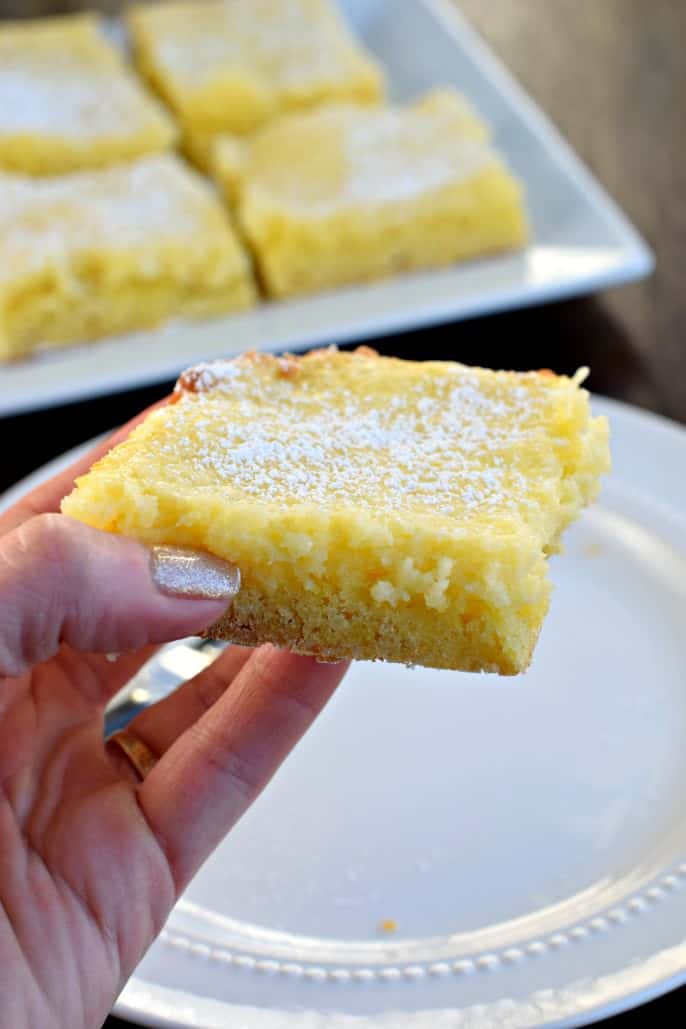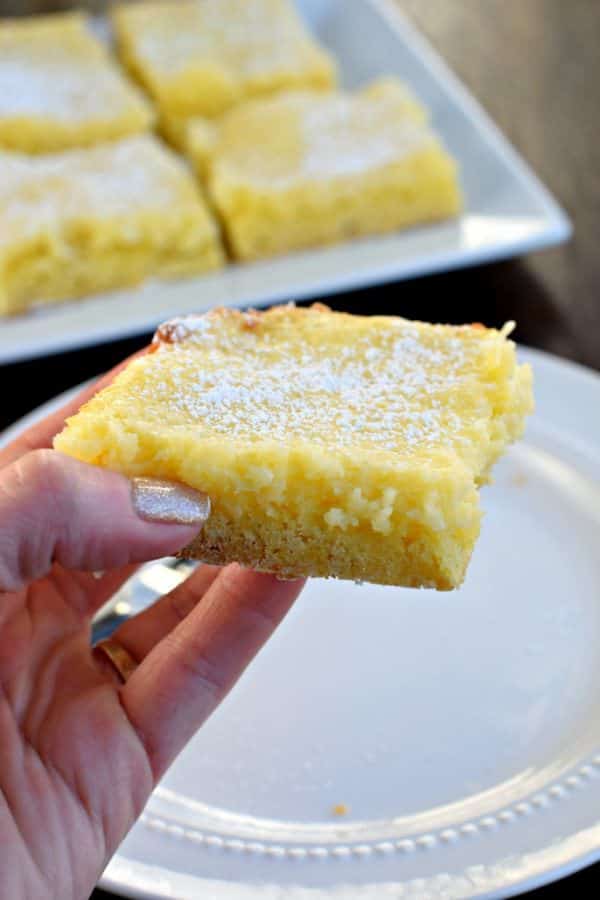 Seriously, folks, these lemon bars are better than I could possibly describe in words. I made these by using a cake mix, too, so they'd be ultra easy.
I know, I don't use a mix often, but back off. It's summer. Don't we ALL want dessert recipes that allow us to spend more time by the pool and less time in the kitchen? I do.
Gooey Lemon Cake Bars Recipe
I based these lemon bars off of this easy Gooey Butter Cake recipe. By just changing it slightly they become a whole new dessert.
If you love lemon treats as much as I do you're going to fall head over heels for these cake bars! They're full of zesty lemon goodness, like sunshine in bar form.
You can make these even prettier by adding some fresh raspberries or strawberries on top as a garnish, but they don't need any help being tastier.
Try them and you'll understand, Gooey Lemon Cake Bars are divine. Hands down. No question.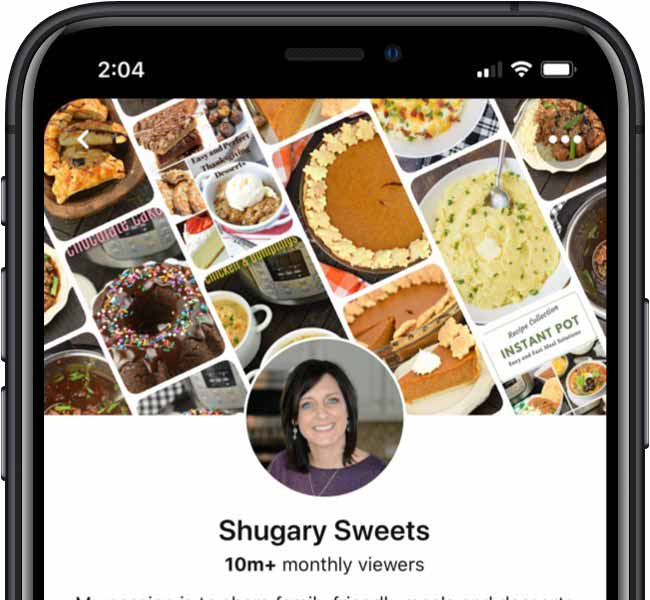 How to make Gooey Lemon Cake Bars
For the lemon cake layer:
Start with your favorite cake mix! I use Duncan Hines Lemon Cake mix but go with whatever cake mix you love.
Add softened butter and egg to to cake mix, and press this into the bottom of your 13×9 baking dish. This is your crust and also where the bars get their tangy lemon flavor.
For the filling:
Beat together cream cheese, powdered sugar, eggs and vanilla until well combined and fluffy. I use an electric mixer to get the ideal consistency.
To bake:
Spread the filling layer over the lemon crust and bake for 40 to 45 minutes. Do not overcook! The bars will look a little under baked when you take them out of the oven.
I love to under bake mine a little to keep the layers separated and get the "ooey gooey" buttery consistency.
Once you've removed the Lemon Bars from the oven, cool on wire rack. When cool, place bars in refrigerator for at least 4 hours. This is a MUST! Top with powdered sugar and enjoy cold!
Garnishes for Lemon Cake Bars
We enjoyed these bars so much without any bells and whistles on top. If you're making this for a nice event and want them to look extra impressive, feel free to garnish with strawberry slices, blueberries, or candied lemon peel.
The simple dusting of powdered sugar was plenty pretty on its own for us!
Tips & Tricks
When in doubt, underbake. My bars are ready to come out of the oven at about 40 minutes.
Chill well. I know the cake smells so good when it comes out of the oven, you'll be tempted to dig in right away. But chilling this for at least 4 hours before serving helps it firm up to the right texture. I also LOVE the taste of these bars best when they're cold.
Can this be made ahead of time? Absolutely. Bake them the night before and keep them covered with foil or plastic wrap in the fridge over night.
Gooey Lemon Cake
Is it cake? Is it bars? This recipe is definitively BOTH!
Once they've firmed up in the fridge, you can eat the bars with your hands just like a blondie, brownie or other bar. You can also serve them on a plate with a fork like a slice of cake.
It's the best of both worlds!Gooey Lemon Cake Bars have earned their place as one of my newest favorite EASY lemon recipes. For lemon fans, this recipe is a must try.
More Lemon Recipes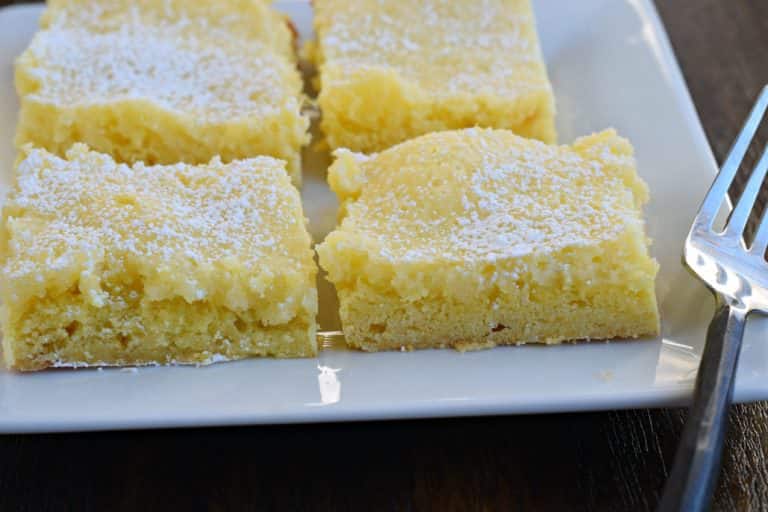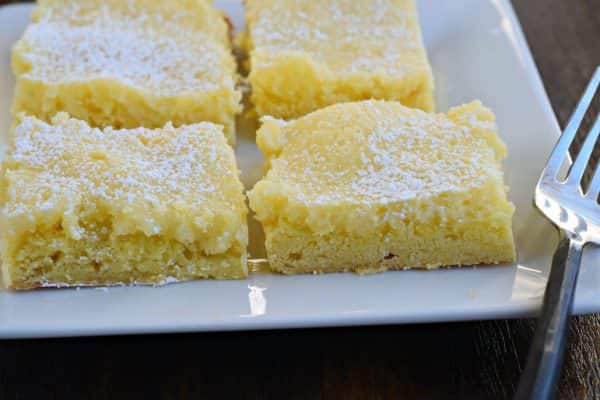 More Lemon Desserts