Turn your favorite Gooey Butter Cake into a Lemon dessert! Gooey Lemon Cake Bars make everybody happy and no one has to know you started with a box of cake mix!
For more easy cake mix recipes, try our delicious lemon poke cake next. Or give our cake mix cookies a try for a unique treat.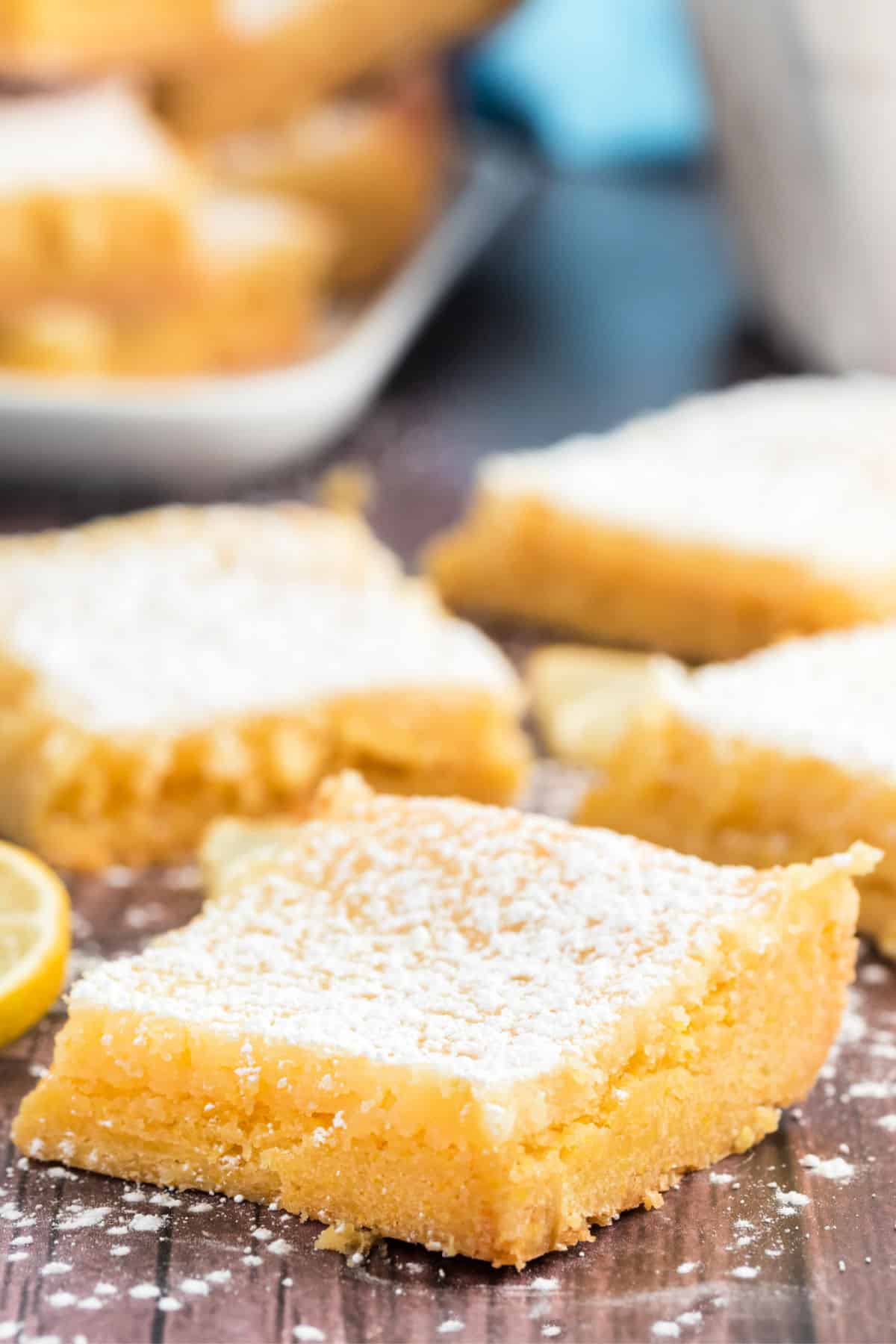 Why this Recipe is Best
I based today's lemon bars off of this easy Gooey Butter Cake recipe. By just changing it slightly they become a whole new dessert.
If you love lemon treats as much as I do you're going to fall head over heels for these cake bars! They're full of zesty lemon goodness, like sunshine in bar form. Sure to brighten your day!
This recipe starts with a cake mix for easy assembly.
The bars have a soft gooey topping, baked on a cake mix crust.
You can store them in the refrigerator or freezer.
If you're loving lemon, be sure to try our delicious, from scratch, lemon cake recipe. Don't forget to try the lemon frosting too.
Ingredient Notes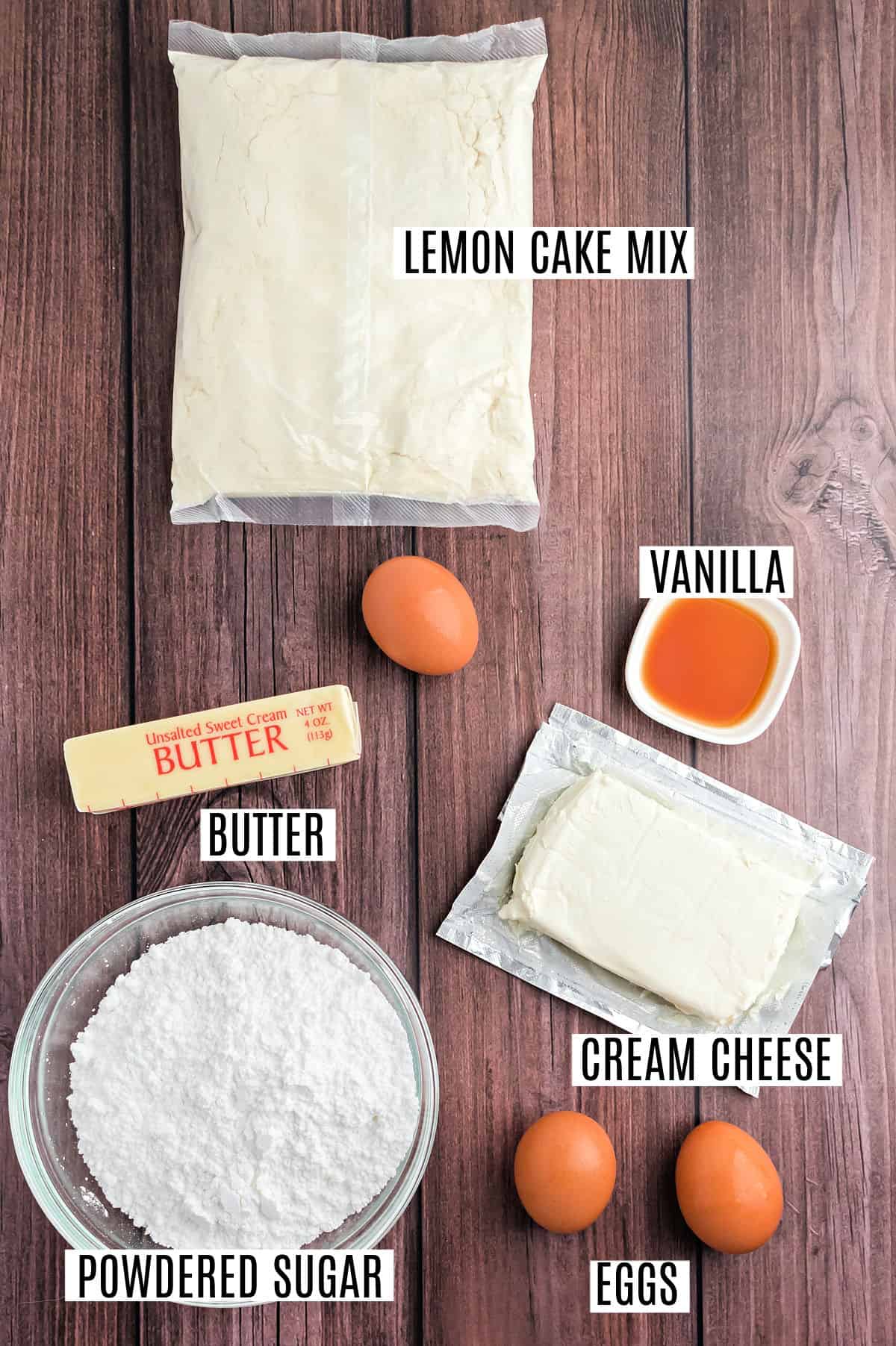 Lemon Cake Mix- Start with a boxed mix for today's easy recipe. Any brand will do.
Cream Cheese – Choose the "block" not the tub of cream cheese and use full fat cream cheese for best results. Don't forget to let it soften at room temperature for a few minutes first.
Powdered Sugar – This is used to sweeten the gooey layer, and you'll want to dust the finished dessert with more for a pretty presentation!
PRO TIP- We love making our own homemade vanilla extract, but if using store bought, be sure it's pure extract, not imitation (for best flavor).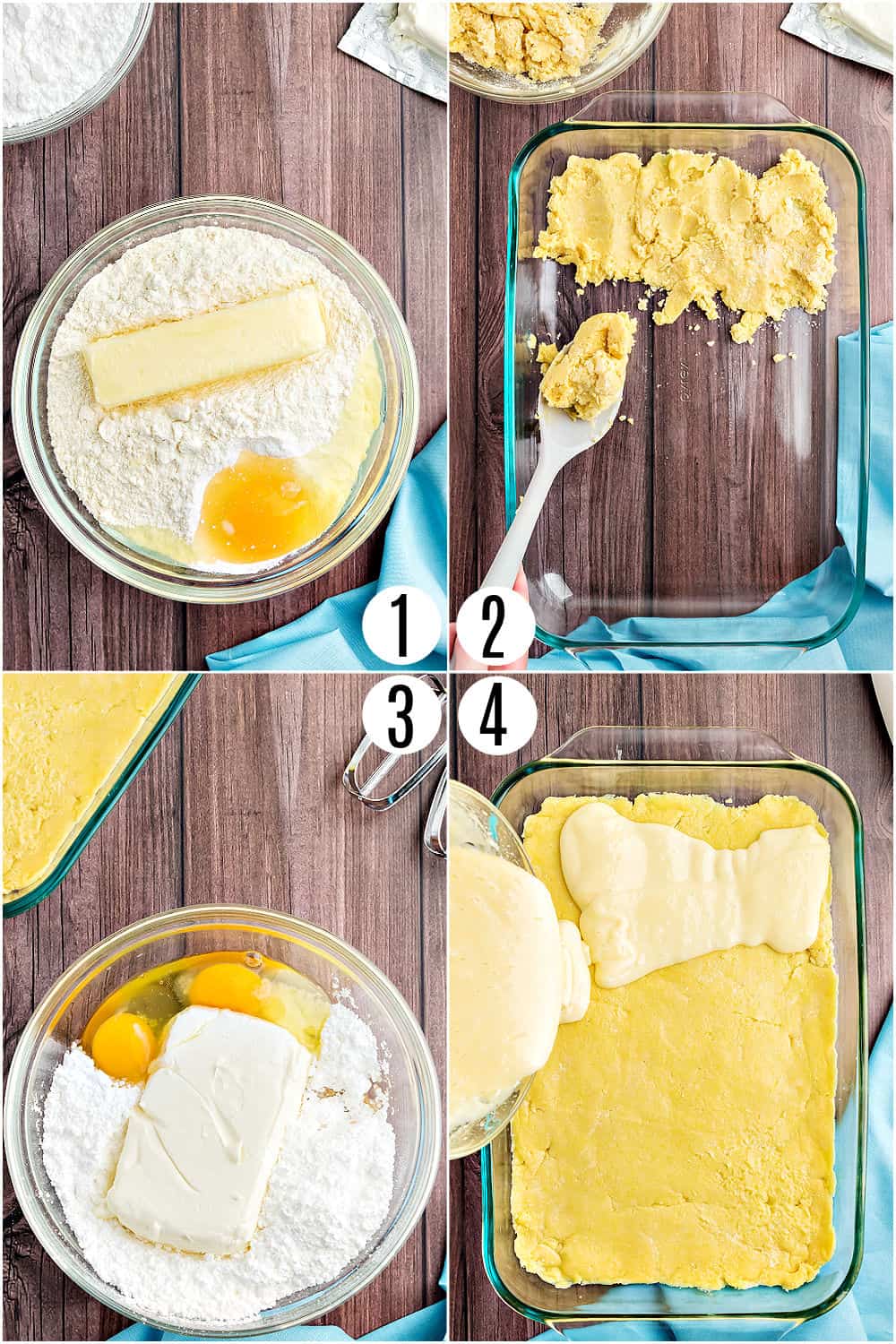 Easy Instructions
STEP 1. Make the crust. Combine the cake mix, butter and egg until well mixed. Press into the bottom of a 13×9 baking dish.
STEP 2. Make the filling. Combine the cream cheese, sugar, vanilla and eggs in a mixer and beat until fluffy. Pour over the crust.
STEP 3. Bake, cool and refrigerate. Bake the bars in a 325 degree oven for 40-45 minutes then let cool completely. For best flavor, refrigerate for at least 4 hours or overnight before serving.
Tips and Tricks
Make sure to let your butter and cream cheese come to room temperature. This is important!
When in doubt, underbake. My bars are ready to come out of the oven at about 40 minutes. Underbaking also helps show the definitive separation in layers.
Chill well. I know the cake smells so good when it comes out of the oven, you'll be tempted to dig in right away. But cooling the bars and then chilling them for at least 4 hours in the refrigerator before serving helps them firm up to the right texture. I also LOVE the taste of these bars best when they're cold.
Top with powdered sugar. These bars look best with a dusting of powdered sugar on top to add a sweet decorative touch!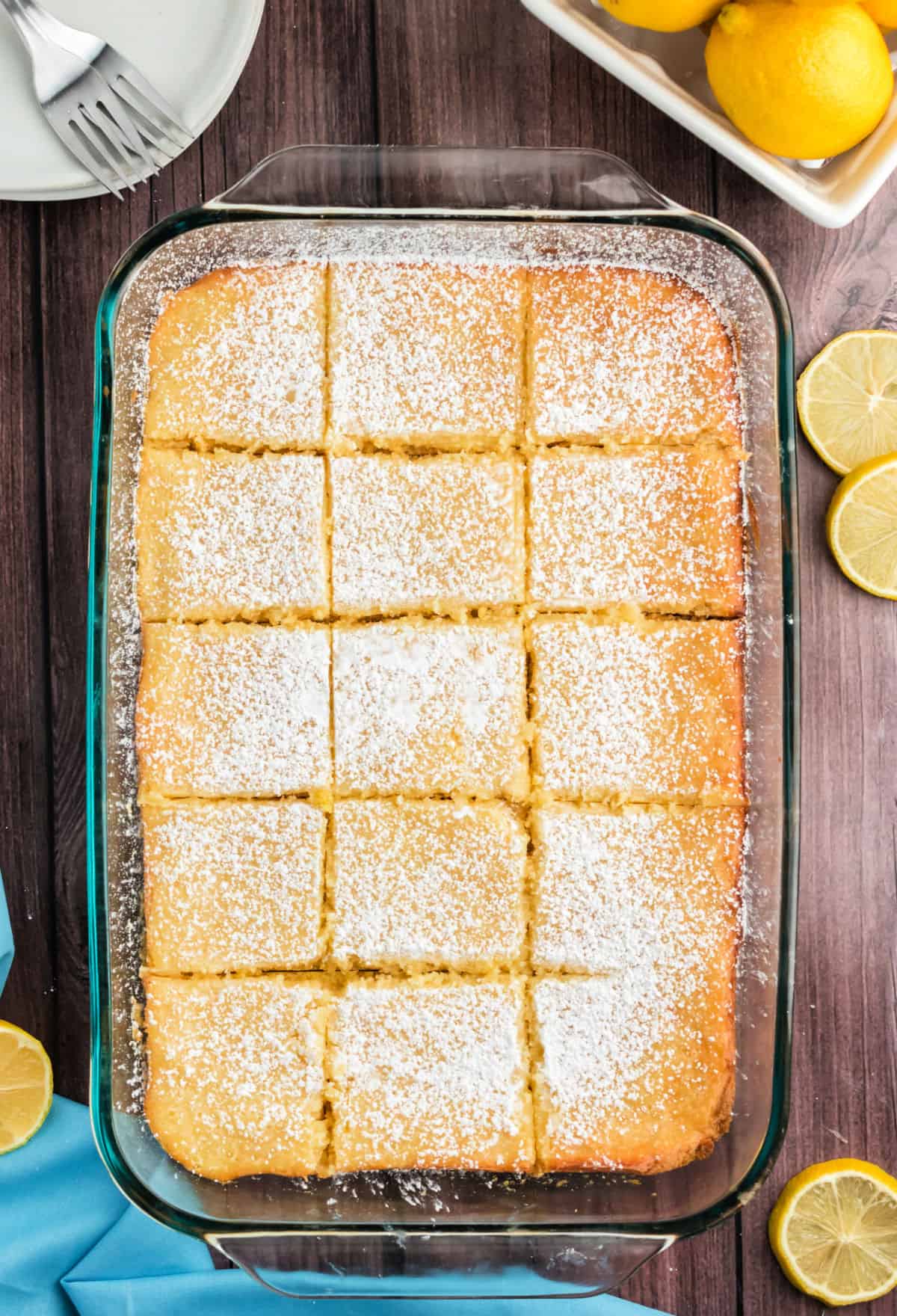 Recipe FAQs
Are powdered sugar and confectioner's sugar the same?
Yes! It's labeled as one or the other, depending on the brand. So if your box says "confectioner's sugar" it can still be used in this recipe.
Can I make gooey lemon cake bars in advance?
Absolutely. Bake the bars the night before and keep them covered with foil or plastic wrap in the fridge overnight.
Can you freeze lemon cake bars?
Yes! After baking and cooling, slice the cake bars and place in an airtight, freezer safe container (or ziploc bag). When ready to enjoy, allow to thaw in the refrigerator overnight. Sprinkle with powdered sugar and enjoy.
More Lemon Recipes