Looking for an easy dessert recipe that delivers impressive results? Make a delicious Coconut Pudding Cake with just a few ingredients! Moist cake with a creamy cool whip topping gets even better when you add a sprinkle of toasted coconut on top.
Pudding Cake recipes are some of my families favorite desserts. Like today's coconut version, this Lemon Pudding Cake Recipe is especially perfect for the summer time.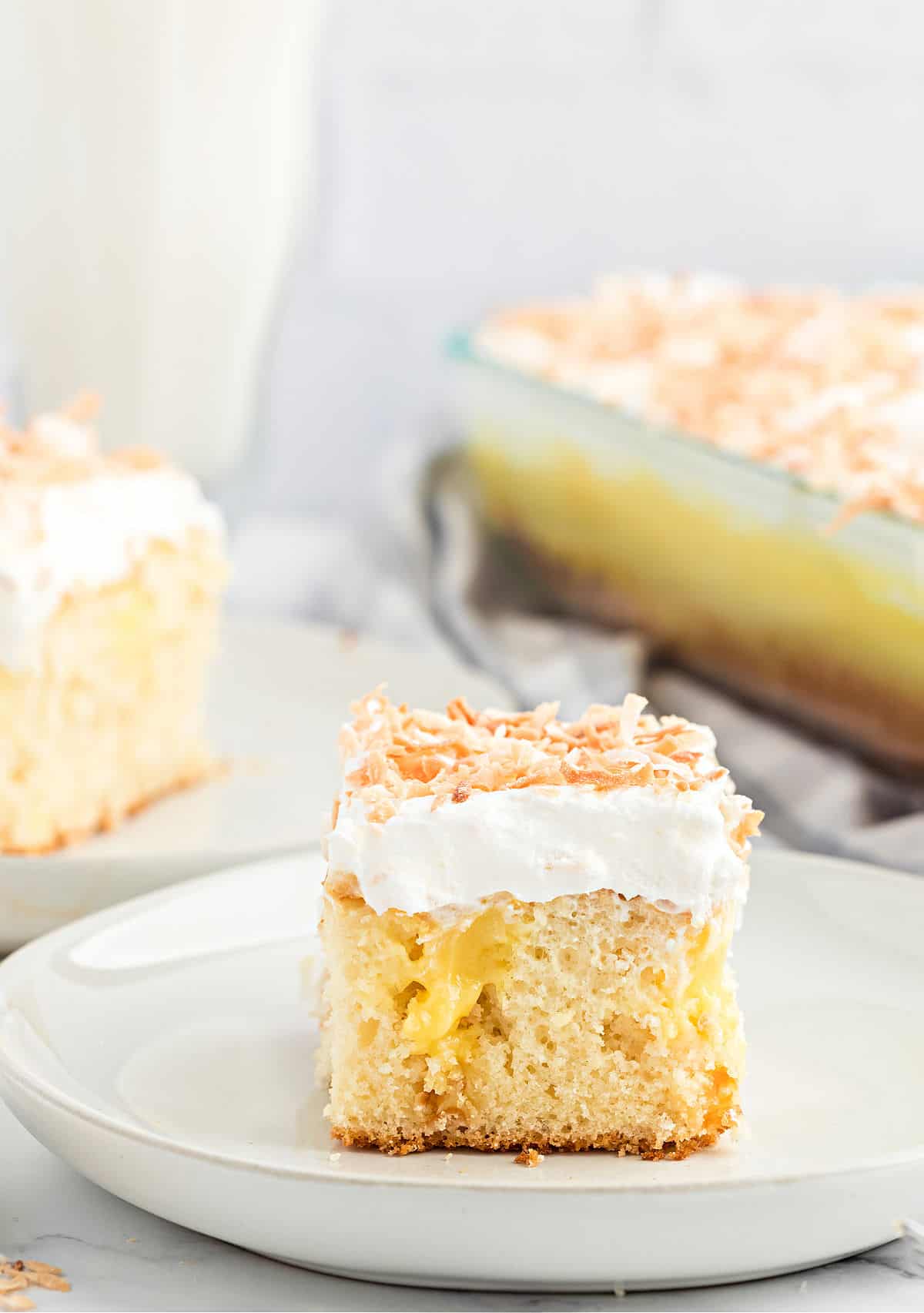 Why this Recipe Works
If you love coconut cake, you've got to try this easier version.
Starts with a cake mix.
Warm coconut pudding is poured over a baked vanilla cake. Every nook and cranny is super moist and saturated with coconut flavor!
No need to make a frosting with this recipe. Just spread on some Cool Whip and add a handful of toasted coconut.
Thanks to the pudding, this coconut cake stays moist and delicious even the next day.
I love how easy it is to transport and serve this cake, too. Baked in one layer, you can slice and serve your homemade Coconut Cake right out of the pan!
Ingredient Notes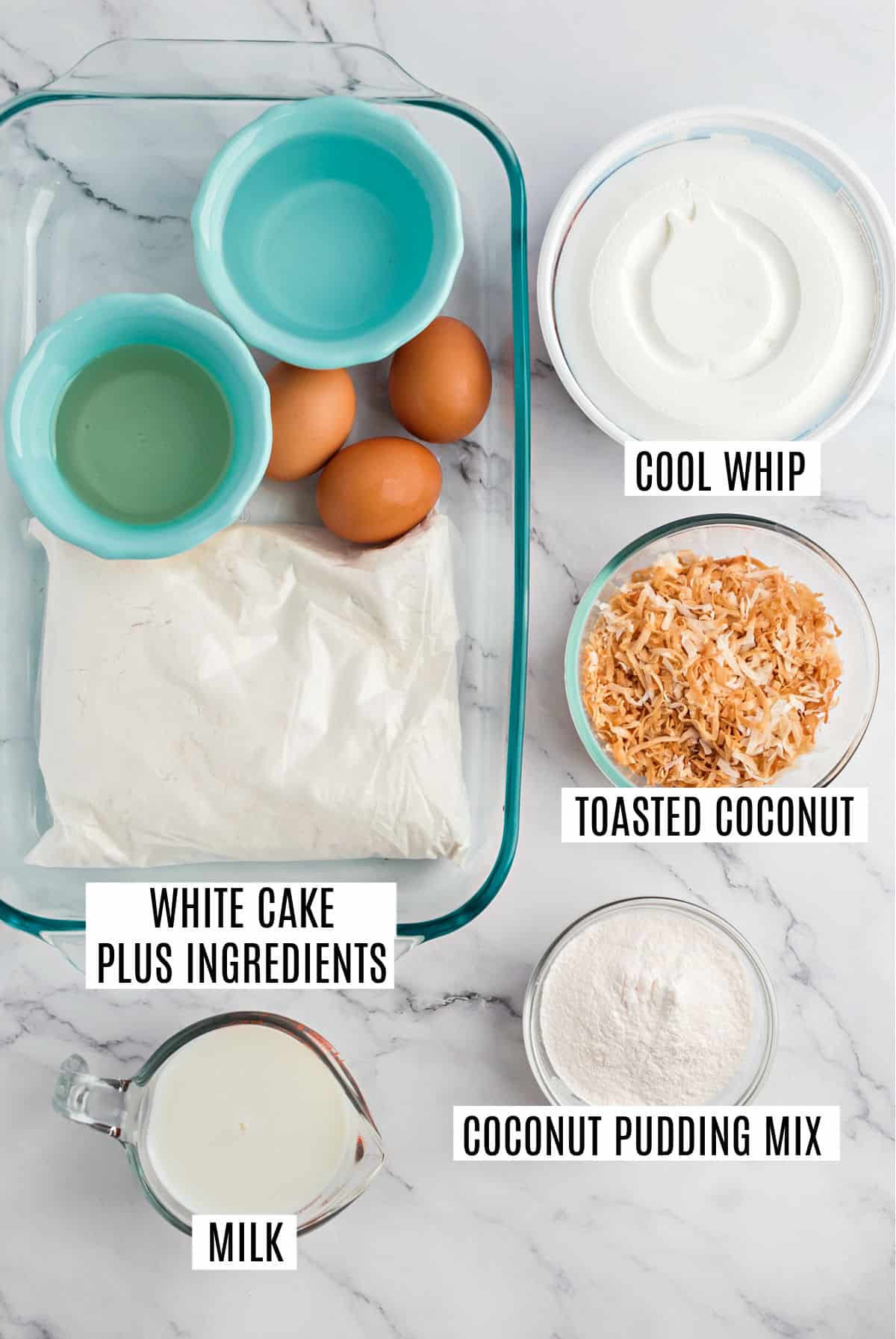 French Vanilla Boxed Cake Mix. If you can't find French Vanilla, any white cake mix will do. You'll also need the ingredients to make the cake according to package directions.
Cool Whip. My Homemade whipped cream or this stabilized whipped cream make a delicious substitutes, if you can't get Cool Whip where you live.
Coconut Cream Pudding Mix. You'll need the instant mix for this recipe (not cook and serve).
Milk. You can use skim milk, whole milk or even your favorite plain nondairy milk. It's up to you!
Easy Instructions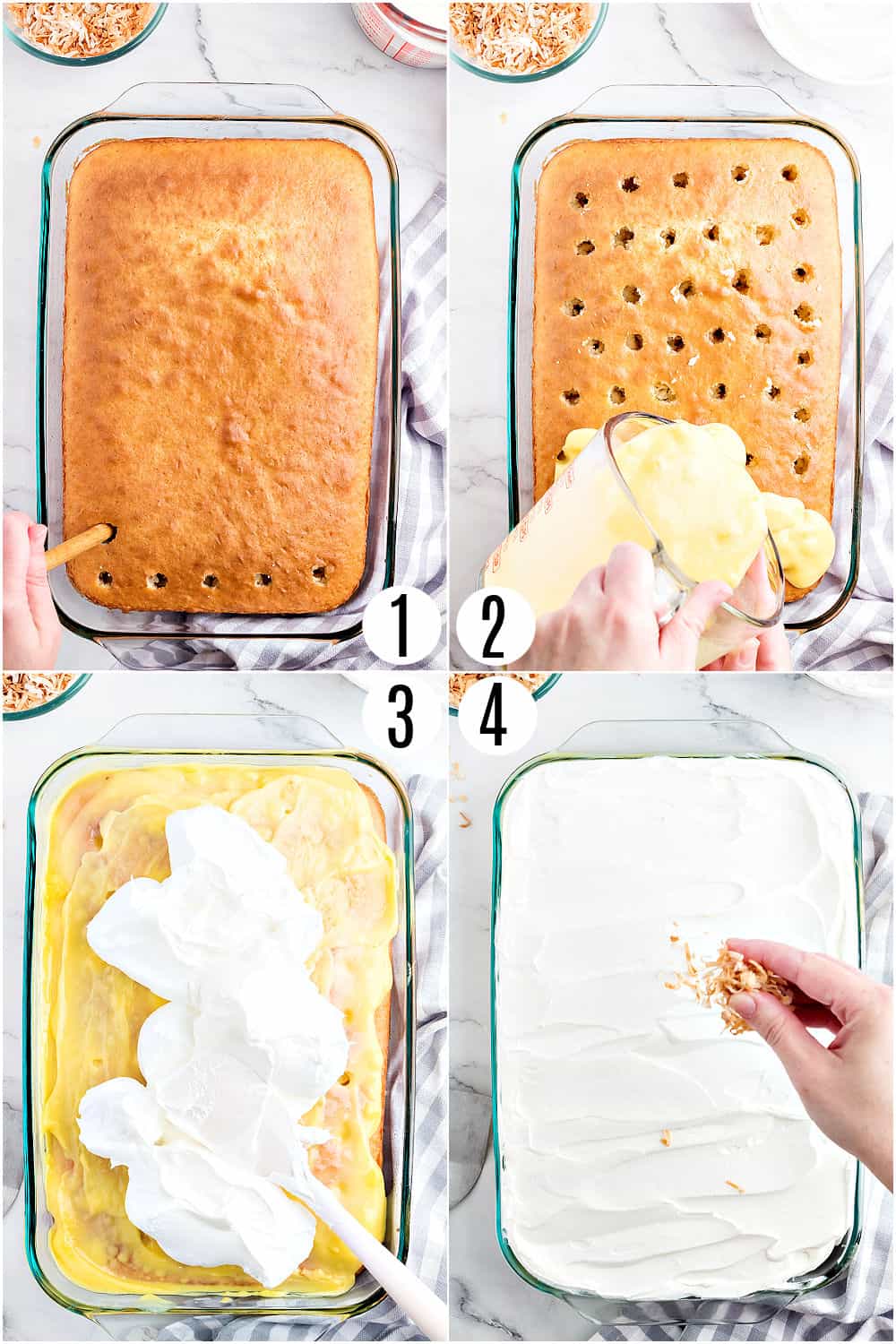 Bake the cake. Mix and bake the vanilla cake according to package directions. Remove from the oven and poke holes all over the top of the cake with the handle of a wooden spoon.
Pour on pudding. Mix together the instant pudding mix with the milk. Immediately pour it over the warm cake. Cover and chill the cake for at least 3 hours.
Cool Whip Topping. Just before serving, spread thawed Cool Whip all over the top of the cake. Sprinkle with toasted coconut flakes. Cut into squares and enjoy!
Tips and Tricks
Make ahead option. Bake the cake the night before and let it chill in the fridge overnight. It'll be ready to frost and enjoy the next day!
Poking holes. I use the handle of a wooden spoon for making poles in the cake. A skewer or tip of a meat thermometer are also perfect for this! Make sure to cover the whole top of the cake with holes to ensure the pudding seeps into every bite of the cake.
How to store. Keep leftovers tightly covered in the fridge. Enjoy within 3 -4 days.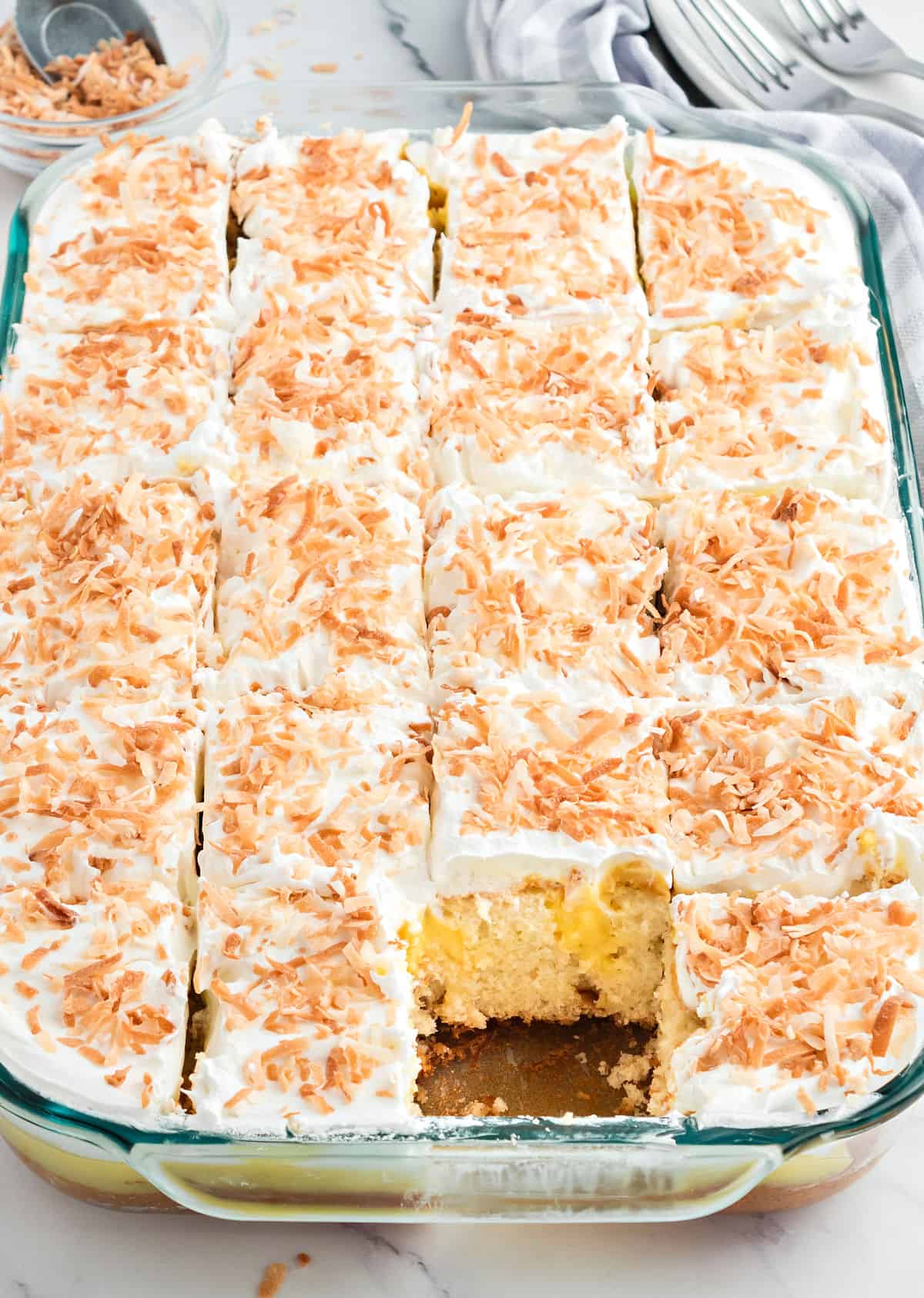 Recipe FAQs
Can I make this recipe with a from-scratch cake instead?
Yes, you can use any vanilla sheet cake recipe you enjoy in place of the boxed mix!
Can I use cook 'n' serve instead of instant pudding?
I haven't tried this Coconut Pudding Cake with the mixed you have to cook first. I imagine it would work but you will need to follow the instructions on the package for making pudding before pouring it over the cake.
Can you freeze pudding cake?
Yes you can freeze pudding cake. After baking and assembling, freeze in airtight container for up to 3 months. Thaw in refrigerator overnight.
With sweet tropical flavor, this Coconut Pudding Cake has "summertime" written all over it! It doesn't get any easier–or tastier–than a good pudding poke cakes.