Rich, decadent, copycat Fannie May Fudge. It's the perfect chocolate fudge recipe for any time of year. No candy thermometer needed!
If you love homemade candy recipes, you'll have to try our homemade divinity. It's a classic treat! Our pralines are also wonderful, just like grandma always made!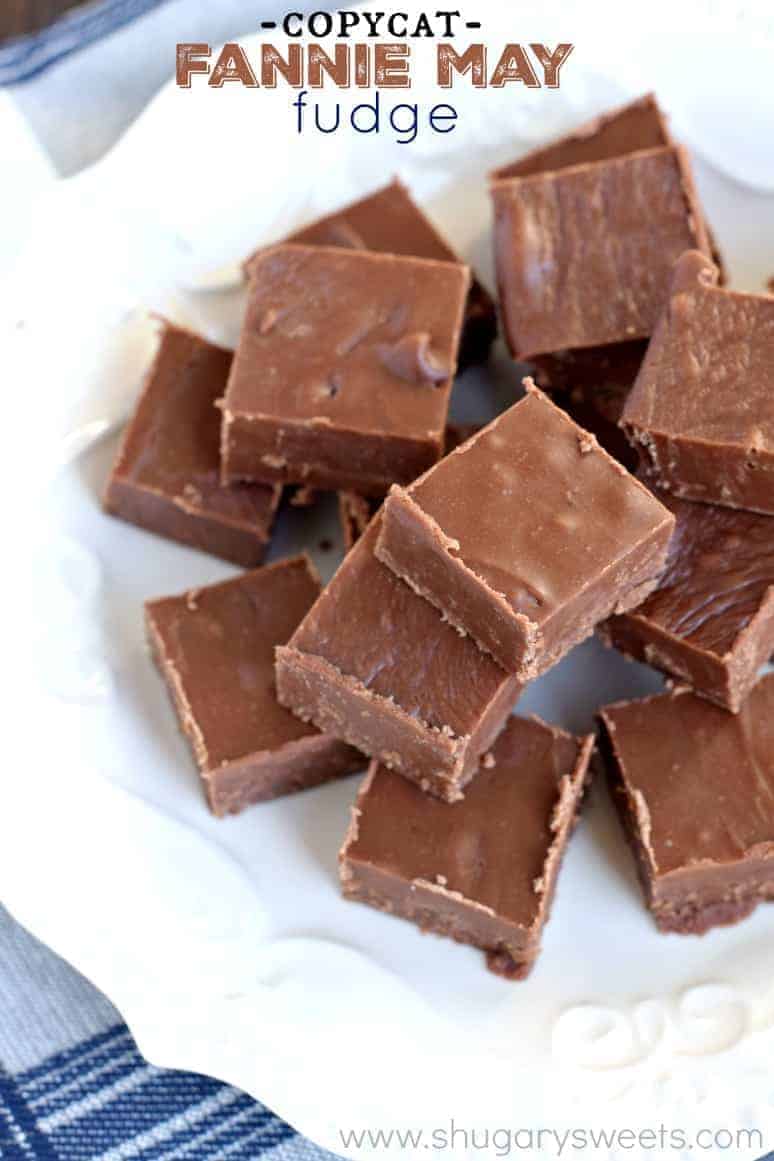 Why this Recipe is Best
My mom has been making this copy cat Fannie May Fudge for as long as I can remember. It's inspired by the classic chocolate fudge we used to get at Fannie May candy stores!
Easy to make.
Makes a HUGE batch of rich, creamy fudge!
No special equipment needed for this recipe.
This fudge is different from most of my other fudge recipes! My Cookies and Cream Fudge and my Orange Creamsicle Fudge use marshmallow cream.
Today's fudge base is made from real marshmallows, butter, and cream. You'll see this version as a base for this Salted Caramel Mocha Fudge, Macadamia Nut fudge, and this Chocolate Cookie Dough Fudge.
This recipe makes approximately 5 pounds of Fannie May Fudge! Plenty to share with friends and family during the holidays.
Keep reading to find out how to store your Fannie May Fudge to last all season long.
Ingredient Notes
Milk – You can use whole, 2%, skim or whatever you have on hand.
Butter – Use unsalted butter if possible for consistency in flavor.
Marshmallows – You need regular full size marshmallows for this recipe, not the miniature ones.
Chocolate morsels – A combination of milk and semi-sweet gives this fudge a perfect creamy and sweet chocolate taste.
Unsweetened baking chocolate – Adds a more pronounced cocoa flavor and balances the sweetness of the fudge.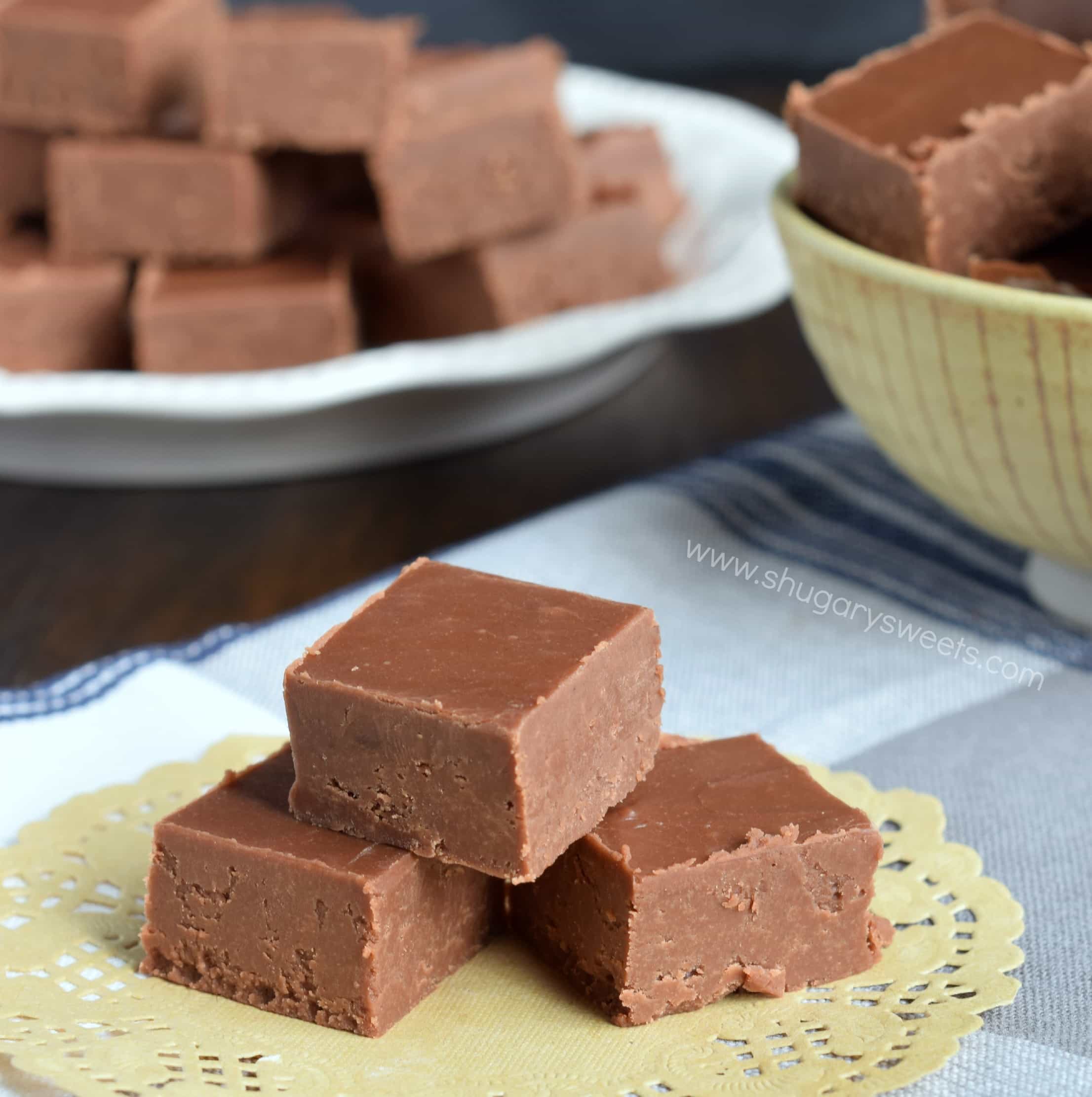 Tips and Tricks
Put the chocolate, marshmallows and vanilla in a mixing bowl first. Then, when the butter mixture is done boiling you can pour it directly into the mixing bowl.
The heat from the butter mixture will melt the chocolate and marshmallows so they're easy to combine with a whisk. Make sure to keep whisking until the chocolate and marshmallows are fully melted and combined with the other ingredients.
You can save even more time by using electric beaters or a stand mixer for this step.
How to Store Fudge
I pour the Fannie May Fudge into a large 15 x 10 x 1-inch baking sheet that's lined with parchment paper. Once it's chilled and firm, I will remove it from the pan and cut it into approximately 4 large rectangles.
I store these rectangles wrapped in parchment paper and in an airtight ziploc bag in my freezer. I usually make this fudge mid-December and store it in my refrigerator in these "packs."
Then, when I'm making up a cookie or candy plate for a party, hostess gift, friend, etc, I will cut just the amount of fudge needed.
By not cutting the fudge into bite sized pieces immediately, it will maintain its freshness longer (straight through the holidays)! When cutting it into pieces, they tend to dry out quicker…so use within a few days if you're chopping them up for gifts!
Whip up a batch of Fannie May Fudge and store it to share with your friends and family this holiday season. Or keep some for yourself. It'll be our secret!
Recipe FAQs
Can I use mini marshmallows instead?
You can but you will need to add more than 25!

For this recipe, you would need about 4 1/2 cups of of mini marshmallows the replace the full size marshmallows in this recipe.
Can I use chocolate bars instead of chocolate chips?
Yes, you can substitute an equal amount of sweetened chocolate bars chopped into pieces for the chocolate morsels with good results.
Why is my fudge not setting up?
This fudge should be smooth and soft, but firm enough to cut with a knife.
Your fudge may be too soft because you did not boil it the full length of time. The butter, sugar and milk mixture needs to stay at a rolling boil for a full 2 minutes to give the fudge the perfect consistency.
What other ingredients can I add?
Chopped nuts like walnuts, pecans and peanuts are a great addition to this fudge!
Can I use margarine instead of butter?
No, margarine should not be used in this fudge recipe (or any of my fudge recipes!). It contains a lot of water which will keep the fudge from setting up properly.
Can I freeze homemade fudge?
You sure can! I often store my fudge in the freezer in freezer bags if I know I won't eat or gift it all within two weeks.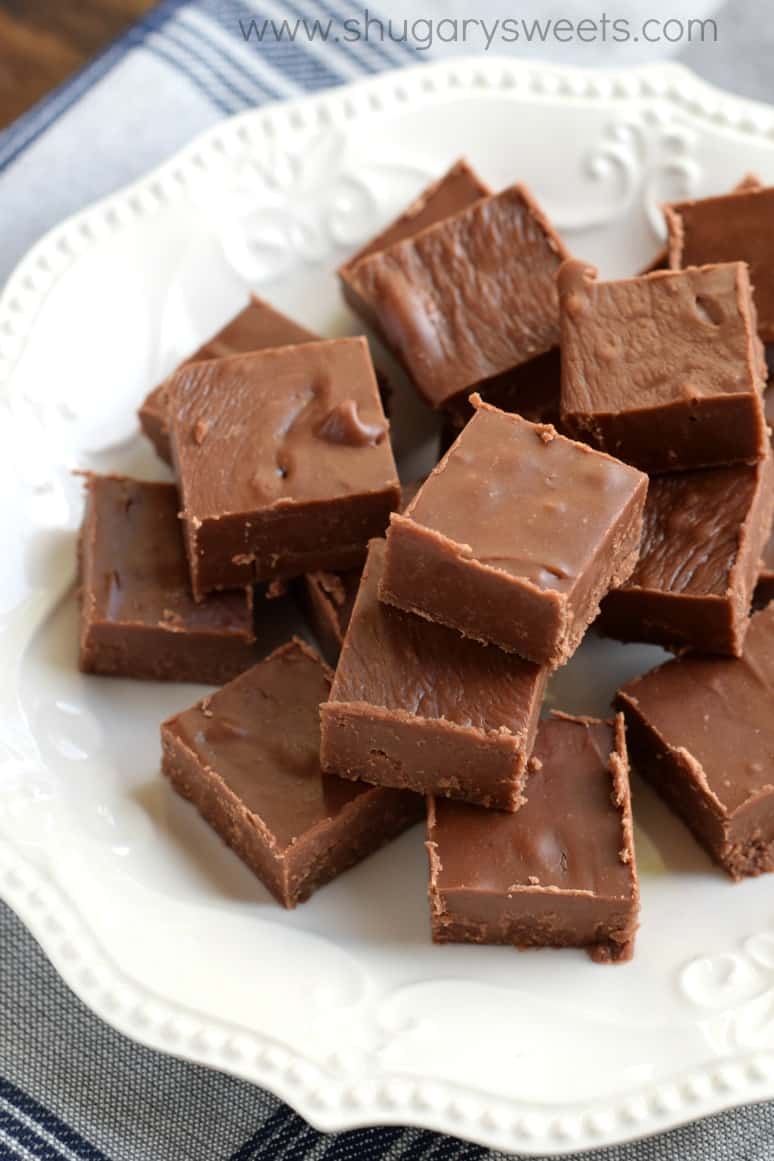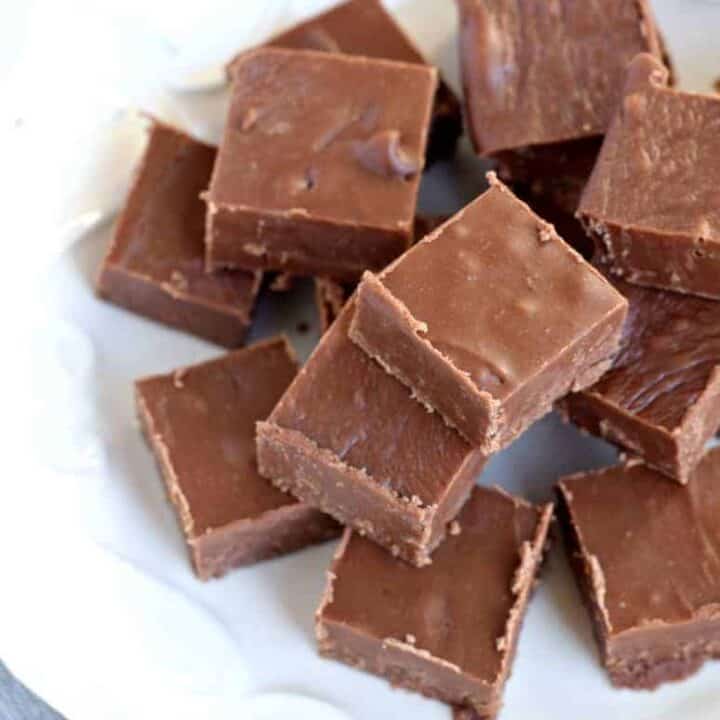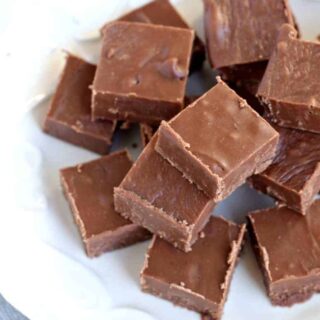 Fannie May Fudge
This is seriously THE BEST Chocolate Fudge recipe you'll find! Perfect for Christmas candy giving.
Ingredients
4

cups

granulated sugar

1

cup

milk

1

cup

unsalted butter

25

regular sized marshmallows

not minis

1

package

milk chocolate morsels

12 ounce

1

package

semi-sweet chocolate morsels

12 ounce

2

ounce

unsweetened baking chocolate

1

teaspoon

vanilla extract
Instructions
In a large mixing bowl, add marshmallows, chocolate morsels, unsweetened chocolate, and vanilla extract. Set aside.

In a large saucepan, combine sugar, milk and butter. Over medium high heat, bring mixture to a boil while stirring constantly. Once boiling, boil for a full two minutes.

Pour hot mixture over marshmallow and chocolate and beat with whisk attachment until melted and smooth (may take several minutes).

Pour into prepared baking sheet and refrigerate for about 3 hours (or overnight). Remove from refrigerator and cut into 4 large rectangles. Wrap in parchment paper and store in airtight container until ready to use.

When ready to use, cut into bite sized pieces and enjoy.
Notes
Put the chocolate, marshmallows and vanilla in a mixing bowl first. Then, when the butter mixture is done boiling you can pour it directly into the mixing bowl.
I pour the Fannie May Fudge into a large 15 x 10 x 1-inch baking sheet that's lined with parchment paper. Once it's chilled and firm, I will remove it from the pan and cut it into approximately 4 large rectangles.

I store these rectangles wrapped in parchment paper and in an airtight ziploc bag in my freezer. I usually make this fudge mid-December and store it in my refrigerator in these "packs."
Nutrition
Serving:
1
piece
,
Calories:
46
kcal
,
Carbohydrates:
8
g
,
Fat:
2
g
,
Saturated Fat:
1
g
,
Polyunsaturated Fat:
1
g
,
Cholesterol:
4
mg
,
Sodium:
2
mg
,
Sugar:
7
g