What would YOU do for a piece of Salted Caramel Mocha Fudge? Rich chocolate with swirls of caramel and topped with sea salt, this easy fudge recipe is perfect for even a beginner!
Love homemade candy recipes? Try our copycat Reese's peanut butter cups. Or whip up a batch of rocky road fudge soon.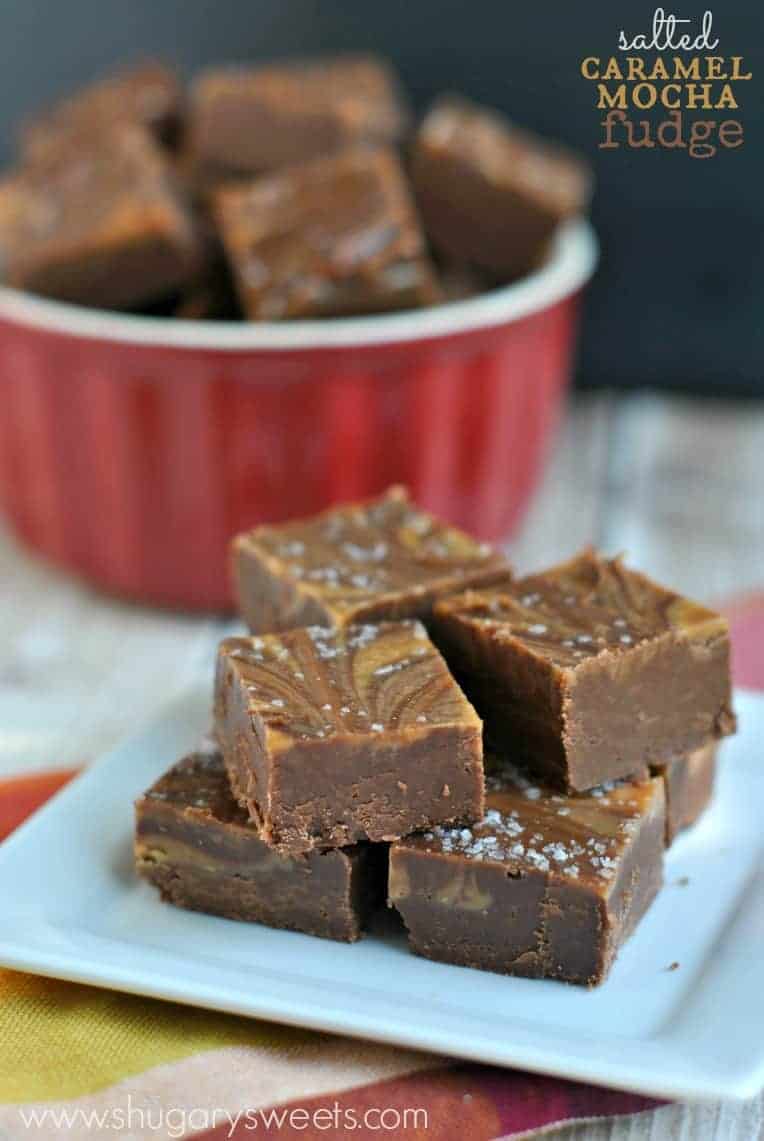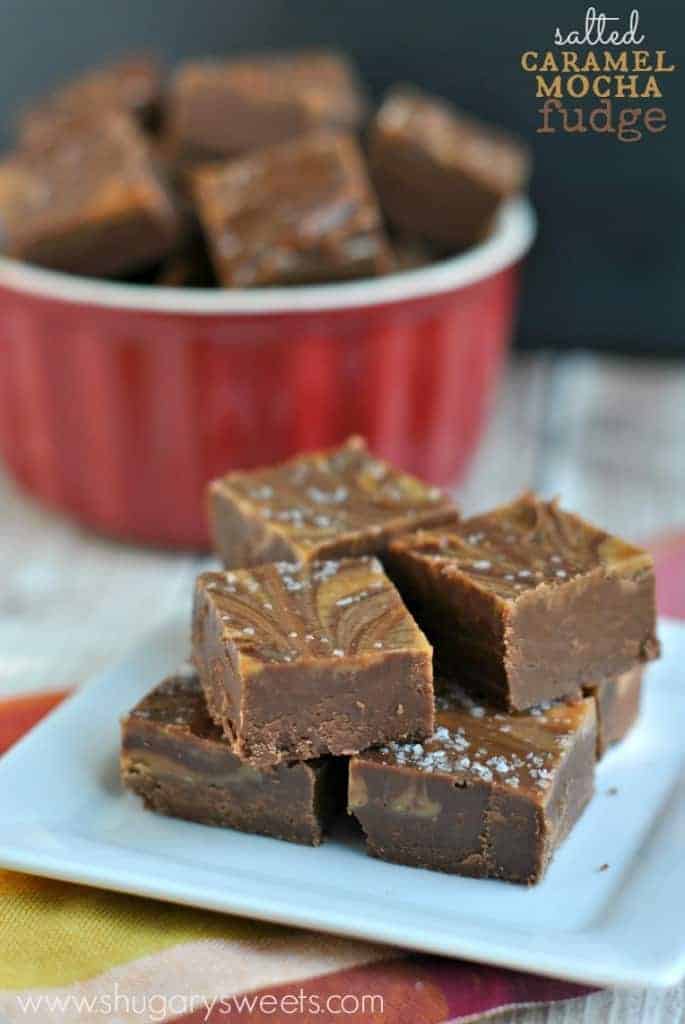 Why this Recipe Works
Love salted caramel? After how popular this Salted Caramel Brownie recipe was with all of you, I thought you'd probably love this easy fudge just as much.
The base recipe of this Salted Caramel Fudge might look familiar if you've been reading here for a while. It's based on my Fannie May Fudge with a layer of creamy caramel and coarse salt on top.
You don't need a candy thermometer to make homemade fudge when you use the right combination of ingredients (and follow my instructions)
Tastes every bit as good as the expensive fudge from a specialty candy store.
Bite into this velvety smooth fudge for an explosion of sweetness tempered by the perfect touch of saltiness. I love adding this to our list Christmas candy recipes!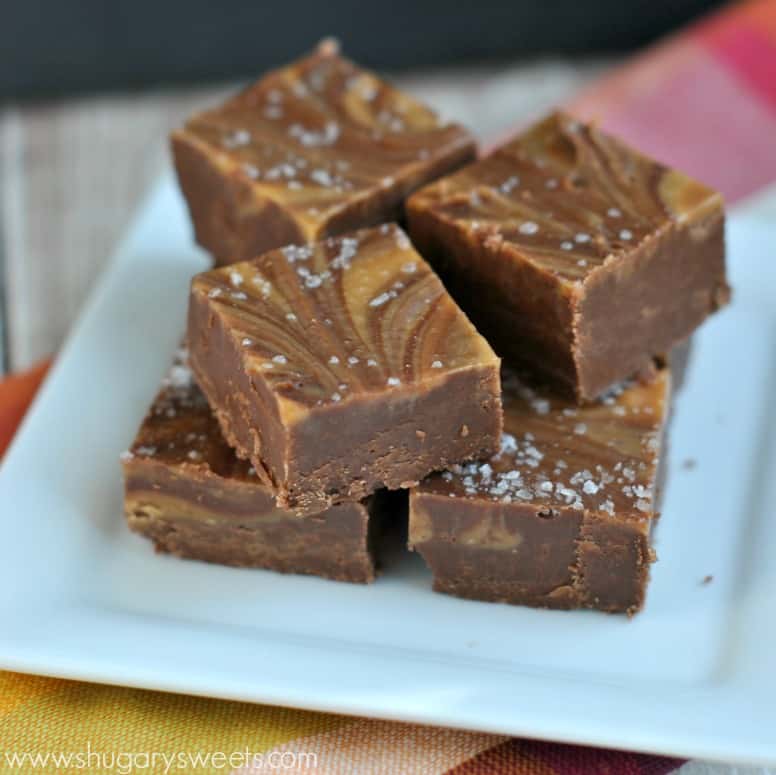 Ingredient Notes
Espresso Powder – This deepens the flavor of the chocolate fudge layer. You can also substitute any strong instant coffee powder.
Caramel bits – If you can't find caramel baking bits, substitute 2 cups of soft caramel candies.
Kosher salt – Kosher salt is coarser than table salt which makes it ideal for salted caramel fudge. Coarse sea salt will work as well.
Instructions
Start by bringing sugar, vanilla, milk, butter and espresso powder to a rolling boil. Stir it constantly while you let it continue to boil for a full two minutes.
Pour the hot mixture over a bowl filled with marshmallows and chocolate morsels, then use your stand mixer to combine everything until the chocolate is melted and it forms a creamy, smooth fudge base.
While you let your stand mixer work on the fudge, melt the caramel candies with heavy cream in the microwave.
Pour the chocolate fudge mixture into a parchment-lined baking pan, then drizzle the caramel mixture on stop. Use a knife to swirl the caramel and fudge together.
Sprinkle the fudge with coarse salt and let it set in the fridge for at least 4 hours before slicing and serving.
PRO TIP: Love today's treat? Try our salted caramel bark for an easy candy treat.
Recipe FAQs
Does this fudge need to be stored in the refrigerator?
No, once it's firmed up you can store it at room temperature (unless you like how it tastes cold, in which case feel free to keep it in the fridge).
Can you use table salt instead of kosher salt?
I wouldn't recommend it because the fine granules will sink into the caramel and you won't get quite as much of a salted flavor.
Do I need a candy thermometer to make this fudge recipe?
No! For most of my fudge recipes, just make sure to bring the mixture to a nice strong boil and stir well as directed. No candy thermometer needed.
Fans of sweet and salty desserts: this fudge is for you! Rich and indulgent chocolate topped with caramel and a touch of salt makes a simple fudge recipe taste extra impressive.
Whip up a batch of this Salted Caramel Mocha Fudge tonight and tomorrow you'll be everyone's new best friend!