Cherry Rice Krispie Treats – Topped with dark chocolate and sprinkles, these rice krispie treats with JELLO are as adorable as they are delicious.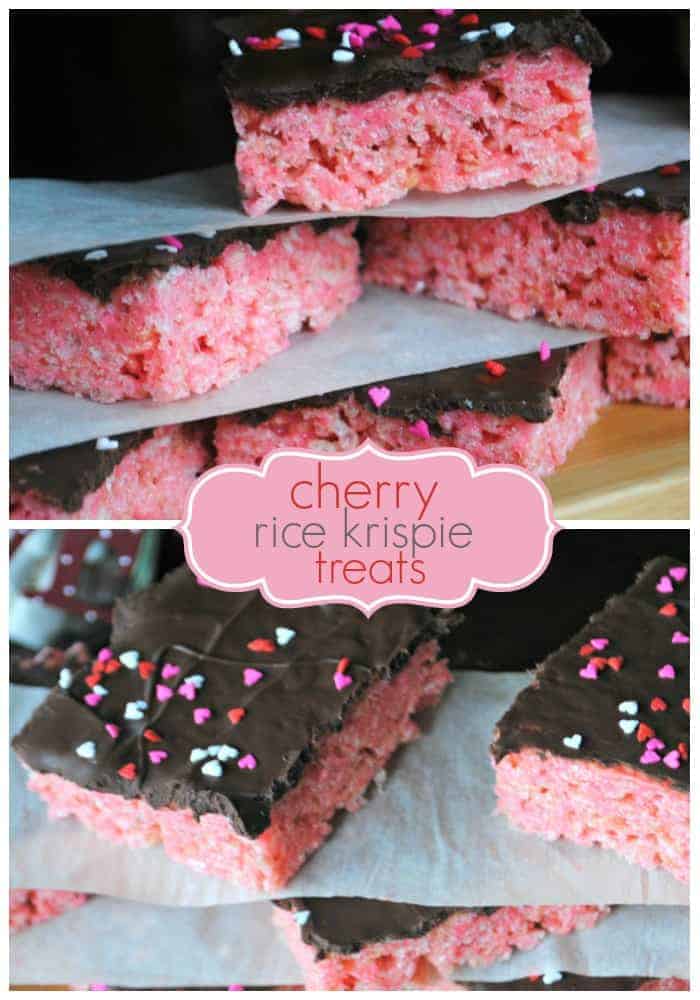 You all should know by now my crazy obsession with Rice Krispie Treats.
I don't make them very often (even though I've perfected how to make Rice Krispie Treats), because I can't control myself around them.
It's a joke in our house, because my husband knows if I've made them there will be very few left. If any. It's that serious.
Cherry Rice Krispie Treats
Self control aside, I can't let a few months go by without sharing another Krispie treat recipe. (Remember these Avalanche treats, these Biscoff krispie treats , and of course pistachio rice krispie treats?)
Today, you can indulge on cherry flavored treats with a dark chocolate frosting. Well, only if you make them yourself, because mine are gone!
These are easy krispie treats with JELLO to give them their cherry flavor and pretty prink hue. I spotted a package of cherry flavored Jello on the shelf of the baking isle and realized I'd yet to try it in Rice Krispie Treats. I'm so glad I finally did because these are wonderful.
If you love chocolate covered cherries, this is likely to be your new favorite Rice Krispie treat.
Make them for Valentine's Day, for a birthday or anytime you want to share something sweet with someone you love!
Rice Krispie Treats with JELLO
My secret for making all kinds of flavors of Rice Krispie bars is gelatin powder. Choose your flavor, find the corresponding instant jello packet and make something amazing with very little thought or effort.
This time, I used cherry flavored Jello and the results were incredible. Cherry Rice Krispie Treats would be good without any topping or garnish, but I couldn't resist adding a layer of melted dark chocolate on top!
When I made them for a Valentine's Day dessert, I added heart shaped sprinkles, too. It made the Cherry Rice Krispie Treats even more festive, but they look great even without that extra garnish.
Cherry Rice Krispie Treats Recipe
You only need 5 ingredients to make easy krispie treats with Jello:
Rice krispie cereal – Or whatever crispy rice cereal you have.
Cherry flavored gelatin powder – I like Jello brand
Mini marshmallows – I prefer these to regular sized marshmallows for making krispie treats. If you only have large ones, you can cut them up into smaller pieces first.
Butter
Melted dark chocolate – Dark chocolate chips, bars or melting chocolate work beautifully
How to Make Cherry Rice Krispie Treats with Jello
STEP 1. In large saucepan, melt butter with gelatin powder and marshmallows on low heat. Stir constantly until marshmallows are completely melted and smooth.
STEP 2. Fold in rice krispies cereal. Press mixture into a buttered baking sheet (13×9). Frost treats with melted dark chocolate by pouring the chocolate over then spreading evenly with a spatula or the back of a spoon. If you're using sprinkles, add them after the chocolate.
STEP 3. Allow to set, about one hour. Cut into squares and enjoy. Store in a covered container.
Lucky for my family, they all got to try these before I ate . . . a lot more of them than I maybe should have in one sitting. They all agreed with me that the cherry and chocolate together were amazing in krispie treat form!
Tip for Cherry Rice Krispie Treats
Use a gentle hand: When pressing the rice krispie mixture into the baking pan, make sure to press lightly. The harder you press, the harder the finished treats will be.
Dampen your fingers: Hate when rice krispie treat batter gets stuck on your fingers? Run your hands under water before you press the treats into the pan. No sticking, no mess!
Cutting Rice Krispie Treats: If the treats are getting stuck to your knife when you slice them into bars, spray a very thin layer of cooking spray on the knife first.
Get creative with shapes: I'm a fan of the classic bar shape for Rice Krispie Treats but I love them in any form! These would be perfect to cut with a heart shaped cookie cutter. Make sure to spray the cookie cutter with nonstick cooking spray first.
The bright pink color and addition of smooth dark chocolate makes Cherry Rice Krispie Treats stand out from the crowd!