Thick and chewy Biscoff Rice Krispie treats are the perfect nut-free lunch snack! Add these easy treats to your repertoire of Biscoff recipes.
My favorite dessert is a simple, yet perfect Rice Krispie treat. But if you're looking for something a little more refined, I suggest these delicious Avalanche Bars, a copycat recipe from our local chocolate store!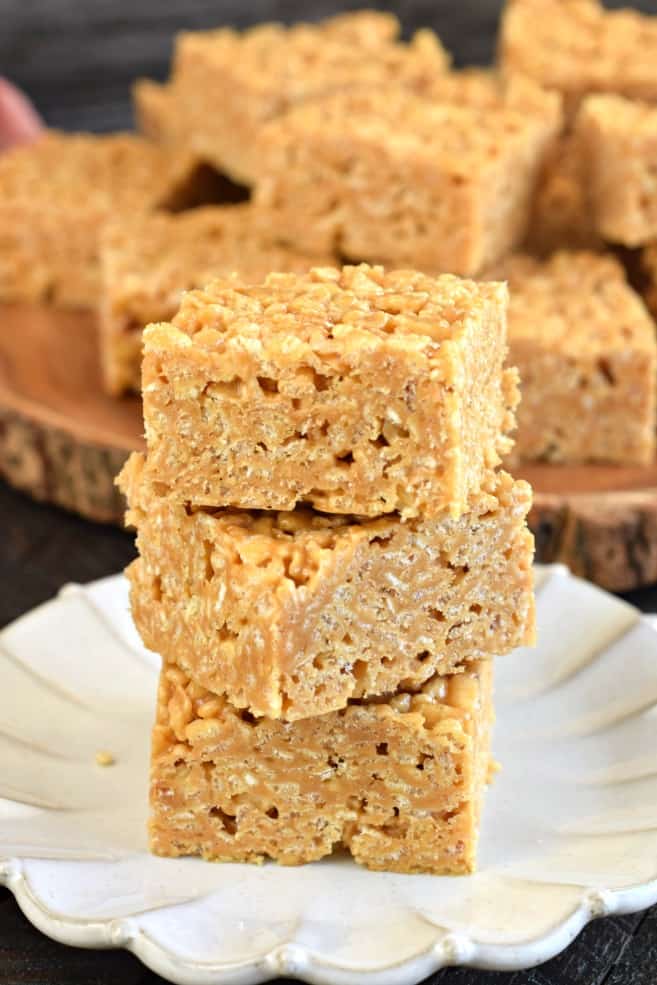 Biscoff Recipes
I have an obsession with Rice Krispie treats.
Enter my latest addiction to Biscoff. This creamy, sweet, borderline-addictive spread made from crushed up ginger cookies has given me lots of baking inspiration lately.
It was only a matter of time before Biscoff Rice Krispie Treats showed up in my kitchen–and, by extension, on this blog.
If you've never had biscoff spread before, stop what you're doing and go track some down. I'll wait.
You can find it in most grocery stores these days, sometimes near the peanut butters and jams. I usually find mine in the bakery section of my supermarket.
Biscoff spread also goes by a few other pseudonyms. In some areas, it's labeled as Speculoos spread or Speculoos cookie butter. At Trader Joe's, it's simply called "Cookie Butter."
Whatever you call it, it's delicious. If I can resist eating it all straight from the jar with a spoon, I love to bake with it! From Biscoff Cookies to Biscoff Cupcakes, this spread has a perfect flavor and consistency for adding to desserts.
The taste is a little like a graham cracker crossed with a ginger snap cookie. It's not overwhelmingly gingery or spicy by any means, but it has a hint of ginger flavor mixed with the buttery sweetness that I can't get enough of.
I mixed the Biscoff right into the treat batter with the butter and marshmallows. Then I put even more melted Biscoff spread on top of the treats as a finishing touch. Delicious!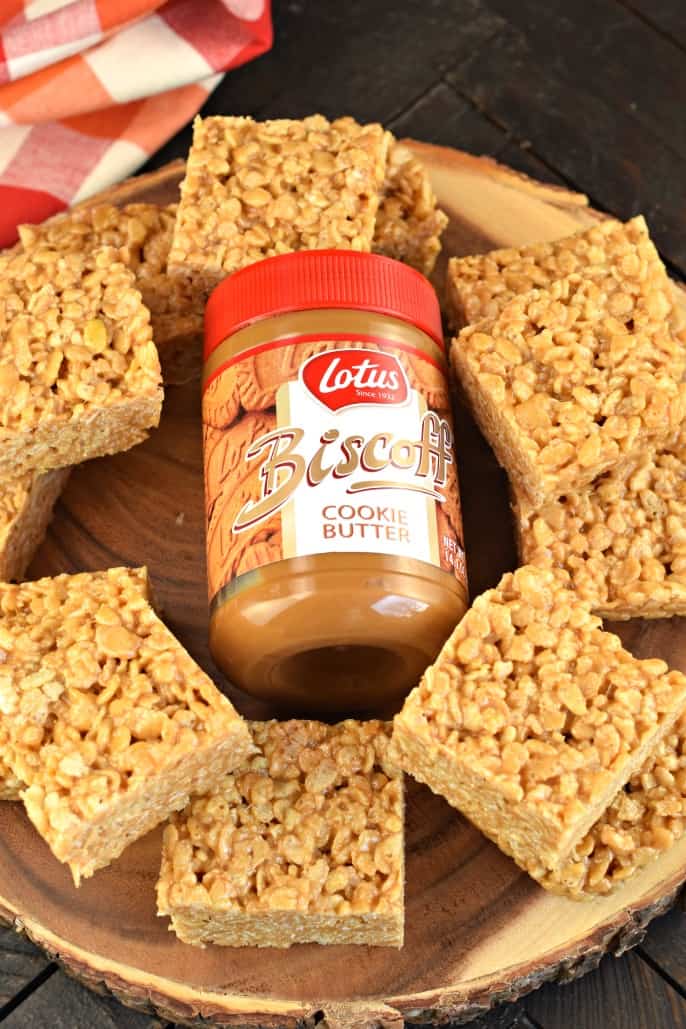 Rice Krispie Treat flavors
Back to Rice Krispie Treats. Another thing I can't get enough of.
I have freely admitted how I *might* be a little aggressive when it comes to getting my share. Many times when thinking about what to bake, I think immediately I want to create another Rice Krispie treat flavor.
What can I say? Rice Krispie Treat flavors are my calling.
Well, combine my two favorites (Krispie treats and Biscoff) and you have one heck of a dessert. So much so that I don't think I will make these for my family ever again.
They're all for me now. Kidding. (Kind of.)
On to the recipe! This is a super easy 4 ingredient dessert that comes together with hardly any effort.
This Biscoff dessert recipe is everything I want: thick and chewy, sticky marshmallowy perfection! The cookie butter flavor just makes it even better.
Ingredient Notes
Here's everything you need to make Biscoff Rice Krispie Treats:
Butter – Unsalted is what I prefer but you can also use salted if that's all you have.
Rice Krispie cereal – Or any brand of crispie rice cereal
Marshmallows
Biscoff spread – Also called speculoos spread or cookie butter! I like the classic creamy variety here.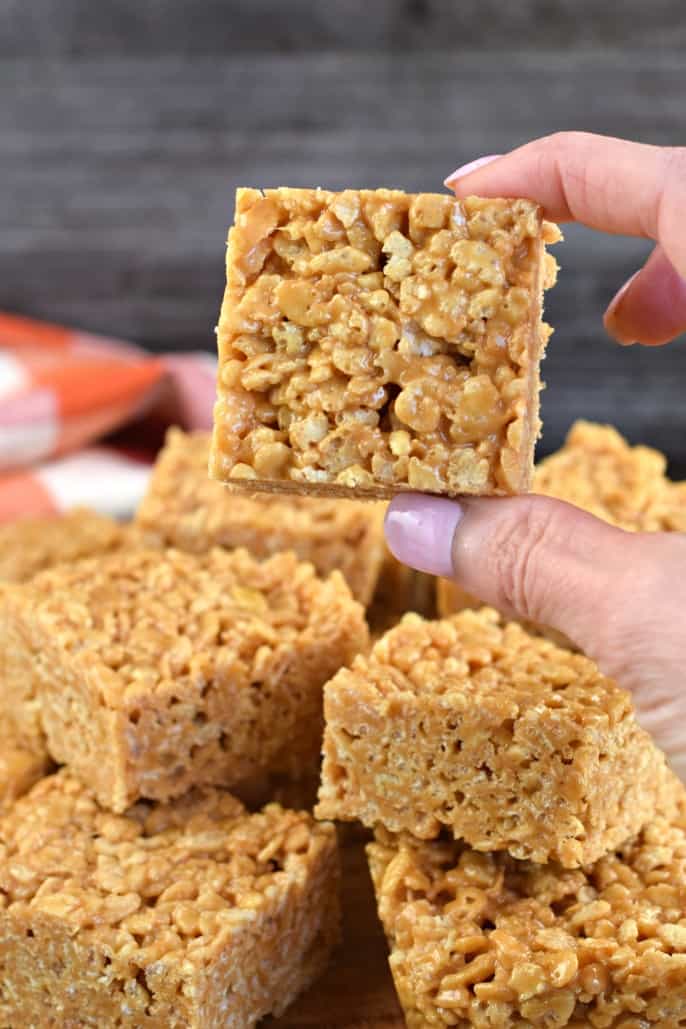 Easy Instructions
STEP 1. In large pot, melt butter over medium-low heat. Once completely melted, add in marshmallows and 1/2 cup of the Biscoff spread. Mix continuously over low heat until marshmallow is smooth and creamy. Quickly fold in the cereal.
STEP 2. Pour in a buttered pan. Cover and allow to set, about 1-2 hours. Cut into squares.
STEP 3. In a small microwave bowl, melt the remaining 1/4 cup Biscoff for 30 seconds. Drizzle over treats, allow to harden (about 30 minutes). Enjoy!
Tips and Tricks
Press gently: Use a light touch when patting the batter into the pan. The harder you press the tougher and firmer your Biscoff Rice Krispies will be!
For thinner Rice Krispie bars: Press the batter into a 9 x 13 baking pan.
For thicker Rice Krispie squares: Press the batter into an 8×8 square baking pan.
Use fresh marshmallows: For real, folks. That half empty bag that's been sitting open in your pantry since your last camping trip is not going to cut it. Grab a fresh unopened bag of marshmallows; it makes a big difference.
To store Biscoff Rice Krispie Treats: Transfer the squares to an airtight container. They'll keep well for about 2 days at room temperature, but if your family is anything like mine, these treats will disappear long before then!
Is Cookie Butter the same as Biscoff? Yes! Cookie butter is the generic name for this kind of spread. It also goes by the name of "Speculoos" in some areas of the world. Any of these jars of cookie spread will work beautifully in this recipe.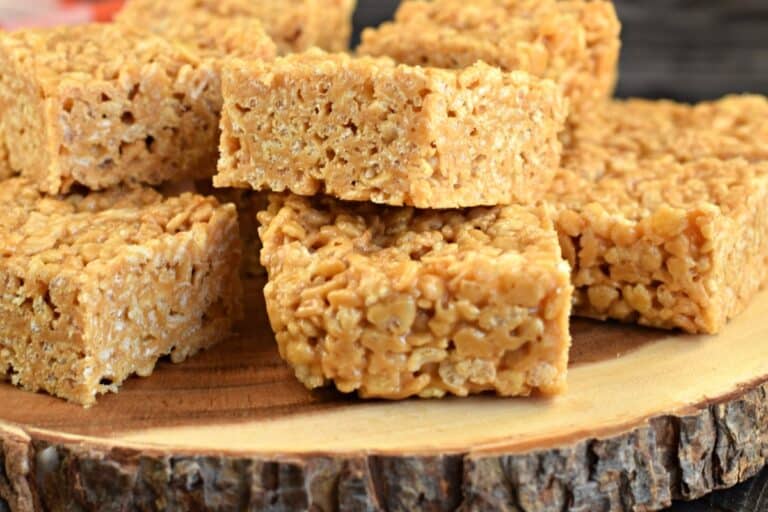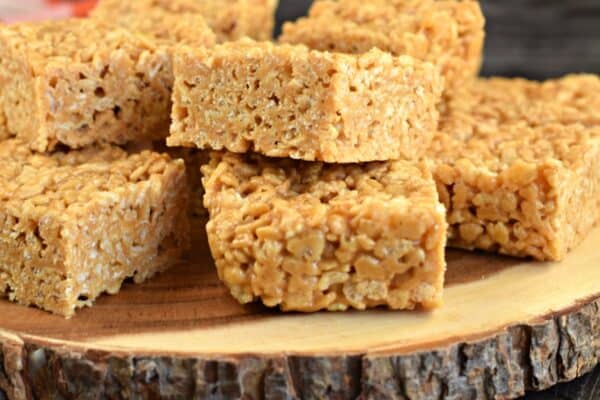 What do you say? Are you ready to add a new Rice Krispie Treat flavor to your repertoire?
These easy 4 ingredient Biscoff Rice Krispie Treats will blow you away!