Biscoff Rice Krispie Treats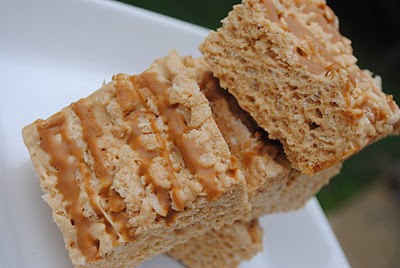 I have an obsession with Rice Krispie treats (remember these and these?). I'm proud to say that I've perfected how to make Rice Krispie Treats.
I have freely admitted how I *might* be a little aggressive when it comes to getting my share. Many times when thinking about what to bake and share, I think immediately I want to create another Krispie treat flavor.
Enter my latest addiction to Biscoff. I think I have given you all ample time to try to find Biscoff in your stores. Right?
Well, combine my two favorites (Krispie treats and Biscoff) and you have one heck of a dessert. So much so that I don't think I will make these for my family ever again.
I enjoyed them way too much, and in fear of having the kids eat too many, I overcompensated by eating 6 in one day. YES. 6. So now, my jeans are a little tighter.
Okay. A lot tighter. But I know in my heart it was worth every inch.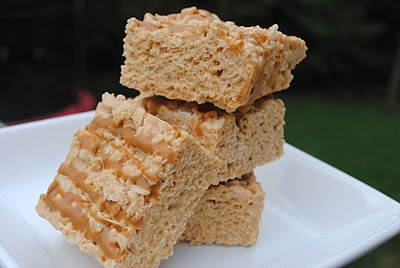 Biscoff Rice Krispie Treats
Ingredients
1/4 cup unsalted butter
10 oz marshmallows
3/4 cup Biscoff creamy spread, divided
5 1/2 cups crispy rice cereal
Instructions
In large pot, melt butter over medium-low heat. Once completely melted, add in marshmallows and 1/2 cup Biscoff spread. Mix continuously over low heat until marshmallow is smooth and creamy. Quickly fold in cereal.
Pour in a buttered 8×8 pan (for thicker treats) or 13×9 pan (for thinner treats). Cover. Allow to set, about 1-2 hours. Cut into squares.
In a small microwave bowl, melt the remaining 1/4 cup Biscoff for 30 seconds. Drizzle over treats, allow to harden (about 30 minutes). Enjoy!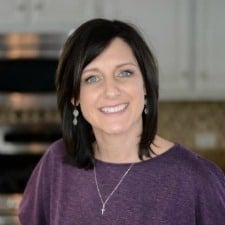 Aimee is a dessert lover (specifically rice krispie treats), workout enthusiast, self-taught foodie, and recipe creator. Her recipes have been featured in over 15 magazines, and her passion is to share her love of cooking with the everyday home cook! Learn more about Aimee.