Rich Chocolate Cupcakes topped with a creamy, homemade Biscoff frosting! These Chocolate Biscoff Cupcakes will be the hit of any party or bake sale!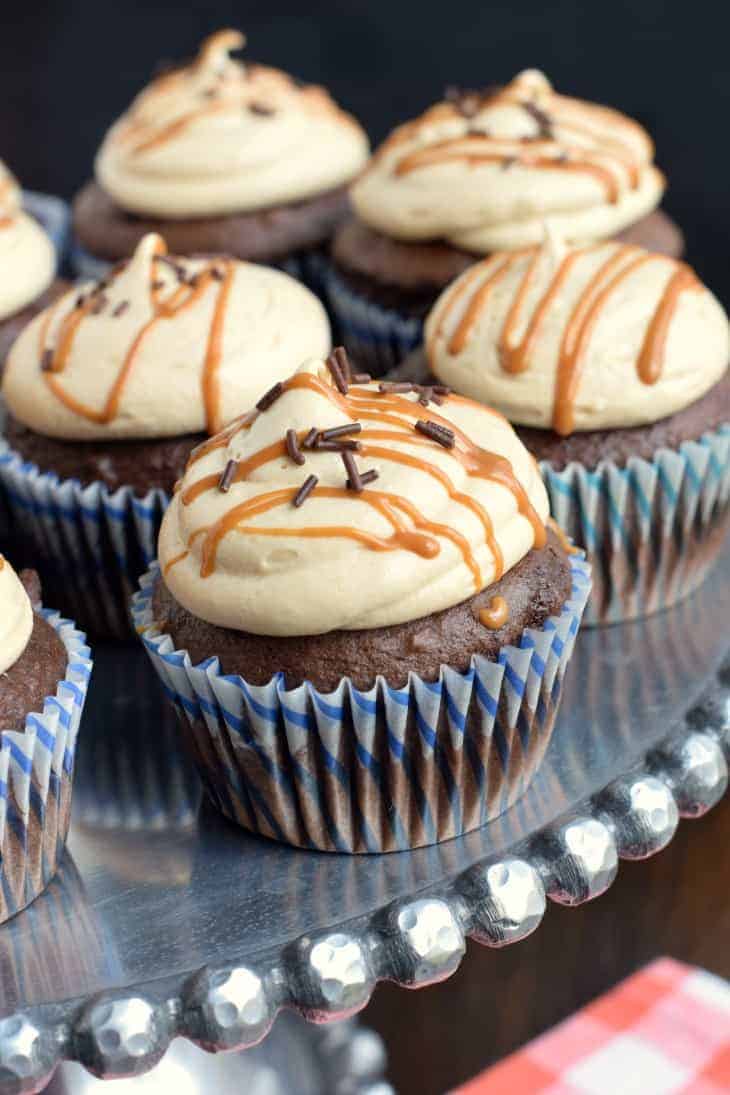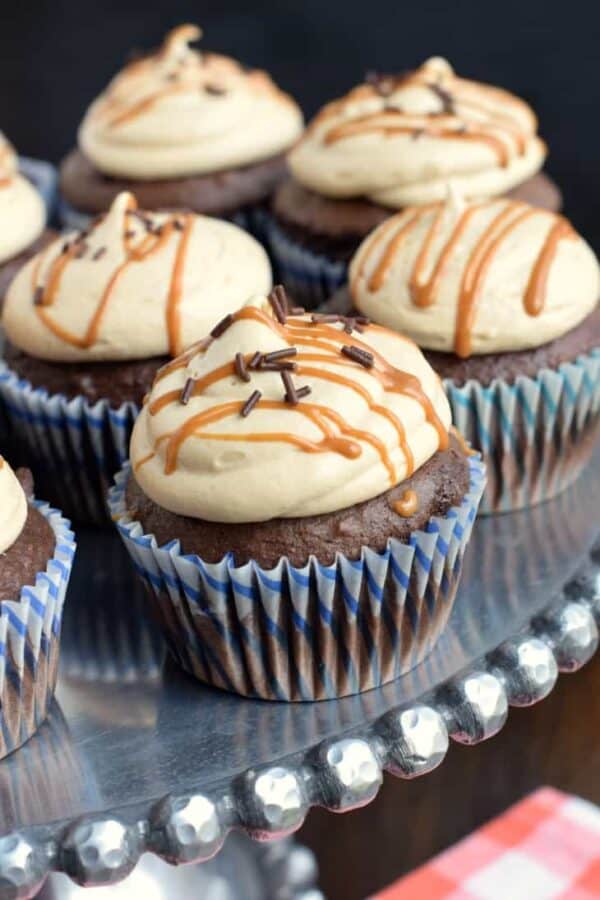 **photos updated February 2016
My love for Biscoff is never-ending. I paired my favorite chocolate cupcake recipe with Biscoff buttercream frosting.
The Biscoff and the chocolate are a perfect match.
I made these for my perfect bloggie bestie match…
I recently had a playdate with one of my favorite bloggers, Jocelyn, from Inside BruCrew Life. We began our "date" at Ikea, made a stop at Jungle Jims, and then spent HOURS hanging out at my house. All the while our kids got to know eachother as well. I don't know about her, but mine are begging to do it again soon! I would have to agree with them.
How often do you get to talk with someone who completely "gets you." We talked bloggy stuff all afternoon, into the evening. At one point my sweet hubby looked at us and said, "now I get it. I understand how you feel when I talk about my work and it goes over your head."
Anyways, Jocelyn is just as adorable as she looks and sounds on her blog. I love that we both showed up in sparkly tank tops.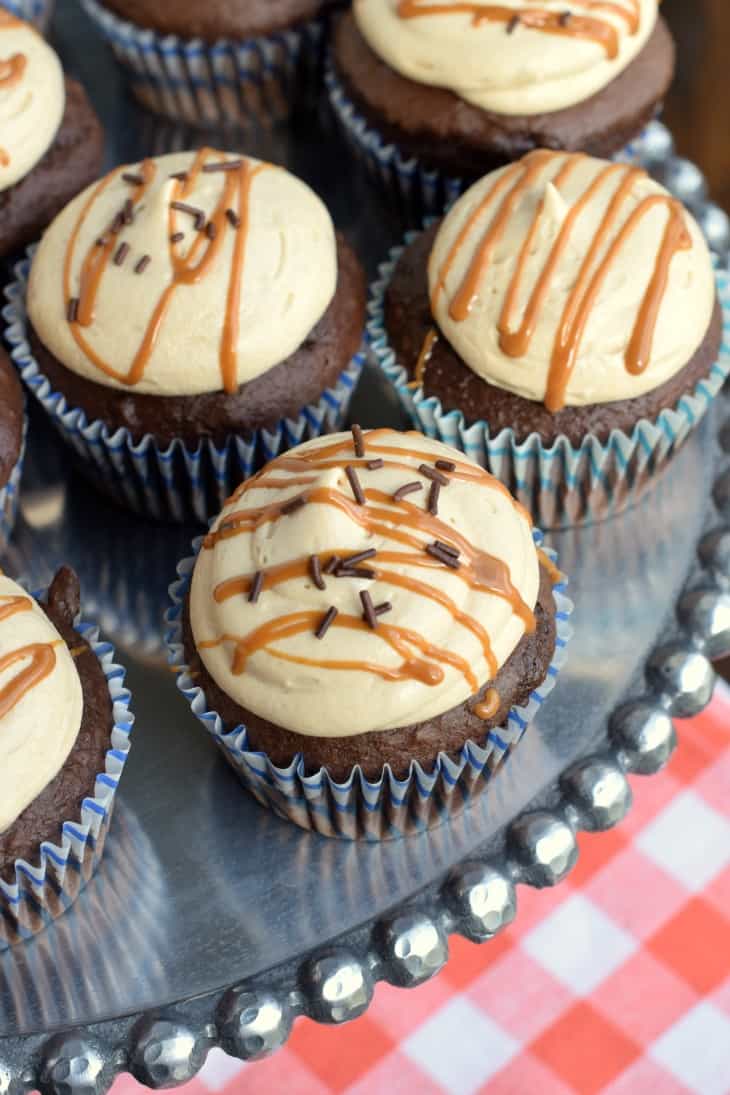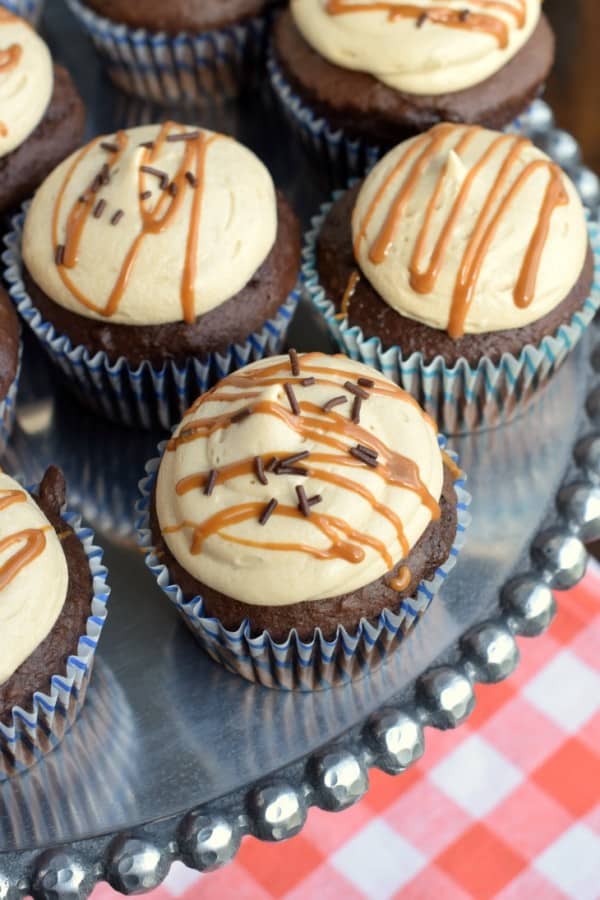 But, back to the cupcakes. I knew I had to make her cupcakes. And I desperately wanted to make something with
Biscoff
. These were so good, and I sent her home with a bunch too, because I would have eaten them all myself.
Yield: 30
Chocolate Biscoff Cupcakes
Chocolate Biscoff Cupcakes: the ultimate chocolate cupcake recipe topped with creamy, decadent Biscoff frosting! #nutfree
Ingredients
For the Cupcakes:
1/2 cup butter, softened
1 1/2 cup sugar
2 eggs
1 1/2 cup flour
1/2 cup unsweetened dark cocoa powder
1/2 tsp kosher salt
1 tsp baking soda
1/2 tsp baking powder
1/2 cup brewed coffee, cooled
1/2 cup milk
For the Frosting:
1/2 cup butter, softened
1/2 cup Biscoff creamy spread
4 cup powdered sugar
1/4 cup milk
Instructions
In a bowl, mix flour, cocoa, salt, baking soda and baking powder. Set aside.
In a measuring cup, mix together cooled coffee and milk. Set aside.
In mixer, beat butter and sugar for 5 minutes. Add eggs, one at a time. Slowly add in dry ingredients alternating with coffee mixture (about 3 additions of each). Pour batter into cupcake liners, about 1/2 full.
Bake in a 350 degree oven for 15-20 minutes. Remove and cool.
For the frosting, beat butter with biscoff, sugar and milk. Add more milk until desired consistency, if necessary. Beat for about 3-4 minutes until fluffy. Pipe onto cooled cupcakes and enjoy!
Like Biscoff recipes? Check these out…