Rich Chocolate Cupcakes topped with a creamy, homemade Biscoff Frosting! This nut free chocolate cupcake recipe will be the hit of any party or bake sale.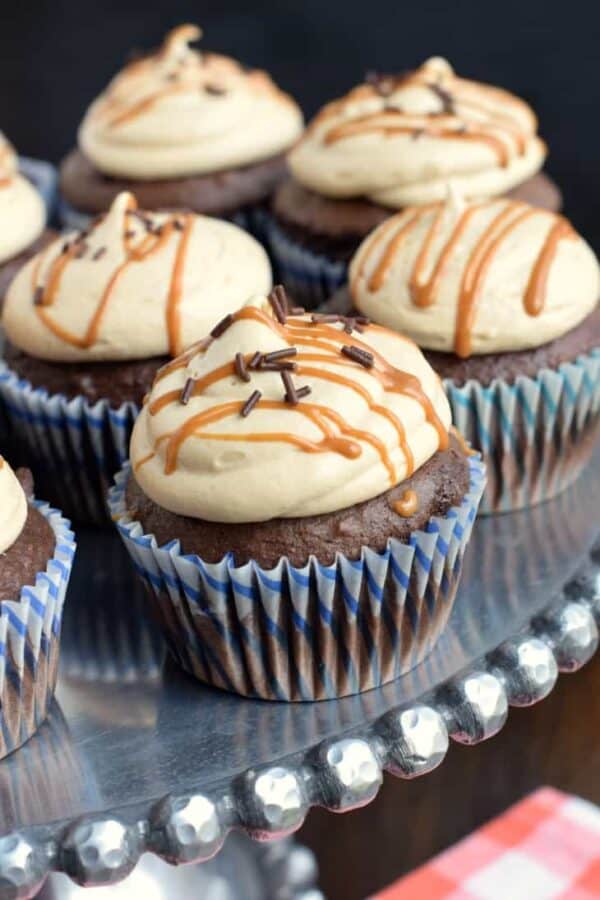 Why this Recipe Works
Who else here is head-over-heels for Biscoff spread? If you've never had it before, you need to head to your nearest well stocked grocery store and pick up a jar or two or three.
It's hard to describe the taste experience–velvety and smooth with a flavor that's somewhere between a graham cracker and a gingersnap. You just need to try it!
It's delicious spread on toast, as a dip for fruit and, naturally, baked into all kinds of treats. My love for Biscoff is never-ending. From Biscoff Rice Krispie Treats to No Bake Cookies, I can't get enough.
I have to limit myself to buying one jar of Biscoff at a time so I don't over do it.
After making Biscoff White Chocolate Cookies, I decided it's high time I put it in a Chocolate Cupcake recipe! In the end, I decided to make a frosting with the Biscoff. It did not disappoint!
I paired my favorite chocolate cupcake recipe with a Biscoff buttercream frosting.
The Biscoff and the chocolate are a perfect match. As a huge bonus, they are also totally nut free so I can share them with my friends who have allergies to peanuts and tree nuts.
My new motto: In a world full of chocolate cupcakes with peanut butter frosting, dare to be a Chocolate Cupcake with Biscoff frosting.
Inspirational, I know. At the very least, I hope you're inspired to make some Chocolate Biscoff Cupcakes!
Biscoff Frosting
Homemade biscoff buttercream is no more difficult than making a traditional buttercream. As you likely know by now, I'm a frosting fanatic. It's so easy to make from scratch to get it just how I like it!
In this recipe, I used just four ingredients, Biscoff, powdered sugar, butter, and a little milk, to achieve the perfect consistency. All you have to do is beat everything together until it reaches fluffy frosting perfection.
I LOVE that Biscoff Frosting is not too thick, so it's easy to spread, but it still has that creamy rich consistency I crave in my buttercream!
The cinnamon ginger flavor from the spread is really, well, the icing on the cake. It's a nice change from your everyday buttercream.
While I'm currently addicted to piping Biscoff Frosting on my cupcakes, I also love these chocolate cupcakes topped with Chocolate Buttercream Frosting on those days when there can never be enough chocolate in my desserts.
Why not make a double batch of this recipe so you can top half with Biscoff and half with chocolate? More cupcakes are always a good idea.
Whenever I need a tasty cupcake that I can guarantee is nut free, this is my go to!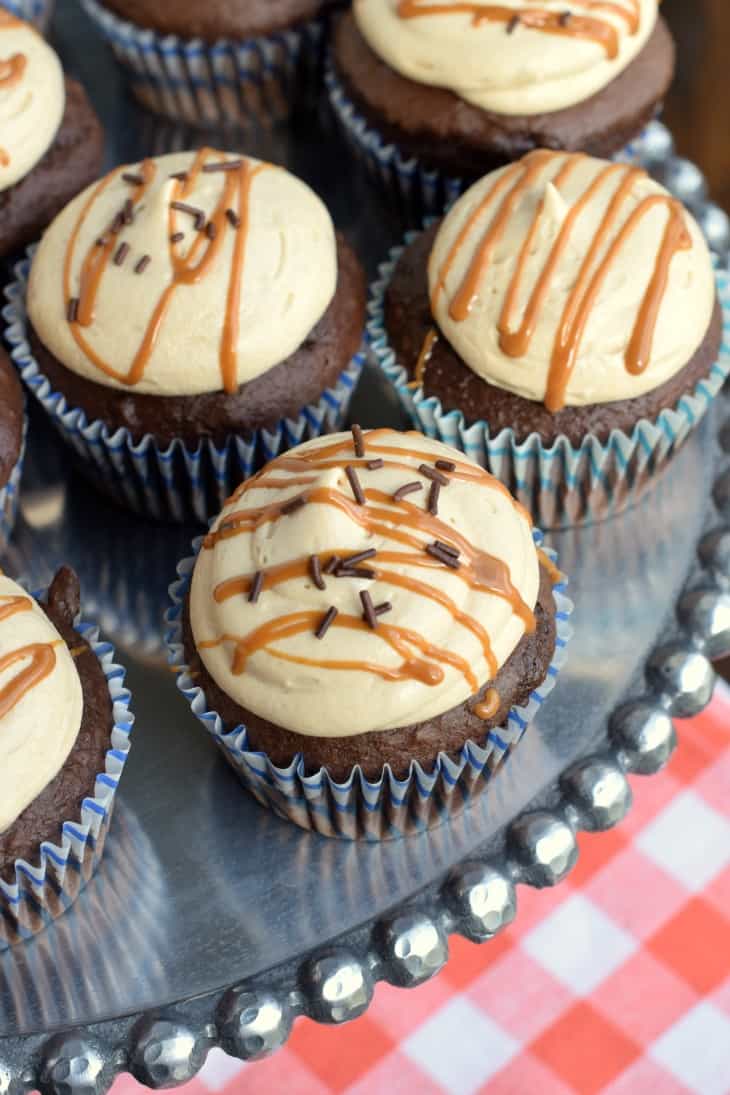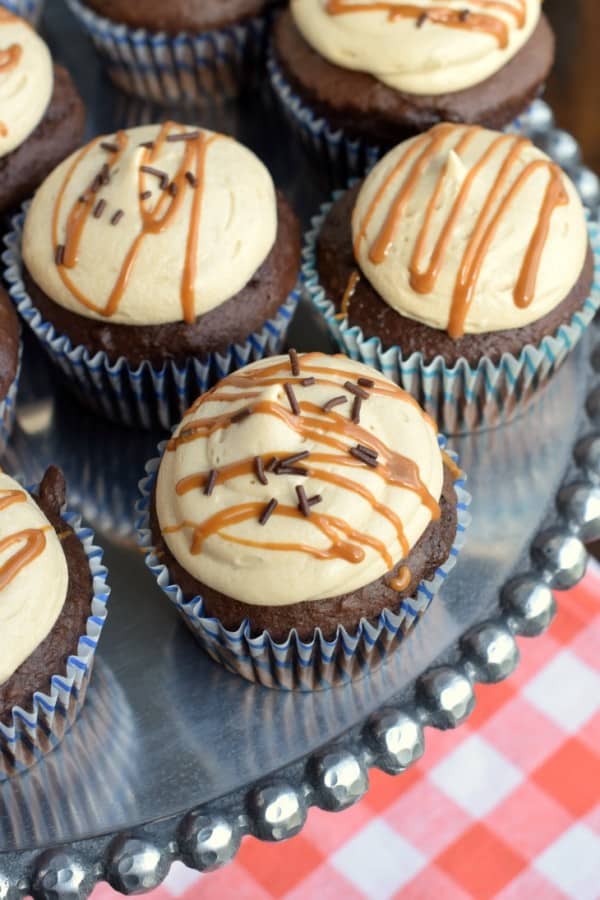 Tips & Tricks
Make sure to use creamy Biscoff in the frosting, not the crunchy variety.
Can't find Biscoff? In some stores it's labeled as Speculoos spread or Cookie Butter. They're all the same thing and will work perfectly here.
Garnish ideas: I love to decorate cupcakes with chocolate sprinkles! If you can get Biscoff cookies, those also make a great topping for these. Cut them in half to stick in the mound of frosting on top or break them into crumbs for Biscoff sprinkles.
Store cupcakes in a covered container. They will keep well for a couple of days.
Chocolate cupcakes freeze beautifully! Store them in the freezer unfrosted in a freezer safe container, then thaw and whip up a fresh batch of Biscoff frosting when you're ready to enjoy them.
Biscoff frosting isn't just for cupcakes! Use it on full sized cakes, cake balls, cookie sandwiches, you name it. Biscoff truffles, anyone?
A cupcake that's a new twist on an old favorite makes a tempting dessert for any occasion! For any party, bake sale or "just because", Biscoff Frosting on cupcakes is a guaranteed hit!