Biscoff Cookies without turning on the oven! These no bake cookies made with creamy biscoff spread are a must try.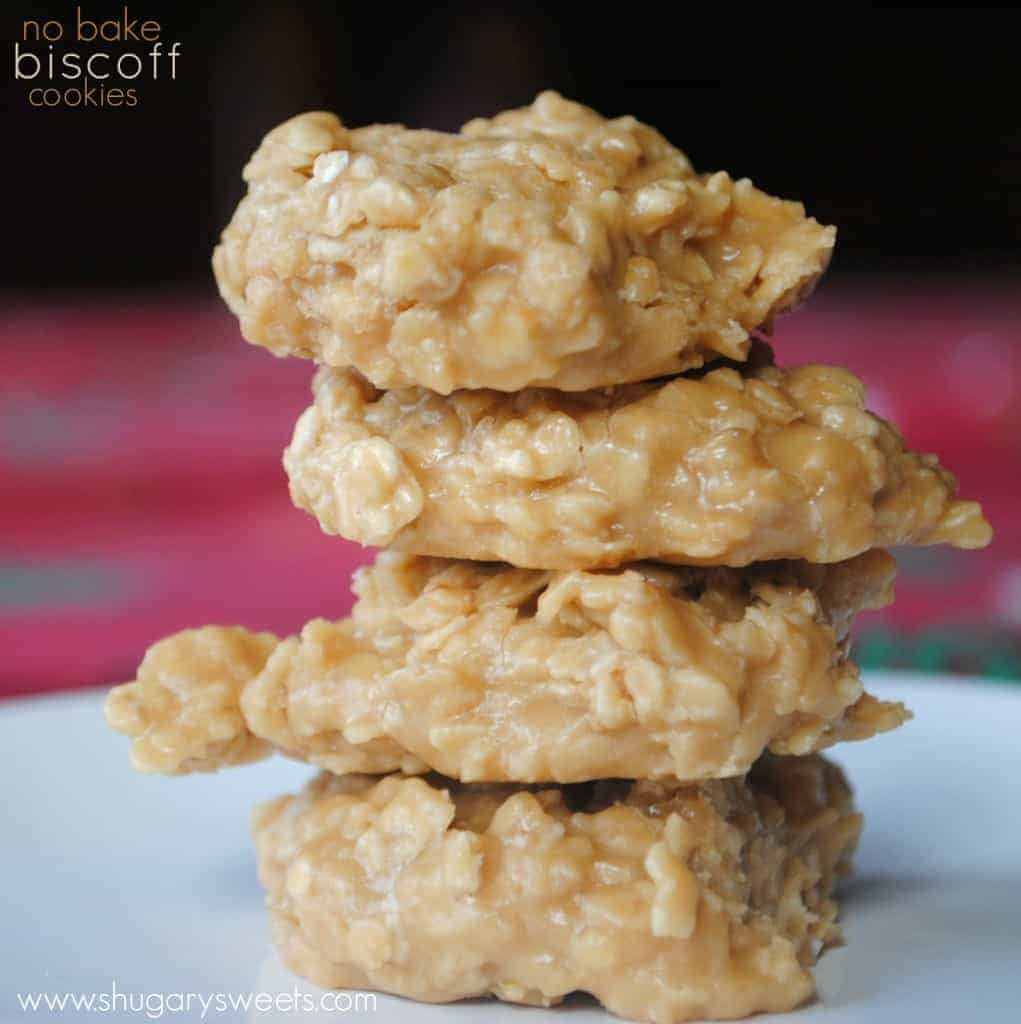 What are No Bake Cookies
Most of us have made (or eaten) a classic no bake cookie before. They're most often made with peanut butter and chocolate.
I love playing with different ways to mix up typical no bake cookies. Remember these decadent Nutella No Bake Cookies I shared a while ago?
This recipe is similar but instead of using cocoa powder and peanut butter (or nutella) you use Biscoff.
It holds the dry ingredients together and imbibes the cookies with all the great taste of Biscoff.
What does biscoff spread taste like?
Biscoff spread (or cookie butter) is one of those foods you have to try to fully understand, but I'll do my best.
If you've had biscoff cookies–the ones they give you on some airplanes–then you're familiar with the flavor.
It's a bit like a graham cracker meets a gingersnap, but crushed and whipped up into a creamy spread the texture of peanut butter.
I eat it on toast, on fruit, on ice cream and right out of the jar with a spoon.
Does that mean that this recipe is basically crushed up cookies baked into MORE cookies? I don't see anything wrong with that. More cookies = always a good thing.
These no bake cookies are my new favorite way to enjoy Biscoff spread! Fudgy and sweet with the teeniest hint of ginger, they make for a nice change from the usual chocolate filled no bakes.
Ingredients Needed
Here's what I used to make No Bake Biscoff Cookies:
Sugar
Butter
Milk 
Vanilla Extract– learn how to make vanilla extract for much less money than store bought!
Salt
Biscoff spread – Speculoos spread or cookie butter are the same thing and will work perfectly! 
Quick oats – Do not substitute steel cut or whole rolled oats. They're not cut as finely and will affect the texture of the cookie. 
How to Make No Bake Cookies
These biscoff no bake cookies couldn't be any easier to make! Since you don't have to turn on the oven, this is the perfect recipe for satisfying your summertime cookie cravings
STEP 1. In large saucepan, mix butter, sugar and milk on medium high heat. Bring to a boil, and boil for one minute (don't skip this step)! Remove from heat.
STEP 2. Stir in the Biscoff spread, vanilla and salt until thoroughly combined. Fold in oatmeal. Add an additional 1/4 cup of oats if you like them thick.
STEP 3. Scoop cookie dough onto parchment paper in 1-2 Tbsp scoops. Allow to set in the fridge for about one hour. Remove and store in air tight container.
You'll end up with about 5 dozen no bake Biscoff cookies, depending on how large you make them. That's plenty to share, but be sure to save a few for yourself.
How to Store
Keep these in a container with a fitted lid to keep them from drying out.
Some no bake cookies, I strongly prefer cold.
With these biscoff cookies, I can go either way. They are tasty eaten cold from the fridge but they keep well at room temperature, too.
If you live somewhere that runs warm, the cookies may get gooey if not stored in the fridge.
What kind of oatmeal to use for no bake cookies
Make sure to use quick cooking oats for this recipe!
9 times out of 10 when someone says their no bake cookies are dry or crumbly it's because they used whole rolled oats or steel cut oats instead.
Why are my no bake cookies dry?
Make sure you are using QUICK cook oats.
Do NOT over cook. Set a timer for one minute, then remove immediately from the heat.
Easy to make and kid approved, Biscoff Cookies are a uniquely delicious twist on classic no bake cookies.