Make these adorable Flower Pretzel Candy Bites this Easter! A salty sweet homemade Easter candy that's full of color and cheer, just in time for spring.
While our Carrot Cake recipe is always a great choice for Easter, you should add our easy Cadbury egg fudge to the dessert table. Or give our delicious carrot cake cookies a try this year!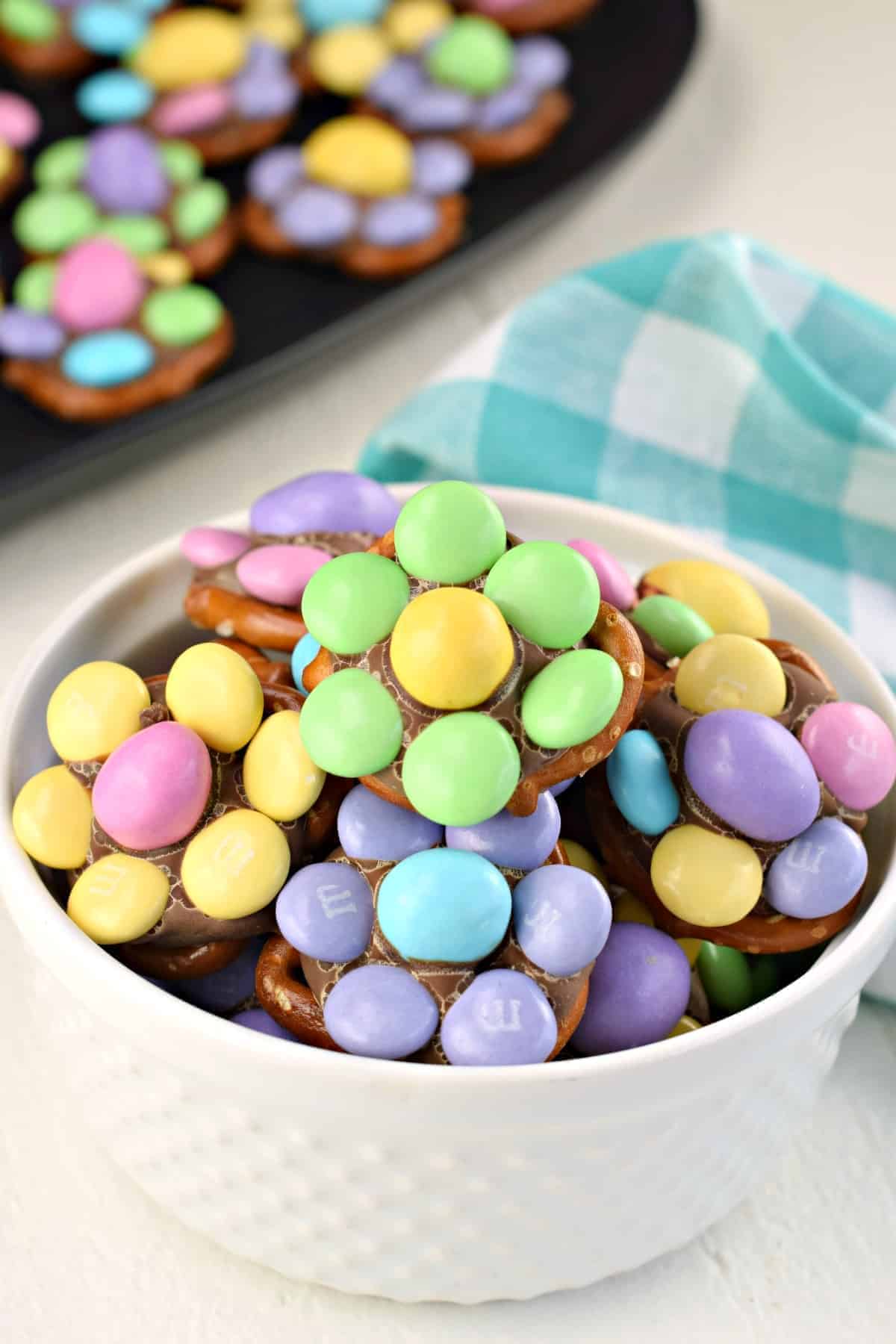 Flower Pretzel Bites
Easter candy season is almost here! I get excited when pastel versions of some of my favorite candies hit the shelves.
Brightly colored M&Ms are perfect for turning into Flower Pretzel Bites!
These homemade treats are irresistibly adorable and easy for anyone to make. Mini-pretzels topped with melted chocolate kisses and surrounded by M&M "petals" make everyone smile!
Make them for Easter or any time you need a bright and cheery treat. If you're looking for something beyond the usual chocolate eggs and marshmallow peeps this year, this pretzel bite recipe is it!
As pretty as this Flower Candy looks, I promise that it requires no super human decorating or candy making skills.
They're simple enough for the kids to help with, too. (made similar to these Peppermint Pretzel Bites)
Another thing I enjoy about making Flower Candy is that I can get a little creative with different colors and chocolate varieties. Once you get the basics down, you can mix and match to your hearts content!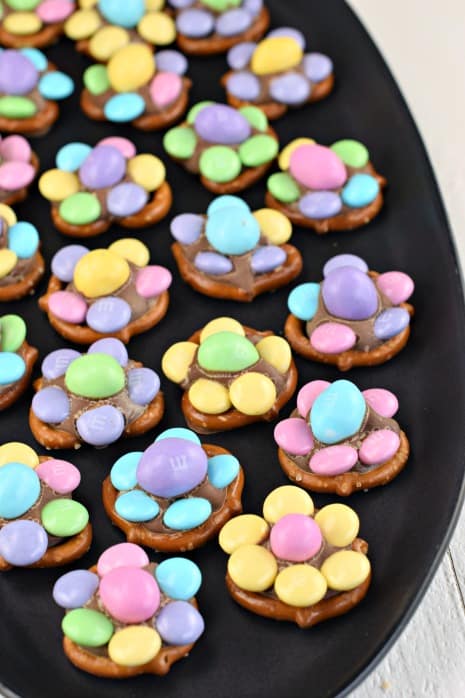 Ingredient Notes
To make this homemade Easter Candy, you need . . .
Mini pretzel twists
Hershey's chocolate kisses
Milk chocolate M&Ms– the pastel ones look best
Large M&Ms (peanut or another flavor)
I'm all about homemade treats and candies but I don't always have the time or oven space to spare. These Flower Candies only take five minutes in the oven and another half hour to set in the fridge!
The most time consuming part is adding all the M&Ms to the pretzels. Thankfully, the kids can help out with this step! Many hands make Flower Pretzel Bites quick to assemble.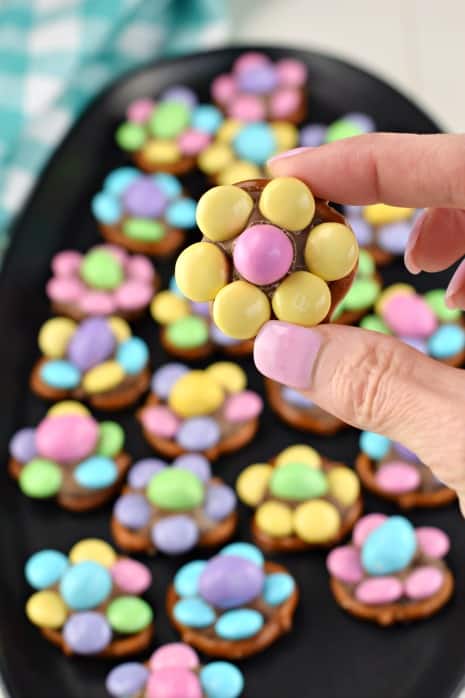 Easy Intructions
Arrange the Pretzels on a pan.
Top Each Pretzel with a Hershey Kiss.
Bake.
Press M&M's on warm chocolate kiss.
Allow to set.
Tips & Tricks
For most of my flowers, I used small pretzel twists with a milk chocolate Hershey kiss, a white chocolate M&M in the center and milk chocolate M&M's as the petals.
Most of the flavored M&M's are a little larger, which look very cool as the center of the flower. The Peanut M&Ms and Almond M&Ms taste great mixed with the chocolate and saltiness of the pretzel, too.
If you don't have any large M&Ms, small ones will work as the center of the flower as well. You can also use different flavors of kisses too…coconut would be delicious and the white chocolate cookies and cream flavor would make a very pretty flower center indeed!
Using different combos of flavors of M&Ms and kisses in your batch of Flower Pretzel Bites is a fun way to mix things up. Everyone will love trying different varieties!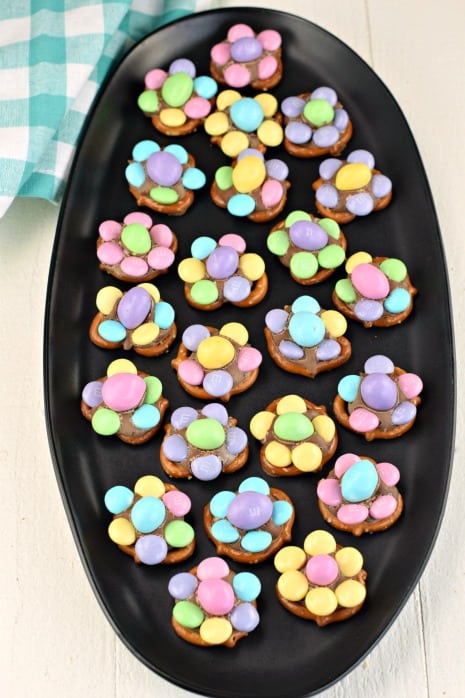 Homemade Flower Candy
These cute and pretty springtime flower treats don't have to be just for Easter either.
Use green, white and orange M&Ms to make a fun St. Patrick's Day treat!
These can be turned into mini snowflake candies for the winter holidays by using white and blue M&Ms. Try using mini M&Ms to make different patterns–a peppermint chocolate kiss would be a great twist, too.
Have a peanut butter chocolate lover in your life? Try Reese's Pieces instead of M&Ms as the flower petals.
More Holiday Treats
The easiest homemade treats for Easter! Everyone will ooh and ahh over these colorful chocolate pretzel bites.