Are you ready for the ultimate dessert? This Neapolitan Cheesecake Cake will knock your socks off! ENJOY!
Love this recipe? Sign up for my free Shugary Sweets email subscription and never miss out again!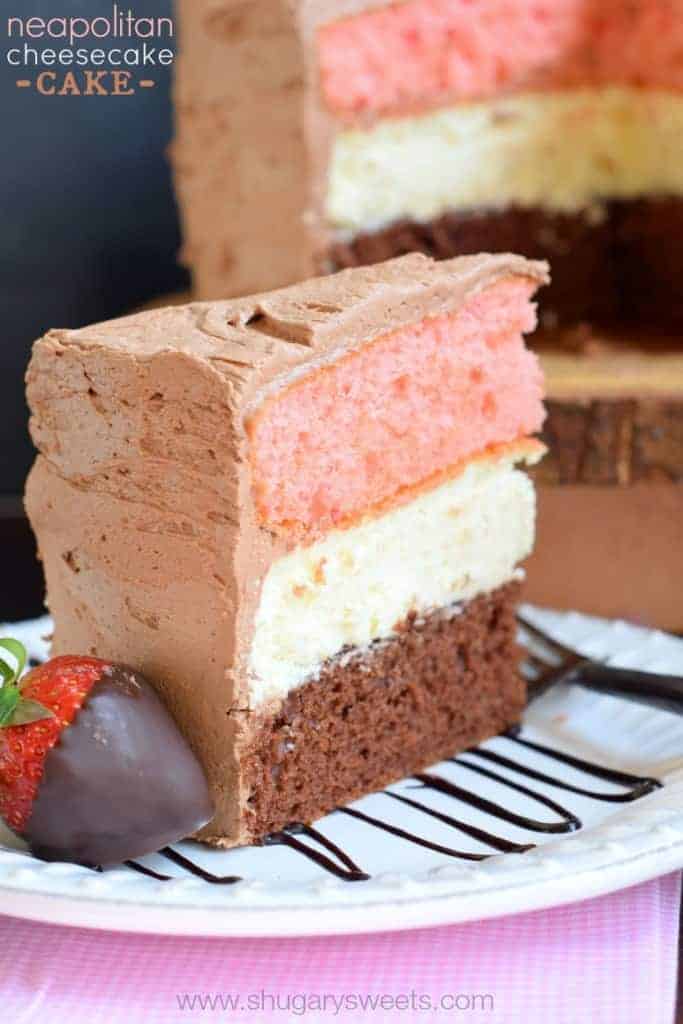 This cake was a true labor of love. And by labor I mean, I had to NAIL DOWN the perfect recipe for you guys.
Here's the deal. The first round of making this cake, I made each layer from scratch. So I had to create a small batch chocolate cake and a small batch strawberry cake. And then make the cheesecake center. When I was done, I loved the flavor, but the strawberry cake layer wasn't very pink. So I covered it in HOT PINK frosting. Not on purpose, but because I added too much gel food coloring. UGH.
Here's my instagram photo of this first cake: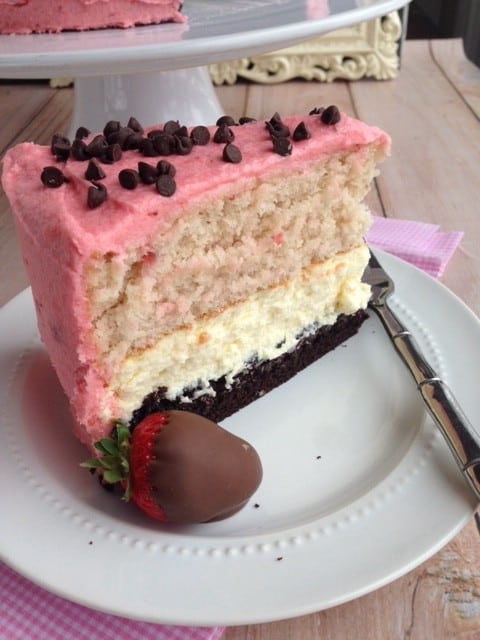 It's quite pink, am I right?
Well, after staring at the photos and eating the delicious cake, I began to second guess myself. So I went back to the kitchen. I really wanted that top layer to be pink, not grey…and I wanted the frosting to look edible, not like cotton candy.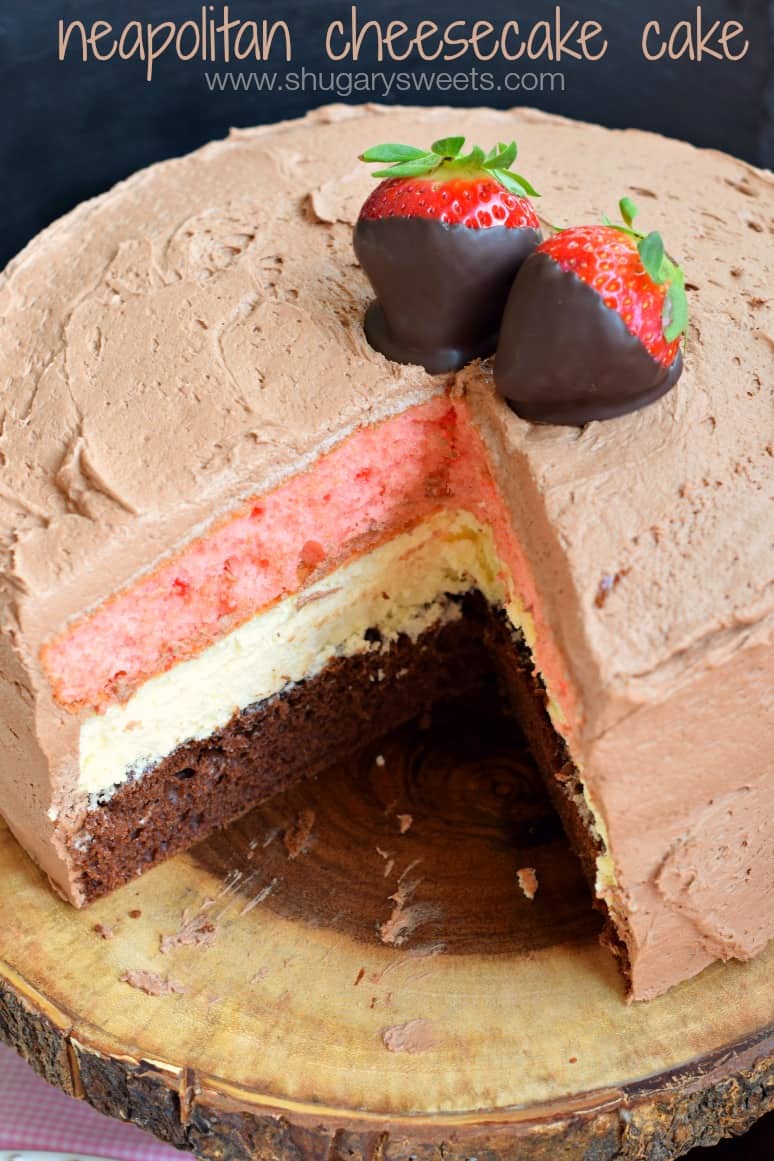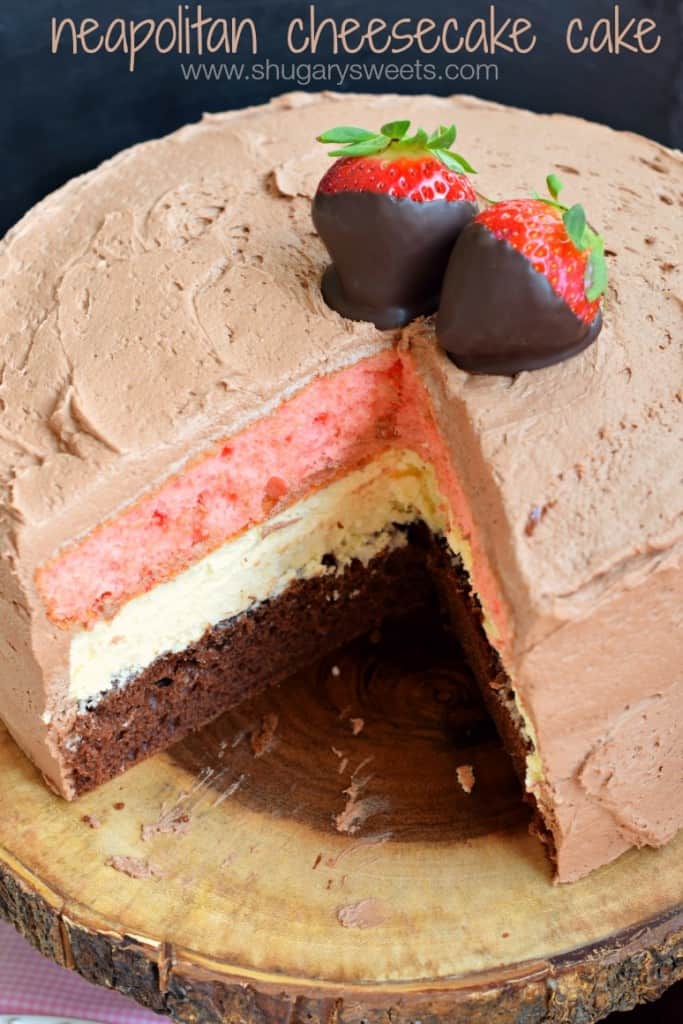 I grabbed a couple of boxed mixes out of my pantry and decided that this cake has enough flavor in each layer that it's okay to go the easy route. The only problem I had with the boxed mixes is they make TWO layer cakes with each box. I only needed one layer.
It's a good thing cakes can be frozen. And it's a good thing you have me around to help solve this extra cake dilemma (#firstworldproblems). You can either make a few nice big Cake Shakes (highly encouraged)…or come back later this week for a second recipe using those leftover cake layers!!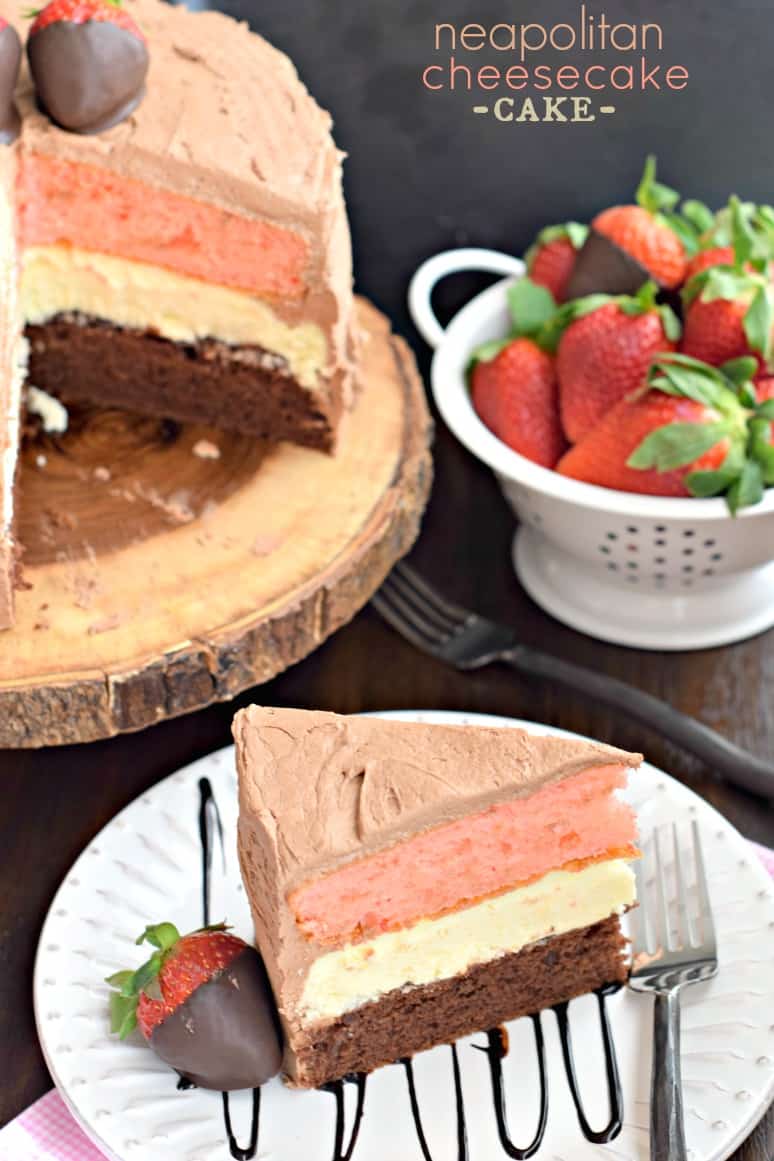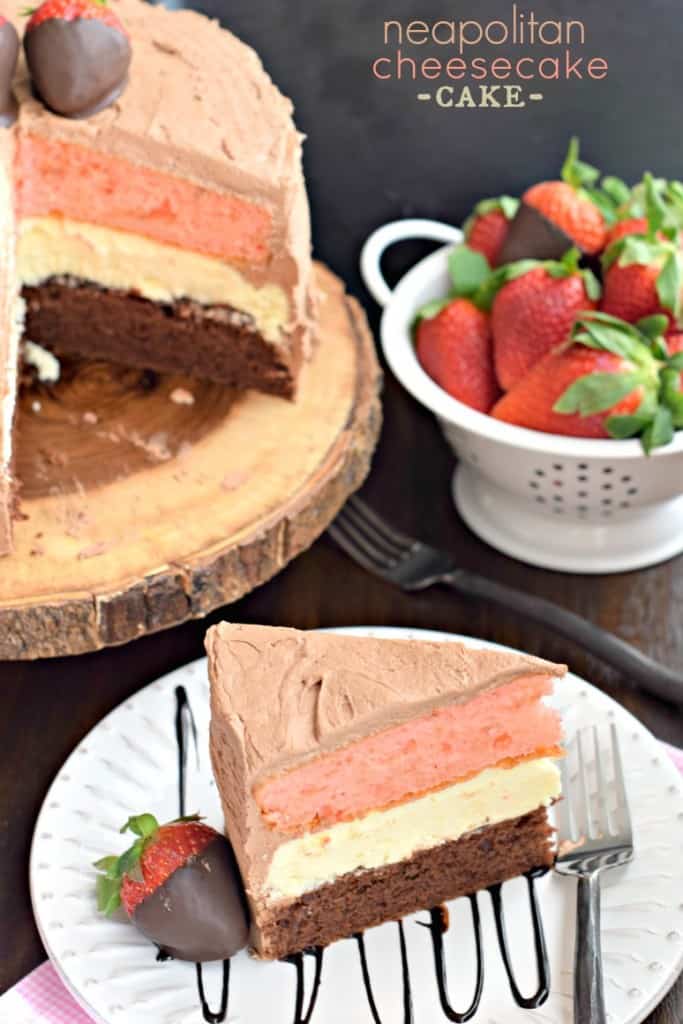 As for this Neapolitan Cheesecake Cake, let's break it down:
First, you're going to want to bake the cheesecake layer. I do this a day or more in advance, and freeze the finished cheesecake. This keeps it fresh, but also by adding it the cake while frozen, you don't have to worry about a delicate cheesecake while assembling and frosting. It doesn't take long to thaw, so by the time you're done, it's ready to eat fairly soon (or refrigerate the entire cake until dessert time).
For the cake layers, you'll want to bake your cakes in the same size pans as your springform pan. I use a 9-inch springform pan, and then use my 9-inch cake pans. This leads to less trimming. Of course to keep my cake layers even I always use these so less wasted cake!
When it's time to assemble, start with your chocolate layer, then frozen cheesecake, and then the strawberry cake layer. Be sure to save those extra cake layers for a Neapolitan Trifle (they can be wrapped in plastic wrap and foil and frozen for later use).
For my final cake, I used a sweet chocolate frosting, whipped until creamy! Normally I like a thick frosting layer on my cake, but with cheesecake cakes, you want each layer to have flavor. So I went a little lighter on the frosting. I also may have eaten some off the beaters.
Now, who are you going to make this cake for??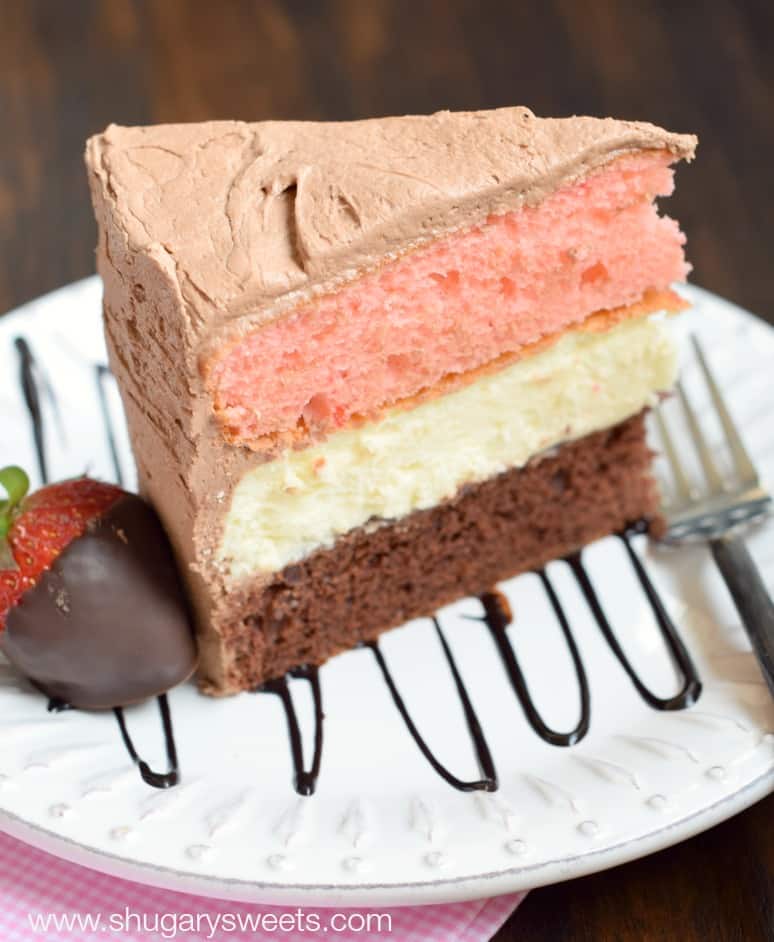 Connect with Shugary Sweets! Be sure to follow me on my social media, so you never miss a post!
Facebook | Twitter | Google+ | Pinterest | instagram | Bloglovin'
Sign Up to receive an email in your inbox for each new recipe:
EMAIL SUBSCRIPTION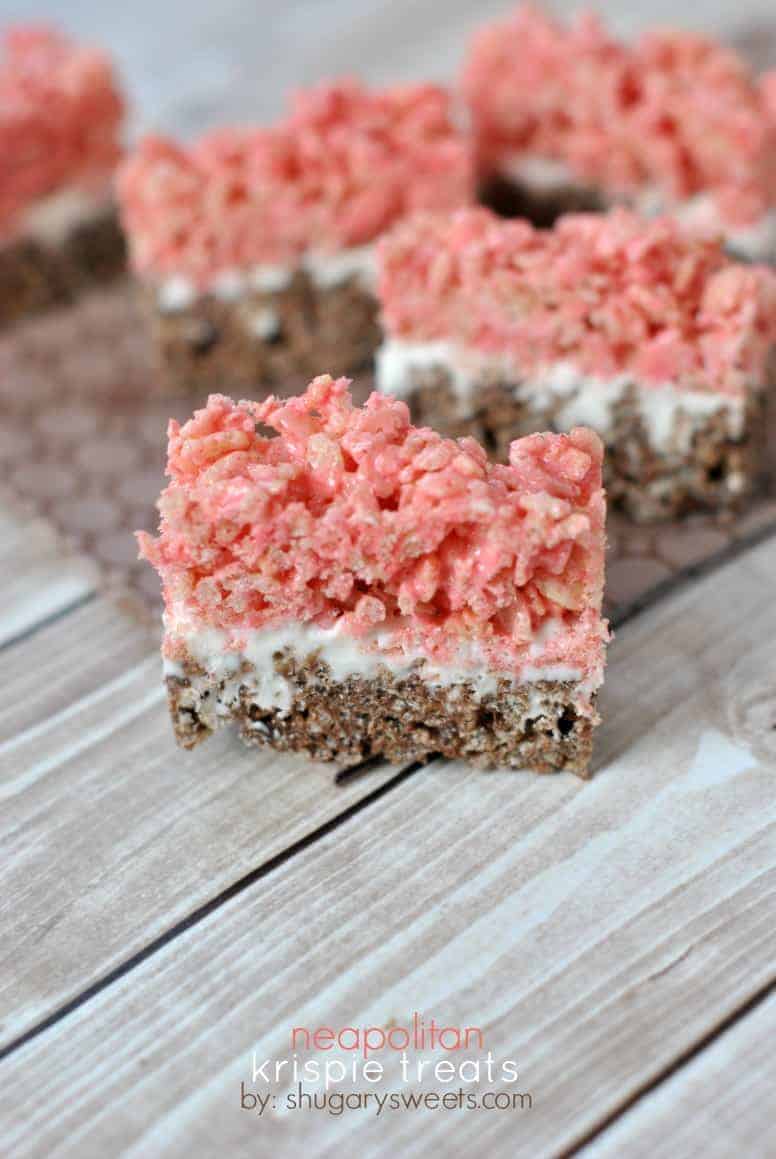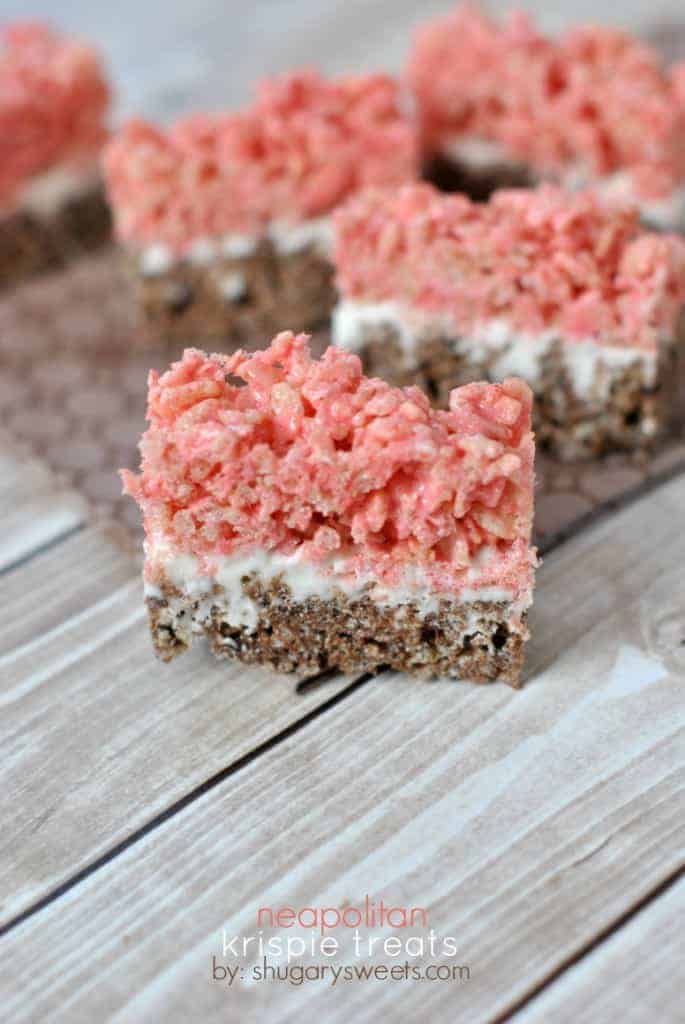 Love Neapolitan desserts? These layered Rice Krispie Treats are so delicious!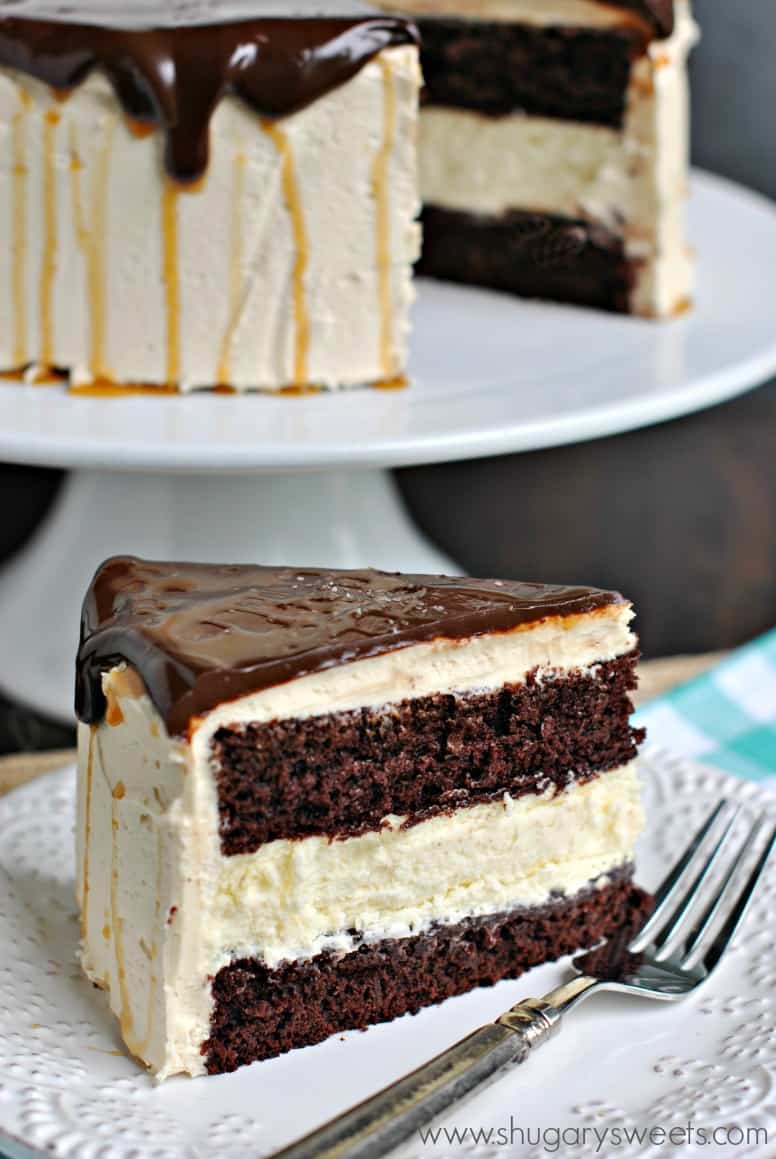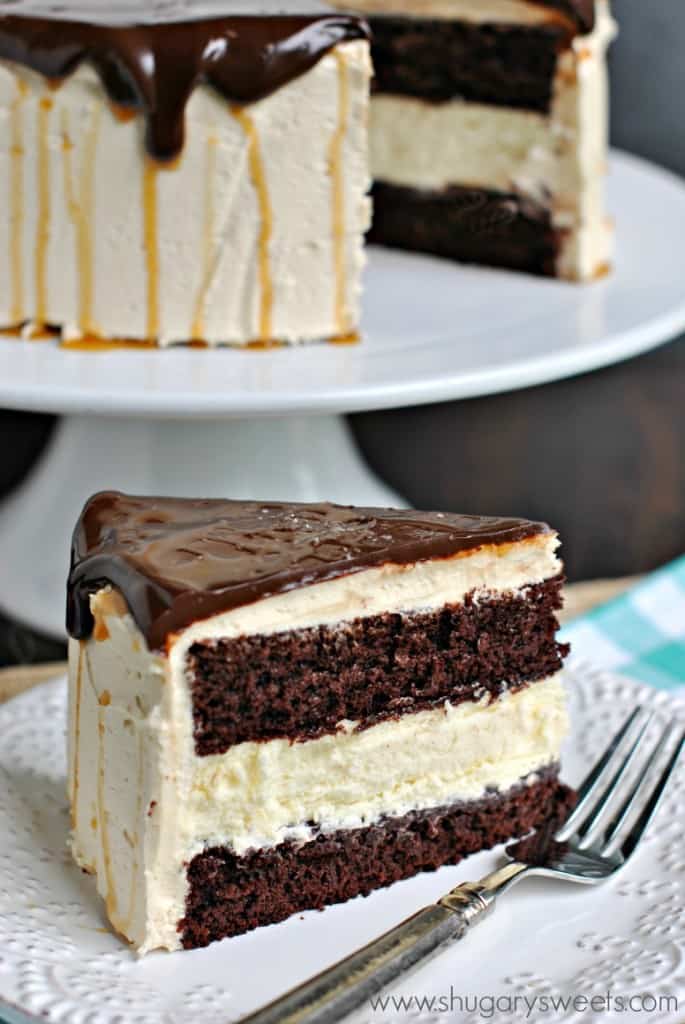 Another great cheesecake cake idea: Salted Caramel Cheesecake Cake (one of my personal favorites!)
Here are a few Neapolitan Desserts from my friends:


 **This post may contain affiliate links which won't change your price but will share some commission. See my disclosure policy for more info**