An ice cold sweet treat that's sure to perk you up! This Caramel Coffee Milkshake tastes like an even creamier frappuccino. Best of all, it's easy to make at home.
Love coffee drinks? Be sure to give our homemade mocha latte a try! Or this Starbucks inspired Pumpkin Cream Cold Brew is a hit year round!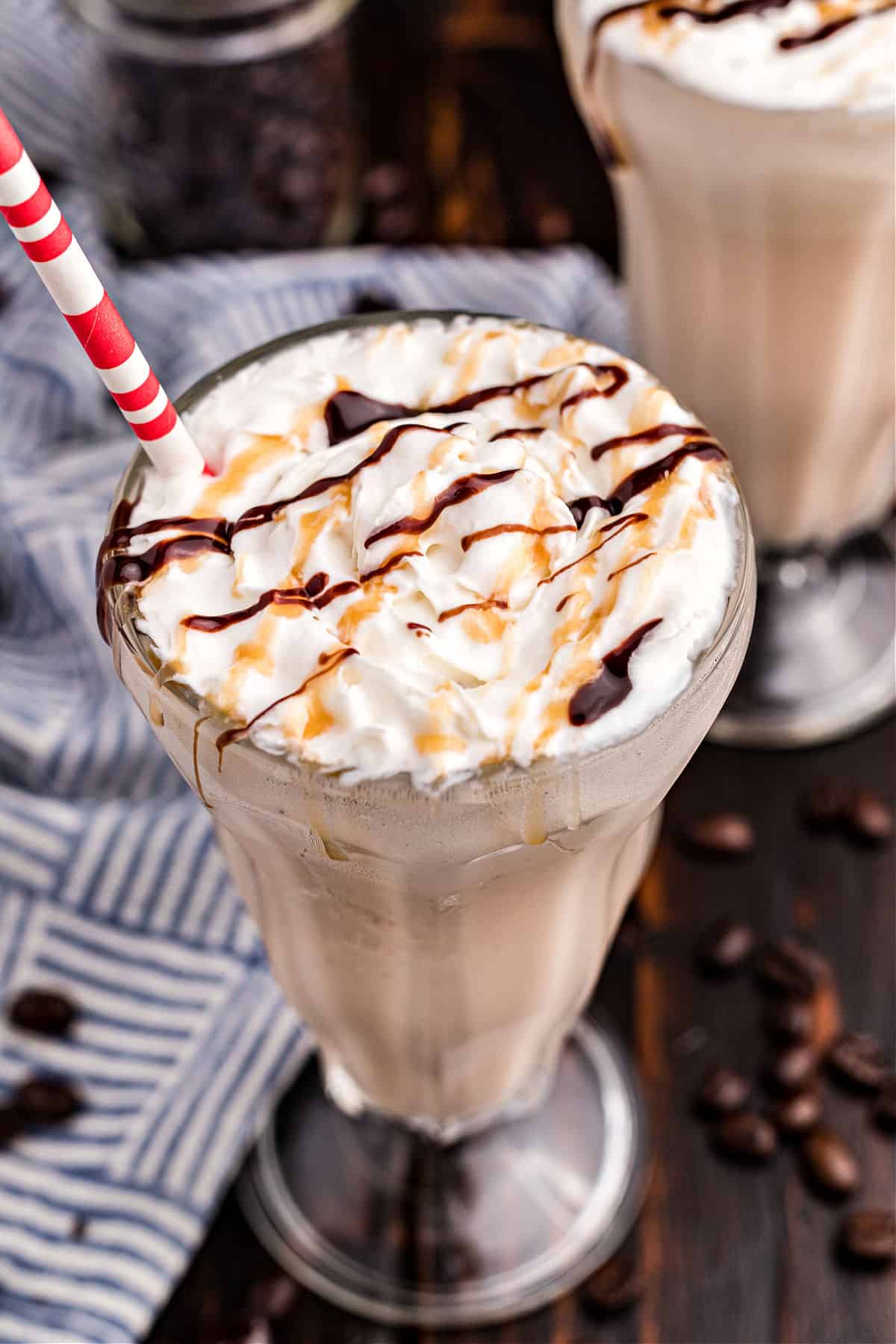 What is a coffee milkshake?
A coffee milkshake, in theory, is any kind of blended drink that combines ice cream with coffee. The recipe I'm sharing today is my current favorite.
It's thick and creamy with a ton of coffee flavor. I use homemade vanilla bean ice cream and both caramel AND chocolate syrup because I'm nothing if not an equal opportunity milkshake drinker.
MORE Coffee Milkshakes: S'mores Milkshake | Nutella Milkshake
Coffee Ice Cubes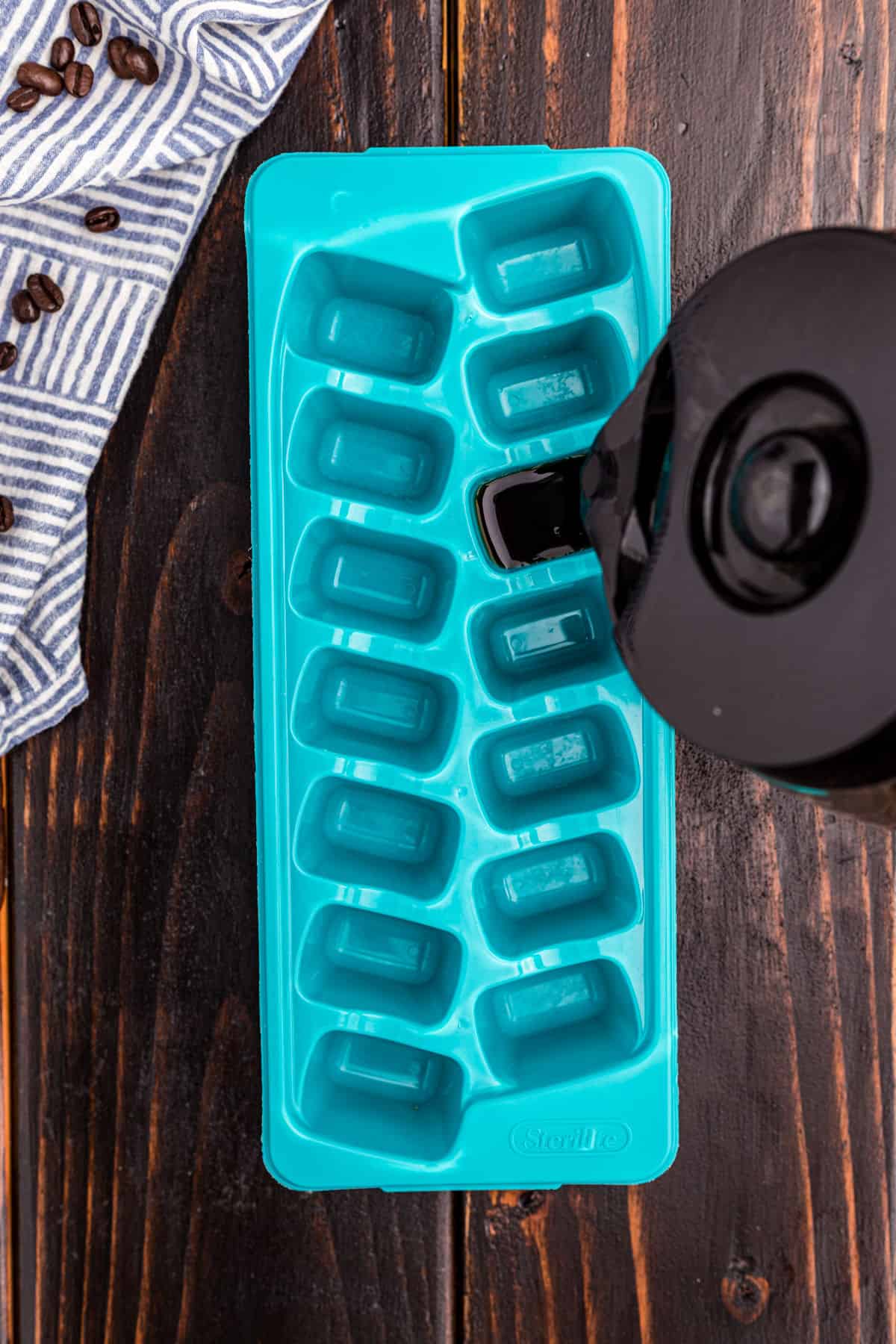 I've seen and tried plenty of recipes that just use plain old brewed cooled coffee in their coffee shakes. That works fine, but I often feel like they make the shake too watery.
My solution? Coffee ice cubes.
Freeze leftover brewed coffee in ice cube trays. Boom! You don't waste any coffee (a mortal sin) AND your shake stays cold and thick.
The frozen coffee brings that great coffee taste to the shake without watering it down.
Coffee Milkshake Vs. Frappuccuino
If you've ever had a Starbucks Caramel Frappucino and wondered how to make a copycat version at home, this recipe will make you very happy indeed.
Is a frappucino the same as a milkshake? Yes and no.
At the Starbucks stores, they use a sweetened coffee base, milk and ice cubes to make their frappes. The result is thick and delicious but I find the ice ends up separating from the coffee and milk as you sip.
By the end of your cup, you're left with a bunch of sugary ice crystals.
Still good, but I like my version even better!
This Caramel Coffee Milkshake is thick and rich but endlessly drinkable! No ice crystals left behind, just caffeinated blended perfection.
Ingredient Notes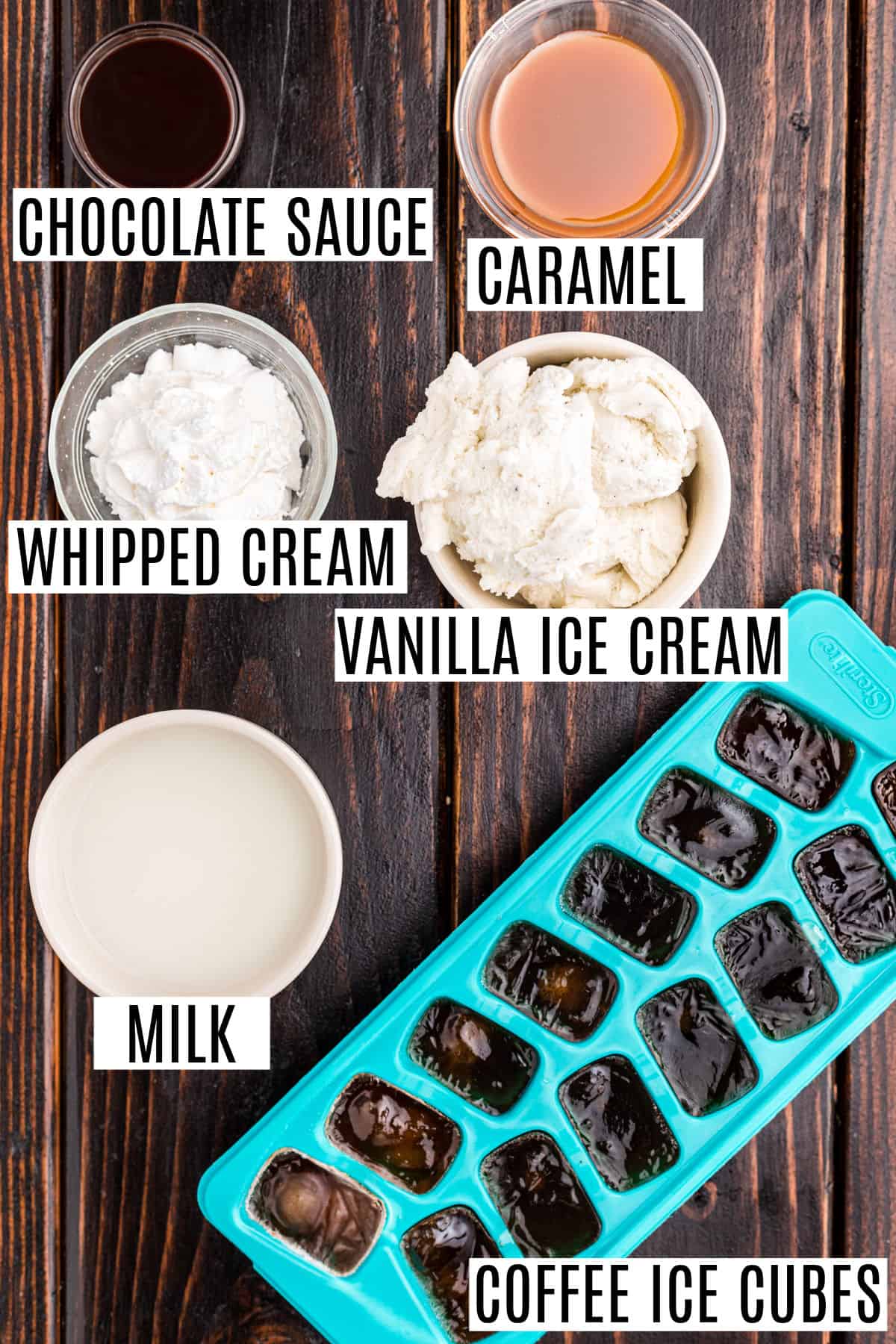 With the right ingredients, homemade coffee shakes that rival any ice cream shop or coffee chains are so easy–and way less expensive.
Here's what I put in my coffee shakes:
Coffee ice cubes – Pour very strong cooled coffee into ice cube trays and freeze. Keep plenty in stock in your freezer so you can satisfy your frappucino craving anytime it strikes.
Vanilla bean ice cream – Premium ice cream with a strong vanilla flavor is my preference. Our homemade ice cream is perfect!
Caramel and chocolate sauce – Because why choose when you can have both?
Skim milk – Whole or 2% milk can be substituted if you prefer.
Whipped cream – The kind from a spray can for topping or homemade whipped cream.
Easy Instructions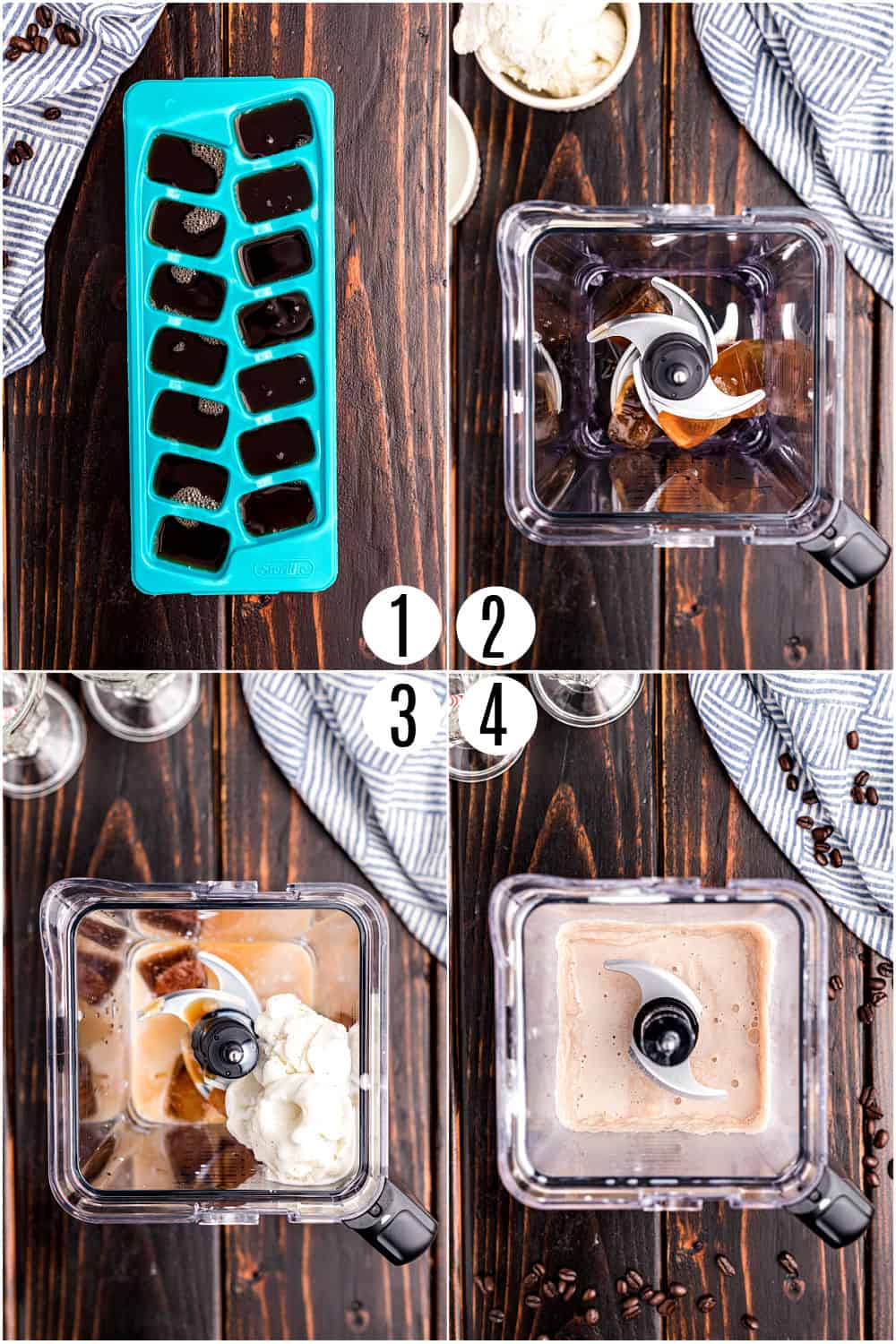 Put everything except the whipped cream in a blender and combine at high speed until the milkshake is smooth and creamy. Pour your shake into tall glasses and top with whipped cream.
I like to drizzle more caramel or chocolate sauce over top. Serve with a straw and enjoy!
This proportion of ingredients is my preference for a thick, creamy shake that's still easy to drink with a straw. If you want a thicker coffee shake, reduce the amount of milk until you reach the desired consistency.
If you find it's too thick for your liking, you can also add a bit more milk, a tablespoon at a time.
Substitution Ideas
You can use this guide to coffee milkshakes as a launching point for trying all kinds of flavor combinations.
Mocha shake – For a mocha shake, substitute chocolate ice cream for the vanilla. Delicious with caramel, or feel free to substitute for more chocolate syrup.
Vanilla shake – Omit the chocolate and caramel sauce for a straight forward vanilla coffee shake.
Non-dairy – Substitute nondairy ice cream and your favorite unsweetened plant based milk for their dairy equivalents. Cashew, coconut and oat milk all make very creamy shakes.
Chai frappucino – Not a coffee fan? Use frozen cubes of tea instead. Rather than chocolate and caramel syrup, use a couple pumps of chai spice syrup to make a copycat chai tea frap.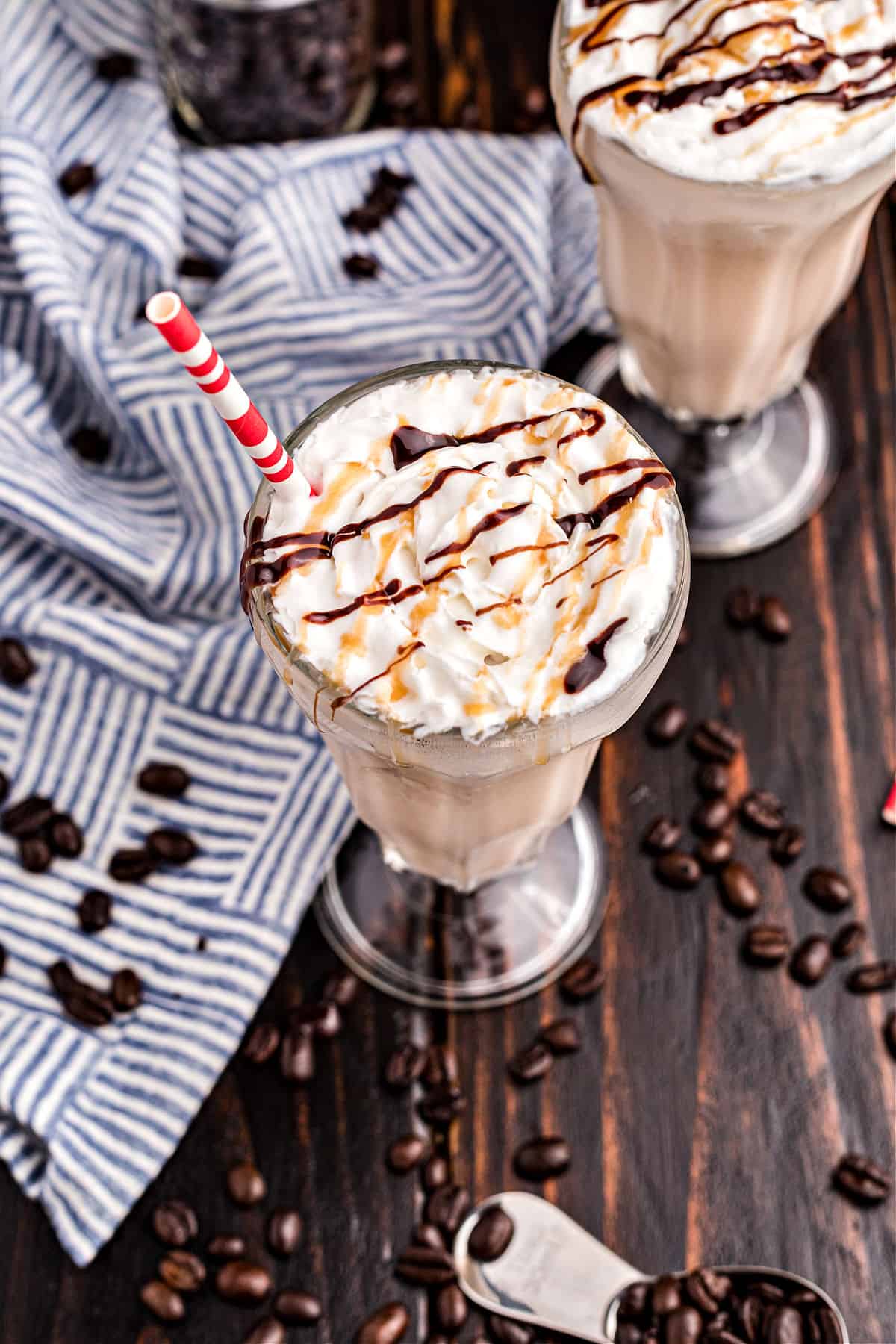 More Coffee Inspired Recipes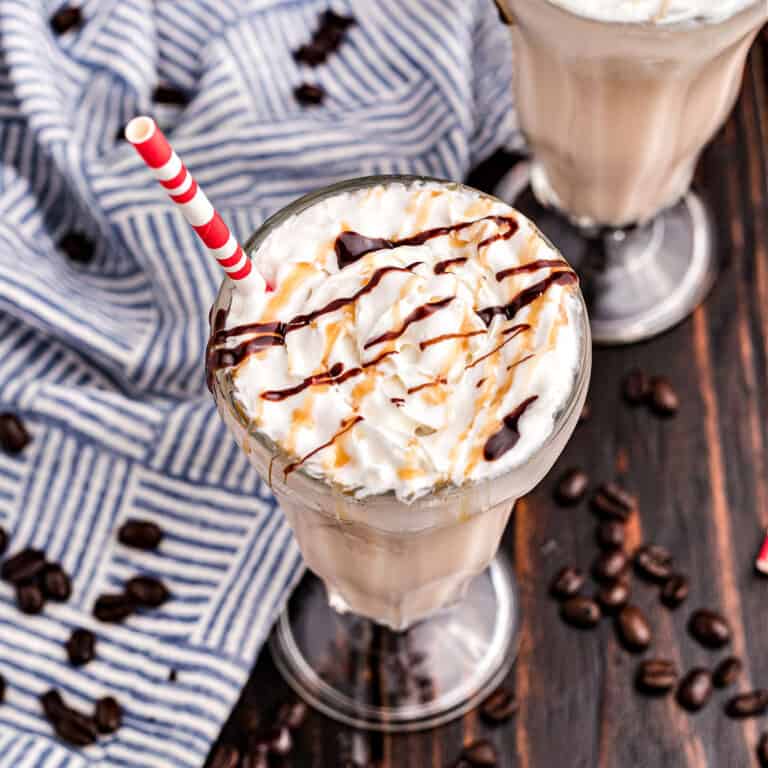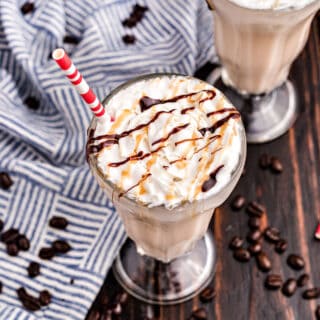 Caramel Coffee Milkshakes
An ice cold sweet treat that's sure to perk you up! This Caramel Coffee Milkshake tastes like an even creamier frappuccino. Best of all, it's easy to make at home.
Ingredients
6

coffee icecubes

see note below

¾

cup

skim milk

3

large scoops vanilla bean icecream

2

Tablespoons

caramel sauce

1

Tablespoon

chocolate syrup

2

Tablespoons

whipped cream
Instructions
In a blender, mix ice cubes, milk, ice cream, chocolate syrup and caramel until smooth.

Pour in a tall glass and top with whipped cream (and more caramel if desired). Enjoy immediately!
Notes
To make coffee ice cubes, pour cooled coffee (the stronger, the better) into an ice cube tray. Freeze.
See blog post for more recipe tips and tricks.
Nutrition
Serving:
1
,
Calories:
256
kcal
,
Carbohydrates:
38
g
,
Protein:
7
g
,
Fat:
8
g
,
Saturated Fat:
5
g
,
Polyunsaturated Fat:
3
g
,
Cholesterol:
33
mg
,
Sodium:
183
mg
,
Fiber:
1
g
,
Sugar:
35
g
As a midday pick-me-up, it doesn't get better than a Caramel Coffee Milkshake! And because it has coffee in it, you can totally justify blending one of these up for yourself in the morning after now and then.