Learn to make Bread Pudding in the instant pot! Sweet bites of bread spiced with cinnamon and nutmeg and flecked with raisins, this dessert is simple, comforting and oh-so-delicious.
If you love custard style desserts, be sure to give our homemade cream puffs and our cream puff cake a try this year. So easy and delicious!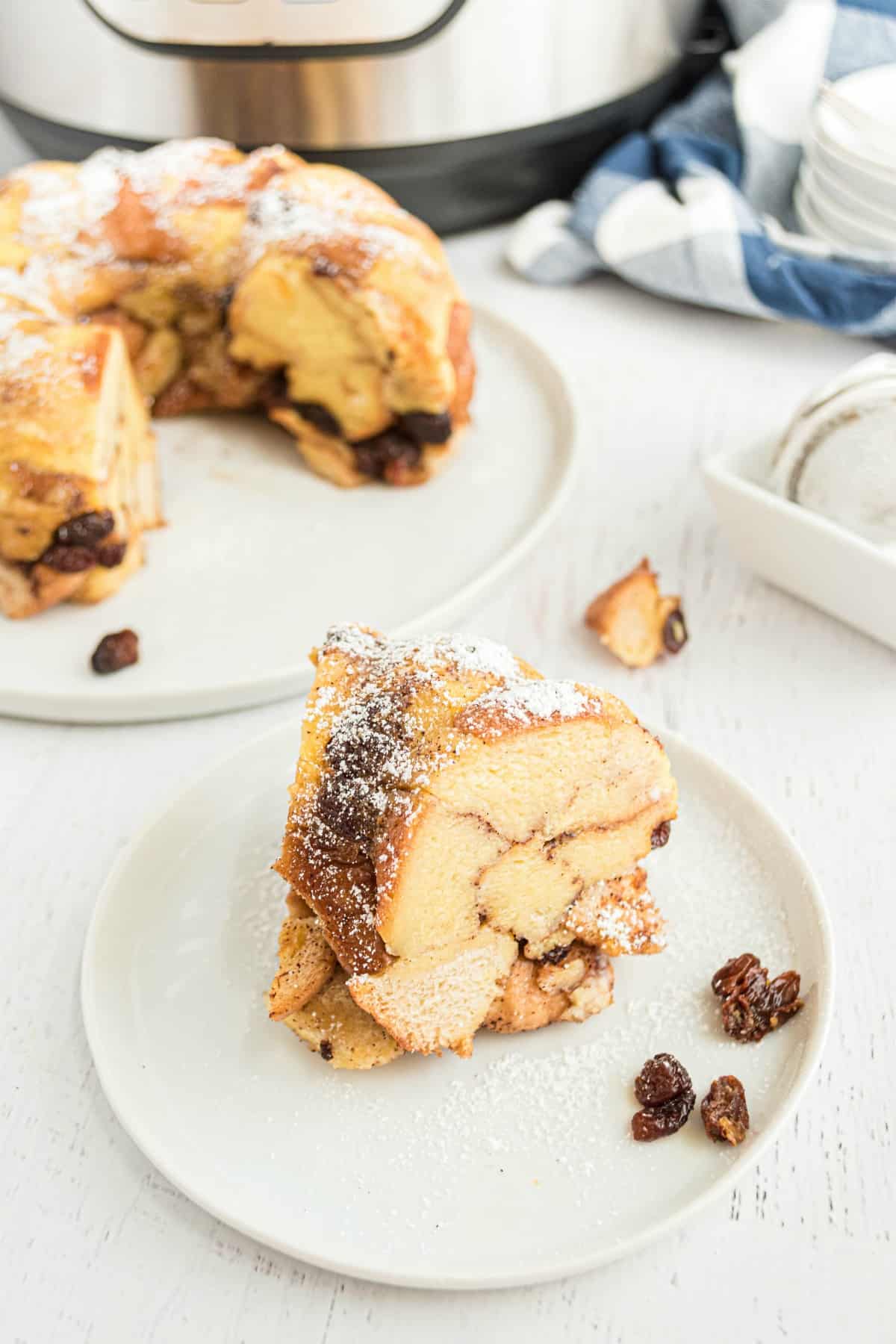 Are you a bread pudding fan?
For me it's one of those old-fashioned desserts that's either AMAZING or blah, depending on the recipe and the method. I've had some jaw-droppingly good bread puddings and some that left me wishing I'd chosen pie for dessert instead.
Today's recipe is firmly in the "jaw dropping" category.
Actually, you won't be able to drop your jaw because your mouth will be too full of dessert.
Whether you're looking for a way to use up some leftover bread, or just in the mood for old fashioned comfort food, this is the bread pudding you need!
I like mine made with lots of eggs, a little spice and just the right amount of raisins for a burst of juicy flavor.
With a little experimentation, I was able to create this Custard Bread Pudding recipe in the Instant Pot that is, if I do say so myself, absolutely perfect.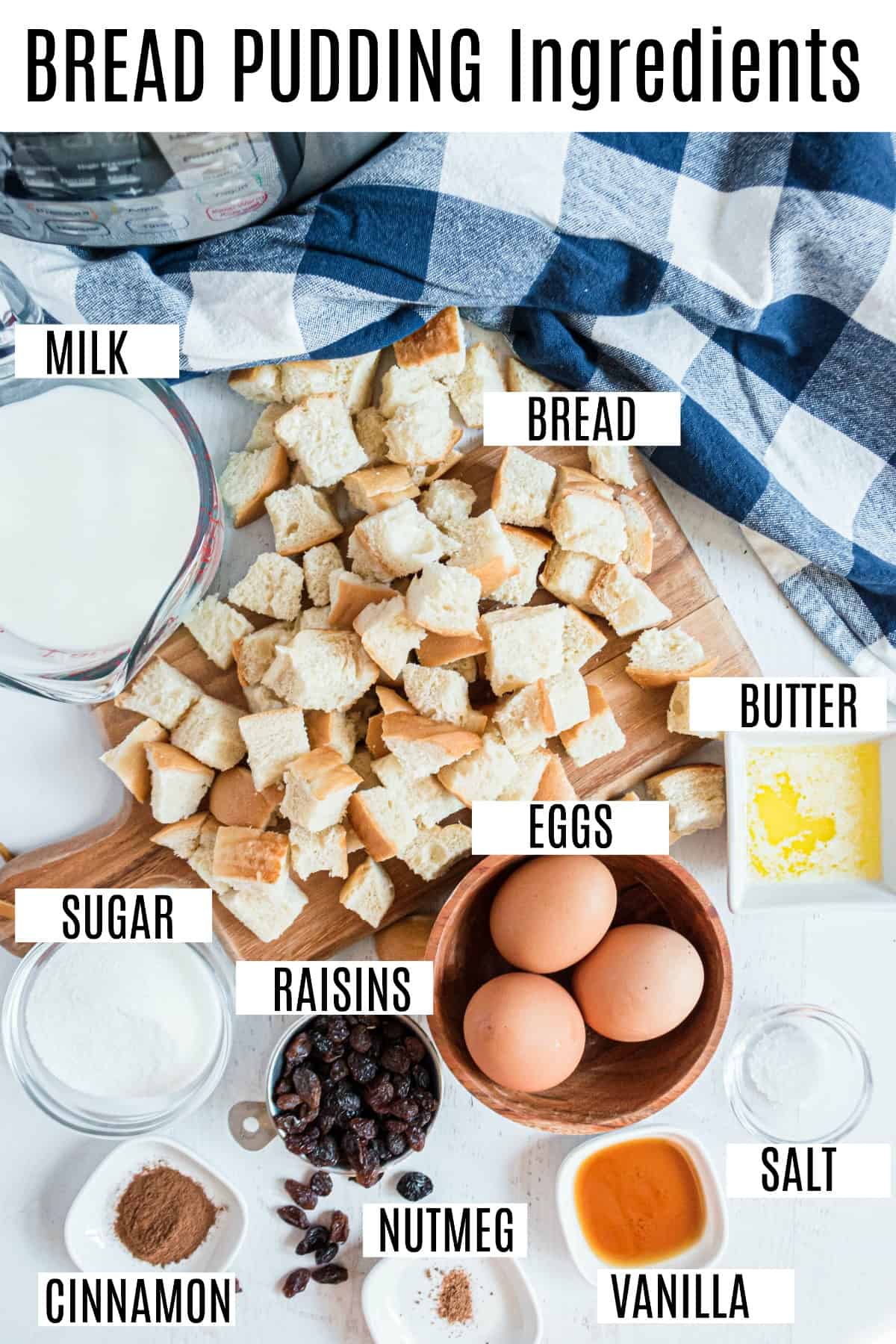 Custard Bread Pudding
What's the different between Custard Bread Pudding and others? It's, you guessed it, the eggs.
Regular bread pudding will have more cream or milk than eggs. As a result, it doesn't hold together as much.
Custard bread pudding combines the bread cubes with a sweet egg custard mixture. It bakes up into a thick pudding that you can slice and eat with a fork.
Garnished with a little powdered sugar or drizzled with caramel sauce, custard bread pudding is anything but boring!
Swap out this bread for our chai apple bread…will add delicious flavor!
Step by Step Instructions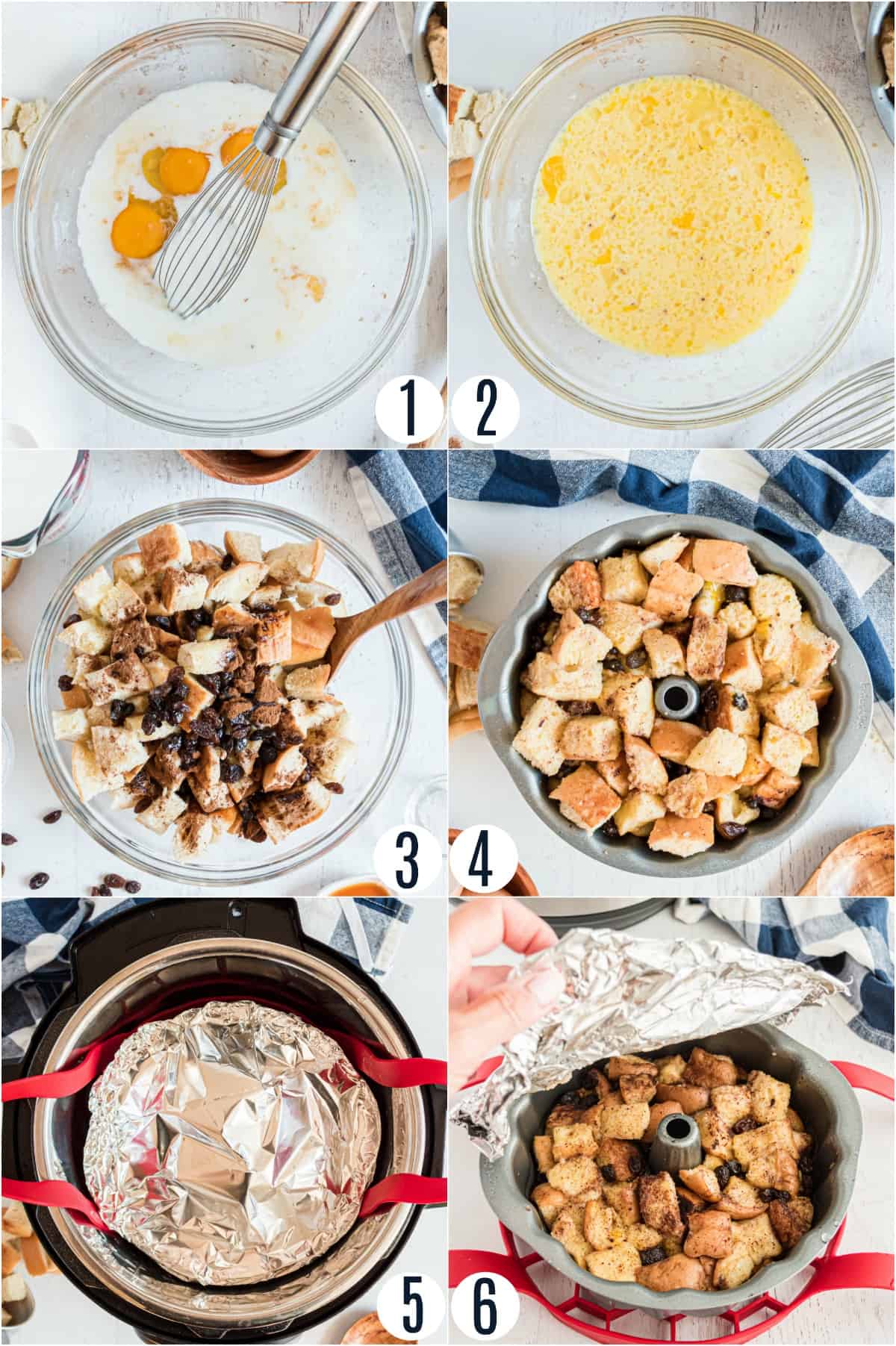 In case you missed the abundance of Instant Pot Recipes on the blog, I'm a little obsessed with making my favorite desserts in the pressure cooker.
From instant pot brownies, to delicious Cheesecake in the pressure cooker, there's something for everyone.
Particularly in the summer, I like that my Instant Pot lets me bake my family's favorite desserts without heating up the entire kitchen.
Here's how I make bread pudding in my 6 quart Instant Pot:
Before making the custard, get a 6 cup bundt pan ready. You can spray it with baking spray or use this nifty Homemade Cake Release.
STEP 1. Prepare the bread
Toss white bread cubes in a mixing bowl with with melted butter, sugar and cinnamon and raisins. Pour the bread mixture into the bundt pan.
STEP 2. Prepare the custard
In a separate bowl, whisk together the eggs with sugar, homemade vanilla extract, salt and milk. Pour it into the bundt pan over the bread cubes and sprinkle with a pinch of nutmeg. Cover your bundt pan with foil.
STEP 3. Pressure cook
Add water to the bottom of your Instant Pot, cover the bundt pan and lower it into the pot with a sling trivet. Secure the lid and set the valve on top to "sealing."
Select high pressure and a cook time of 35 minutes. When the baking time ends, let the pot release naturally for 10 minutes, then do a quick release of remaining pressure.
STEP 4. Let set
Open the lid and lift the trivet carefully out of the pot. Remove foil from the pan pan and invert bread pudding onto a flat plate. Allow to cool completely so the pudding firms up.
Garnish with powdered sugar before serving!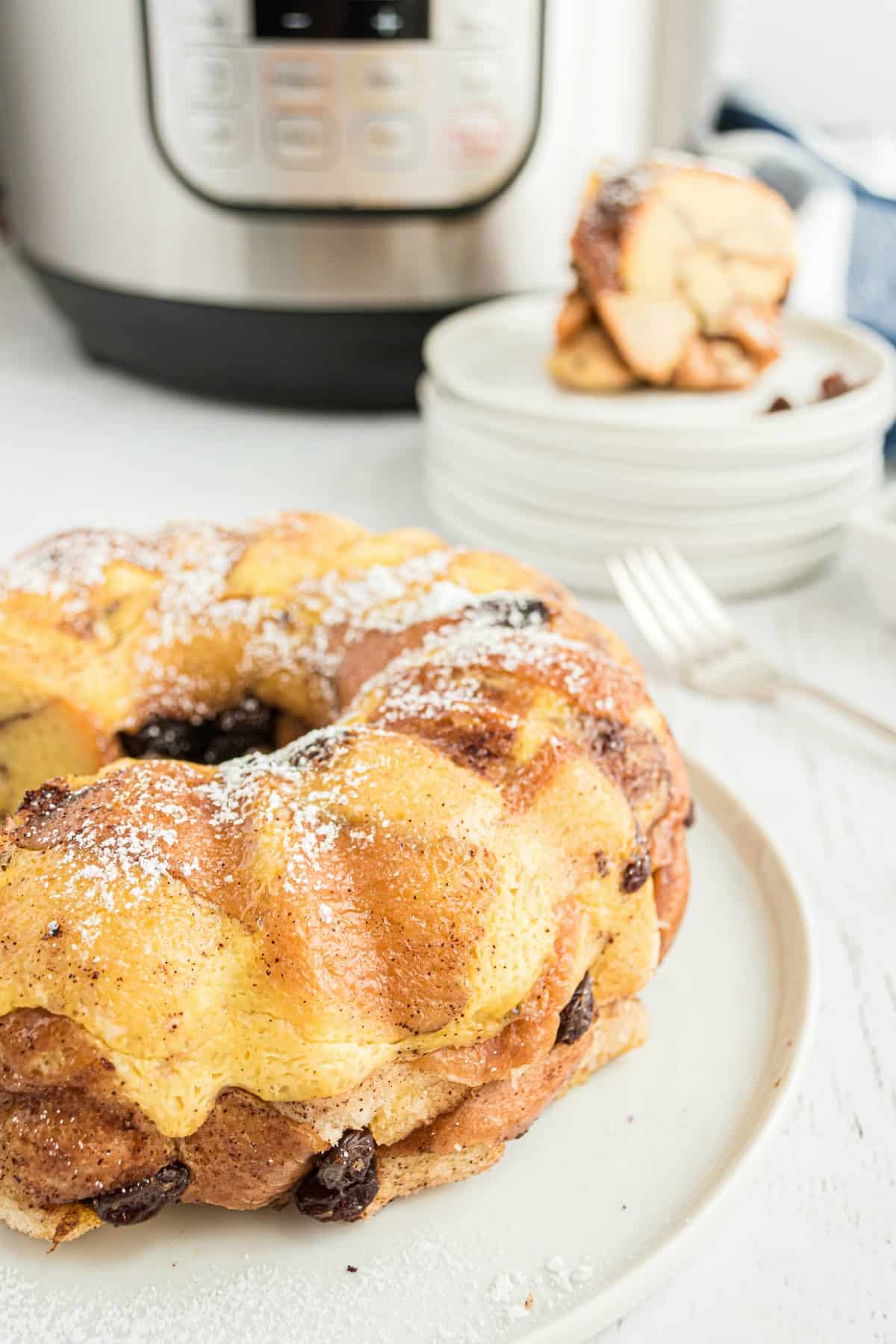 Substitutions and Variations
You could definitely swap out some of the ingredients here to put a different twist on the custard bread pudding.
Bread. I like plain white bread for the bread cubes–it's a great way to use up day-old Homemade Bread! If you want more of a cinnamon flavor, cinnamon swirl bread would also be delicious.
Raisins. If you're not a fan of raisins, try swapping them out for currants, dried cranberries or another dried fruit you love! You can also just leave them out if dried fruit in desserts isn't your thing.
Topping. Want a little extra somethin' somethin' on your bread pudding? Try drizzling it with caramel sauce! (Spoiler: it's good. Really, really good.) A drizzle of homemade buttermilk syrup is also quite good!
Apple. Our apple bread pudding recipe is wonderful!! With flavor from our homemade chai spice mix, it's a delicious twist.
More tips & tricks
Serve at room temperature – I prefer it this way as opposed to warm because the texture is firmer and more custard-like than gooey.
What bread to use – Traditionally, bread pudding is made with stale or day-old bread, but there's no need to wait until your bread is stale for this recipe. Store bought sliced sandwich bread will do just fine!
Storing – Bread pudding leftovers can be refrigerated in an airtight container for up to three days. Enjoy cold or let the pudding warm to room temperature again before eating.
Instant pot size – I tested this in a 6 quart instant pot. The recipe would need some significant adjustments for different size pots, so check what size instant pot you're using before you make bread pudding.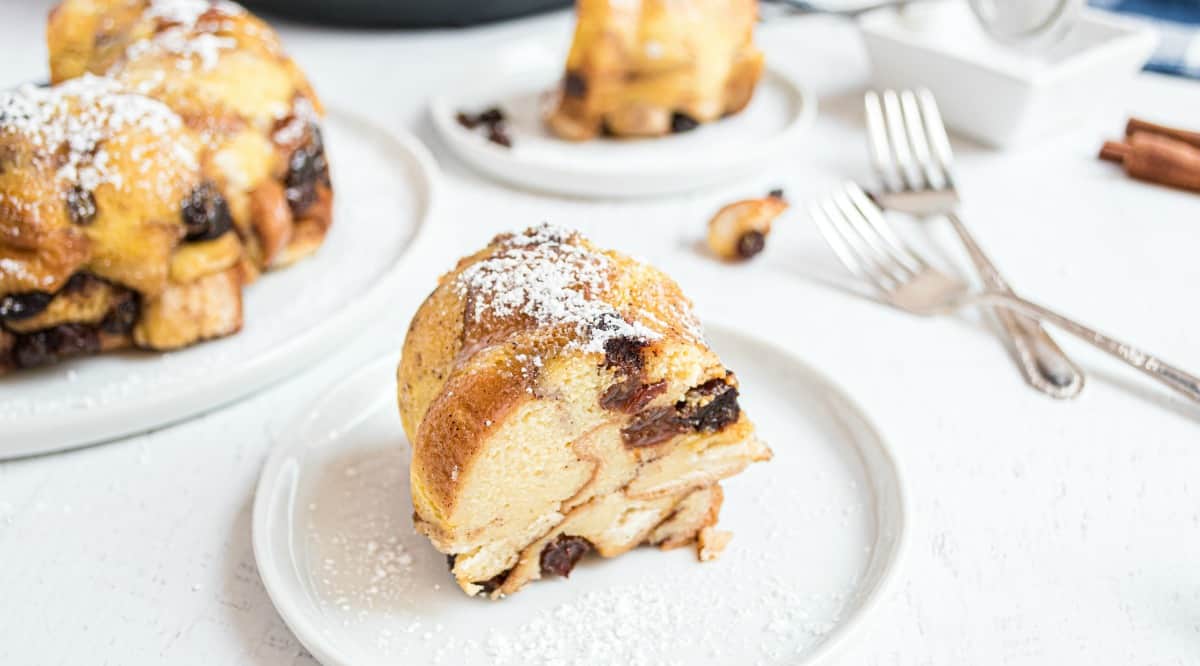 Recipe FAQs
What is the texture of bread pudding?
A good bread pudding should have a soft texture with a custard like flavor. It will be similar to a moist bread.
Should bread pudding be refrigerated?
After your bread pudding has cooled, if you aren't eating immediately, refrigerate (covered) for up to three days.
Can you freeze bread pudding?
Bread pudding can be frozen if wrapped correctly after cooling COMPLETELY. Wrap in plastic wrap, then a layer of foil. Finally, slide bread pudding into a ziploc freezer bag to prevent freezer burn. Store for up to two months. Thaw in refrigerator overnight, heat in microwave.
More Delicious Desserts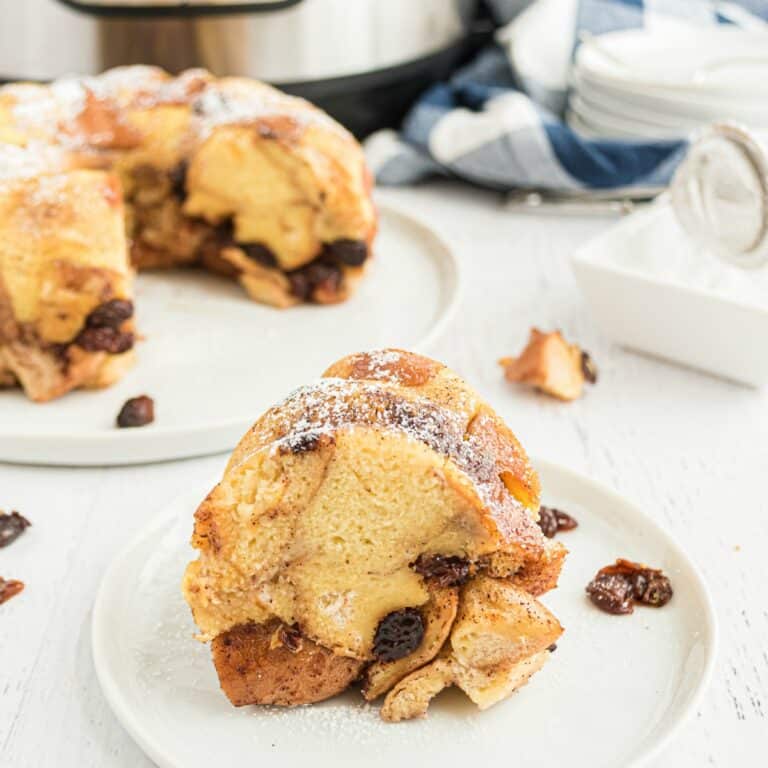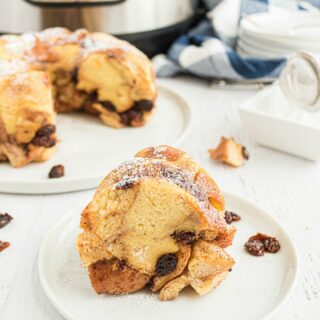 Instant Pot Bread Pudding
Learn to make Bread Pudding in the instant pot! Sweet bites of bread spiced with cinnamon and nutmeg and flecked with raisins, this dessert is simple, comforting and oh-so-delicious.
Ingredients
8

slices

white bread

cubed

2

Tablespoons

unsalted butter

melted

1

teaspoon

cinnamon

¼

cup

raisins

3

large eggs

⅓

cup

granulated sugar

1

teaspoon

vanilla extract

¼

teaspoon

kosher salt

1 ¼

cup

milk

pinch

of nutmeg

1

cup

water

powdered sugar

for garnish
Instructions
In a large bowl, combine bread cubes, melted butter, cinnamon, and raisins. Pour into prepared pan.

In same bowl, whisk together, eggs, sugar, vanilla, salt and milk. Pour over bread. Sprinkle with pinch of nutmeg.

Cover baking dish with foil.

Add 1 cup of water to the bottom of a 6qt Instant Pot. Place covered bundt pan on a sling trivet and lower into the pot.

Secure the lid and set the valve on top to "SEALING"

Select HIGH PRESSURE (or manual) for a cook time of 35 minutes.

When cook time ends, allow to naturally release for 10 minutes, then move the valve to venting for a quick release.

Open lid and lift sling/trivet out of the pot. Remove foil from pan and invert bread pudding onto a flat plate. Allow to cool completely then garnish with powdered sugar. Serve and enjoy.
Notes
Recipe tested in a 6qt instant pot
I prefer this bread pudding served at room temperature, not warm. It firms up after sitting.
Refrigerate leftovers in an airtight container for up to three days.
Drizzle with caramel sauce if desired.
Nutrition
Calories:
209
kcal
,
Carbohydrates:
36
g
,
Protein:
5
g
,
Fat:
5
g
,
Saturated Fat:
2
g
,
Polyunsaturated Fat:
2
g
,
Cholesterol:
64
mg
,
Sodium:
219
mg
,
Fiber:
1
g
,
Sugar:
22
g
Who's ready for some good old fashioned bread pudding? Grab you instant pot and a loaf of bread and dessert will be ready in no time!