Chocolate Dipped Potato Chip Cookies
I have been making potato chip cookies for as long as I've been married. My mother in law introduced me to these buttery cookies way back when! Seeing that we just celebrated our 16 yr wedding anniversary ((applause)), I thought these would be a good treat to make.
The original recipe will look like these beauties! Soft buttery cookies with a crunchy inside. Yum.
But I took it a step further. Why in 16 years it never occurred to me to dip these in chocolate, I will never know. I mean seriously, duh. Chocolate dipped potato chips are amazing. Why not do it to the cookies?
Well, I did. And guess what? They are outstanding too! Enjoy!
Chocolate Dipped Potato Chip Cookies
Ingredients
½ lb butter
½ lb margarine
1 cup sugar
2 tsp vanilla
3½ cup flour
1 cup crushed potato chips
powdered sugar
8 oz semi-sweet chocolate morsels, melted (optional)
Instructions
Mix butter and sugar until well combined. Add vanilla, flour and chips. Drop by teaspoons on a cookie sheet. To make more uniform, and look smooth, roll into a ball and press top with thumb before baking. I usually do the first two batches like this, then give up cause I want to be done and turn my oven off!!
Bake in a 350 degree oven for 13-15 minutes, until golden brown on bottom and white on top. When cool, sprinkle with powdered sugar.
If desired (which I do), dip in melted chocolate and refrigerate to set. Enjoy!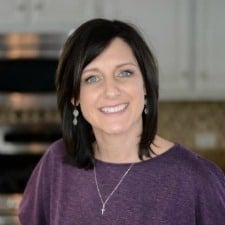 Aimee is a dessert lover (specifically rice krispie treats), workout enthusiast, self-taught foodie, and recipe creator. Her recipes have been featured in over 15 magazines, and her passion is to share her love of cooking with the everyday home cook! Learn more about Aimee.