Sweet and salty potato chip cookies made even better with a dip into melted chocolate. You've never tasted anything like Chocolate Dipped Potato Chip Cookies! 
Everything is better dipped in chocolate! These Chocolate Dipped Oreo Cookies are sensational! Or try some Buttercream Truffles, it's basically frosting dipped in chocolate!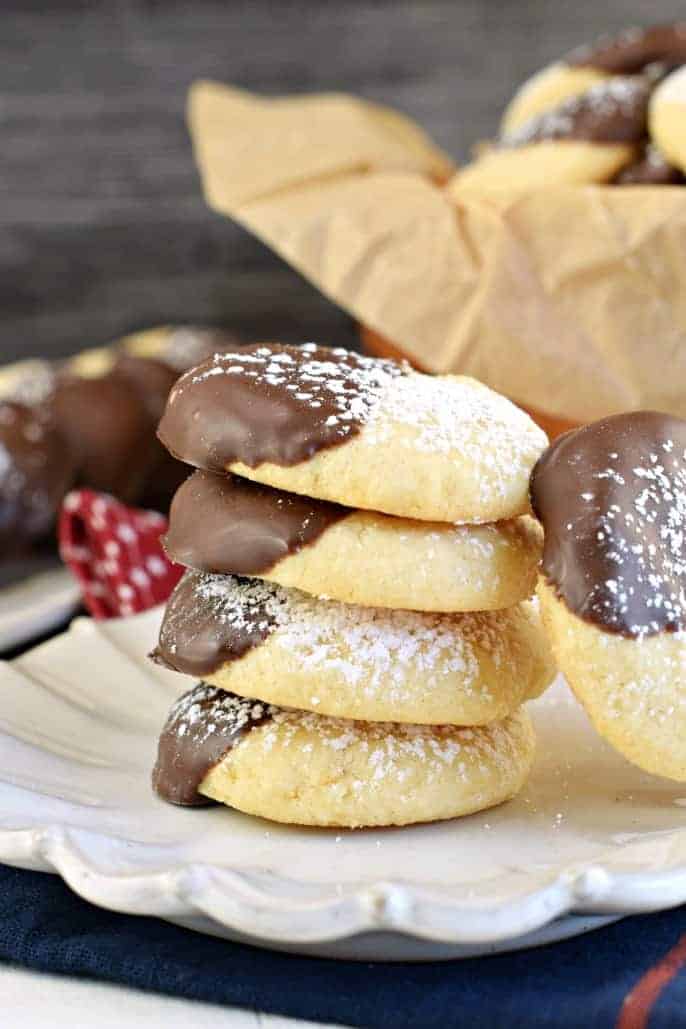 What are Potato Chip Cookies?
I have been making potato chip cookies for as long as I've been married. My mother in law introduced me to these butter cookies way back when!
Seeing that we are about to celebrate our 25 yr wedding anniversary ((applause)), I thought these would be a good treat to make.
If you've never had these cookies before, they're a simple butter cookie with crushed up potato chips folded into the dough.
The original recipe creates soft buttery cookies with a crunchy inside. Yum.
But I took it a step further. Why in 25 years it never occurred to me to dip these in chocolate, I will never know. I mean seriously, duh.
Chocolate dipped cookies are amazing. Why not do it to these cookies?
Well, I did. And guess what? They are outstanding too!
In fact, this combo of sweet and salty was just about the perfect midnight snack. It took a LOT of willpower not to eat a whole plate of these cookies in one sitting.
After enjoying a dish of sweet potato casserole (I know, random), these cookies were a delicious treat.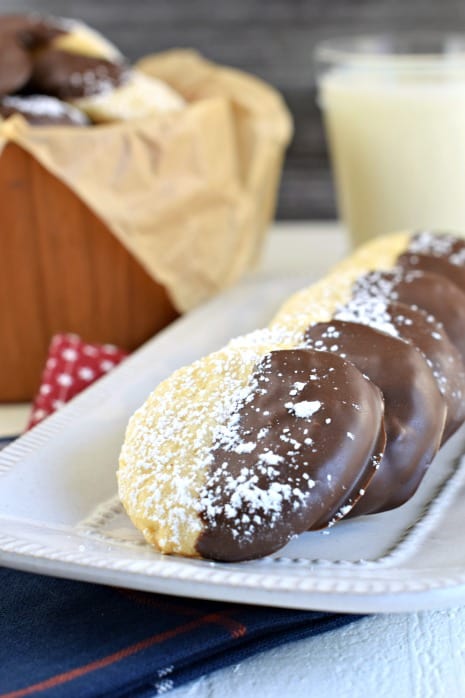 Ingredient Notes
butter and shortening– my mother in law's recipe used both, so that's what I do too!
sugar
vanilla extract– use my homemade vanilla extract in this recipe!
all-purpose flour
crushed potato chips – any brand!
powdered sugar
Ghirardelli dark chocolate melting wafers
How to Make Potato Chip Cookies
STEP 1. Mix butter, shortening, and sugar until well combined. Add vanilla, flour and chips. Drop by teaspoons on a cookie sheet.
STEP 2. Bake in a 350 degree oven for 13-15 minutes, until golden brown on bottom and white on top. When cool, sprinkle with powdered sugar.
You can stop right there and these will be delicious. But why not go the extra mile and dip them in melted chocolate? You won't be sorry!
Chocolate Dipped
It's no secret I love Ghirardelli Dark chocolate melting wafers.
It melts smooth and tastes delicious, even my non dark chocolate lovers enjoy this smooth, rich chocolate treat.
To melt, pour wafers in a glass bowl and heat in microwave for 1 minute. Stir until smooth.
Dip one end of the cookies in chocolate, and place them on parchment paper to set.
I dusted the chocolate dipped size of the cookie with a little more powdered sugar, but they still look and taste great without it.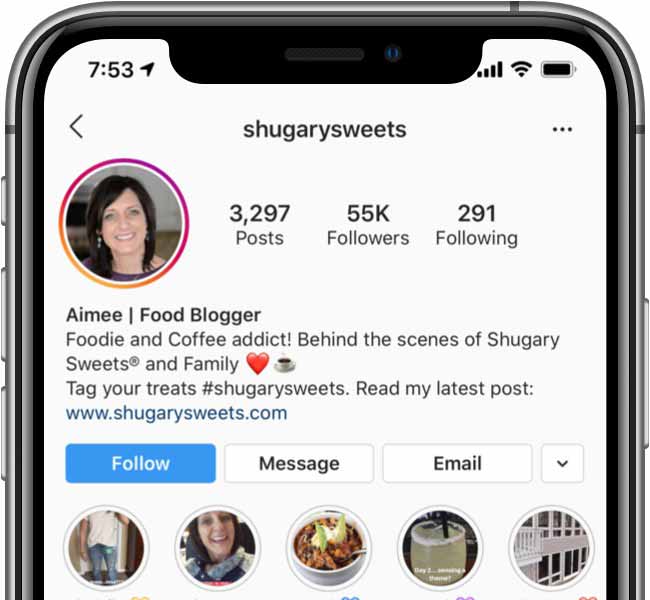 Tips and Tricks
Before you begin dipping, get a sheet of wax or parchment paper ready to go. Dipping chocolate can get MESSY so getting everything set up in advance will eliminate as much excess chocolate dripping as possible.
Be sure to let the potato chip cookies cool completely before moving on to the dipping step!
Hold the cookies by one end and lightly dip them into the bowl of melted chocolate. Use a fork to remove any excess before transferring the cookie to the wax paper.
Don't coat the cookies with too much chocolate. A quick dip is enough to give you the chocolate taste you want without overwhelming the potato chip flavor and texture.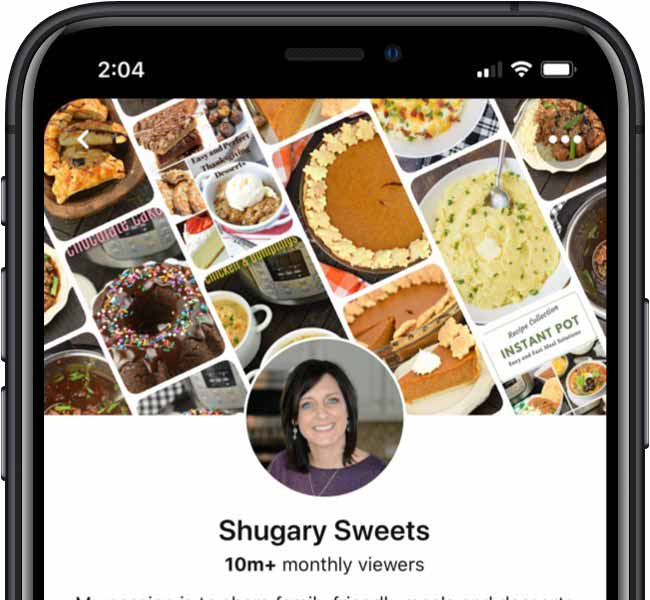 Recipe Notes
To make the cookies more uniform, and look smooth, roll into a ball and press top with thumb before baking. I usually do the first two batches like this, then give up cause I want to be done and turn my oven off!!
Store in an airtight container kept in a cool place. If your home runs warm and the chocolate starts to get melty, you can also keep them in the fridge for easy snacking.
Definitely use BOTH butter and shortening in the recipe if you can. This combination of fats creates a cookie with buttery flavor and a soft texture.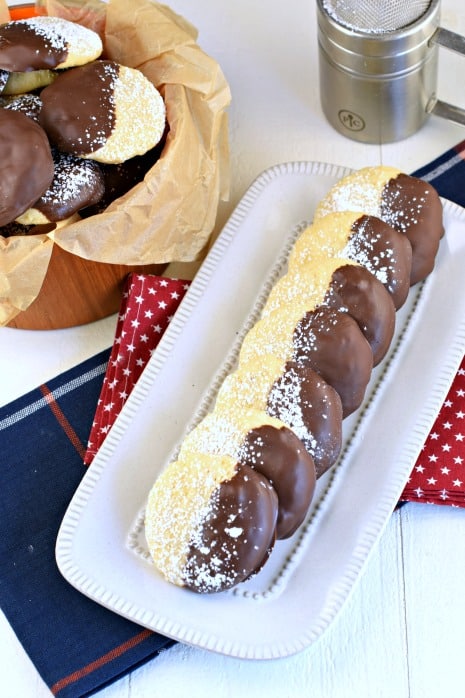 These Potato Chip cookies are sweet, salty, crunchy and irresistibly good.