A beautiful, two layer, from scratch vanilla Funfetti Cake! Topped with our homemade vanilla frosting recipe, this is a fun and festive treat.
If you love cake, be sure to try our reader favorite vanilla layer cake recipe or our vanilla sheet cake! Top them with sour cream frosting for a tangy sweet treat.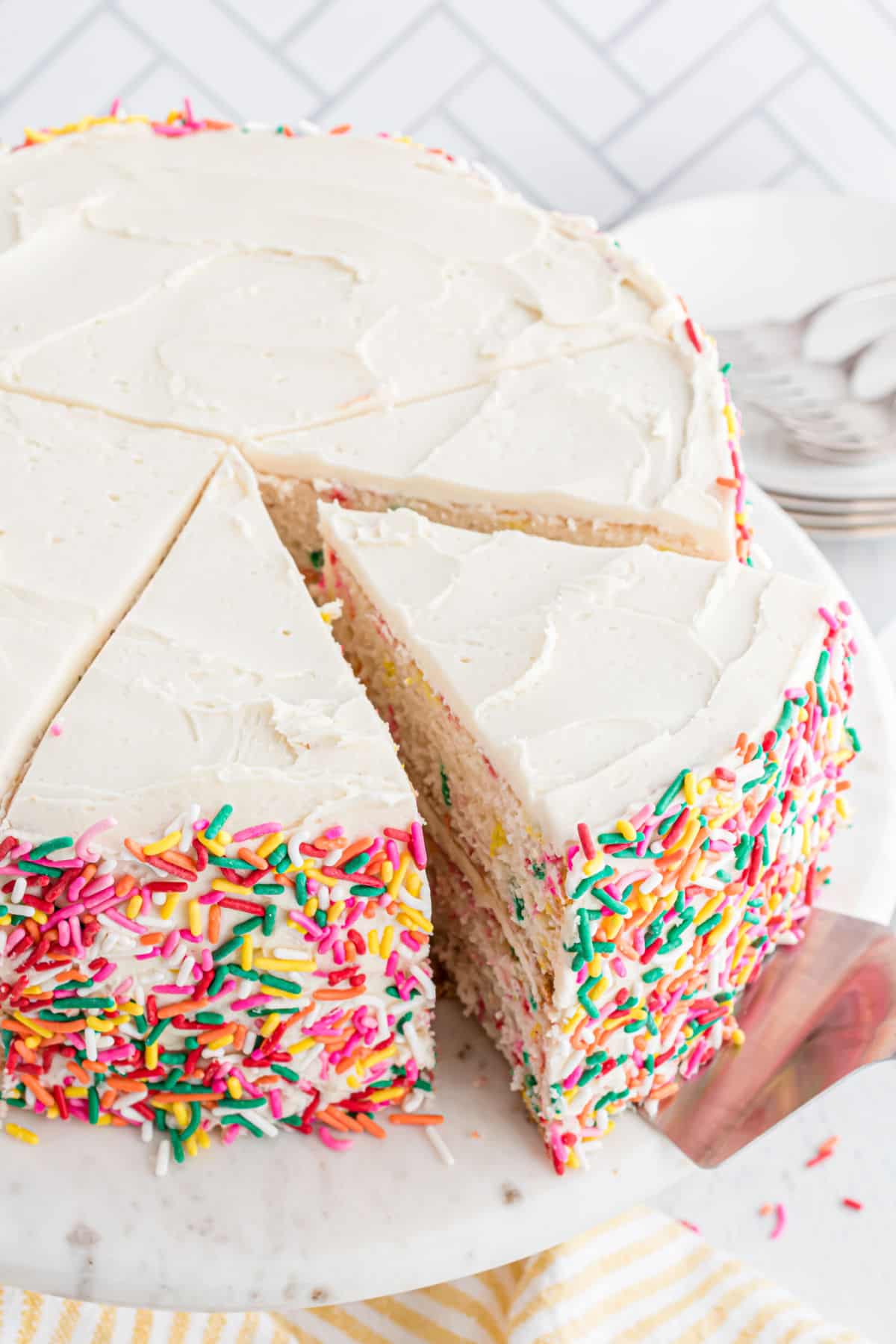 Why this Recipe is Best
Funfetti conjures images of kids birthday parties. Balloons everywhere, tables piled with gifts and frosting-covered faces.
Our homemade version the classic Funfetti dessert is based on my go-to White Cake Recipe. It's fluffy and sweet with a rich vanilla flavor. Best of all, it goes with just about any kind of frosting!
Soft crumb with moist texture
Fresh vanilla flavor
Colorful and bright
Just fold in sprinkles and voila! Vanilla Funfetti Cake! This dessert is bright, cheery and pretty much guaranteed to make you smile.
Ingredient Notes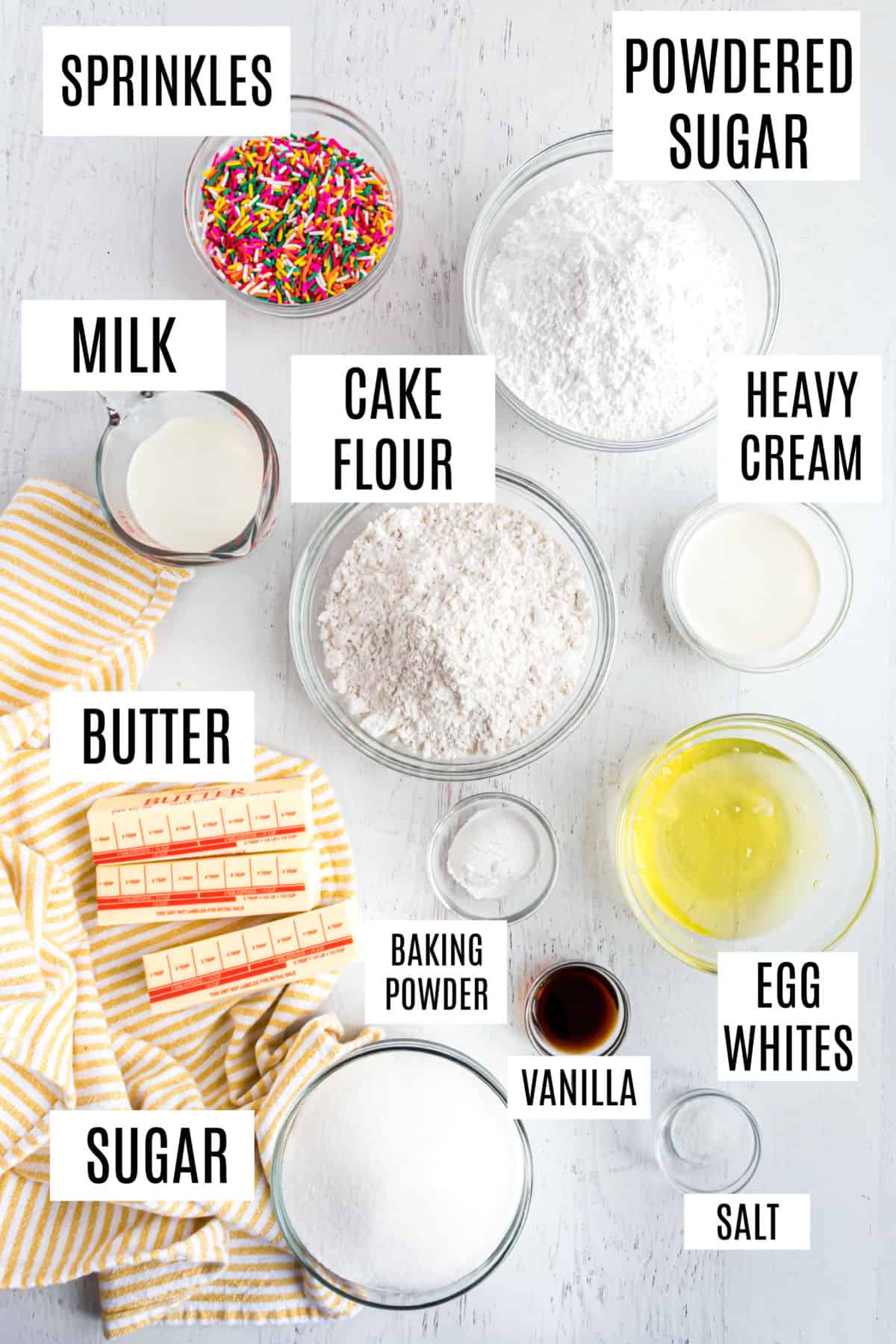 Vanilla extract. Because vanilla is the central flavor in this cake, a good quality vanilla is important. Use a pure extract (not imitation) such as Rodelle. You can also learn how to make your own vanilla extract for this cake!
Granulated sugar. For an even deeper vanilla taste, try Vanilla Sugar instead.
Egg Whites. Keeps the cake tender, without adding color to the layers, letting the sprinkles show! Save the yolks for our lemon curd recipe!
Cake flour. With less protein than other wheat flours and a finer grain, cake flour gives this cake a delicate, light crumb.
Sprinkles. Jimmies sprinkles or confetti sprinkles work best in this recipe. Do not use sugar sprinkles (sanding sugar).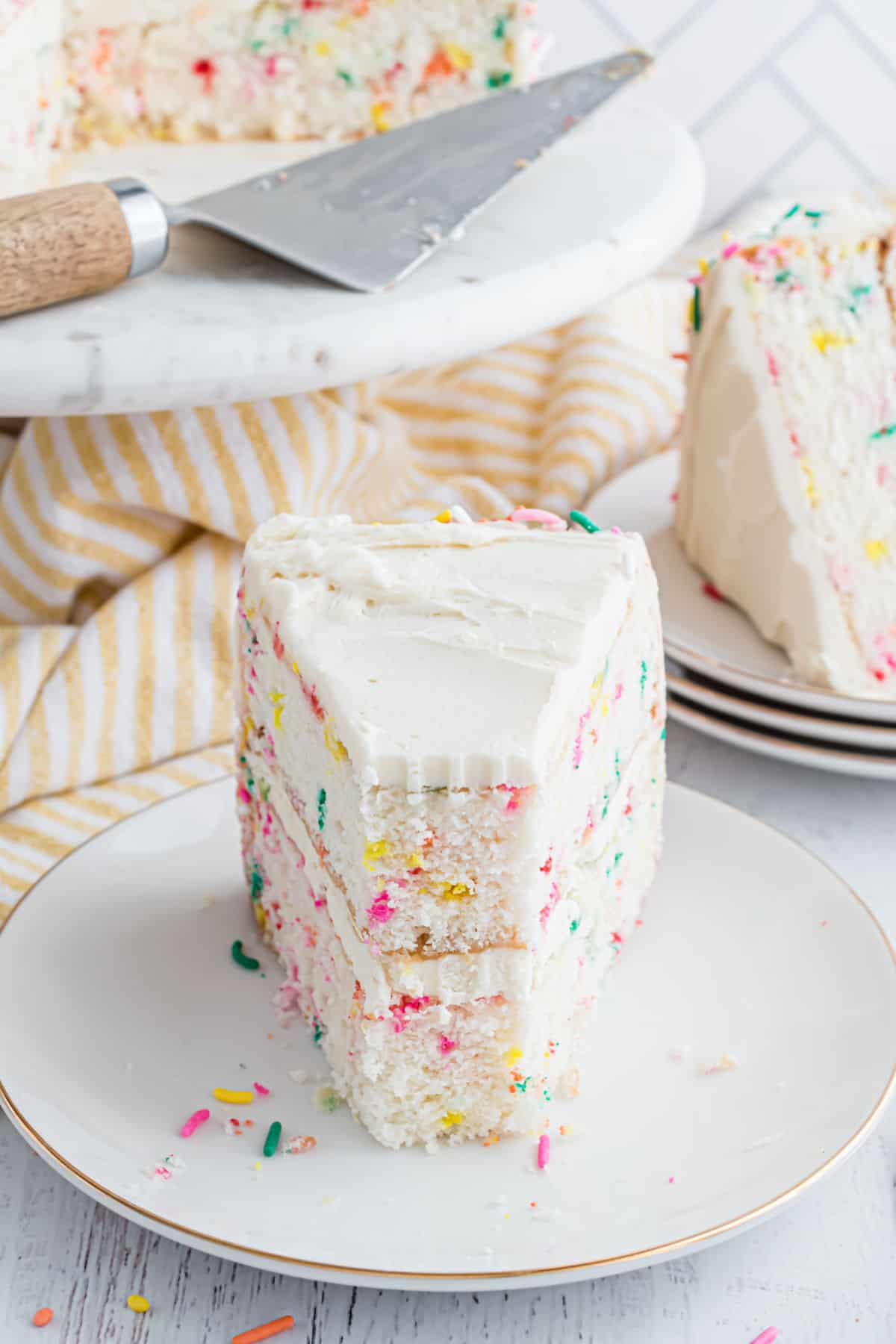 Frosting Suggestions
This recipe includes instructions for making a fluffy vanilla buttercream frosting. It looks beautiful with the colorful sprinkles all over it and you can't beat the classic taste.
Want to mix it up?
Of course, if you're pressed for time, go ahead and use a canned frosting. Your Funfetti cake will still be a hit. . . and we won't tell.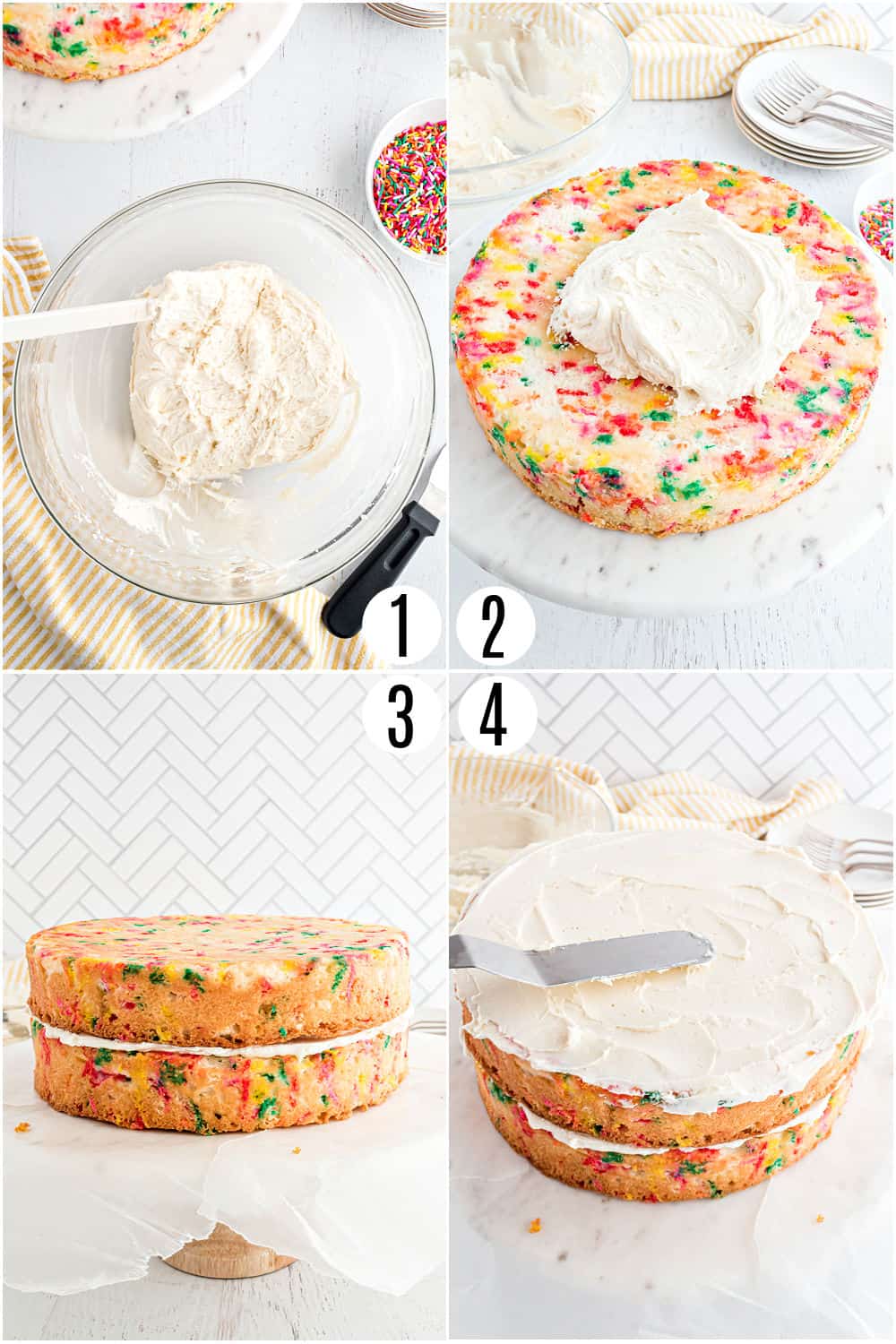 Tips and Tricks
How to add sprinkles. Once frosted, put the cake over a baking sheet. Fill your hand with sprinkles and press your palm gently to the side of the cake. Repeat until the whole diameter of the cake is covered.
Store leftover cake tightly covered in a cake saver or airtight container. Enjoy within 3 days.
Don't discard those egg yolks! They come in handy for making Homemade Lemon Curd. (You know you wany to try it).
Use my Homemade Cake Release to make it easier to slide baked cakes out of the pan.
Recipe FAQs
Can you freeze funfetti cake?
While the sprinkles release moisture and bleed color into the white cake as it thaws, the taste will still be amazing. So yes, you can freeze funfetti cake.
Can I use regular flour instead of all purpose flour?
You can but the cake will not be as light. If you don't have cake flour, it's easy to make a substitute with all purpose flour and cornstarch. Measure out 2 1/2 cups of cake flour. Remove 5 tablespoons of the flour. Replace with 5 tablespoons of cornstarch. Use this mixture in the recipe in place of the cake flour.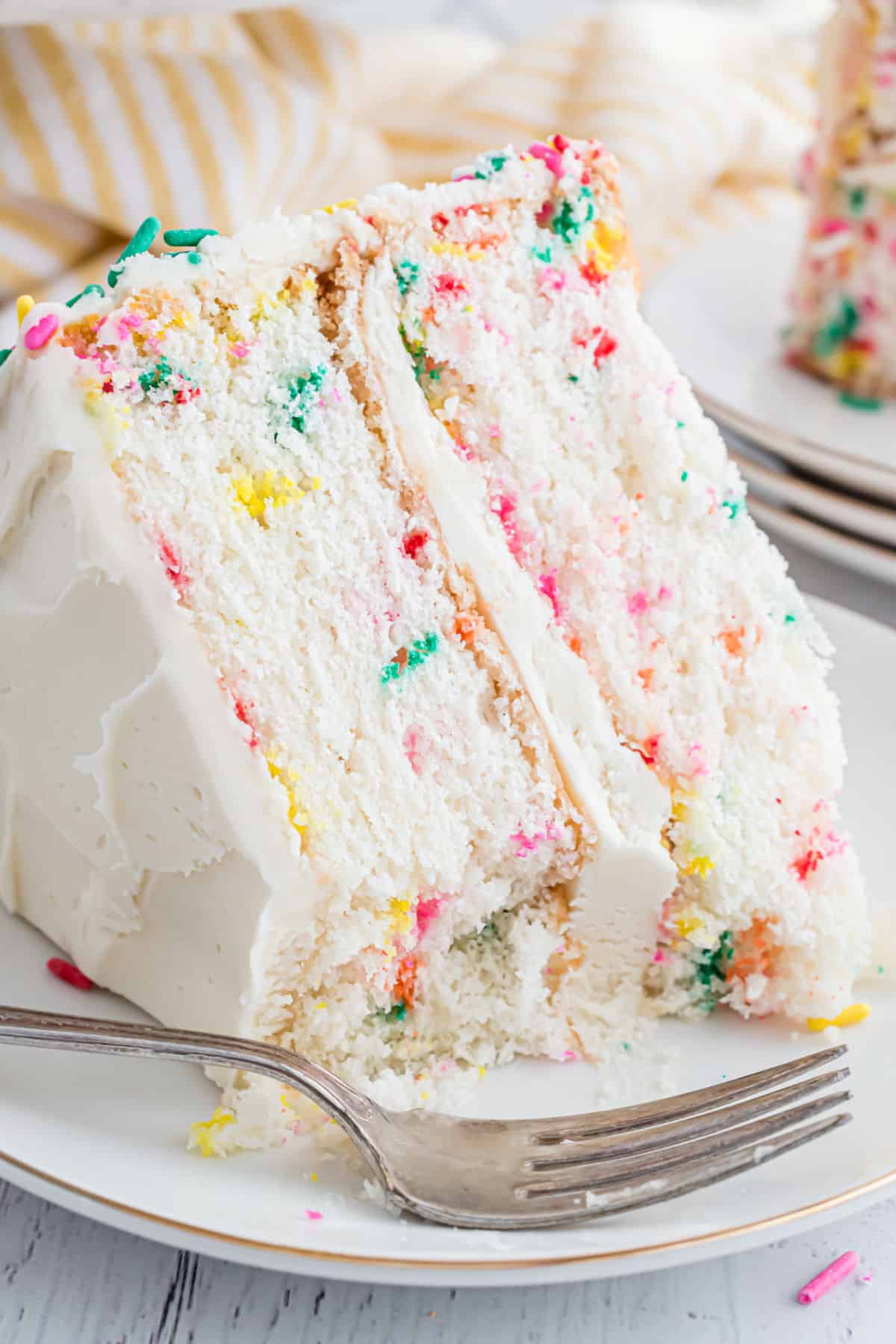 More Funfetti Recipes
Frosted Funfetti Blondies!! Chewy blondies loaded with colorful sprinkles and topped with a creamy vanilla frosting (with more sprinkles of course)! A fun treat that can be made festive with any color sprinkle.
Soft and chewy Sugar cookies with SPRINKLES! Happy baking with these Funfetti Cookies!
I'm pretty sure it's a well known fact that sprinkles make everything taste better. These Funfetti Shortbread Cookie Sandwiches are no exception to that rule! Filled with sprinkles, these are sure to go fast!
Delicious Vanilla Funfetti Cake Roll with homemade Funfetti Whipped Cream filling. Perfect summer dessert!
Who needs a boxed mix when you can make it better from scratch? This easy, cheerful Vanilla Funfetti Cake is perfect for birthdays, graduations and anytime you're in the mood to celebrate!