Get festive with these Cranberry White Chocolate Shortbread Cookie Sticks. These melt-in-your-mouth treats disappear fast. . .you may want to double the recipe!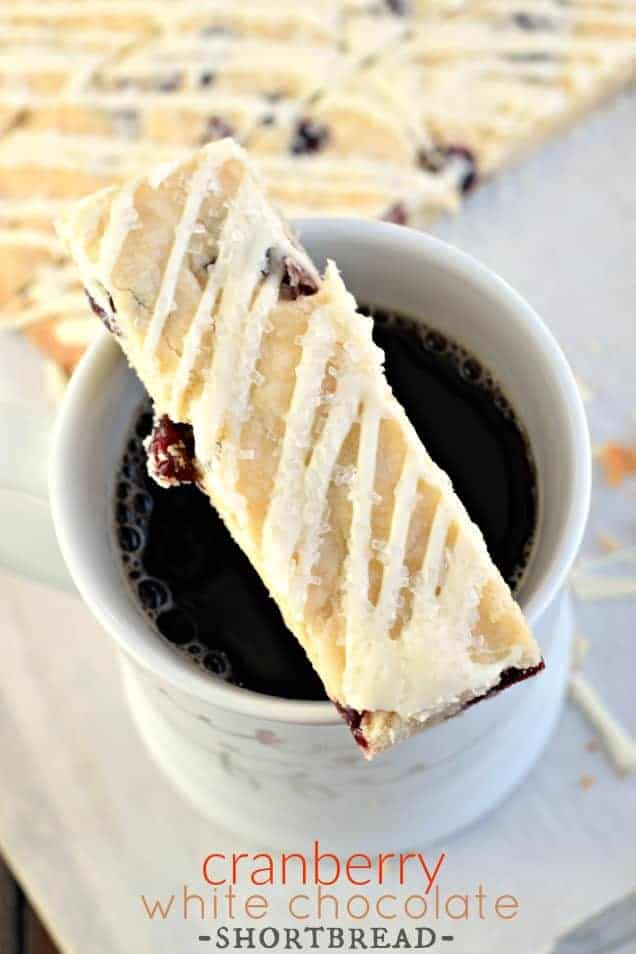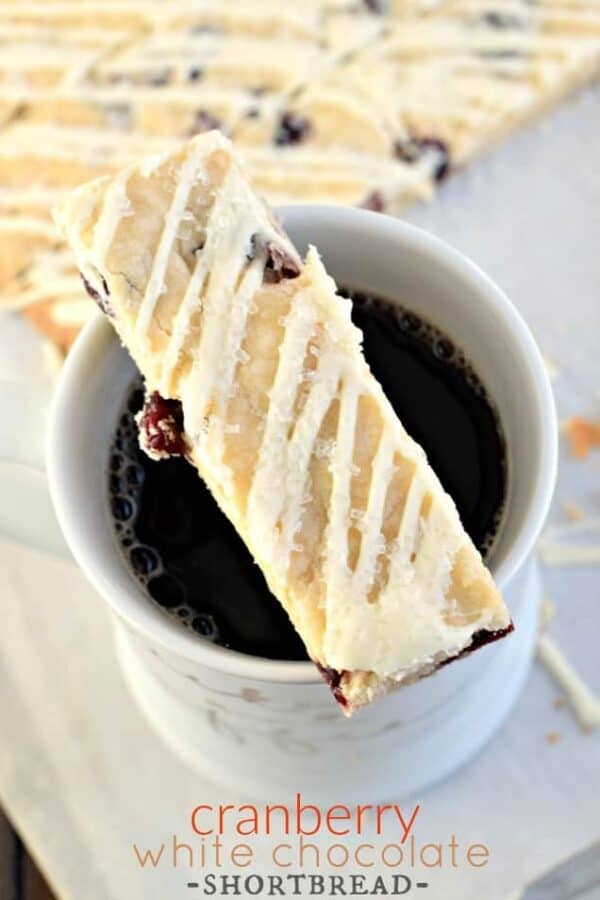 Today's cookie recipe is my favorite type. Shortbread.
At Christmas, when everyone else is rushing to get their share of Chocolate Chip Cookies or the Frosted Sugar Cookies, I'm going straight for the shortbread. I love the buttery flavor and the crisp bite that dissolves into sugary crumbs in your mouth.
Shortbread is so versatile, too! You can add so man mix ins, toppings and icings to create a variety of flavored shortbread desserts.
Shortbread Cookie Sticks
For this recipe, I turned shortbread cookies into Cookie Sticks perfect for dipping into coffee. Because every cookies is better when you can eat it with a cup of coffee.
I've packed these with some dried cranberries and topped them with melted white chocolate for a festive touch. These were a hit on my cookie platter this year!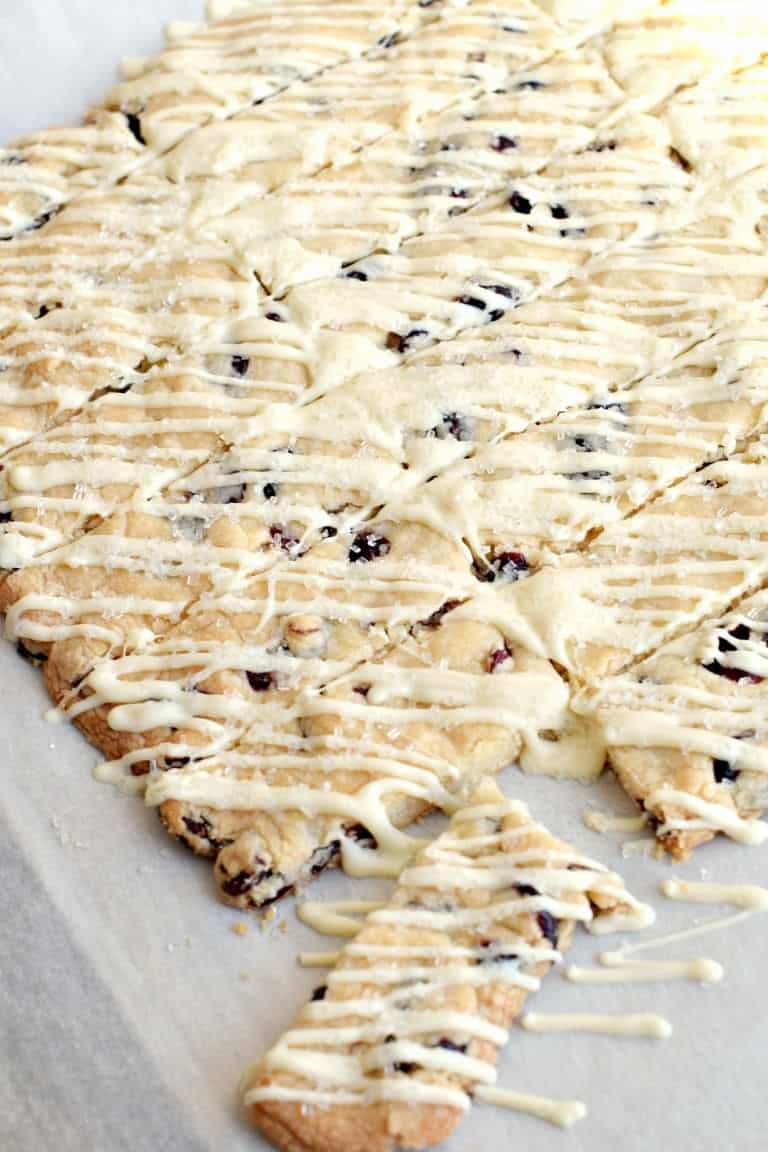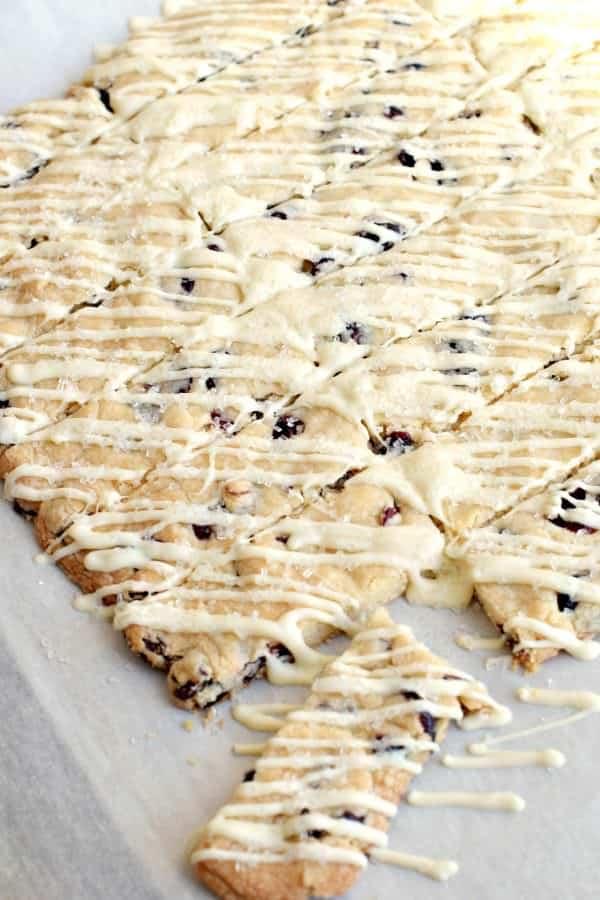 Ingredient Notes
For these Christmas cookies, you need real butter and powdered sugar. Shortbread cookies get their signature texture and buttery taste from butter, so substitutes just don't quite taste the same. The powdered sugar gives the sticks that "melt-in-your-mouth" quality I can't get enough of.
I used cranberries this time but other dried fruits would be tasty, too. In the event you don't have dried cranberries or aren't a fan, go ahead and leave them out.
White chocolate chips melted down create the glaze you drizzle on to the cookie sticks. Vanilla candy wafers could be used instead, or you can substitute the chocolate you prefer. (I can't wait to make these with a mix of dark and white chocolate next time!)
I happen to love the combination of White Chocolate Cranberry flavors, especially around the holidays.
A little sanding sugar adds the finishing touch to the shortbread sticks, but I realize not everyone just has this lying around in their pantry. Consider it strictly optional if it means you'll give this Shortbread Christmas Cookie recipe a try!
Step by Step Instructions.
STEP 1. Make the shortbread dough
In a large mixing bowl, beat butter with powdered sugar, and vanilla extract until creamy. Add in flour and beat until combined. Fold in dried cranberries.
STEP 2. Bake
Drop the dough into center of baking sheet lined with parchment paper. Using the heels of your hands, press the dough into a large rectangle. Keep pressing until you have a rectangle about 12×10-inches and about 1/4-inch thick throughout.
Bake for 20-25 minutes at 350 F, until edges begin to lightly brown.
STEP 3. Cut
Remove from oven and immediately cut the shortbread into strips using a pizza cutter. Let cool.
STEP 4. Garnish
While the cookies are cooling, melt the chocolate.
Once cooled, drizzle each Shortbread cookie stick with melted white chocolate and add sparkly white sanding sugar for a garnish if desired. ENJOY!
More Tips and Tricks
Melting chocolate: To melt the chocolate chips, I microwave them in a glass bowl in 30 second increments. Stir the chocolate between each interval until it's completely melted and smooth.
Storing: Store covered at room temperature. You can freeze these cookies but they will lose some of their crispiness, so I prefer them served soon after baking.
No pizza cutter? You can use a very sharp knife to cut these bars. Cut carefully to keep the shape of the sticks and make clean lines.
White Chocolate Cranberry Shortbread Cookies are different enough from your everyday Christmas cookies to be exciting but still filled with traditional, old-fashioned great taste.
Served with your after dinner coffee or as a pick-me-up any time of day, Shortbread Cookie Sticks are guaranteed to get you in the Christmas spirit!