I share many treats and desserts on my blog, but it's the family recipes that I look forward to sharing the most. Growing up, I lived in the same town for many years as my extended family, so we all became very close. Holiday gatherings have always featured trays of desserts. As me and my siblings and cousins got older, the responsibility to bring the treats to family holidays shifted to us. Often, I bring my own creations, but occasionally I love baking a childhood recipe!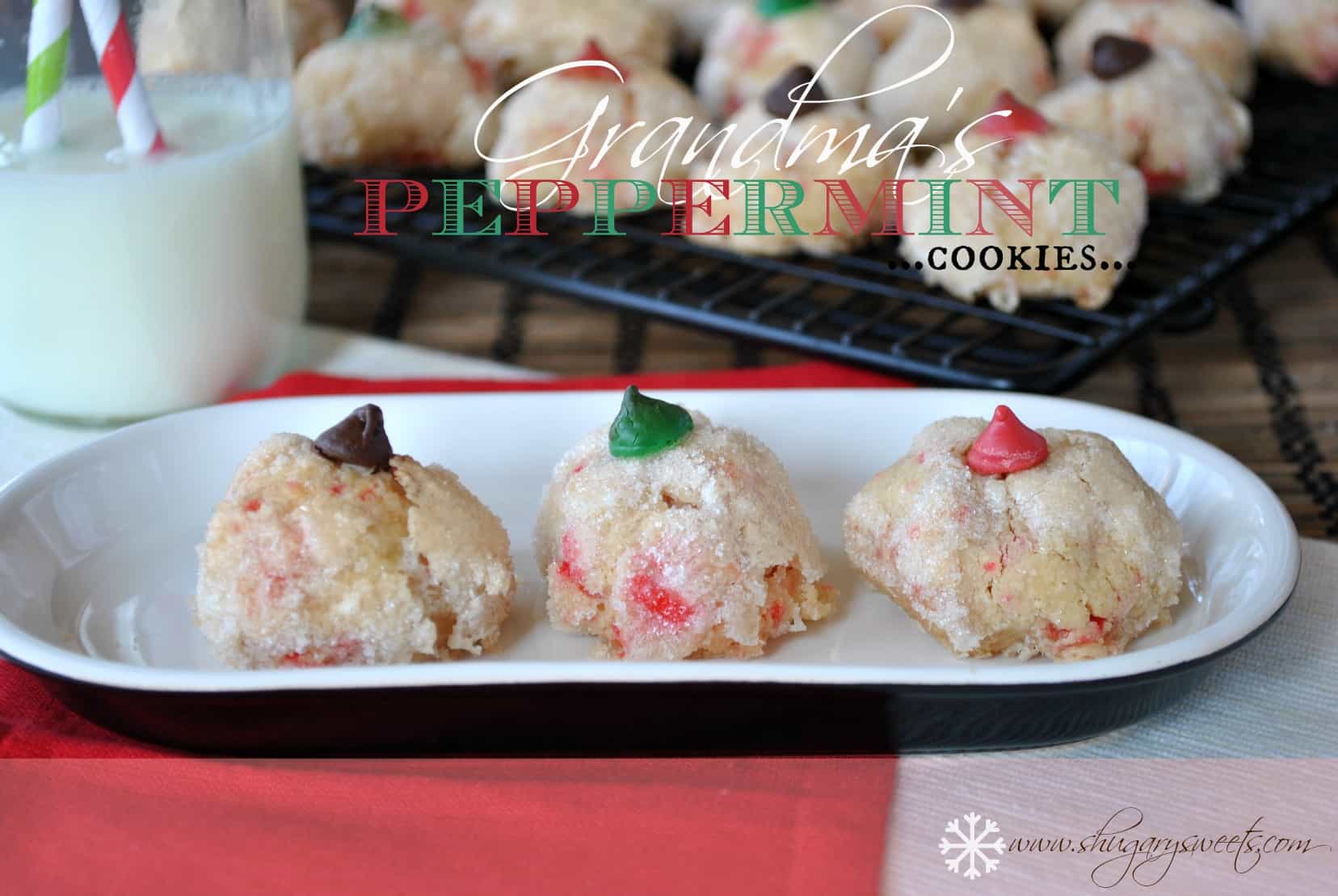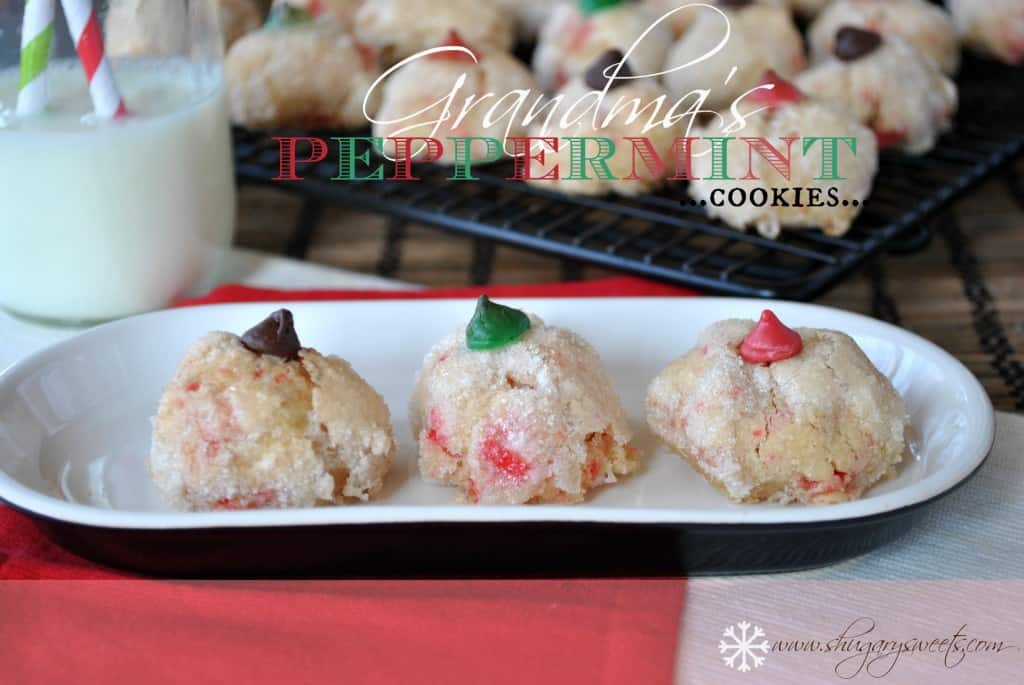 These peppermint puff cookies are one of the delicious cookies that always made their way onto the holiday cookie platter, thanks to my maternal grandma, who I am so fortunate to still have in my life. They're so deceivingly delicious!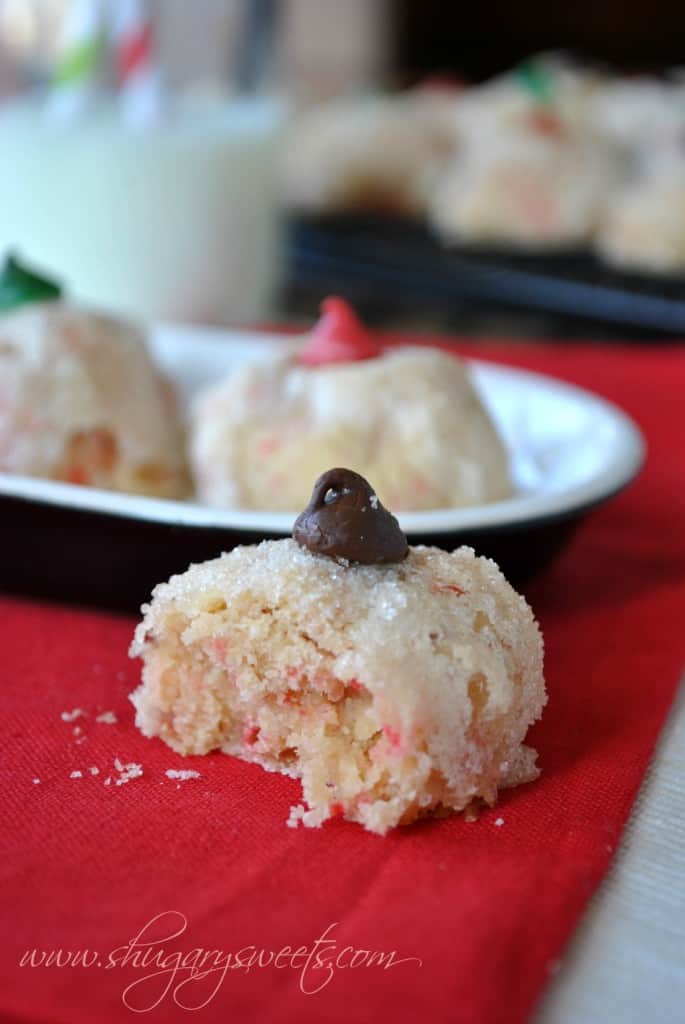 The crunchy sugar coating (that gets an extra crunch from whipped egg whites) makes you *think* you will be biting into a crunchy cookie. Then you get to the center—the soft, buttery peppermint center! Oh my word.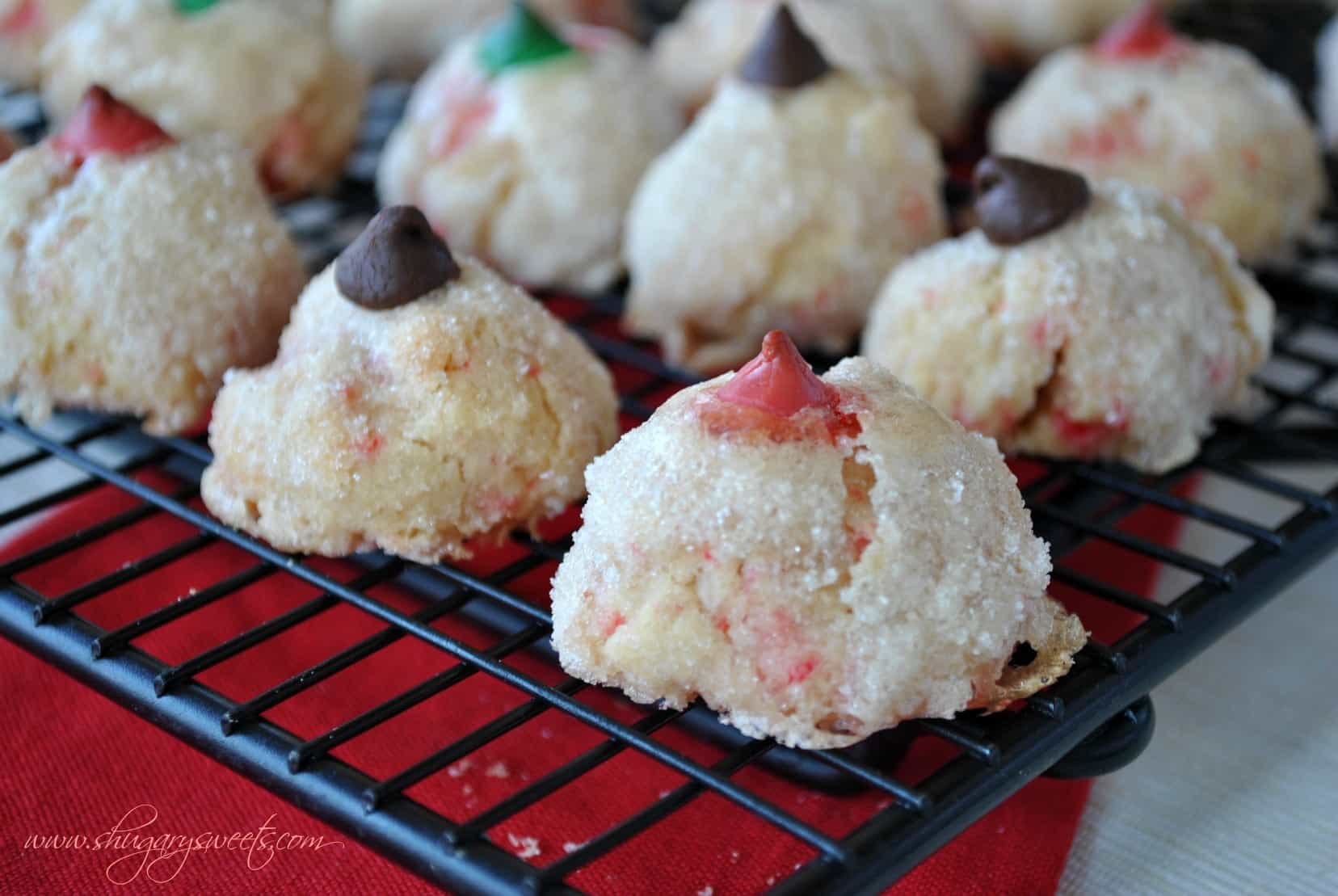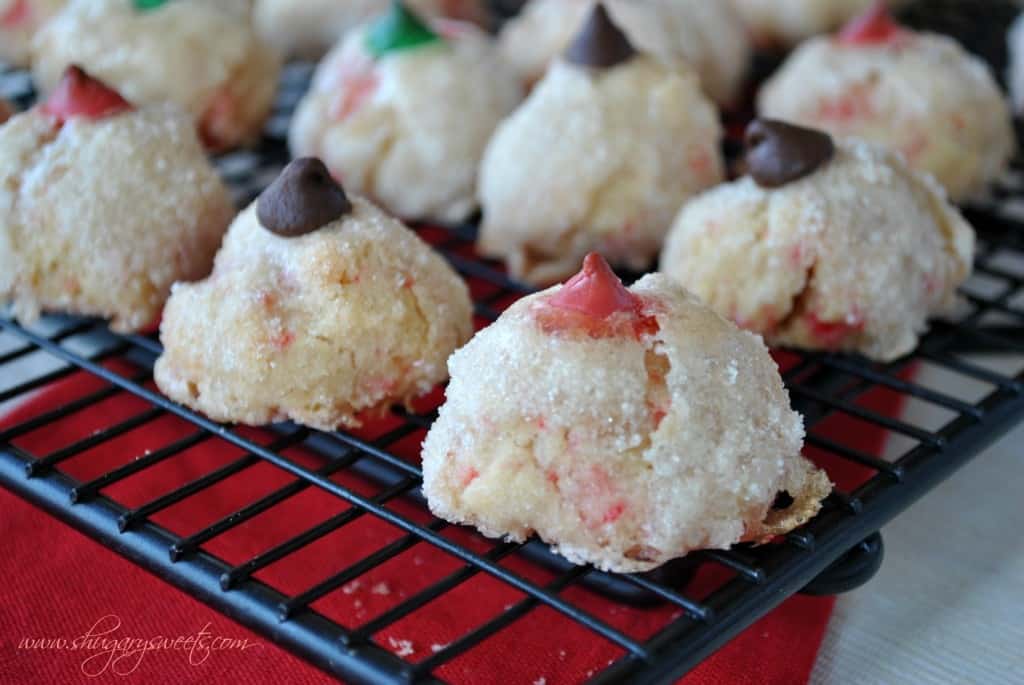 The single chocolate chip gives just the right amount of sweetness to these cookies, without overtaking the peppermint flavor! I love that I was able to find these red and green chocolate chip morsels, and I sure hope grandma will approve of my deviant nature. I'm pretty sure when she sees these cookies on this year's holiday cookie platter, she will be delighted, especially since she didn't have to make them!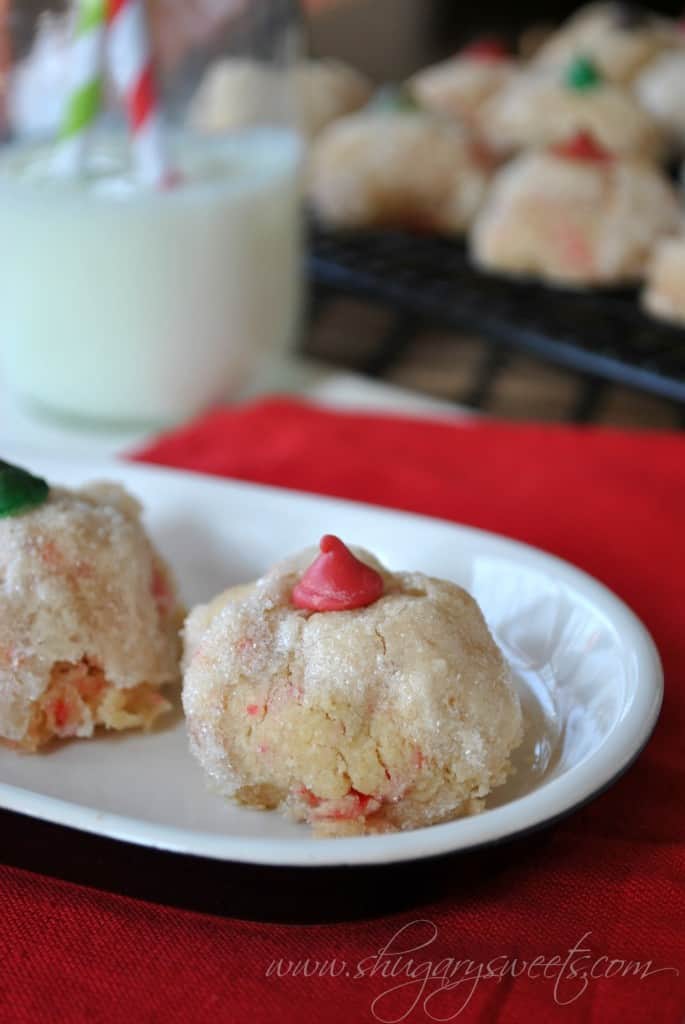 I am so thankful that my children are blessed to have their great-grandma in their lives as well. I tell them stories of all the great treats she made through my childhood years! They are so fortunate to have this time to learn about another generation, and to someday be able to pass these stories on to their own children.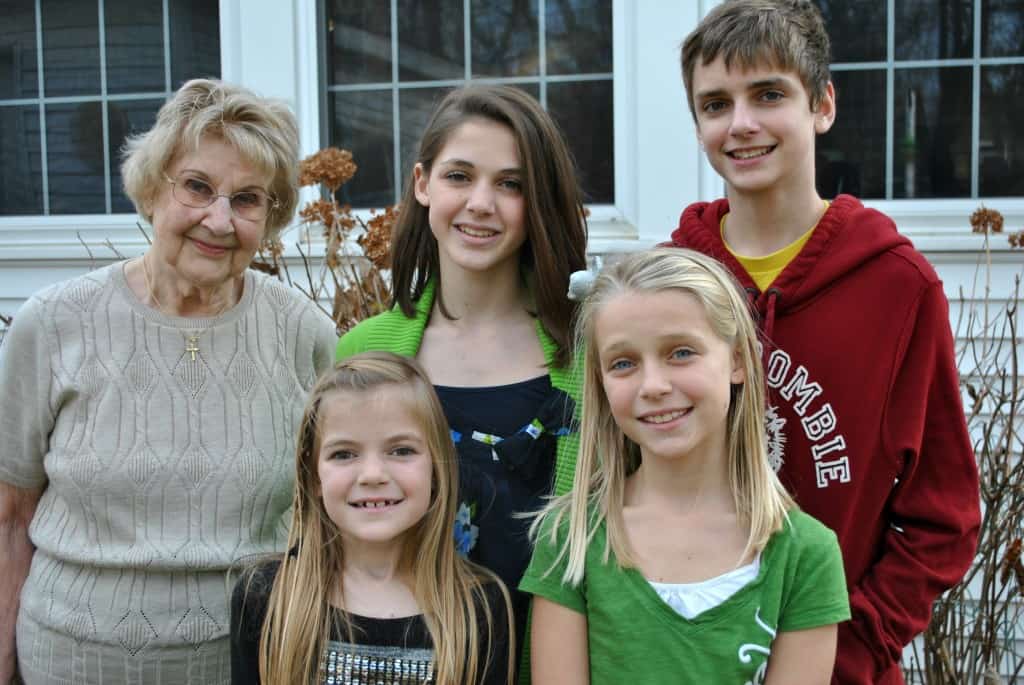 Hopefully they will pass on these great recipes as well!
Yield: 3-4 dozen cookies
Grandma's Peppermint Puff Cookies
Ingredients
3/4 cup unsalted butter, softened
1 tsp vanilla extract
1 cup granulated sugar, divided
1 egg, divided
2 cup all purpose flour
1/2 cup crushed peppermint candy canes
3-4 dozen semi sweet chocolate morsels
Instructions
In a mixing bowl, cream butter until smooth, about 2 minutes. Add vanilla and 1/4 cup granulated sugar. Beat until creamy. Add in egg YOLK. Slowly add flour and crushed candy canes.
Mixture will be VERY crumbly at this point.
Taking about 2 tablespoons of CRUMBS, press in palm of hand to shape into a 1" ball. Repeat for remaining dough.
In small bowl, whip egg whites for about 30 seconds until foamy. Put remaining 3/4 cup sugar in a separate bowl.
Dip each ball into egg whites comletely coating, then letting the excess drip off. Then roll in sugar carefully. Lay cookies on a parchment paper lined baking sheet, about 2 inches apart.
Press a chocolate chip onto the top gently (it will adhere during the cooking).
Bake cookies in a 350 degree oven for 15 minutes.
Remove and cool 10 minutes on pan before transferring to a wire rack. The bottoms will have extra egg white crisps that you can break off when you transfer to the rack. Cool completely.
Store cookies in air tight container for one week. ENJOY
For more recipes in the 12 Days of Cookies series, follow along on Twitter with the hashtag #BlogHerCookies.
This post is part of the BlogHer 12 Days of Cookies editorial series. Our advertisers do not produce or review editorial content. This post is made possible by Bank of America and BlogHer.