Chocolate Chip Coffee Cake with swirls of cinnamon and chocolate chips is a must try! Make it with red and green chocolate morsels for a festive holiday breakfast or dessert.
Love easy breakfast recipes? Try our pancake mix cake for a fun twist. Or give this classic cinnamon roll recipe a try, you won't be able to resist them!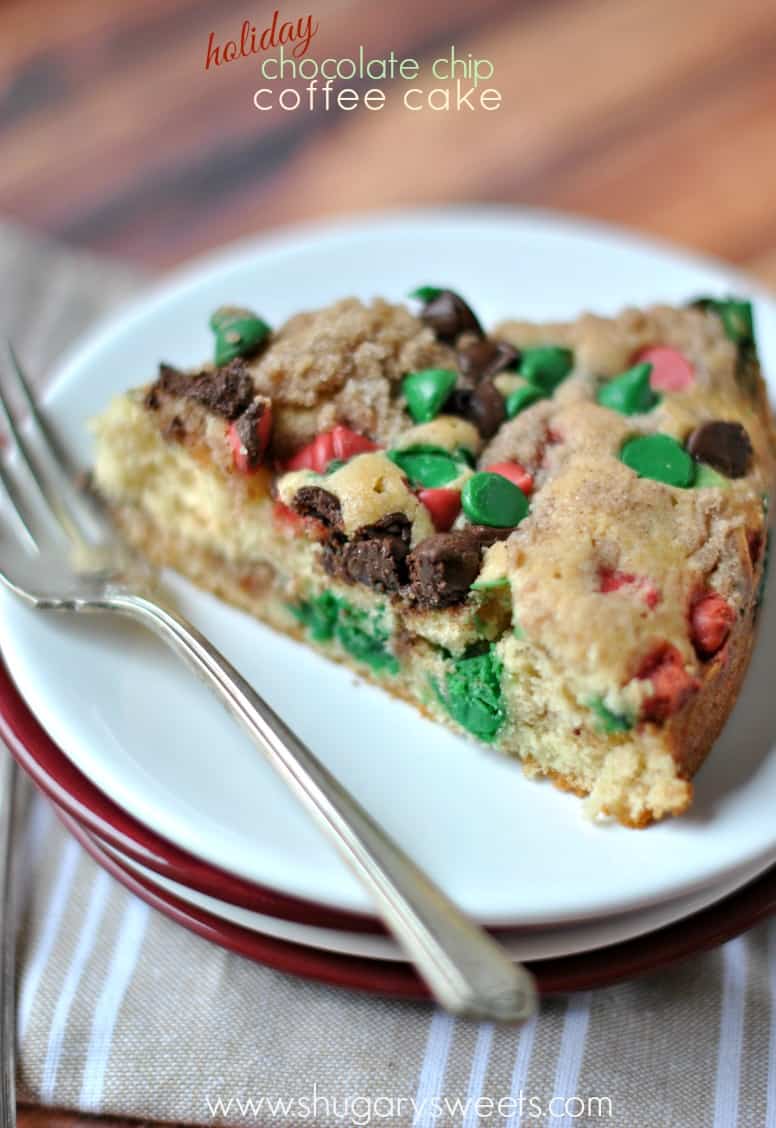 Coffee Cake Recipe
I am pretty obsessed with coffee cakes. AKA breakfast cakes. Otherwise known as cake for breakfast. (see where this is going??)
While many people are weak when it comes to cookies, fudge, brownies, chips, ice cream…coffee cake is my proverbial kryptonite.
I am weak when it comes to an irresistible breakfast cake sitting on my counter. It's the perfect morning treat that goes so nicely with my morning coffee (hence the name "coffee cake"). The fact that I can serve the same cake for dessert makes it even better.
Today's recipe was created using my Cream Cheese Cinnamon Streusel Coffee Cake recipe.
That recipe makes something more similar to a cheesecake, while this is very much a straightforward coffee cake with chocolate chips.
I made this coffee cake recipe in TWO cake pans–one for now and one to freeze for Christmas morning breakfast!
I also used a smaller amount of streusel topping than I do in many of my other coffee cake recipes. Instead, I added in a center layer of chocolate chips and cinnamon swirl to these cakes That turned out to be one of my best-ever ideas.
Chocolate and cinnamon is such an underrated combination! I'm sure you'll agree that they're perfectly paired in this holiday breakfast cake.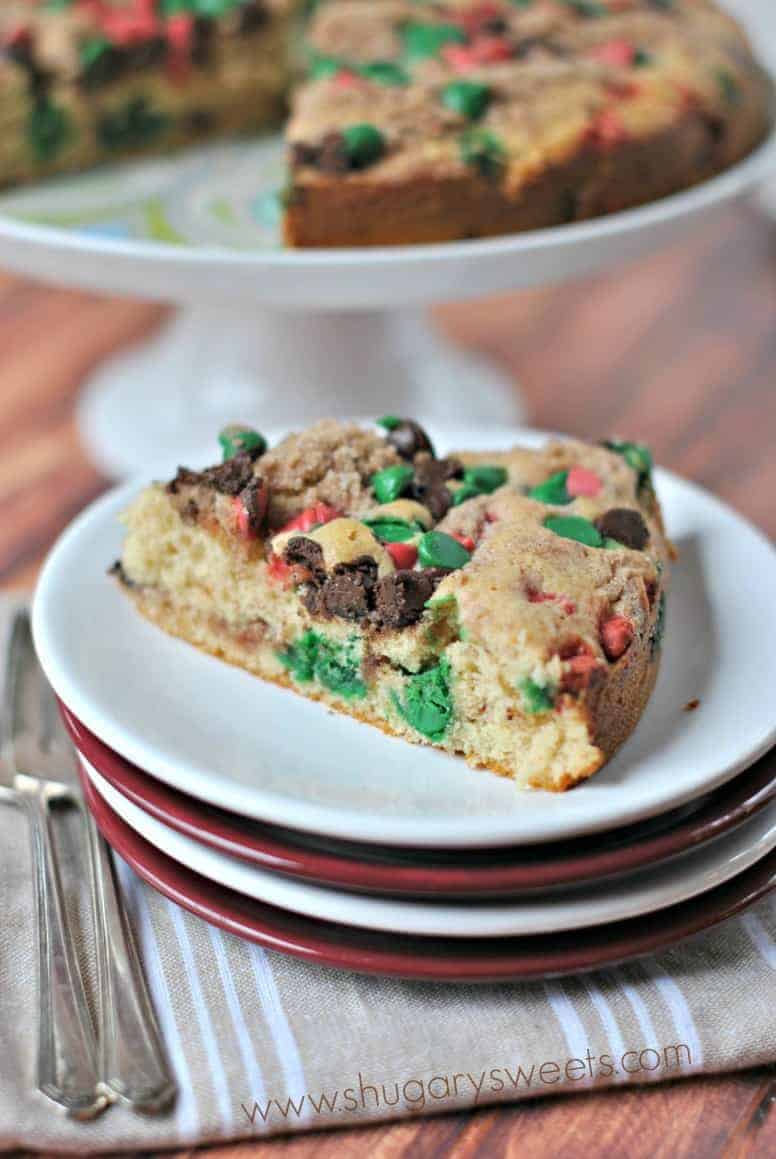 Holiday Breakfast
I found some red and green chocolate chip morsels at the grocery store this week and made one batch with those for a festive version of this cake.
I also made a batch with regular chocolate chips. You decide which way to go! If you're reading this post in the middle of summer, you may want to use the regular chocolate chips. Just sayin'.
But if you need a little Christmas in July who am I to stop you? I'm a sucker for a festive cake and the bright colors were such a fun addition.
Come Christmas morning, we'll be digging into slices of this cake as we sip coffee and cocoa and open presents. If you can't eat cake for breakfast on Christmas, when can you?
The classic look of the regular chocolate chips was pretty, too. If you're a fan of white chocolate, you could even try this recipe with half white chocolate morselfs. Serve it for breakfast, brunch, dessert or as an afternoon treat any time of year.
Whichever way you make this cake (and whenever you choose to serve it), I know you're going to love it!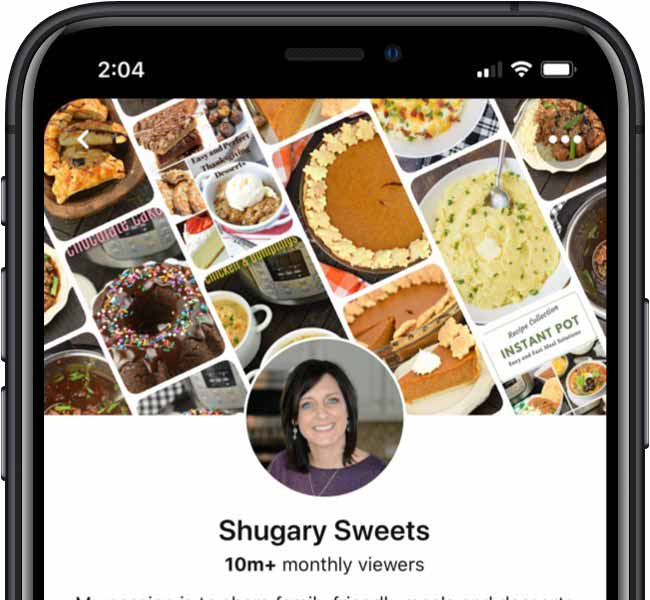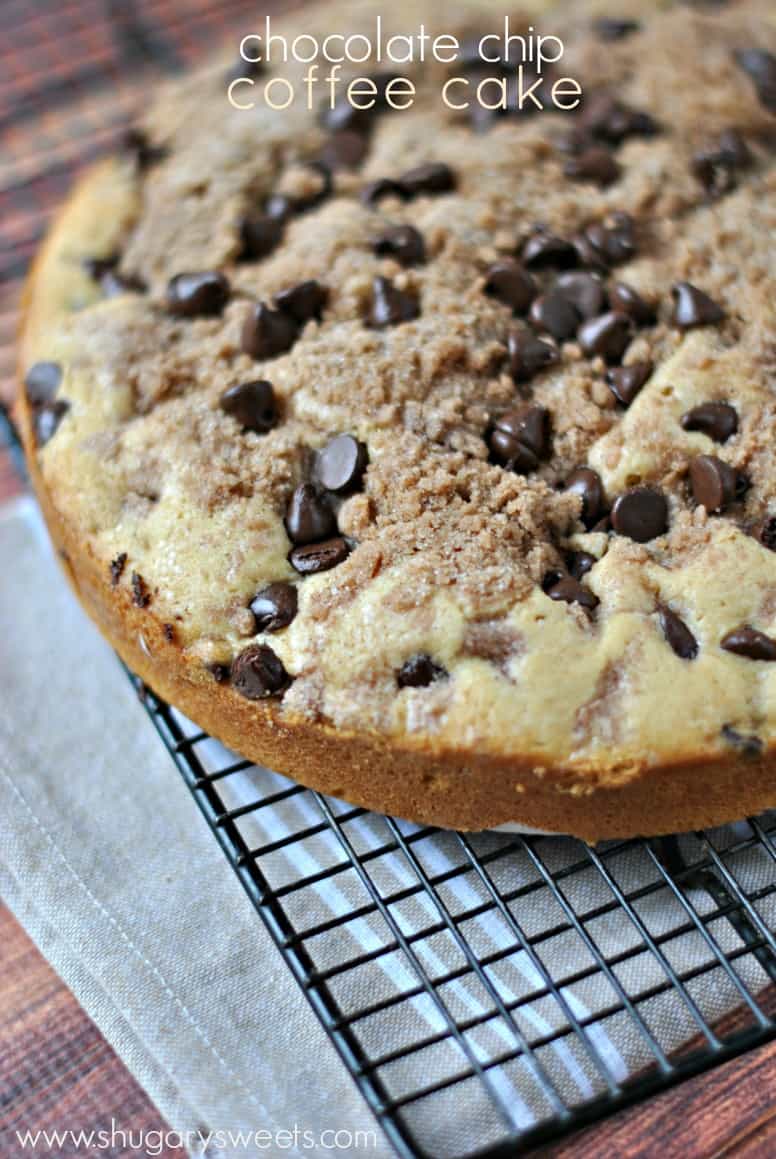 Step by Step Instructions
STEP 1. Make the streusel
Combine flour, sugars, cinnamon and butter in small bowl. Mix with hands until crumbly. Set aside.
STEP 2. Make the cake batter
In a large mixing bowl, beat flour, sugar, baking powder, baking soda and salt on low until combined. Beat in softened butter until mixture is crumbly. Add in eggs, vanilla and buttermilk and beat until fully combined and fluffy. Pour half of mixture in bottom of prepared cake pans lined with parchment paper, dividing evenly.
Spread using the back of a spoon or a small offset spatula. Top with half of the streusel, sprinkling it over both cakes. Add half of the chocolate chips, about 1 cup, dividing evenly between both cakes.
Pour the remainder of the batter over the cakes, dividing evenly. Use your spatula or spoon to spread it out one more time. Top with the remaining streusel and chocolate chips.
STEP 3. Bake the cakes!
Bake cakes in a 325 degree F oven for 30-35 minutes. Remove and cool 15 minutes, then remove cake from pan onto a wire rack. Cool completely.
How long does coffee cake stay good?
This cake is best served within three days of baking if you're not freezing it. When I made it, we ate one that same day for dessert (and breakfast the next day). The other, I stored in the freezer.
Can you freeze coffee cake?
Absolutely! Freeze in individual slices for quick and easy serving or wrap the cake in plastic wrap and foil. Let thaw on the counter over night and it'll be ready to enjoy for breakfast the next day.
More Easy Recipes
I love this cinnamon chocolate chip coffee cake for breakfast. Brew a strong cup of coffee, cut yourself a slice and enjoy!