Biscotti with all the flavors you love in a glass of eggnog–just in time for the holidays! Come Christmas morning, you'll be glad you have Eggnog Biscotti on hand to pair with your coffee while you gather around the tree.
Love eggnog? Try our eggnog french toast casserole for a delicious breakfast. Or give our easy eggbog muffins a try next!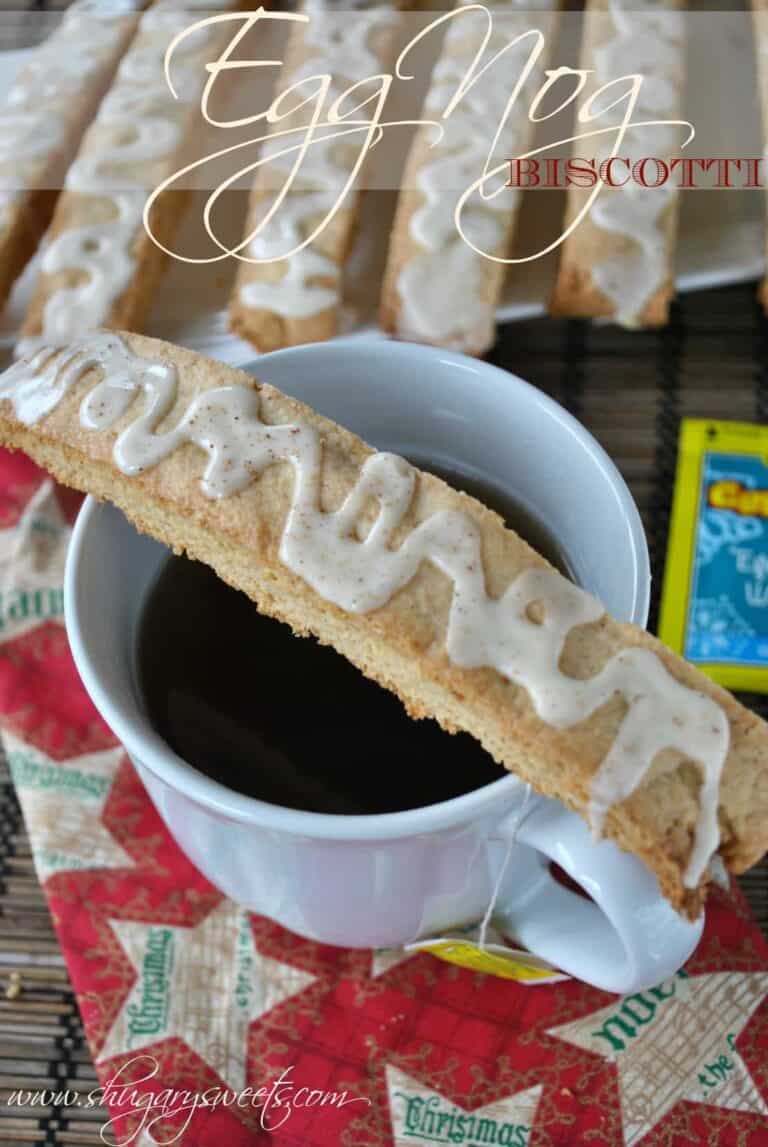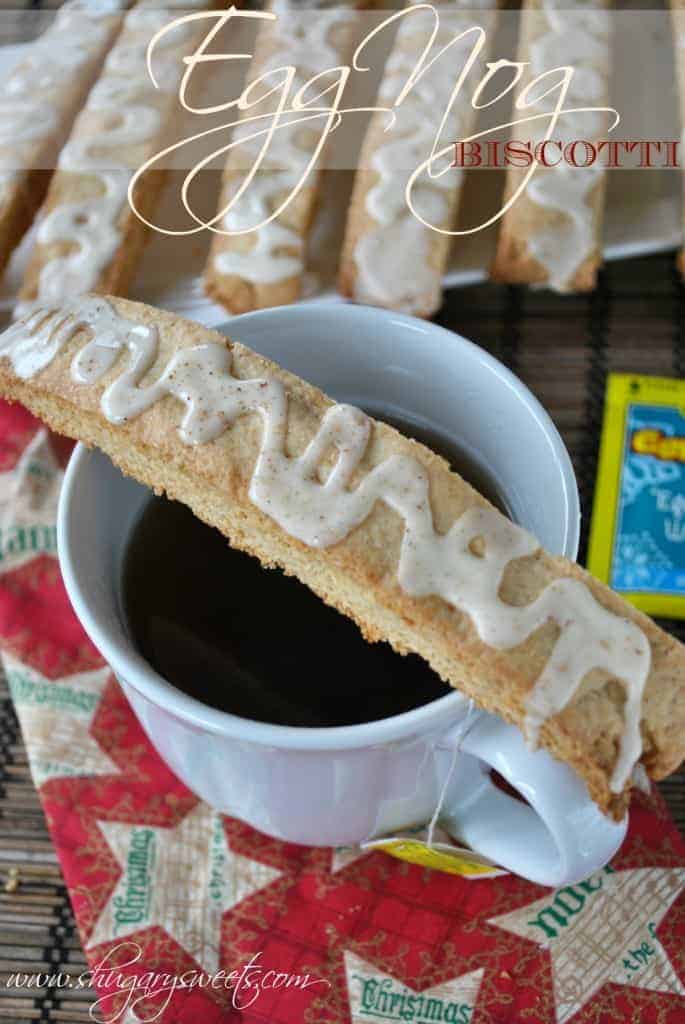 What is Biscotti?
I have probably posted almost a dozen biscotti recipes on this blog. Cranberry Orange, Chocolate Peppermint, Snickerdoodle, Turtle and many many more….
Biscotti tastes so much like a crunchy cookie (and remember, I love crunchy cookies!?!). It's now okay to eat cookies for breakfast, just call it biscotti
Biscotti are a little different than your average cookie, though. They get their signature crunchy bite from not one but TWO trips to the oven. Don't worry; it's not any more difficult to make biscotti than it is drop cookies.
Just shape the dough into one big log, bake, slice and bake again.
As for the eggnog flavor? Well homemade eggnog is a must in my house during the holiday season.
I added a hint of rum flavor and plenty of nutmeg to my biscotti to make them my idea of a marvelous Christmas morning treat. Enjoyed on their own or dunked in hot coffee, you can't go wrong with Eggnog Biscotti!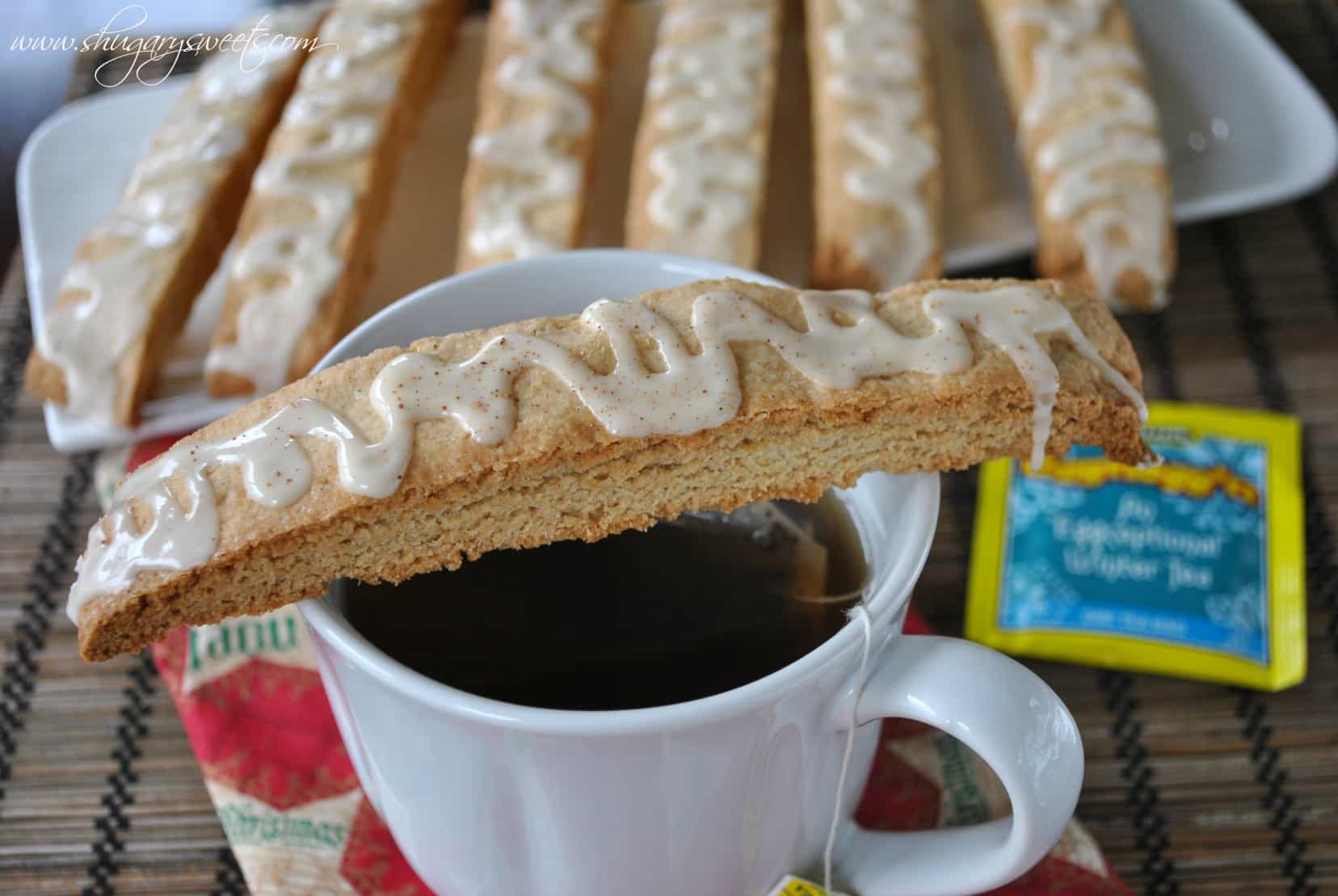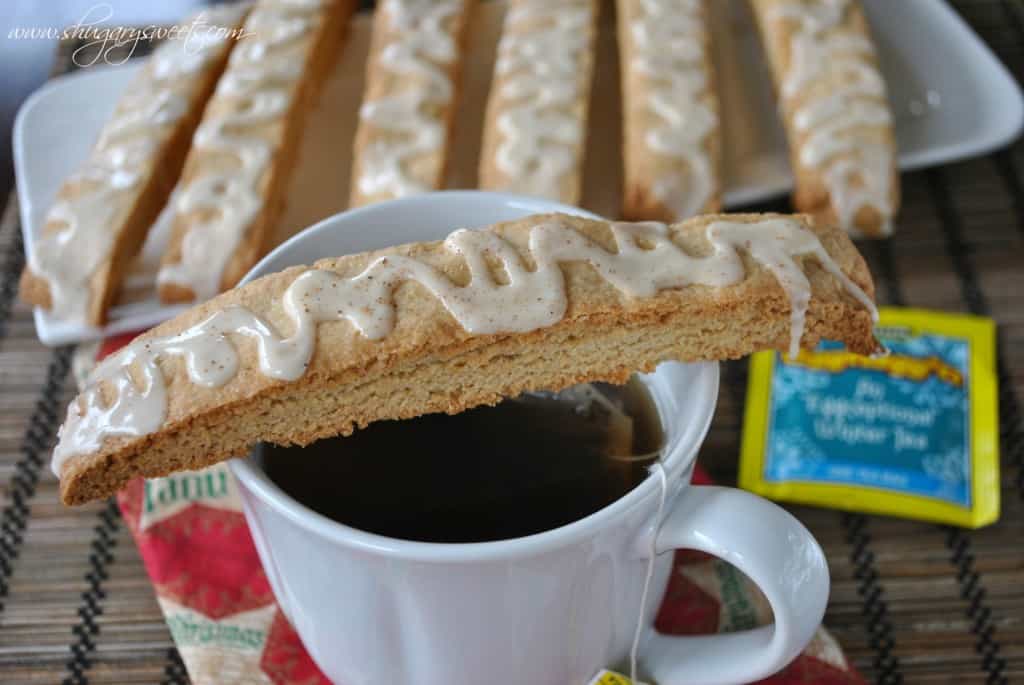 Ingredient Notes
Rum extract – There's no actual eggnog in the biscotti dough itself. Instead, rum extract gives these cookies that recognizable nog taste. You can buy it online or in the baking aisle at most grocery stores.
Eggnog – I used a spoonful of eggnog in the glaze instead of milk for the biscotti glaze. Any variety of eggnog you love will work or you can make your own!
Butter – Unsalted butter is best. Let it soften on the counter for a few minutes so it's easier to work with.
Easy Instructions
Like most cookies, this dough starts by beating together butter and sugar. Add eggs, rum extract and your dry ingredients to make a thick dough.
Shape the dough into a rectangle and bake. Let the dough cool for a few minutes, then slice into about a dozen 1-inch slices. Place them on the baking sheet upright and bake for another 20 minutes.
Let the bicotti cool completely while you whisk together the ingredients for the glaze. Drizzle on the biscotti, let it set for a few minutes and enjoy!
Tips & Tricks
Glaze. For Biscotti, I like my glaze to be pourable but not runny. Feel free to adjust to your liking. Start with a tablespoon of nog for a thicker glaze, and add more a teaspoon full at a time until it's the consistency you prefer.
Storing. These will keep best in an airtight container at room temperature. Pull them out whenever you have company over for coffee!
Shaping. When patting the dough into a rectangle, use your fingers to shape the dough all the way into the corners of the pan. I like to pat my dough before baking too to ensure it's smooth and even.
Serving. These would be a delicious Christmas breakfast treat but I also love to serve biscotti after dinner with coffee or tea. You could even go even more eggnog crazy and shake up some Egg Nog Lattes too!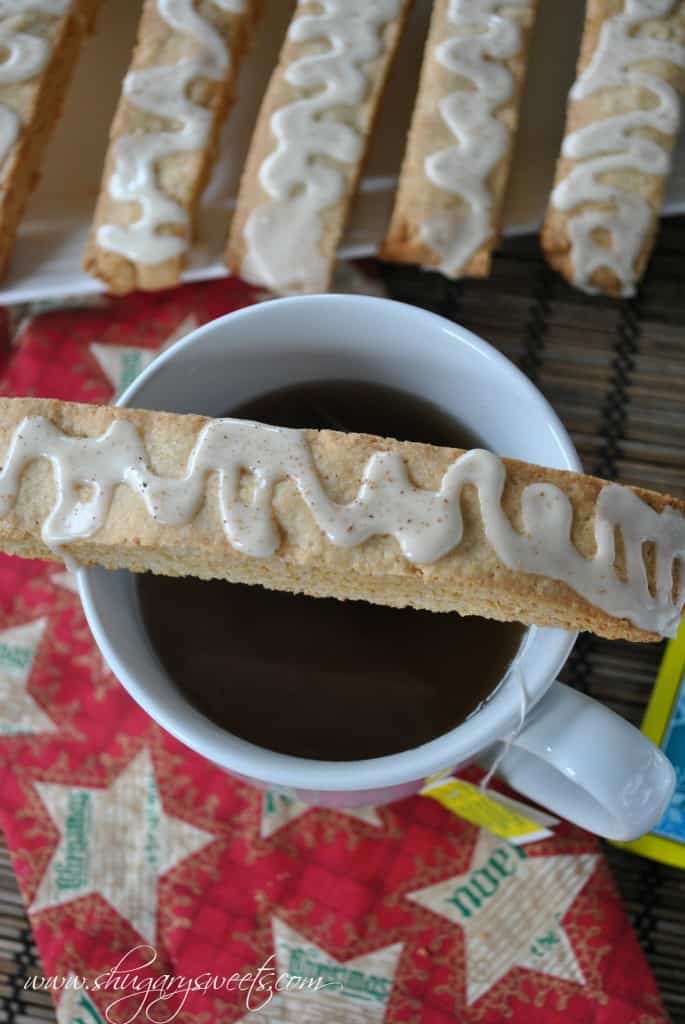 Recipe FAQs
Can I use rum in place of rum extract?
No. Rum extract is exponentially more concentrated which is how we get that deep flavor baked into the biscotti!
What kind of pan do you need to make biscotti?
No special pan necessary! I just use a regular cookie sheet lined with parchment paper.
How many bicotti does this recipe make?
You should get 12 – 14 biscotti, depending on how thick you slice your rectangles after the first bake.
Love eggnog? Love biscotti? Get on that holiday baking train and get a batch of these Eggnog Biscotti in your oven ASAP! Cookies for breakfast never sounded so good.