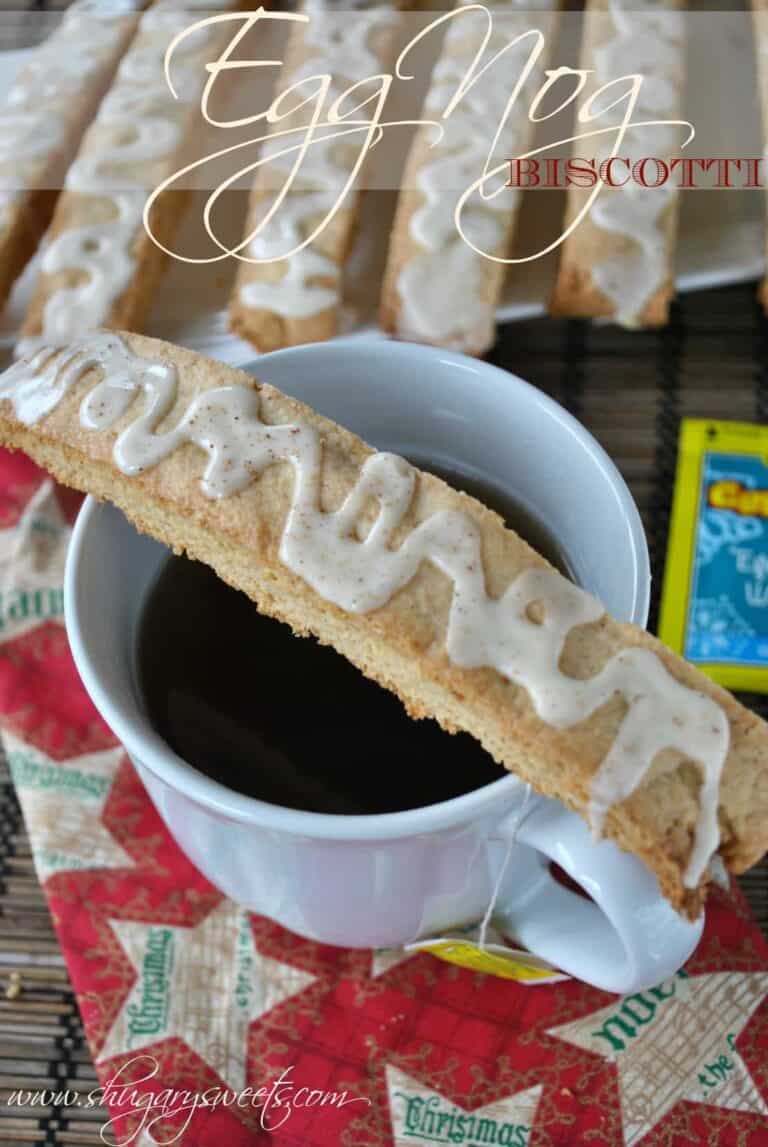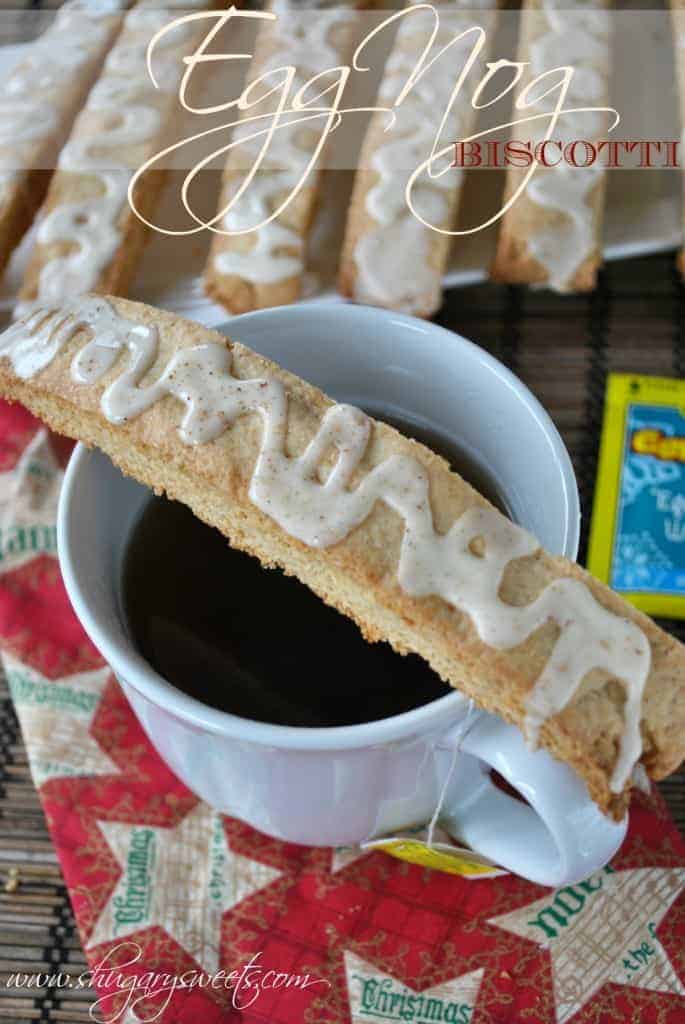 I have probably posted almost a dozen biscotti recipes on this blog. Cranberry Orange, Chocolate Peppermint, Snickerdoodle, Turtle and many many more….
I realized the other day as I was sipping on my coffee and crunching on an Eggnog Biscotti WHY I love it so much.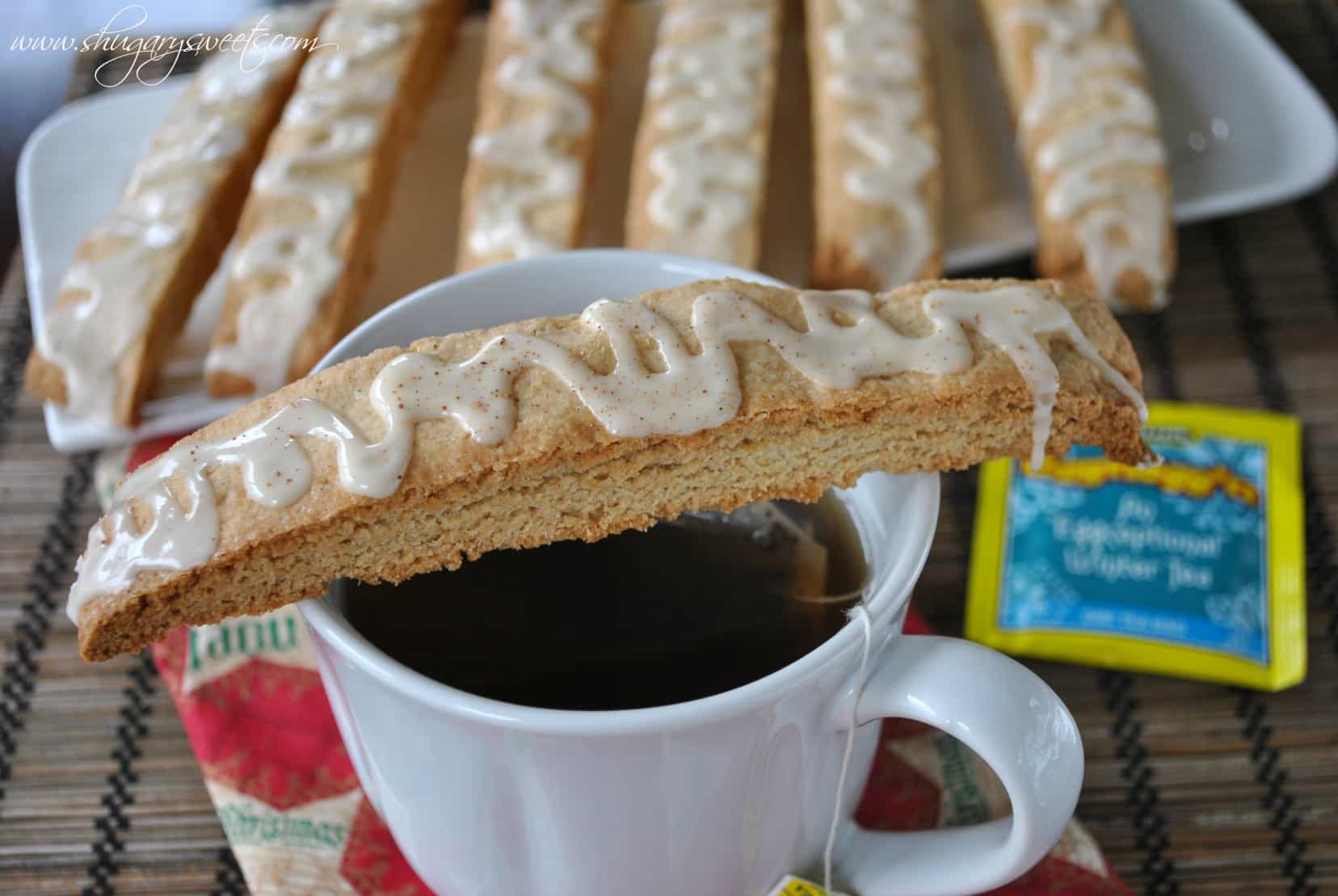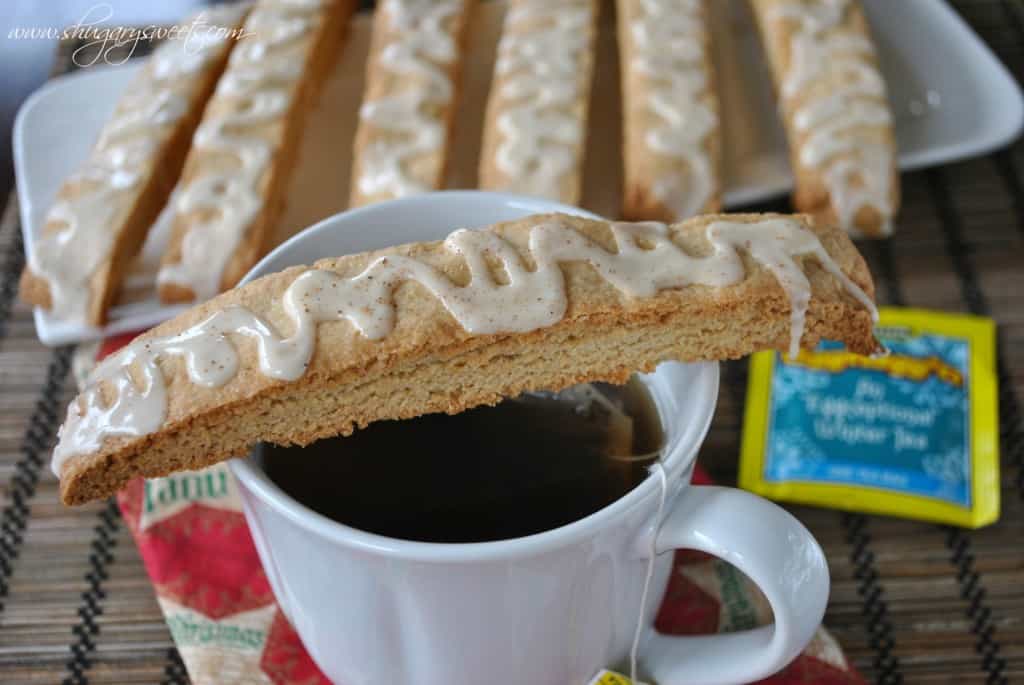 Cookies for breakfast.
Biscotti tastes so much like a crunchy cookie (and remember, I love crunchy cookies!?!). It's now okay to eat cookies for breakfast, just call it biscotti!
And eggnog? Well, seriously, eggnog is a must in my house during the holiday season. I can literally drink it from the carton! Over. And over again!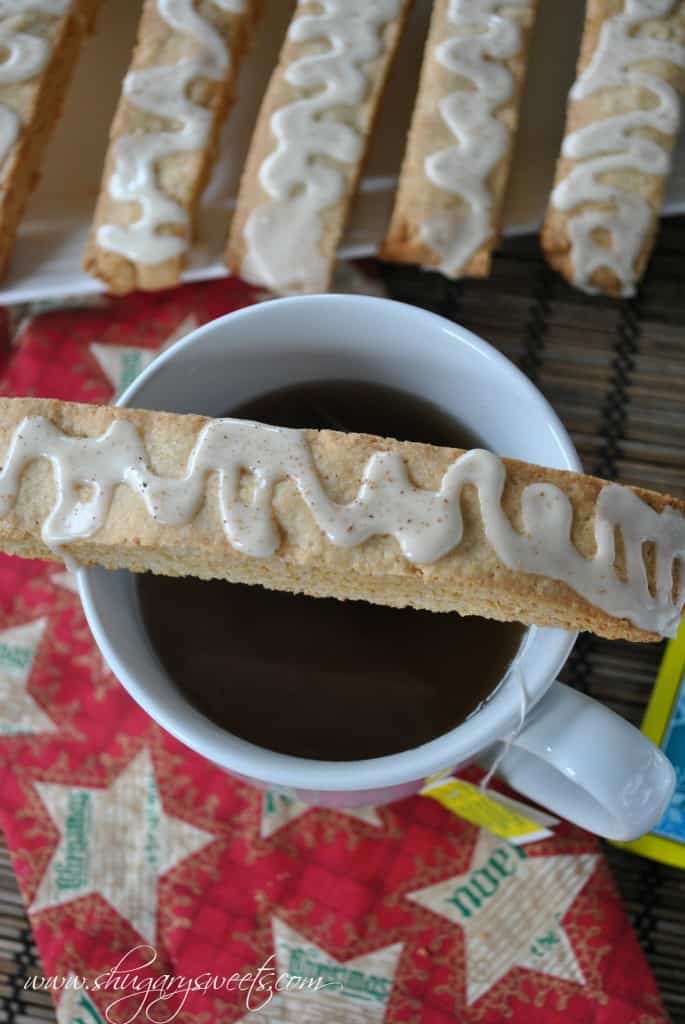 These would be real pretty boxed up with some pretty ribbon to give as a teacher gift or a hostess gift! Try some of my other varieties too! Biscotti keeps really well in an airtight container (I actually just use ziploc freezer bags). ENJOY!
Yield: 12-14 large slices
Egg Nog Biscotti
Ingredients
For the Biscotti:
6 Tbsp unsalted butter, softened
3/4 cup granulated sugar
2 eggs
1 tsp rum extract
2 cup all purpose flour
1 tsp baking powder
1/2 tsp ground cinnamon
1/2 tsp ground nutmeg
For the Glaze:
3/4 cup powdered sugar
1 1/2 Tbsp eggnog
1/4 tsp ground nutmeg
Instructions
In mixer, beat butter with granulated sugar until creamy. Add eggs and rum extract. Add flour, baking powder, cinnamon and nutmeg.
Line a large baking sheet with parchment paper. Shape dough into 12in x 6in rectangle. (Square the corners using fingertips, smoothing the top of the dough too!)
Bake in a 350 degree oven for 28-30 minutes. Remove.
Allow to cool about 10 minutes. Slice biscotti into 12-14 slices (about 3/4-1 inch each). Turn them on sides and put back in the oven. Bake 20 minutes. Remove and cool completely before adding glaze.
For the glaze, whisk the powdered sugar, eggnog and nutmeg together until desired consistency. Drizzle on cooled biscotti. Allow to set (about 20-30 minutes)- or refrigerate to "speed set" the glaze. Store biscotti in airtight containers! ENJOY.
What treats do you like to give as gifts? Here are a few of MY favorite teacher gift ideas…
Like my EggNog Truffles or Andes Mint Cookie Dough Truffles
Both are fun to make ahead of time and arrange in a pretty box with ribbon!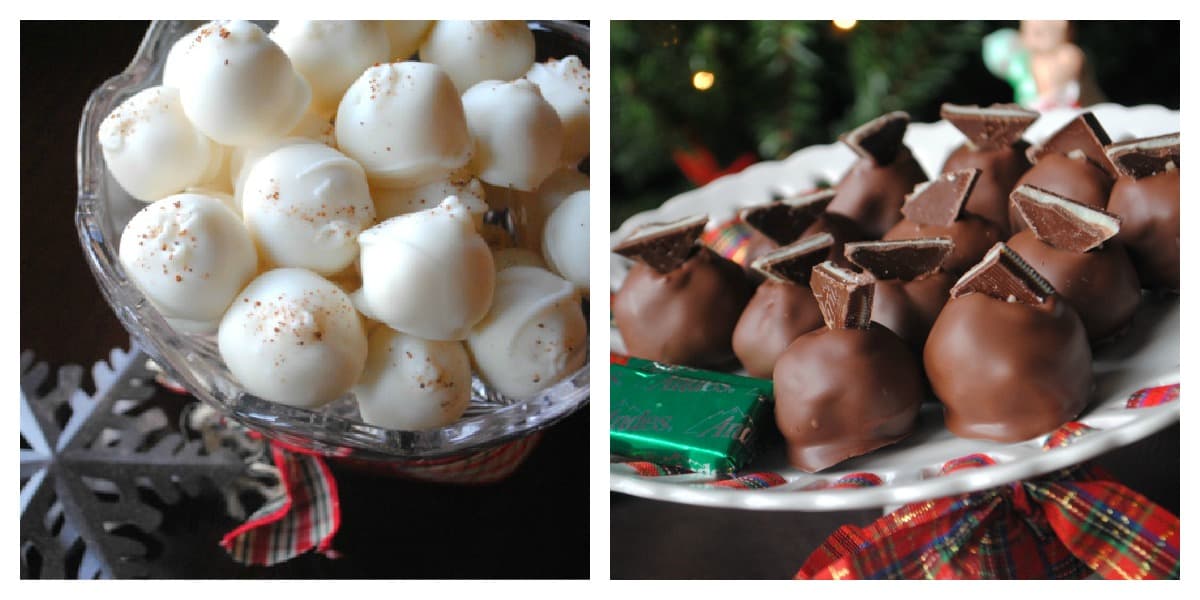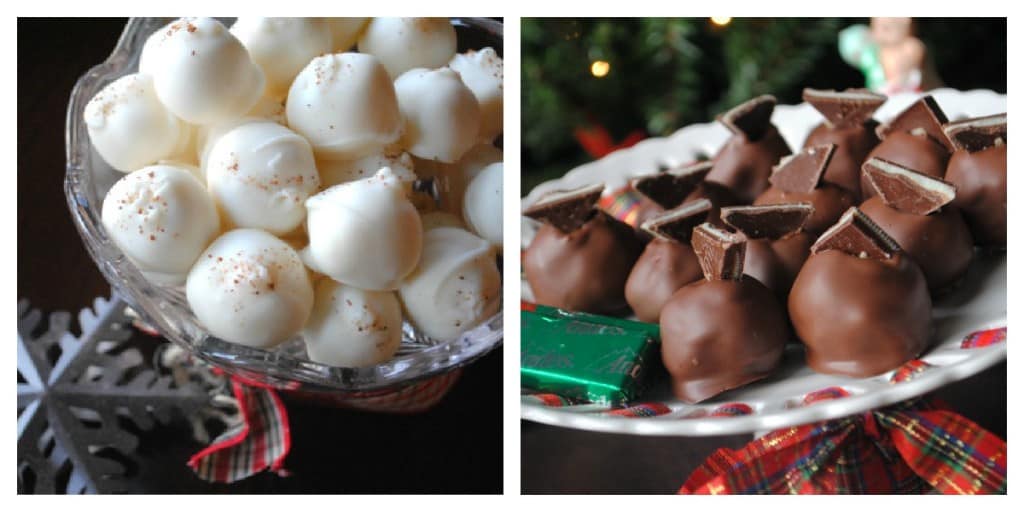 Do you prefer NO Bake recipes? Easy and delicious, but very little work?
Try making some Chocolate Peppermint Grahams and Chocolate Covered Pretzels with Peppermint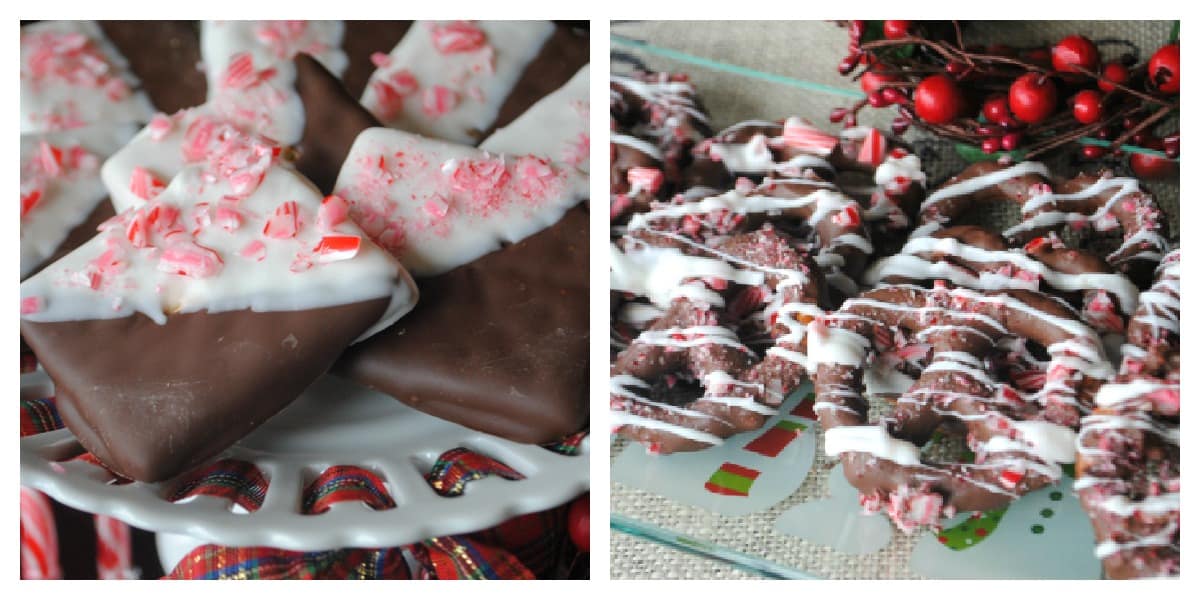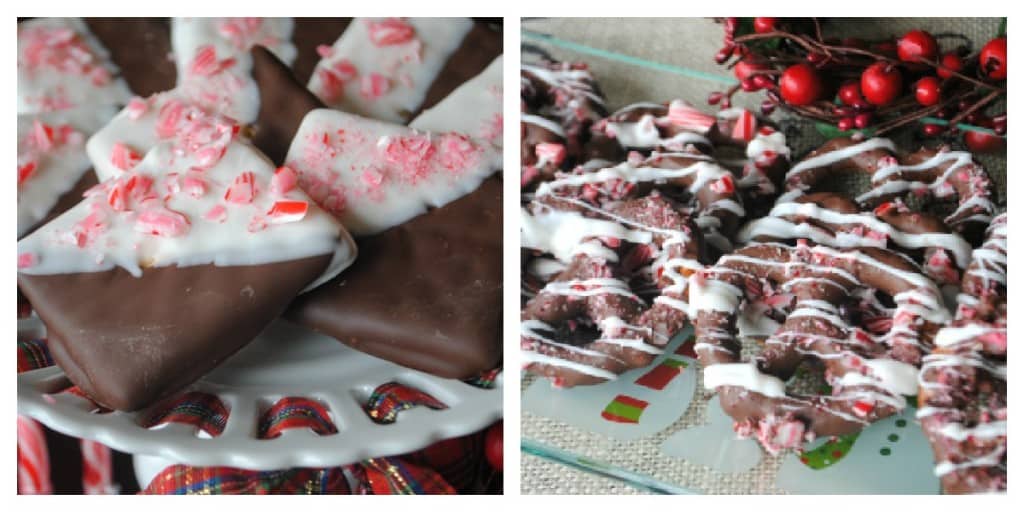 Finally, I love giving the gift of fudge! There is nothing more beautiful than a delicious plate of tasty candy!
Try making some Cinnabon Fudge or Peanut Butter Fudge for your candy tray this year!