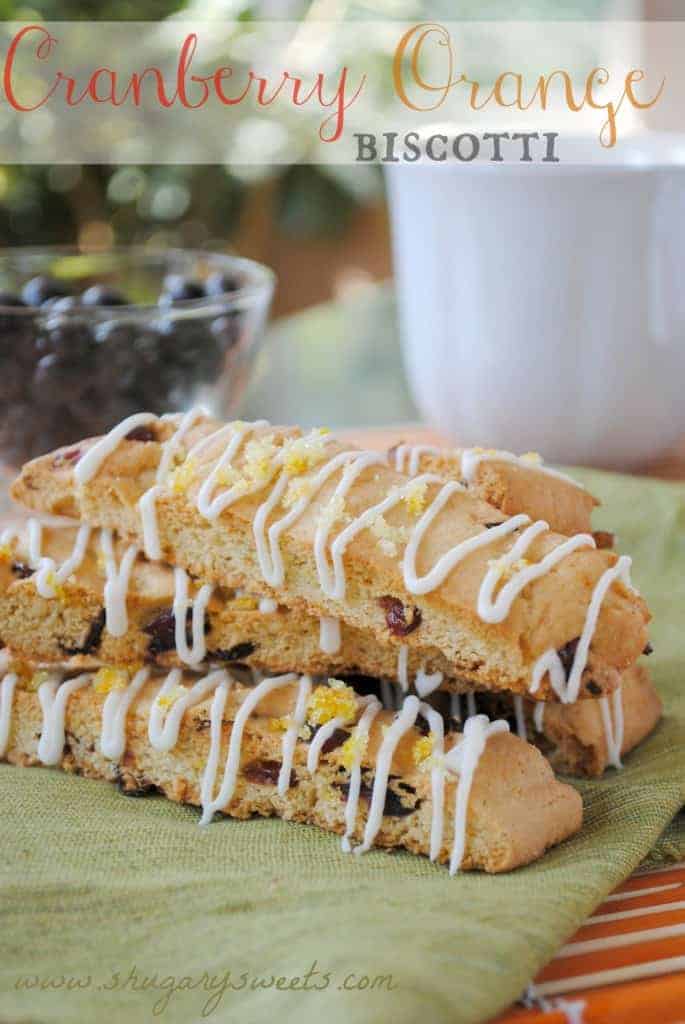 And the biscotti obsession continues.
I think I told you several months back (okay, it was May) that I had made three different flavors of biscotti for some company one weekend. This is the third flavor I made. Sorry it took so long to share, I'm sure you were on the edge of your seat waiting….
I have made it TWICE since that weekend with friends, it's so easy to put together, and I love the flavor combination. It helps having crunchy sugar and white chocolate drizzled on top!
Biscotti keeps well in a covered container or ziploc freezer bag. I tend to store mine in a ziploc bag with all the air pressed out. It has lasted for over a week. Probably could last longer, but I eat it all up before I can test that theory!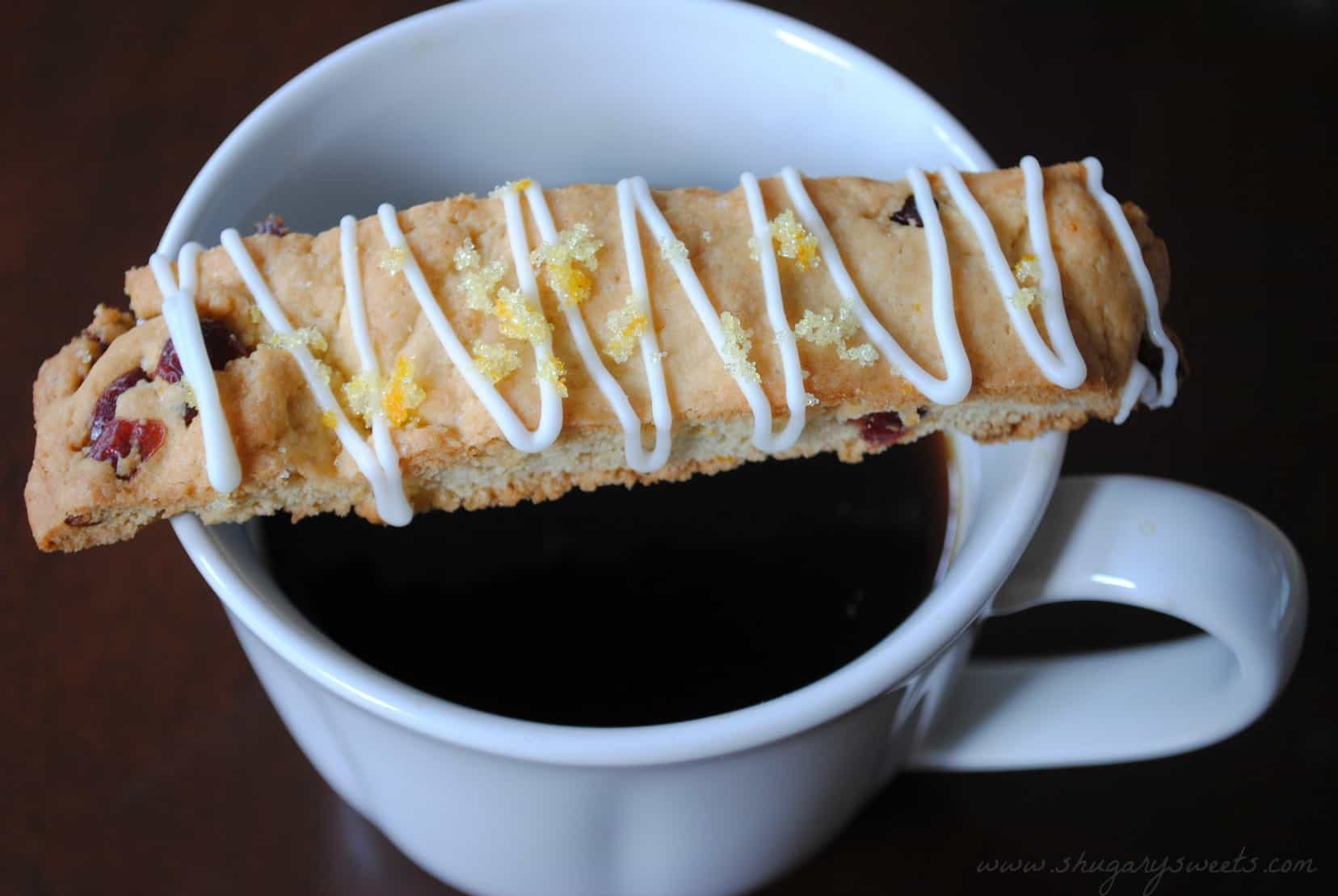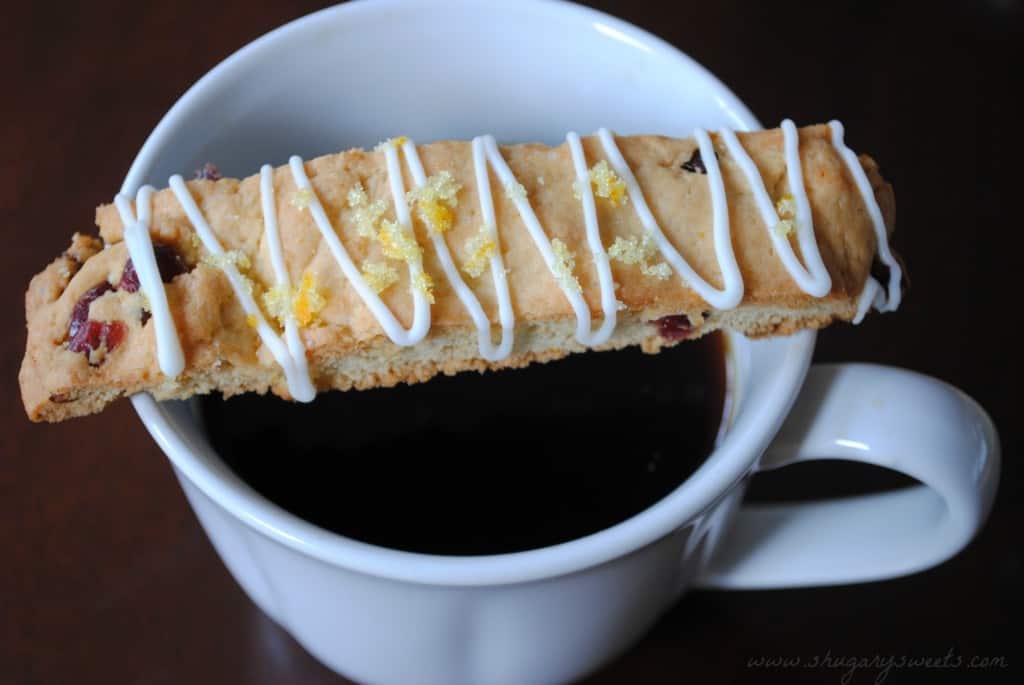 The crunchy biscotti with the chewy Craisins, combined with orange zest and white chocolate are a decadent treat for your morning coffee! ENJOY!
Like this Cranberry Orange Biscotti Recipe? You may also enjoy these recipes….
Snickerdoodle Biscotti– cinnamon and pecans gives this crunchy biscotti a great depth of flavor!
Turtle Biscotti– do you even need a description? Caramel, nuts, chocolate, oh my!
Chocolate Peppermint Biscotti– chocolate biscotti dipped in white chocolate with a generous sprinkle of peppermint candy canes!
Pumpkin Spiced Biscotti– spicy pumpkin biscotti dipped in a spiced white chocolate coating- Thanksgiving treat!
OR
Check out my Pinterest Board: Breakfast Table Goodies
Cranberry Orange Biscotti
Ingredients
6 Tbsp unsalted butter, softened
3/4 cup granulated sugar
2 eggs
1 tsp vanilla extract
2 oranges, zested (divided)
2 cup flour
1 tsp baking powder
1/2 cup dried cranberries
1/4 cup white chocolate, melted
1 Tbsp coarse sugar (or granulated), for garnish
Instructions
Preheat oven to 350 degrees F.
In large mixing bowl, beat butter and 3/4 cup sugar until combined. Add in eggs and vanilla extract. Beat in zest of one orange. Slow add flour and baking powder. Fold in dried cranberries.
On a parchment paper lined baking sheet, shape dough into a 12 inch by 4 inch log, patting evenly. Bake for 25-30 minutes. Remove from oven and cool for 15 minutes. Slice biscotti into 3/4inch slices. Arrange upright on baking sheet and return to oven. Bake an additional 20 minutes. Remove and cool completely.
In small bowl mix zest of one orange with remaining 1 tbsp of coarse sugar (or granulated). Drizzle white chocolate on cooled biscotti and immediately sprinkle with orange sugar. Allow to set (about 15 minutes).
Store in air tight container or ziploc bag. Enjoy!
Linked To: Totally Tasty Trick or Treat  Talent Show  Lil Luna  36thAvenue