Homemade Biscotti gets a serious boost of citrus flavor with bright orange zest and chewy dried cranberries. Cranberry Orange Biscotti makes any coffee break more delicious!
Love Cranberry flavor? This delicous Cranberry Cheesecake needs to be on your holiday menu ASAP. For an easy recipe, try our delicious Cranberry Cookies.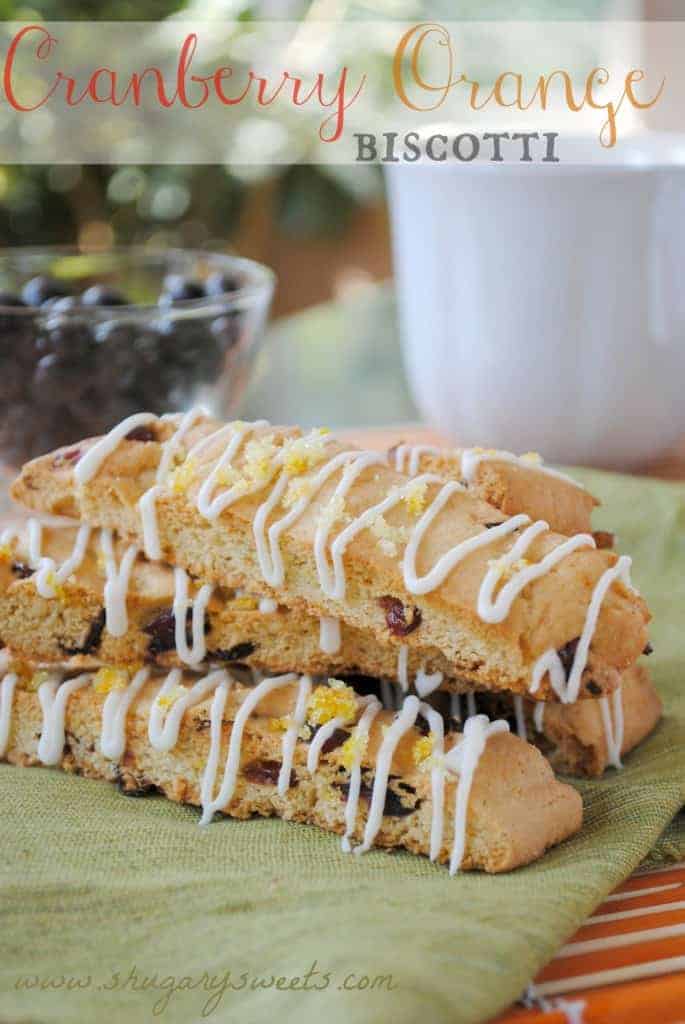 Homemade Biscotti Recipe
For years, I relied on big tins of biscotti from Costco to satisfy my cravings for this crunchy biscuit-like cookie. I had it in my head that biscotti were more complicated to make than your everyday drop cookies.
That couldn't be farther from the truth! The only thing different is that you bake them twice–once as a rectangle of dough then again as individual biscotti.
The result is a crunchy long cookie with a dense crumb and a slight toastiness. This makes it perfect for dunking in hot coffee or tea!
Ever since I learned how to make homemade biscotti, I've been obsessed with trying different flavors and toppings. Each and every one, from Snickerdoodle Biscotti with its dusting of cinnamon sugar to Maple Walnut Biscotti with a nutty twist, have been a success!
Now, it's time for a cranberry orange version. The citrus zest makes a heavenly addition to the basic biscotti. The dried cranberries I mixed in add the perfect chewy contrast to the crisp cookie texture.
Ingredient Notes
Orange zest – You'll need the zest of two full oranges to give this biscotti its burst of flavor. When zesting, be sure to remove just the thin orange layer of the skin, not the bitter white underpeel.
White chocolate – This is for melting and drizzling on the finished biscotti. White chocolate morsels work well as do melting wafers.
Sugar – I use granulated sugar in the dough then sprinkle coarse sanding sugar on top of the biscotti to add a pretty and sweet coating.
Dried Cranberries – I used Craisins.
Easy Instructions
The dough for Cranberry Orange biscotti comes together as simply as any other cookie. After combining, shape the dough into a rectangle and press it into a baking sheet.
Bake the dough for 25 minutes, then use a knife to slice the rectangle into logs about 3/4 of an inch wide. Flip them so they're right side up and bake again until they're golden brown.
Let the biscotti cool on a wire rack.
Once cooled, drizzle with white chocolate and sprinkle with sugar. Let the chocolate set for a few minutes before enjoying your fresh homemade biscotti!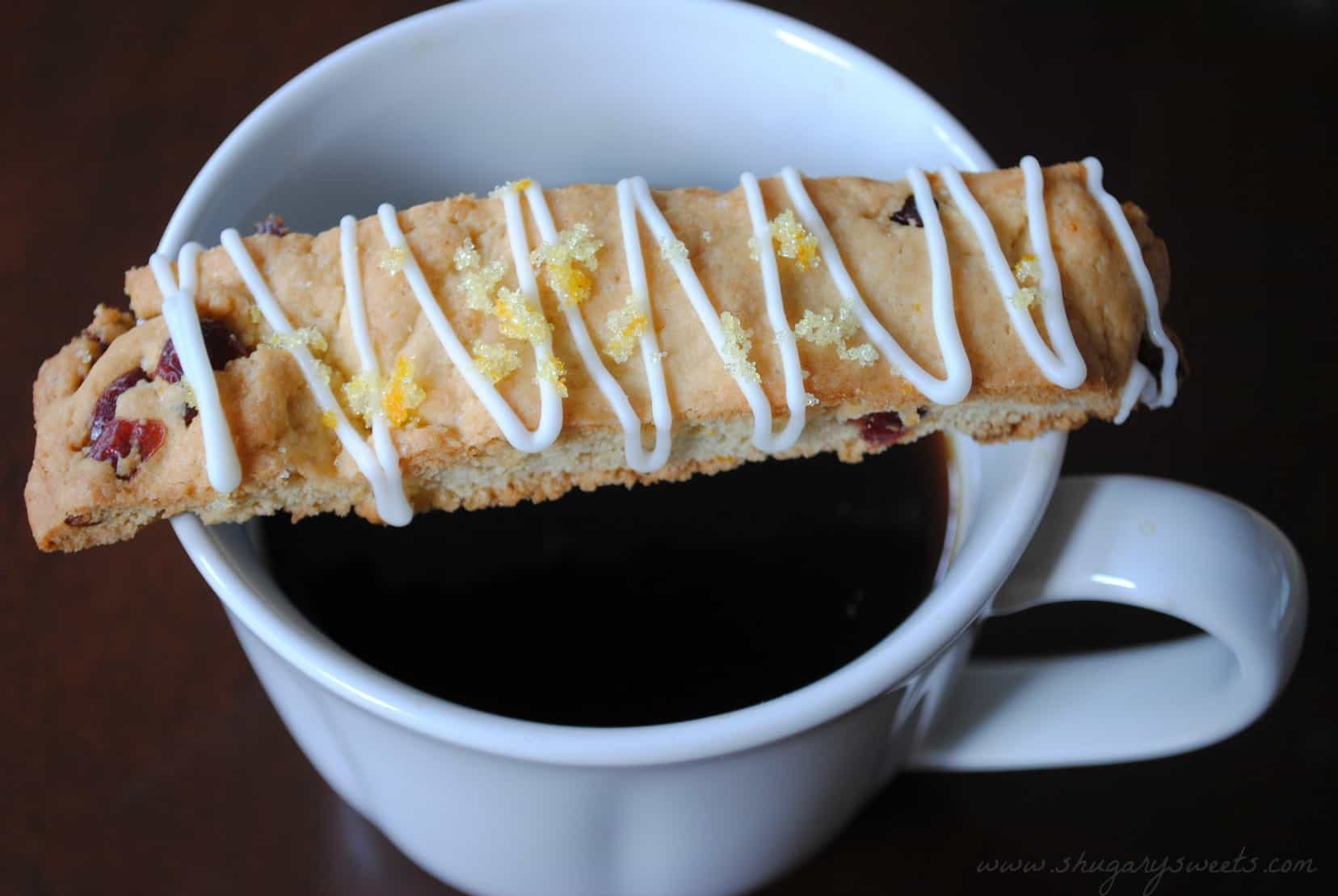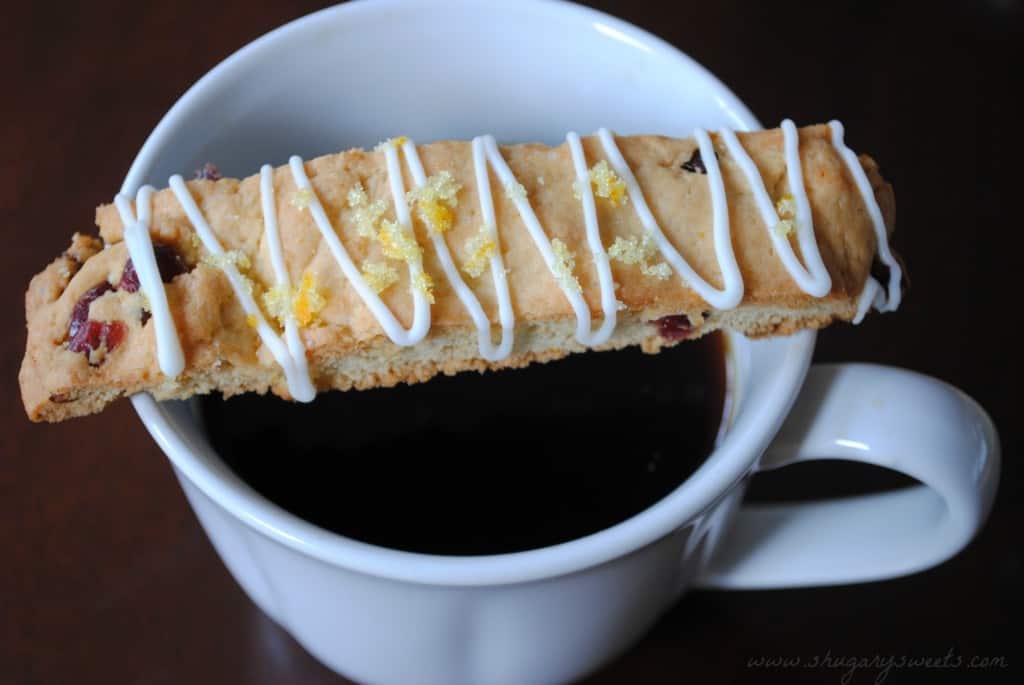 Tips & Tricks
Storing: Biscotti keeps well in a covered container or ziploc freezer bag. I tend to store mine in a ziploc bag with all the air pressed out. It has lasted for over a week. It probably could last longer, but I eat it all up before I can test that theory!
Pressing. Use your fingers to pat the dough evenly into the pan so the top of the biscotti turn out smooth and evenly baked.
Toppings. I love the coarse sugar and melted white chocolate on these. Candied Orange Peel cut up into small pieces would be delicious on these as well.
Recipe FAQs
Can I make biscotti into smaller cookies?
Sure thing. To make biscotti smaller, cut the cookie logs thinner in width but keep the rectangle of dough the same thickness. That way you won't have to adjust the baking time.
Can you freeze biscotti?
Yes. Baked biscotti will only slightly lose their delightful crunchy texture in the freezer. You CAN also freeze the unbaked dough! Wrap it in plastic wrap and keep in the freezer for up to 3 months. When you're ready for fresh homemade biscotti, you can bake the dough from frozen by adding a few minutes onto the first round of baking.
How long do biscotti keep?
Stored in an airtight container, biscotti should stay good for up to 2 weeks. Mine never last that long because we can't stop eating them!
More Biscotti Recipes
The crunchy biscotti with the chewy Craisins, combined with orange zest and white chocolate are a decadent treat for your morning coffee! You'll want the Cranberry Orange Biscotti for breakfast, an after dinner treat and all day long. ENJOY!