Snickerdoodle Biscotti – Introducing the perfect pairing for your morning coffee! No one can resist crunchy homemade biscotti, especially when it's dusted with cinnamon sugar!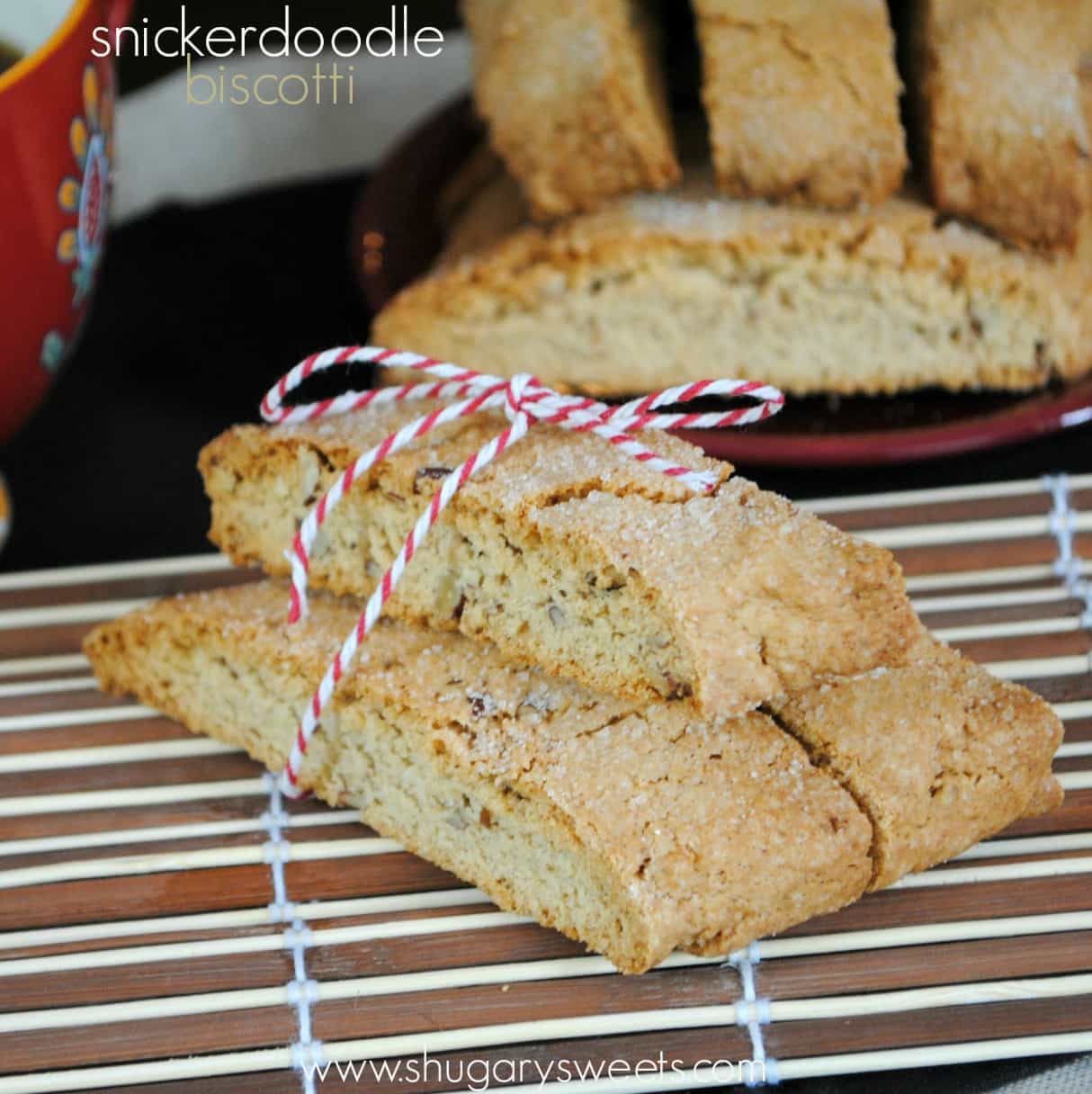 We had some friends come stay with us for Memorial Day weekend. One of our favorite activities included sitting on our back porch in the morning with our coffee and biscotti. In the past, I would buy a big tub of Costco biscotti before company came over. Then, we'd spend every morning nibbling the crunchy cookies over some good conversation. 

Homemade Biscotti
But last fall I experimented by making my own! Pumpkin Spiced and Chocolate Peppermint were the first two flavors I tried with massive success. Goodbye Costco cookies, hello crunchy crispy homemade biscotti! 
I thought about making one of those two varieties, but wanted something without such a seasonal flare. Plus, with all the baking I was doing I wanted to use ingredients I already had on hand. I always have plenty of cinnamon in the spice covered and heaven forbid I ever let the sugar supplies run low, so Snickerdoodle Biscotti was the natural result! 
What are biscotti?
Biscotti are so much more than crunchy cookies! Italian in origins, this dense biscuit-like baked good is baked twice. The two step baking process gives it a signature toasty crunchy flavor that's unlike anything else.
A biscotto (technically the singular form of biscotti), is lightly sweetened and traditionally served with coffee or tea.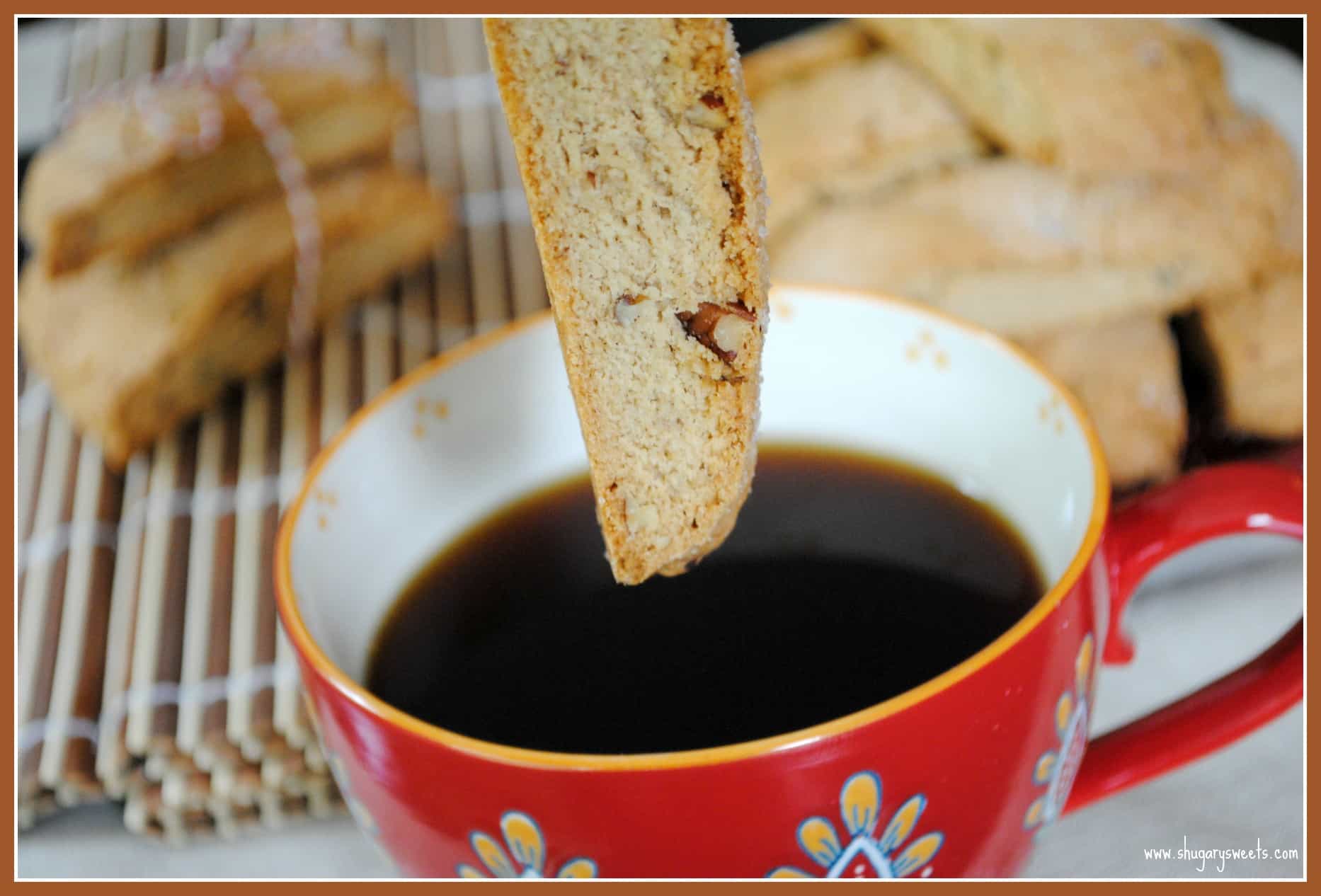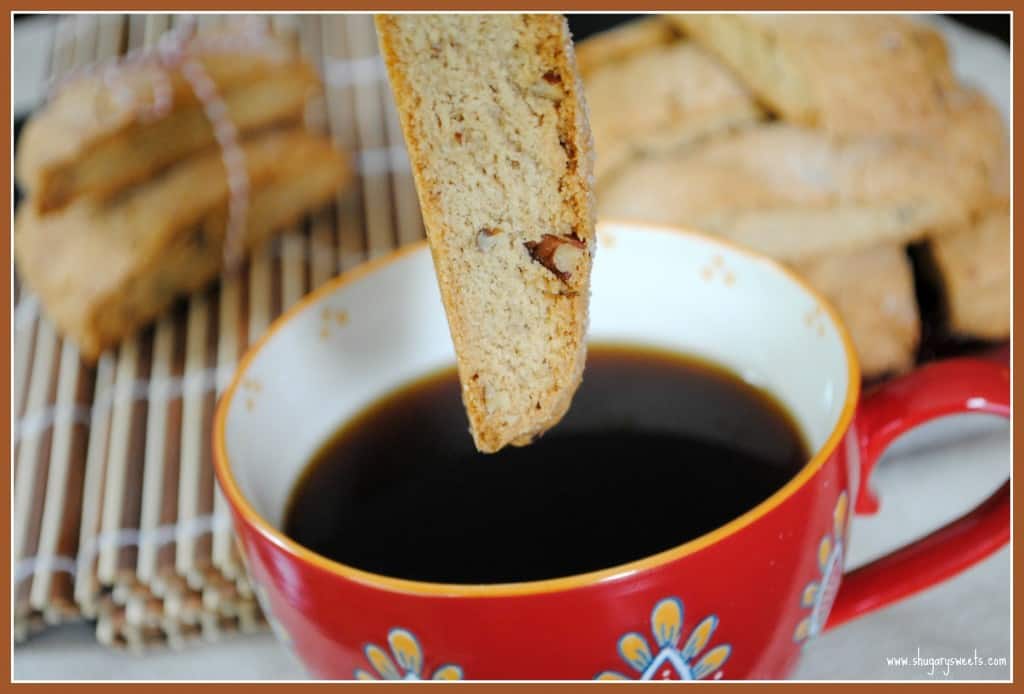 For this Biscotti recipe, I opted to not only sprinkle the top of the dough with cinnamon and sugar before baking, but to fold some chopped pecans into it as well.
It was love at first bite. Simple and kissed with cinnamon, Snickerdoodle Biscotti have become my standard year-round biscotti! The crunchiness of the pecans adds a wonderful touch. 
Biscotti Recipe
Biscotti is such an easy thing to make too! Did you know that? Once you learn how to make biscotti, you may never buy the store bought ones again. 
Don't be fooled by the number of steps in the recipe. The sticky biscotti dough comes together easily, then it's a simple matter of shaping, baking, slicing and baking again. 
Before I forget to mention it: baking a batch of these will fill your kitchen with the most enticing cinnamon aroma! I could hardly wait for these to cool so I could give them a taste. 
When you dip your perfect Snickerdoodle Biscotti into your steaming cup of coffee, you'll be glad you learned how to make biscotti cinnamon cookies. 
How to Make Biscotti
First, make a sticky dough: 
Start by beating together butter and sugar, then adding  flour, baking powder, cinnamon and pecans. The dough will be VERY sticky! Don't worry–it's supposed to be this way.
Divide the dough in half and form it into logs about 3/4 inch high on a baking sheet. Now add, a mixture of cinnamon sugar for that classic snickerdoodle flavor. 
First bake:
Unlike most cookies, these cookies bake TWICE. Once before you shape them, and once after for the toasty crunchy flavor quintessential to biscotti.
Bake the biscotti logs for about 25 minutes then remove them from the pan and let them cool for a bit. Cut the logs into even slices and place them back on the baking sheet face up.
Second bake:
Bake for 10 minutes, flip and bake again until golden brown.
Let cool and enjoy!
How to store biscotti
Once cooled, you can eat the cookies right away or store them in an airtight container. These Snickerdoodle Biscotti will keep well for about 2 weeks after baking. 
Can this be made without nuts?
Absolutely. If you don't have any pecans on hand or prefer not to use them, just proceed with the recipe as directed and leave the nuts out. I happen to love the crunchy pieces of nut in each bite, but Snickerdoodle Biscotti would taste good without them, too. 
When do you serve biscotti?
Truthfully speaking, I think of biscotti as an anytime food. My favorite way to enjoy it is as a breakfast treat! Snickerdoodle Biscotti, with their sprinkling of cinnamon sugar, aren't too sweet but add the perfect "something" to my morning ritual.
I love nothing more than the satisfaction of dunking one of these crunchy cookies into my coffee! It gets a bit soft and toothsome and the cinnamon and coffee bean flavor combo is to die for. 
Having a dinner party? You'll feel so elegant when you offer your guests some after dinner coffee with a biscotti balanced on the saucer! 
This easy biscotti recipe would be perfect for your next coffee date with a friend. Or stick them on a plate for your Father's Day brunch. . . or be like me and sneak one from the container anytime you walk by the kitchen. 
However you enjoy Snickerdoodle Biscotti, I know you'll find them as irresistible as I did!