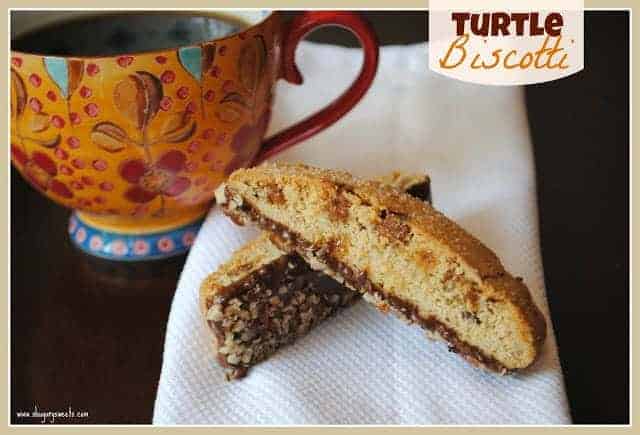 Let me just say, biscotti is awesome. Turtle biscotti is better than awesome.
And, like I have said before, it's easy to make. So if you love a good Nonni's biscotti, try making your own at home!
Ingredients
6 Tbsp butter, softened
3/4 cup sugar
2 eggs
1 tsp vanilla extract
2 cup flour
1 tsp baking powder
1/2 cup caramel bits (Kraft)
1 1/4 cup pecans, chopped, divided
1 Tbsp coarse sugar
2 cup dark chocolate, melted
Instructions
In mixing bowl, beat butter and 3/4 cup sugar until creamy. Beat in eggs and vanilla. Add flour and baking powder. Fold in caramel bits and 1/4 cup chopped pecans. Batter will be very sticky.
Divide in half, form each half in a 10inch by 3inch log on a parchment paper lined baking sheet. Sprinkle with coarse sugar. Bake in a 350 degree oven for 25-30 minutes. Remove and allow to cool on pan 15 minutes. Cut into 1inch slices, and arrange slices upright in pan. Bake an additional 20 minutes. Cool completely.
When cool, dip bottom of biscotti in melted dark chocolate, sprinkle immediately with remaining cup of chopped pecans. Allow to set. Enjoy.