A homemade biscotti recipe that's filled with caramel, nuts AND chocolate! Turtle Biscotti makes your morning coffee even better.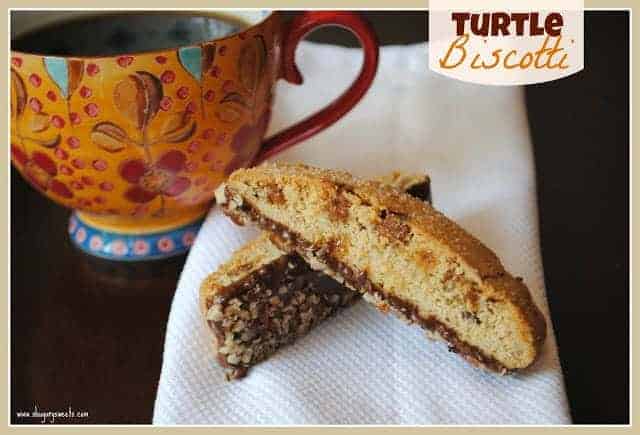 Let me just say, biscotti is awesome. Turtle biscotti is better than awesome. Add a cup of coffee and you have complete perfection.
And, like I have said before, homemade biscotti is easy to make. So if you love a good Nonni's biscotti, try making your own at home!
What is Biscotti
Biscotti are hard crunchy cookies with Italian origins. You'll find them served alongside espresso at Italian cafes and there's probably no shortage of different biscotti flavors available at your nearby coffee chain.
These cookies are a little different from the norm because they're twice baked. You bake the dough first like a loaf, then slice and bake again. This creates a toasted cookie that's perfect for dunking in coffee!
I used to buy the Nonni's brand of these by the case full, especially when I had company coming to stay. This copycat Nonni's Biscotti recipe tastes even better than the store bought ones!
What makes it "turtle"
A treat with the "turtle" moniker is one that includes three of dessert's tastiest ingredients: dark chocolate, caramel and pecans.
In this Turtle Biscotti recipe, you bake caramel pits and pecans into the dough before baking. A layer of dark chocolate and more chopped pecans sprinkled on the outside after baking, makes these biscotti complete.
If you love Turtle Fudge and Turtle Brownies, this is the biscotti recipe for you!
Ingredient Notes
For the biscotti, you make a dense dough with flour, eggs and butter. I chopped up Kraft caramel candies into little morsels to fold in, too.
Coarse sugar sprinkled over the tops of the Biscotti before their second time in the oven adds a delightful crispiness! Turbinado or demara sugar are awesome for this.
For the melted dark chocolate, use a chocolate bar cut up into small pieces, chocolate chips or melting candy wafers. If you prefer, milk chocolate would taste good on this biscotti too!
Step by Step Instructions
STEP 1. Make the batter
Beat butter and the granulated sugar together until creamy. Beat in eggs and vanilla then add four and baking powder. Fold in caramel bits and 1/4 cup chopped pecans. The batter will be very sticky.
STEP 2. First bake
Divide the dough in half and form each into a log about 10 inches long and 3 inches wide. Put the logs on a parchment paper lined baking sheet and sprinkle with coarse sugar.
Bake the dough in a 350 degree oven for 25-30 minutes then let the logs cool for about 10 minutes until you can handle them.
STEP 3. Second bake
Cut the biscotti logs into inch wide slices, and arrange upright in pan. Bake the sliced biscotti for an additional 20 minutes and let cool completely.
STEP 4. Dip
While the biscotti are cooling, melt your chocolate in the microwave or according to package directions. Dip the bottom of biscotti in melted dark chocolate and sprinkle immediately with remaining cup of chopped pecans. Allow to set until the chocolate is firm, about 15 minutes.
Tips & Tricks
Melting chocolate – When melting chocolate in the microwave, do so in 30 second increments, stirring after each interval until the chocolate is smooth no lumps remain.
Storing – Store Turtle biscotti in an airtight container or ziploc bags for up to 2 weeks. You may want to put a sheet of wax paper between layers to prevent the chocolate from sticking together over time.
Make sure to leave some space between biscotti when you lay them on the baking sheet for their second time in the oven. This will help them bake evenly on all sides.
Serve these amazing copycat Nonnis Biscotti during coffee hour and everyone will be your new best friend! Not a coffee drinker? They pair well with black tea or milk, too.
With a layer of smooth chocolate and caramel baked right into each bite, Turtle Biscotti are guaranteed to impress. Brew yourself a big pot of coffee and go make homemade biscotti!