Delicious, easy, Italian Sandwich Torte: perfect for brunch or a weeknight dinner! Layers of lunchmeat, cheese, and veggies for a tasty meal!
Planning on brunch? Be sure to whip up some of our Egg Salad or Deviled Eggs. Or give our Monkey bread recipe a try, everyone loves it!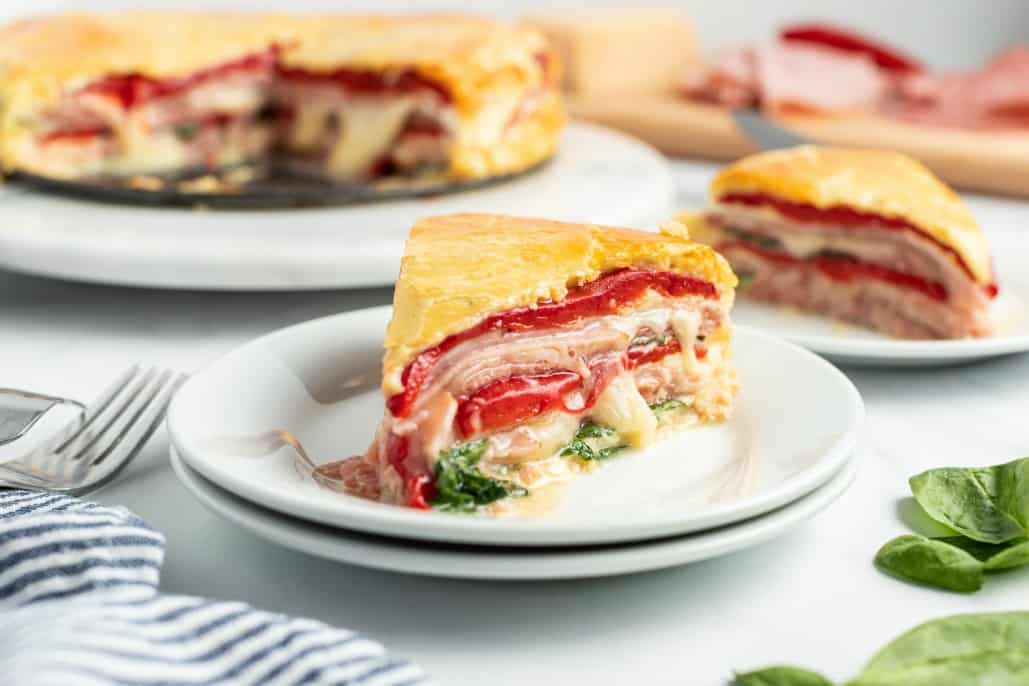 Easy Brunch or Dinner
Is it wrong to have a sandwich for dinner? Good, I didn't think so either.
The best part of this torte is that it can be eaten warm, cold, or room temperature. The first time I made it, we ate it for dinner.
By the time we all got to the table it had reached room temperature. We loved it this way!
Then, I made it again for an Italian Brunch, served warm. I also added a layer of spinach at the top that second time and thought it was even better that way.
The spinach taste takes a back seat to all the cheese and meat but it added a freshness to the sandwich that I appreciated (plus allowed me to sneak an extra serving of veggies into the meal!).
This recipe was inspired by my mom's recipe for Italian bites. She usually baked those in a 13×9 but I adapted it for my springform pan instead to create an Italian Torte.
Make it the next time you have company for brunch, lunch or dinner. Just don't wait too long! You need this torte recipe in your life. It's so good and easy!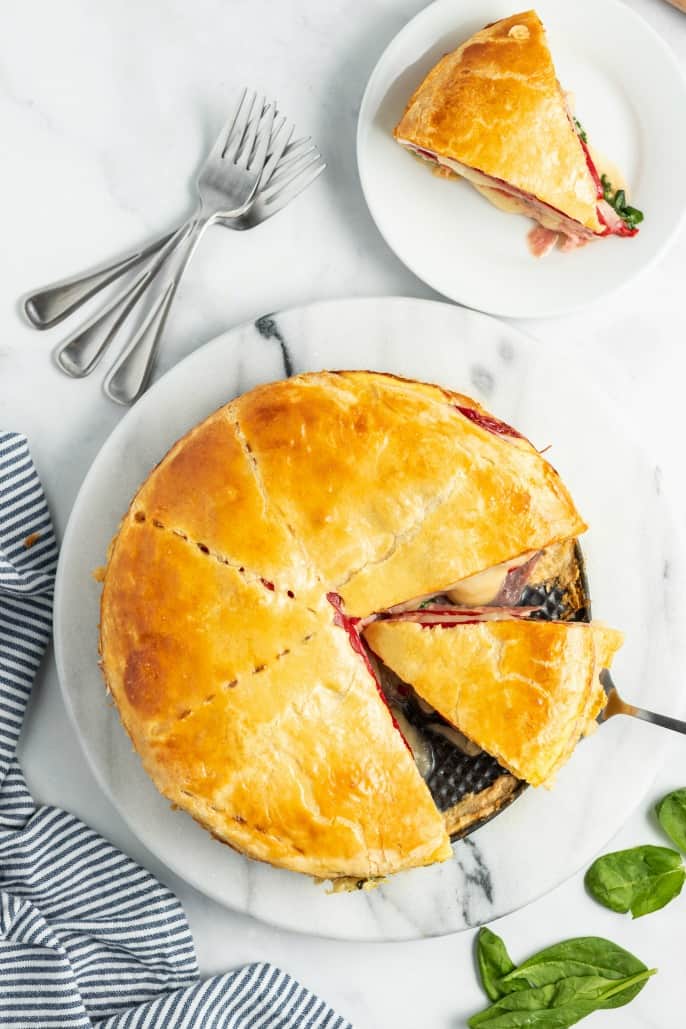 Ingredient Notes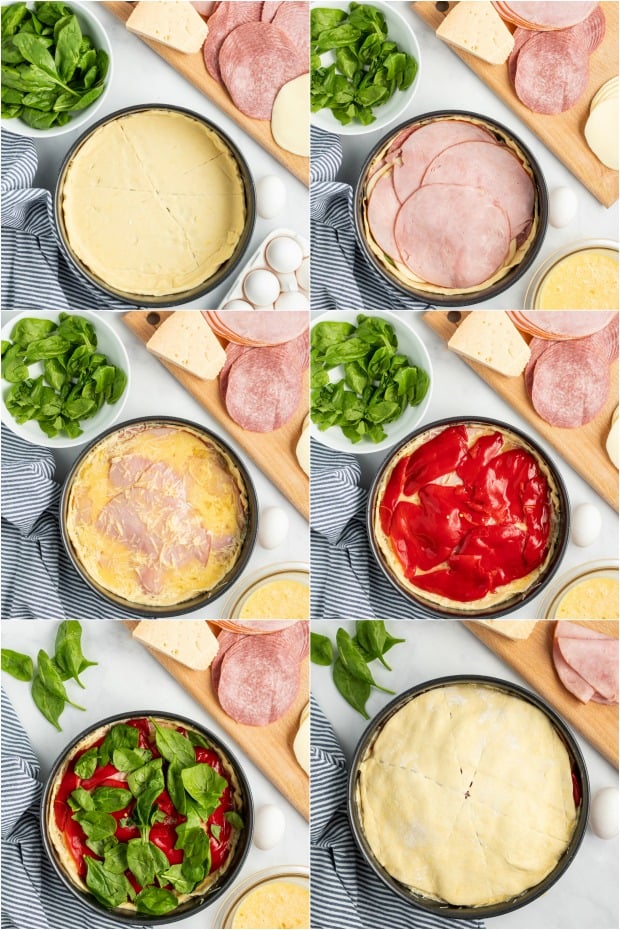 If I do say so myself, this torte is beautiful and looks impressive, like you spent hours fussing over it in the kitchen! Truth be told, it's remarkably simple to make.
Here's what I used in this Italian Brunch torte:
Crescent roll dough
Deli ham and salami
Provolone and parmesan cheese
Eggs
Jarred roasted red peppers, drained
Fresh spinach (optional but recomended!)
How to Make Italian Sandwich Torte
STEP 1. Unroll one package of crescent rolls and line the bottom of a Springform Pan.
STEP 2. Cover roll with half of the spinach, salami, provolone and ham. In a small bowl, lightly beat together 6 eggs and parmesan cheese. Pour half evenly over top of ham.
Top with half of the roasted red peppers. Repeat layering with remaining spinach, salami, cheese, ham and egg mixture, then peppers. Top with remaining package of crescent rolls.
STEP 3. Lightly beat remaining egg and brush over top. Cover with foil, bake for 30 minutes. Uncover and bake an additional 30 minutes. Remove from oven and allow to sit for about 10 minutes.
Run knife around edge of pan, remove springform pan. Cool for 30-60 minutes before slicing.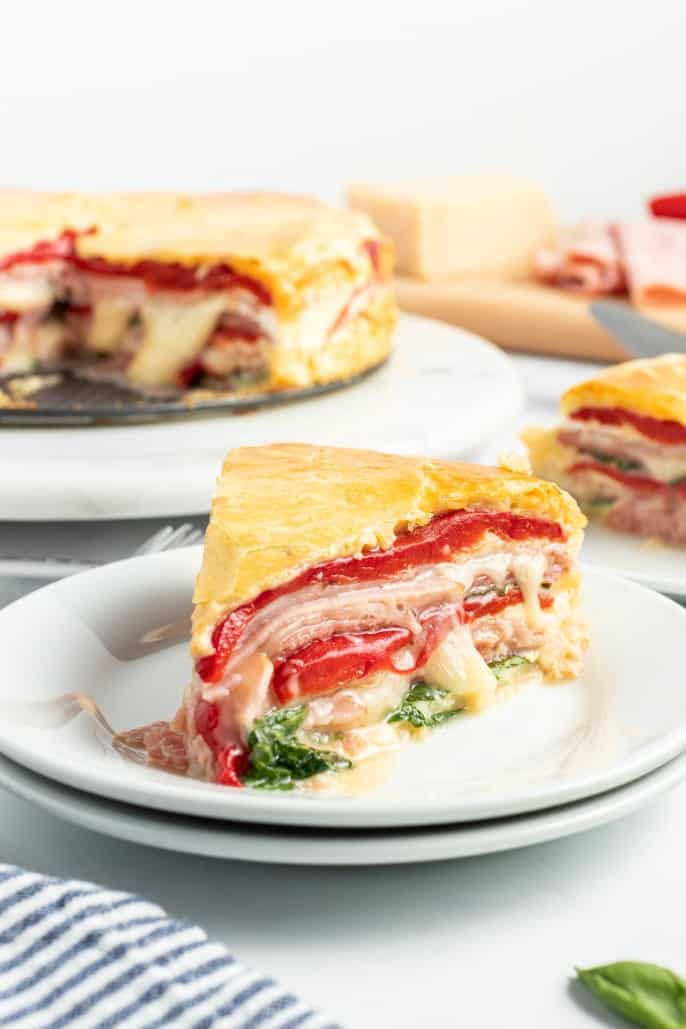 Tips and Tricks
This can also be made in a 13×9, following the same directions.
You can also experiment with other deli meats in this recipe. Feel free to use all salami or all ham, or try turkey as an alternative.
Use a basting brush to spread the egg evenly over the top layer of crescent dough. It gives the baked torte a beautiful finish!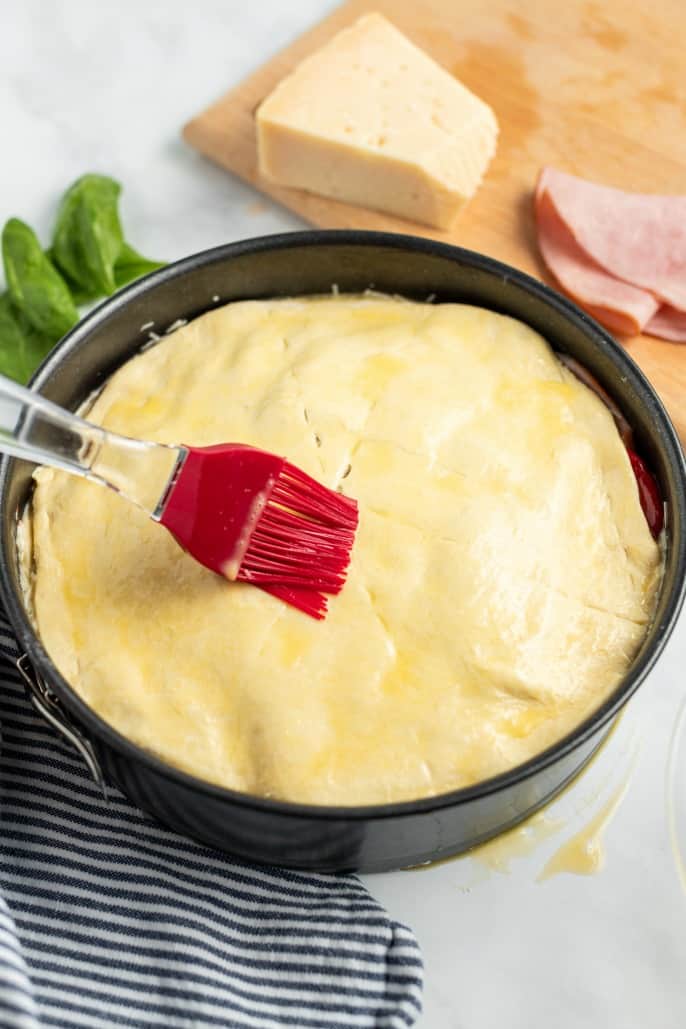 What to serve at an Italian Brunch
This torte sandwich was a delicious centerpiece to our Italian brunch!
Served with a tossed salad and a side of fruit salsa, every member of my family ate up every bite of their slices.
Because it's also delicious served cold, you can bring this as a dish to share at a brunch potluck or other gathering. Transport it whole, then slice just before serving!
How to reheat
If you want to reheat this torte before serving, you can place it in an oven at 300 degrees, just until heated through.
However, we liked it just as much at room temperature, so heating it is really not necessary.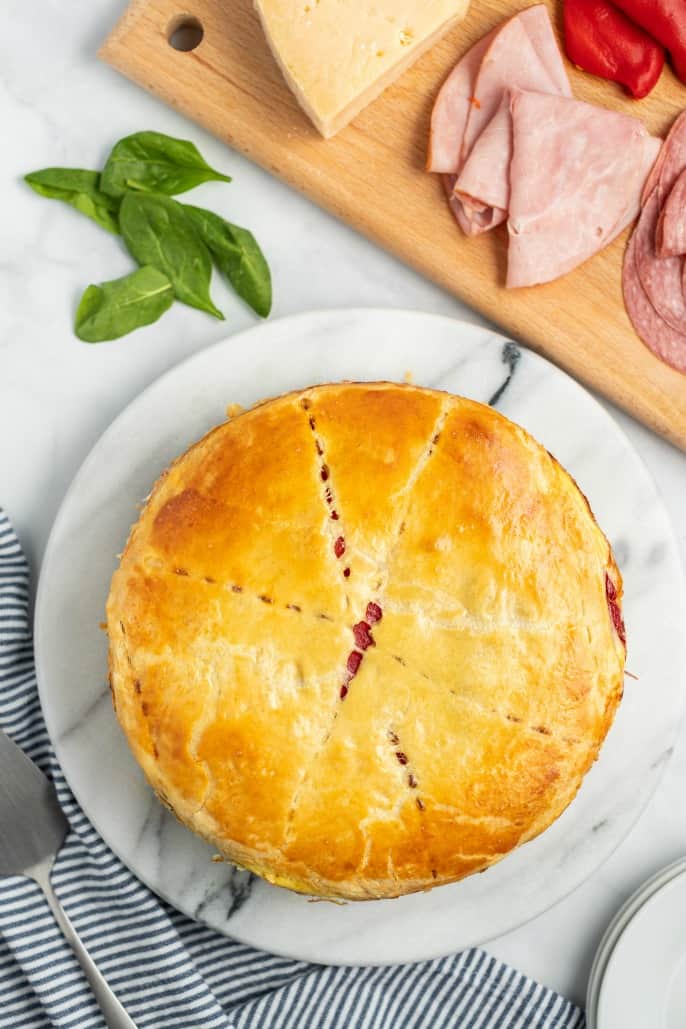 How to store
Store this torte covered at room temperature or in the fridge, until ready to serve. It'll keep well for up to 3 days.
You can even put leftover slices in tupperware containers as an easy lunch option for school or the office!
Delicious savory deli meat, surrounded by melty cheese and a flaky crust, this Italian torte will be a welcome addition to any Italian brunch menu!
Italian Sandwich Torte: perfect for brunch or a weeknight dinner! Crescent Roll crust packed with cheese, red peppers, ham, salami and eggs!