BBQ Brisket cooked to tender fall-apart perfection in the slow cooker. From choosing the right meat for brisket to the best way to using the right spices, I can teach you all about how to make the very best slow cooker brisket!
Love slow cooker dinners? Our slow cooker orange chicken is always a hit with the family!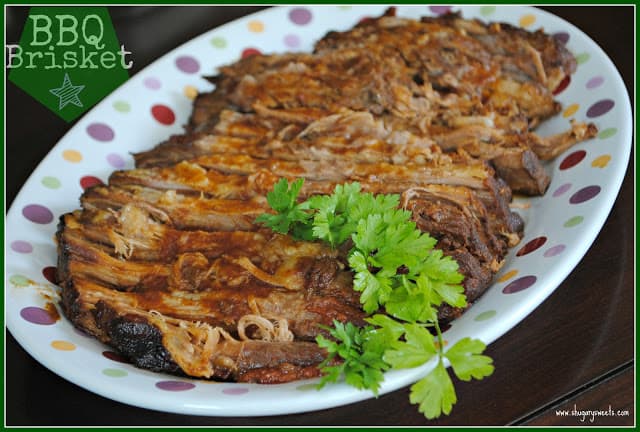 What is brisket?
I love Brisket. When cooked properly it's a wonderful piece of meat. My all time favorite version of brisket is made with the classic flavors of a good-old fashioned BBQ sauce.
Plus, it's made in the slow-cooker, perfect for when you don't want to turn on your oven, but still crave a comforting and hearty meal!
Brisket comes from the chest of the cow. It's a cut of meat that needs to be cooked at a low temperature for several hours to become tender and oh-so-juicy. Although brisket is one of the toughest parts of the animal, when cooked correctly it becomes one of the most flavorful!
While you can cook it in the oven or smoke it in the grill, I find you can't beat the convenience of slow cooker brisket!
It doesn't heat up the whole house for hours, cooks evenly, and leaves behind tasty juices at the bottom you can spoon over your brisket sandwiches for even more flavor.
When made well, a good brisket will be so tender it nearly melts in your mouth, but is still sturdy enough to hold up to whatever you want to serve it with. It also happens to be relatively inexpensive.
Slow Cooker Brisket Recipe
Choose your meat. I opt for a 3-4 pound "brisket flat" from the butcher. Our local grocery store always has these in the cooler near the roasts. YOU DO NOT WANT the giant 25 pound brisket for this recipe!
Prep the Slow Cooker. I mixed together my own barbecue sauce in the bottom of the slow cooker before adding the meat. The beer BBQ sauce imbibes the meat with amazing smoky flavor as it slow cooks!
Cook. After adding the sauce ingredients, place the brisket in the pot and cover. Cook it on low for 8 hours while the tantalizing smell fills your house!
When it's finished cooking, remove the BBQ brisket from the slow cooker and let it rest for about 10 minutes. Then slice and serve!
I like to save the juices at the bottom of the crock pot and drizzle a little over the slices of beef before serving, too.
This piece of brisket was enough to feed my family of six, and provide leftovers for lunch the next day. If you're not picky about having leftovers, it could easily serve 8.
Serving ideas
When making this for dinner, I like to serve in on a plate surrounded by all kinds of our favorite BBQ side dishes.
Try it with coleslaw or Potato Salad for that classic barbecue feel. It's also great with Mac and Cheese or Instant Pot Mashed Potatoes.
We almost always eat our leftover brisket on sandwiches for lunch the next day.
LEFTOVERS: Reheat the meat with leftover sauce and pile it on to rolls! So delicious and satisfying.
Leftover brisket can also be chopped into small piece to fill out your lunchtime salad or stuffed into tacos. There are so many ways to get the most out of your brisket!
More Tips & Tricks
Storing: Make sure to transfer your brisket to an airtight container before putting it in the fridge. Brisket dries easily so keeping it covered is important.
Reheating: For best results, reheat leftover brisket with extra sauce to avoid making it dry or tough. You can wrap it in tinfoil and reheat in the oven or in the microwave, checking after every 1 minute increment to avoid accidentally overheating and making the meat tough.
BBQ sauce: If you like a saucier brisket, serve this alongside leftover sauce from the crockpot OR an extra bottle or jar of your favorite barbecue sauce.
Put this brisket in the crock pot in the morning and by dinner time, you'll be sitting down to the most tender and juicy BBQ Brisket you've ever tasted!