Tropical Pineapple Salsa is a spicy, sweet, colorful snack idea! So versatile, you can enjoy with tortilla chips or spoon it over your favorite grilled chicken or fish!
Love homemade recipes for Taco Tuesday? Try our tomatillo salsa next! Perfect on a batch of our chicken enchiladas!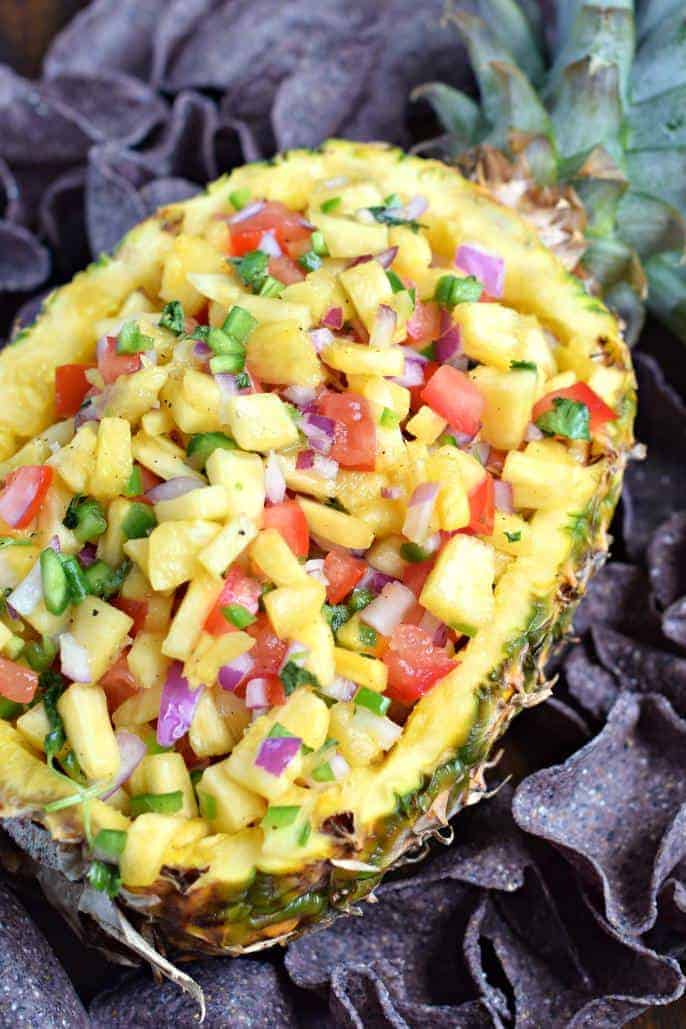 Why this Recipe Works
I'm not a stranger to homemade salsa recipes. While most of you come here for the sweets, if you poke around you'll see I have plenty of savory foods too. And that includes a variety of salsa recipes, from mango salsa to salsa verde!
Normally, people imagine salsa to be a tomato based dip for your tortilla chips. And while that's awesome and wonderful, if you've never explored fruit salsa recipes, please give them a try.
You can still get the heat by adding in jalapenos, but the addition of pineapple in the salsa gives it a sweet flavor.
It's perfect on a chip or to add as a topping to your favorite fish or chicken recipe.
Ingredient Notes
Pineapple – You need a fresh pineapple diced. Buy the whole pineapple and use the hallowed out part to serve your salsa for a fun presentation! Or you can buy cut pineapple at the store to make this recipe more convenient.
Jalapeno – Remove the membrane and seeds first to control the level of heat in the salsa.
Tomatoes – Roma tomatoes have the best flavor and plumpness for this recipe and are readily available year round.
Cilantro – Not a fan? You can leave it out and the pineapple salsa will still turn out delicious, but I love the freshness it adds.
Lime – Fresh lime juice is the best! You need the juice from 1 lime for this salsa. Use the palm of your hand to roll the lime before you cut it to help release some of the juices.
How to Make Pineapple Salsa
PINEAPPLE.
Cut a fresh pineapple in half lengthwise. Scoop out the pineapple filling, discarding the hard and bitter center portion. Save the hollowed out pineapple to use as a serving bowl for your fresh pineapple salsa.
SALSA.
To the fresh diced pineapple, add finely diced red onion, green pepper, jalapenos, and roma tomatoes. Be sure to chop everything small so you can scoop this salsa on a chip.
Add salt, pepper, lime juice, and cilantro. Mix everything and refrigerate in a covered bowl until ready to serve.
SERVE.
To serve, spoon fresh salsa into the saved pineapple "bowl." Refill as needed and enjoy with tortilla chips! Make it sweet by serving with cinnamon tortilla chips!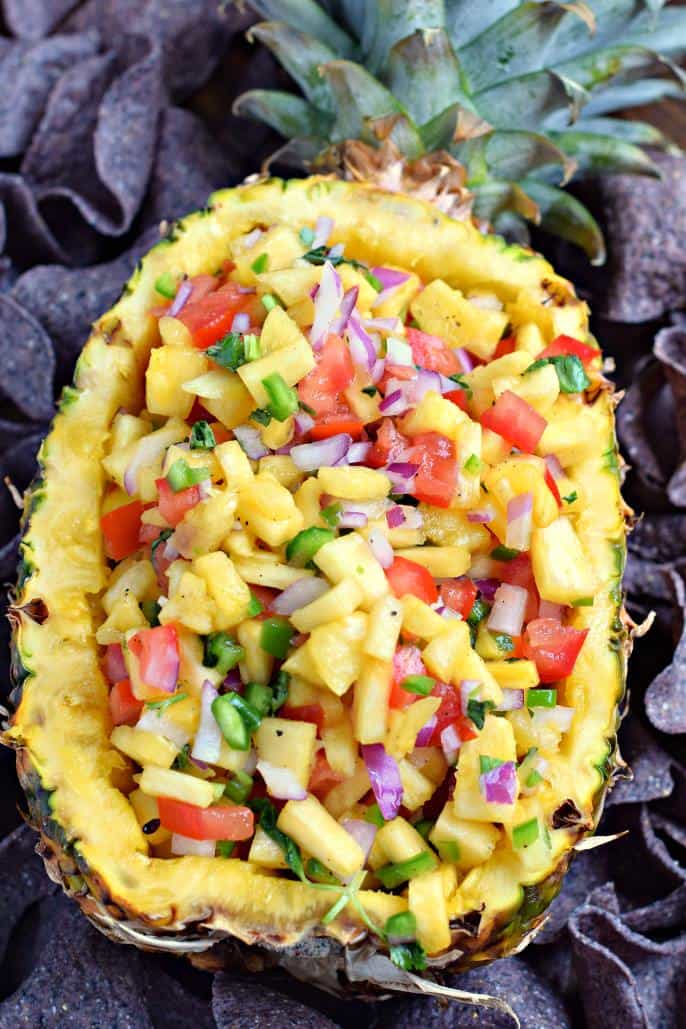 Tips and Tricks
Use a very sharp knife to cut your pineapple in half. You can then scoop out the filling and dice the pineapple, discarding that hard and bitter center portion. Use the pineapple shell as a fun serving bowl!

Dice t

he pineapple, red onion, peppers and tomatoes very small. You'll want to be able to scoop a little bit of everything on your chip for each bite!
Like it spicy? Leave some of the membranes and seeds with the jalapenos to add into the salsa to give it more heat.
Refrigerate the salsa, covered, to allow the flavors to marinate. Cover the pineapple bowl and refrigerate it as well to keep it fresh until it's time to serve.
Recipe FAQs
Can I make Pineapple Salsa in advance?
Yes! It helps to let the salsa chill in the fridge for at least an hour to allow all the flavors to marry together.
How do I store pineapple salsa?
The salsa can be stored, covered, in the refrigerator for up to 3-4 days.
Can I use frozen or canned pineapple instead of fresh?
I don't recommend it. Fresh pineapple is the key flavor here and both frozen and canned fruit will be much less firm and could make the salsa watery.
What to serve with Pineapple Salsa
While tortilla chips are always a hit, and spooning salsa over chicken is an option as well, we like to create a fiesta party with these tex mex dishes: