Looking for a unique snack cake recipe? This Banana Macadamia Nut Cake is packed with crunchy macadamia nuts, sweet bananas, and topped with creamy vanilla buttercream frosting!
Love bananas? You go crazy for our delicious banana cake recipe topped with cream cheese frosting. Or give these banana scones a try for breakfast!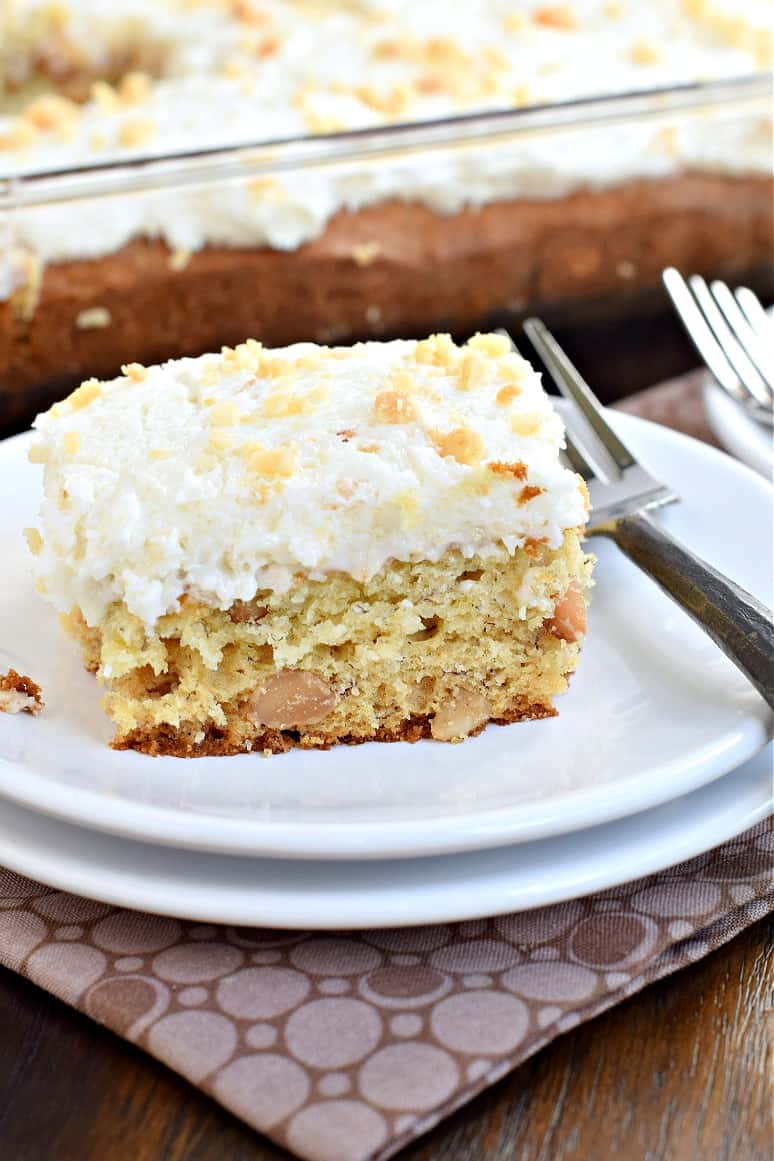 Why this Recipe is Best
This banana cake has it all–a moist crumb, sweet banana flavor and the buttery taste of macadamia nuts.
Not to mention the easy vanilla frosting that ties everything together.
As much as I love Classic Banana Bread, this isn't one of those cakes that's basically a quick bread with a layer of icing slapped on top.
This is very much a CAKE in sweetness and consistency. It makes an ideal dessert or afternoon snack or even breakfast treat.
A delicate texture that's still substantial enough to sink your fork into
A rich buttercream topping and plenty of crunchy macadamia nut pieces set this banana cake apart from the crowd.
When it comes to banana flavored desserts, Banana Macadamia Nut Cake is the best of the best!
Ingredient Notes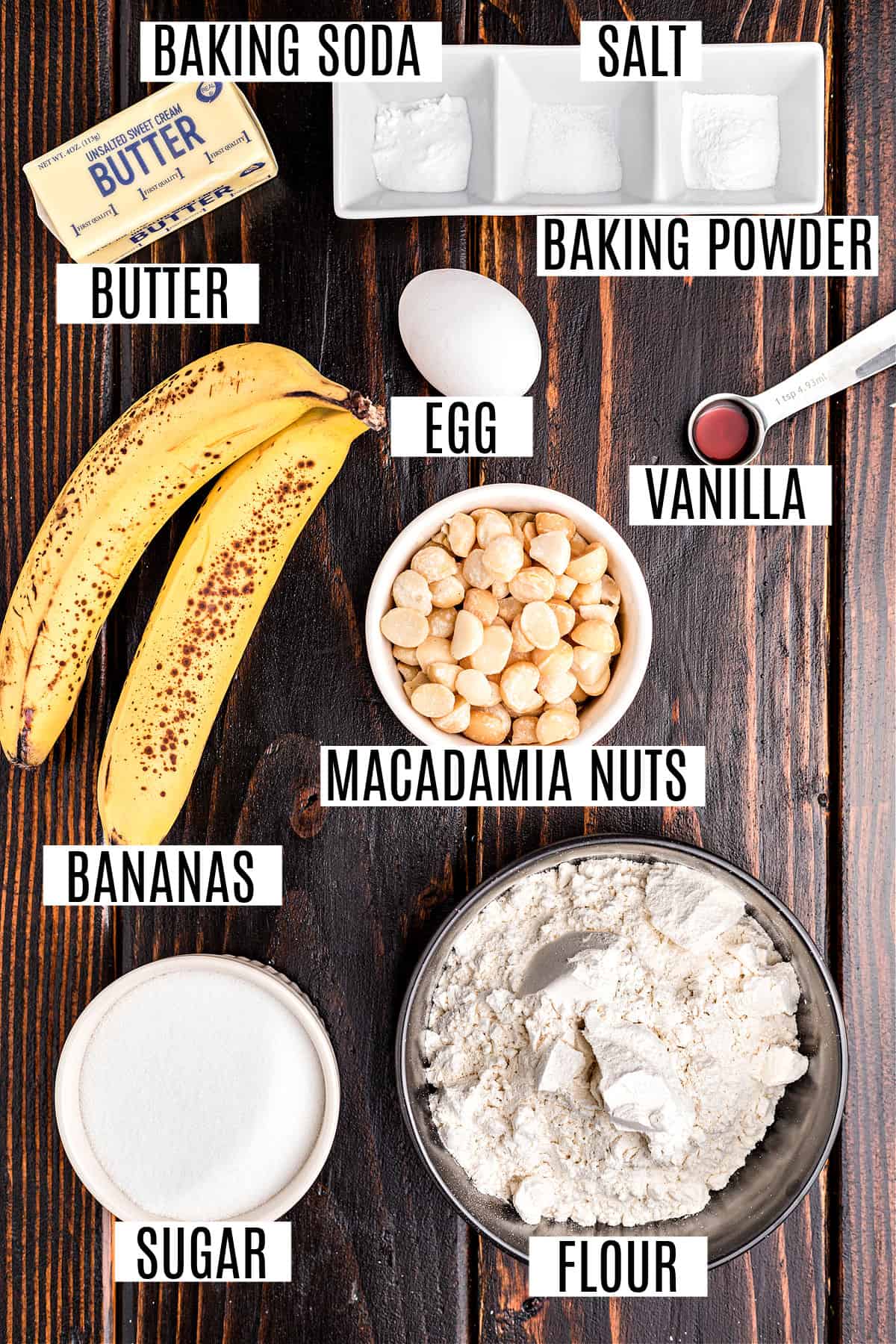 Bananas – Use bananas that are ripe to overripe for best results. Or use our guide on how to ripen bananas in 20 minutes!
Vanilla extract – Use a good quality pure vanilla (not imitation). Try making your own vanilla extract for a deeper vanilla flavor.
Macadamia nuts – Chopped into small pieces; you'll need some to fold into the cake batter plus extra for sprinkling over the frosted banana cake.
Easy Instructions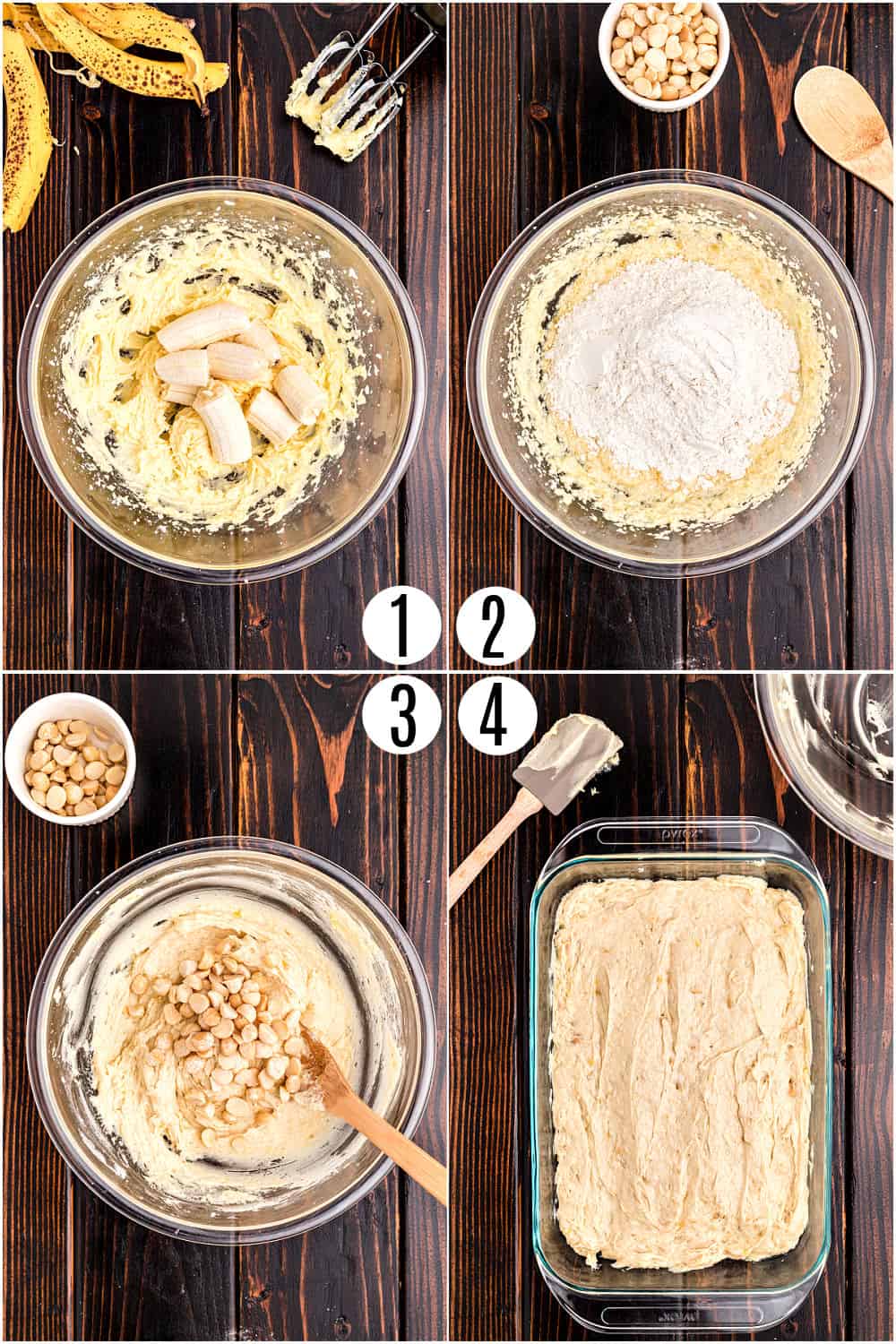 You make Banana Macadamia Nut Cake in a 13×9 baking dish. So quick and simple!
Make the cake batter. Start by beating together butter and sugar, then adding eggs, vanilla and bananas. You'll add in the dry ingredients, then the nuts and pour the batter into a greased baking dish.
Make the frosting. After baking the cake, let it cool on the counter while you make the frosting.
Assemble. When all the frosting ingredients have been beaten together until smooth and fluffy, spread the frosting on the cooled banana cake. Sprinkle with the remaining nuts, slice and enjoy!
Tips & Tricks
Use ripe bananas – Like most banana based desserts, riper bananas are a must for sweetness and moisture. I prefer bananas with plenty of brown spots.
Test for done-ness with a toothpick. Insert it into the center of the cake after 23 minutes in the oven. If it comes out clean, the cake is done. If the toothpick comes out wet, leave the cake in the oven for another 2 minutes and check again.
Store covered. Cover any leftovers with plastic wrap or foil and store at room temperature. You can store it right in the pan OR transfer leftover slices of cake to an airtight container!
Banana Pudding Poke Cake is another delicious banana treat you must try!
Recipe FAQs
Do you use salted or unsalted macadamia nuts for this cake recipe?
I use salted macadamia nuts in this banana cake. But either will work.
How long will this banana cake stay good?
This banana cake will stay good for 3 – 4 days if kept tightly covered.
Can I freeze banana cake?
Yes, you can freeze banana cake. Double wrap the unfrosted cake in freezer bags or foil and it'll stay good in the freezer for about a month.
More Nutty Recipes
I love a cake recipe that looks and tastes impressive–no complicated decorating or layering required! Banana Macadamia Nut Cake pairs the exotic taste of macadamias with the comforting taste of an old fashioned banana cake.