Looking for a unique snack cake recipe? This Banana Macadamia Nut Cake is a great treat to enjoy in the afternoon with your cup of coffee!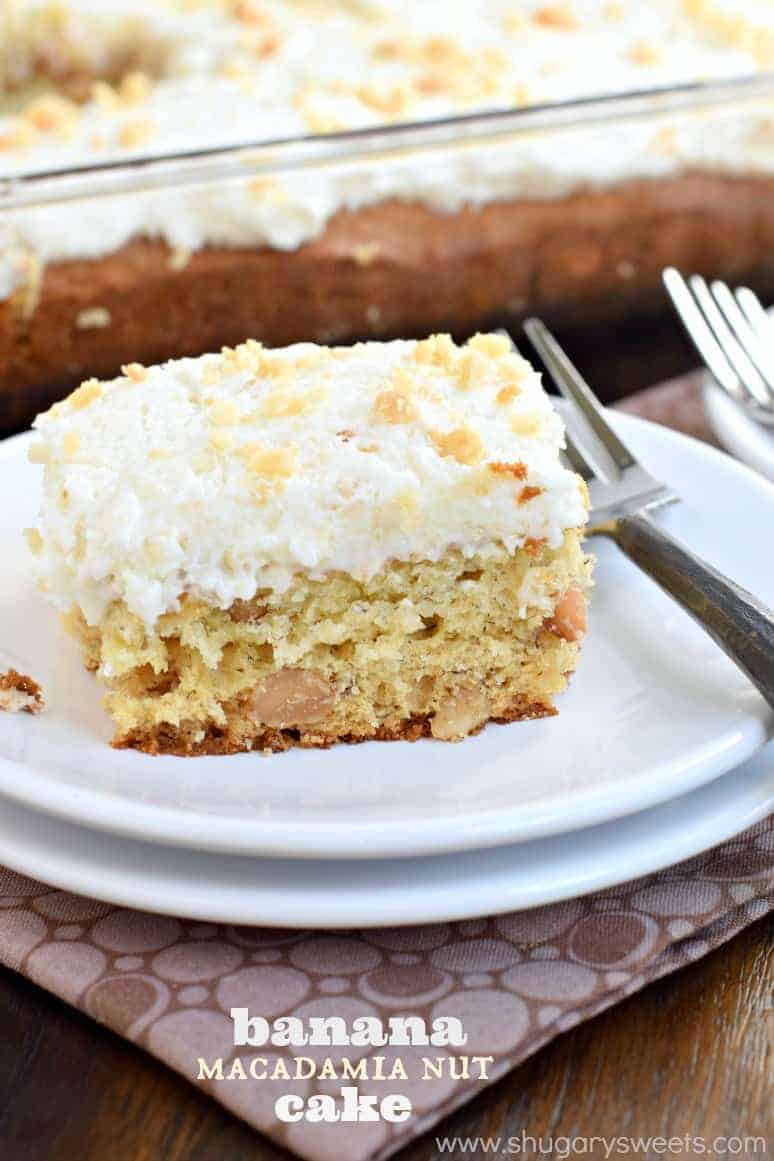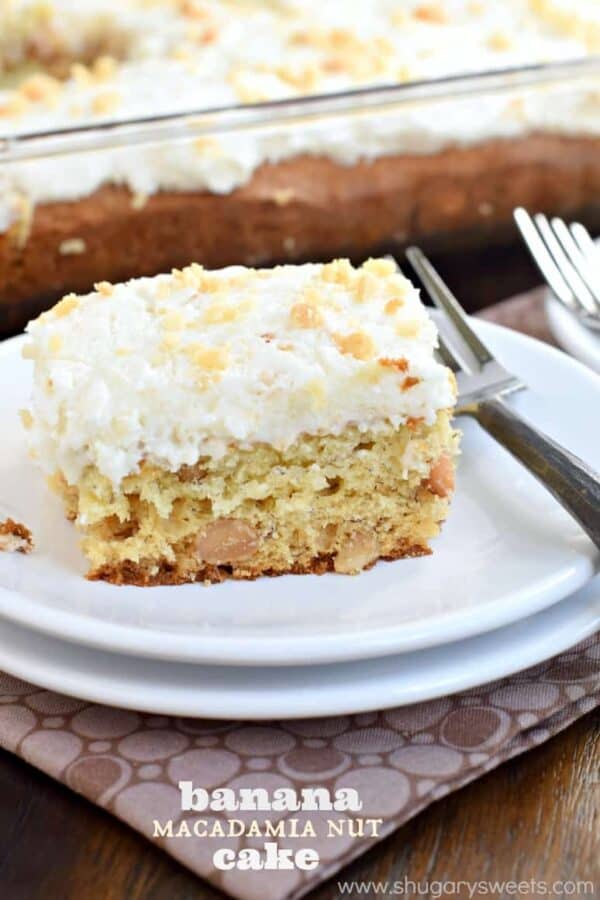 Remember that time I went to Hawaii and shared one million photos on instagram?
Well, I promised to have tons of macadamia nut recipes on the blog…and I did share a few Hawaiian inspired recipes right away. But then I took a break. Because it was making me sad. All I wanted to do was return to the islands. Haha!!
My son is home this week for a 10 day leave from the Marines. He graduated boot camp (Semper Fi!) and will be heading back out next week. In the meantime, I am trying to work through some of those recipes I made months ago and share them on the little blog here. Because in my kitchen, we've been having "repeats."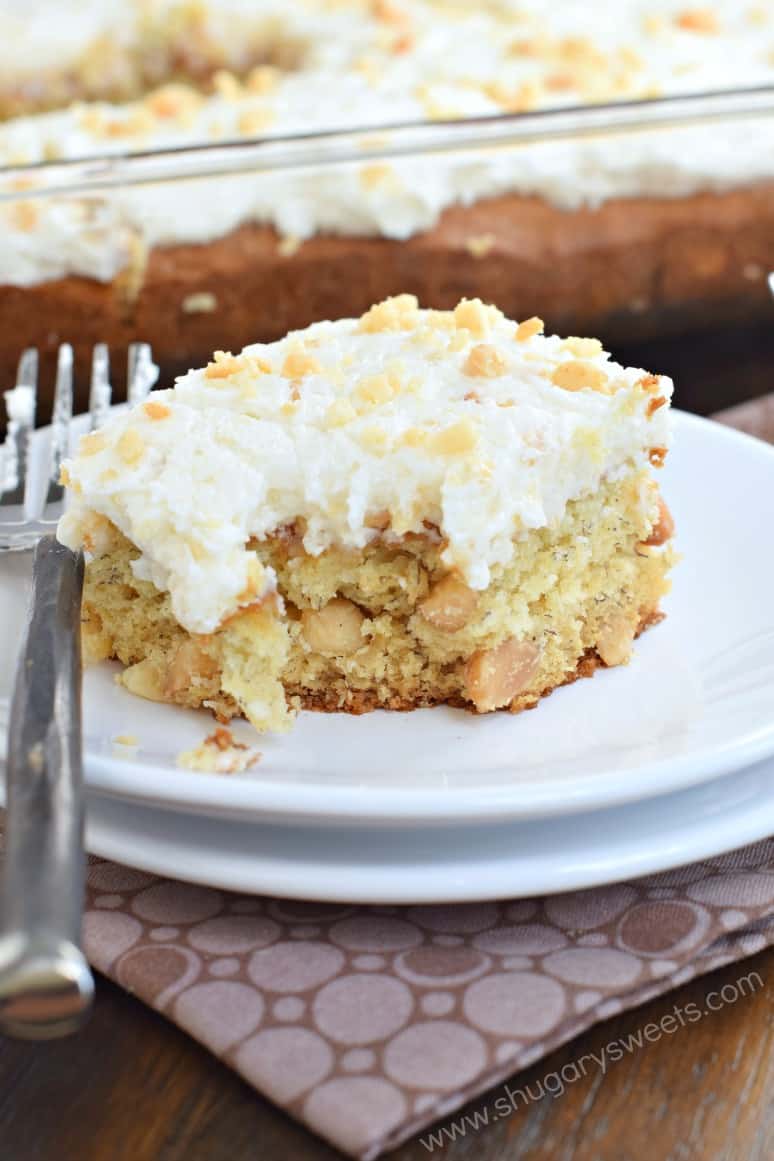 What's a repeat? No, not leftovers. It's simply repeating recipes that my family LOVES. Nothing new around here. Chicken Tetrazzini, Mac and Cheese, Rice Krispie Treats and Chocolate Chip Cookies to name a few!
Don't worry, I've got some delicious recipes heading to the blog for the rest of the year. But while I go enjoy my precious time with my son, do me a favor? Let me know in the comments what kind of recipe you're hoping I'll share this year? The holidays will be here before we know it, and I'd love to hear if you're searching for something new this year to make? I'm always open for suggestions!!
In the meantime….go bake this Banana Macadamia Nut Cake. You'll be so glad you did. From the crunchy nuts in the sweet cake, to the decadent icing on top, this one will have you craving a piece of the islands. ENJOY!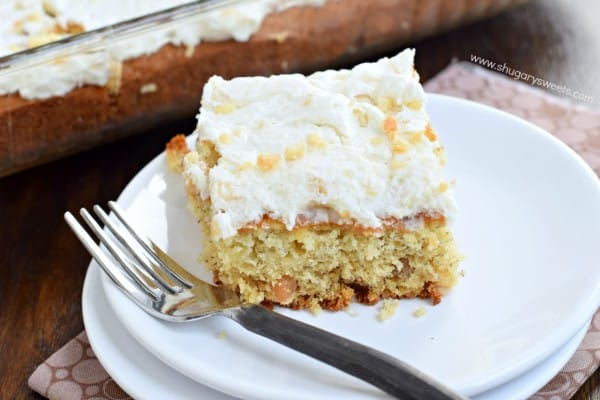 Connect with Shugary Sweets!
Facebook | Twitter | Pinterest | instagram
Yield: 20 slices
Banana Macadamia Nut Cake
Ingredients
For the cake:
1/2 cup unsalted butter, softened
1 cup granulated sugar
1 large egg
1 tsp vanilla extract (I use Rodelle)
2 large bananas
1 3/4 cup all-purpose flour
1 tsp baking powder
1 tsp baking soda
1/2 tsp kosher salt
1 cup macadamia nut pieces
For the frosting:
1/2 cup unsalted butter, softened
1/2 tsp vanilla extract (I use Rodelle)
3 cups powdered sugar
2 Tbsp milk
1/3 cup macadamia nuts pieces
Instructions
Preheat oven to 350 degree F. Spray a 13x9 baking dish with baking spray. Set aside.
For the cake, beat butter and sugar until creamy, about 3-5 minutes. Beat in egg and vanilla. Add in bananas, beating until smooth and mashed.
Add in flour, baking powder, baking soda, and salt. Fold in macadamia nut pieces. Pour into prepared baking dish.
Bake for 23-25 minutes until toothpick poked in center comes out clean. Remove from oven and cool completely.
For the frosting, beat butter, vanilla, powdered sugar, and milk for about 4-5 minutes until fluffy. Spread over cooled cake and sprinkle with macadamia nut pieces. Serve and enjoy!
Do you love macadamia nuts? Here are a few of my favorite recipes with this delicious nut!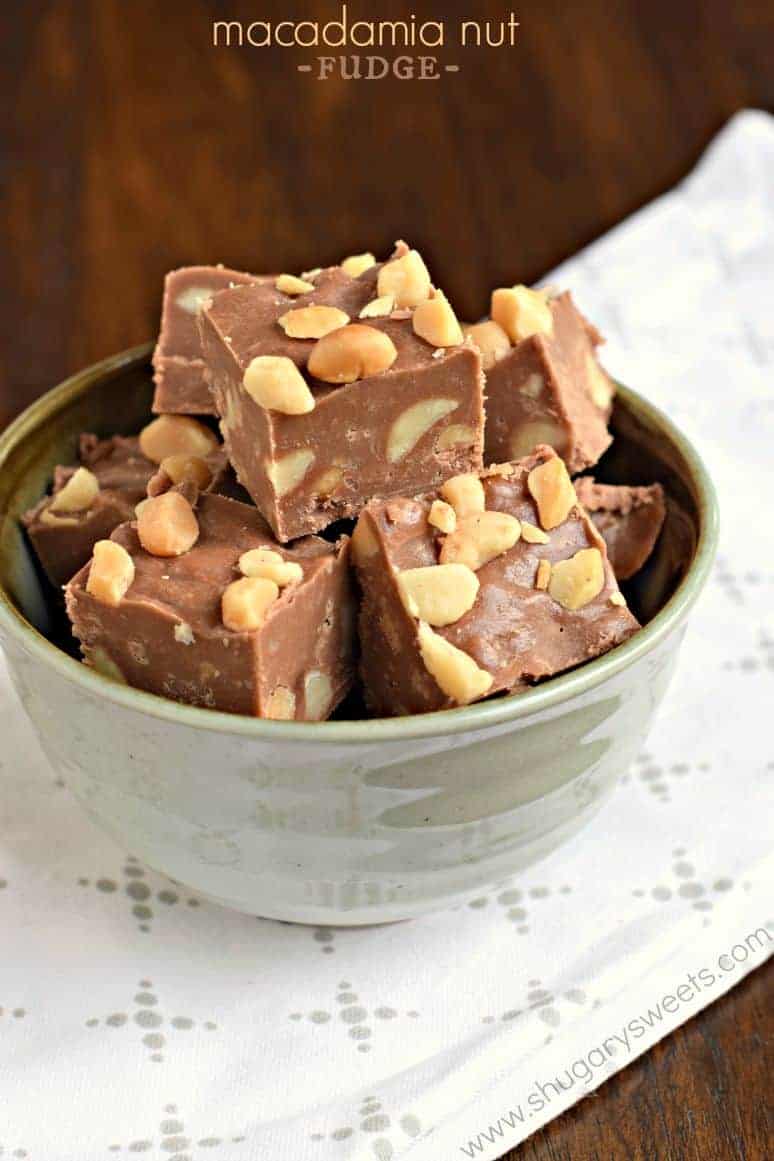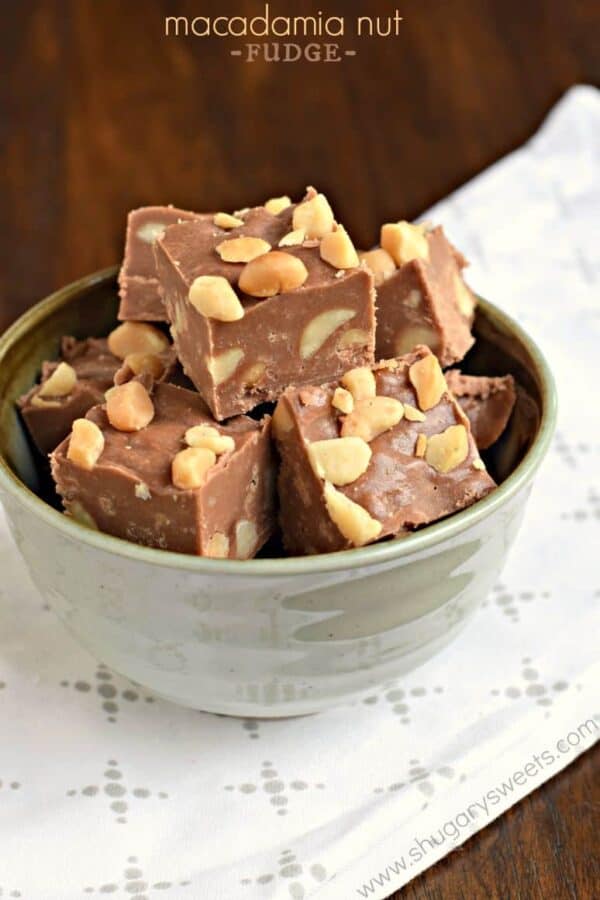 Macadamia Nut Fudge: smooth, decadent chocolate fudge chock full of macadamia nuts!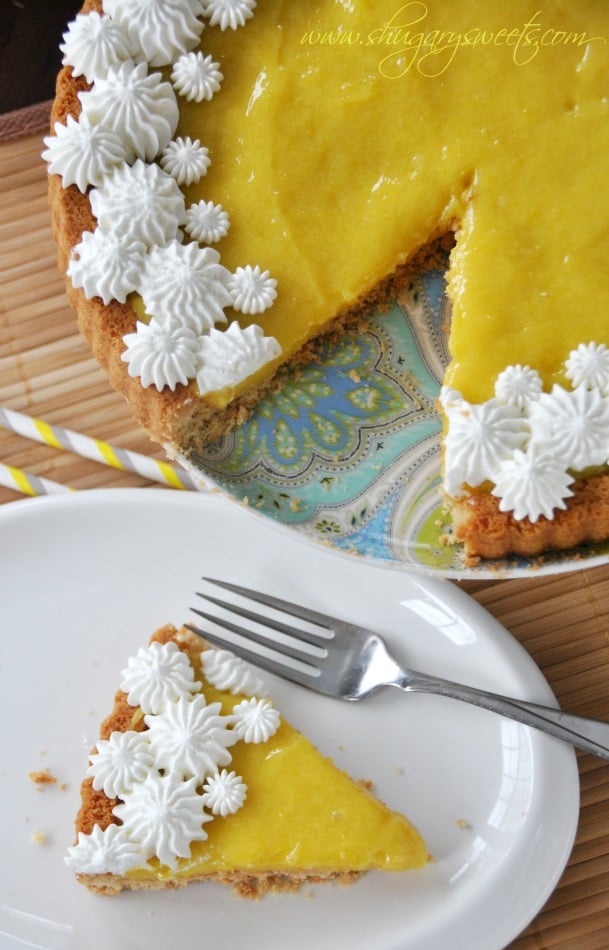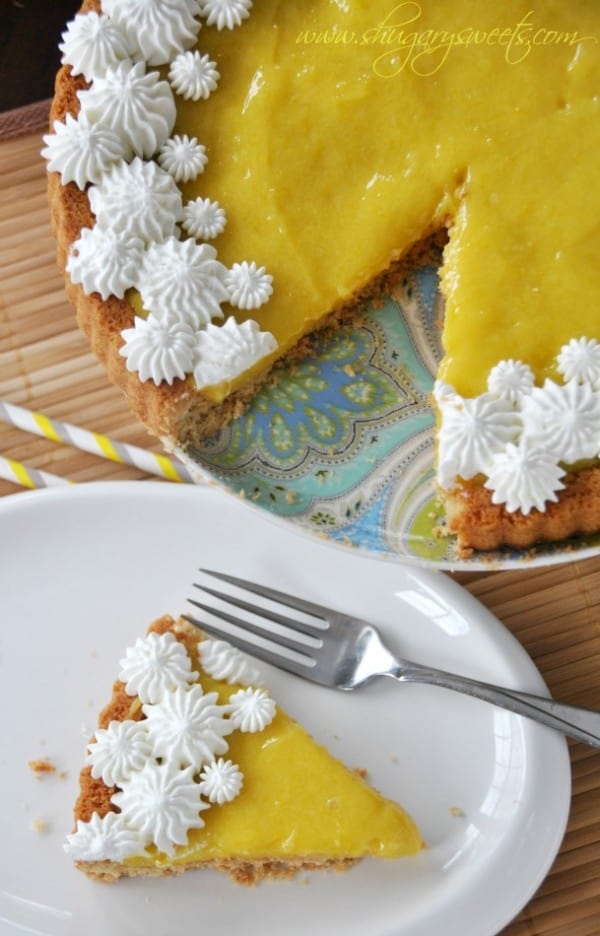 Lemon Tart with Macadamia Nut Crust: from the sweet, crunchy crust to the homemade lemon curd, this is one treat you will want to make!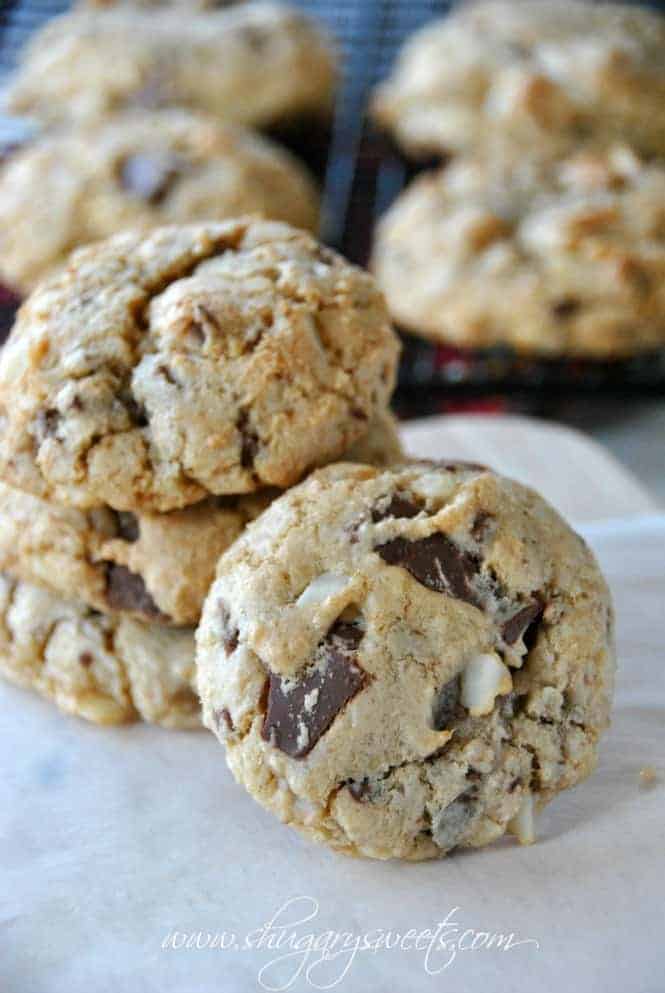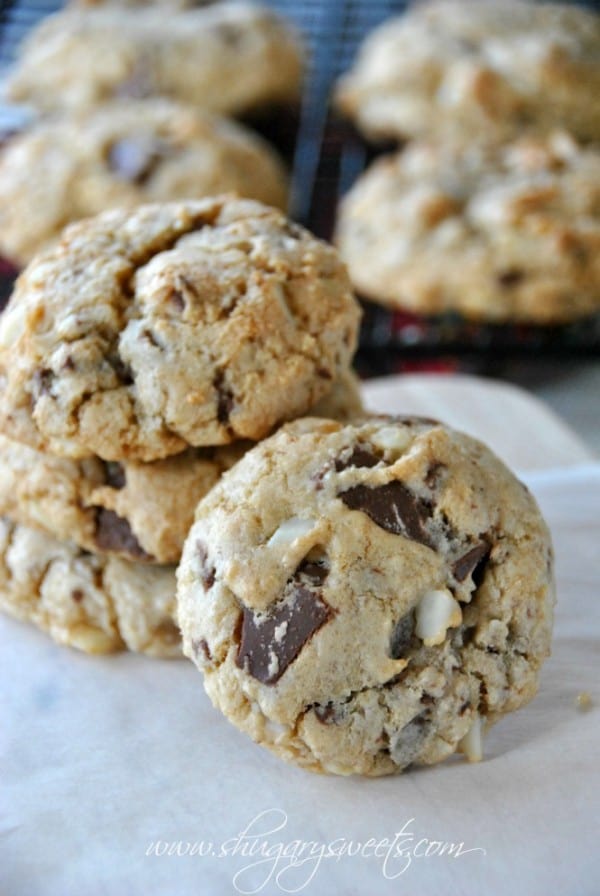 Milk Chocolate Macadamia Nut Cookies: copycat version of Pepperidge Farm Sausalitos!
Love today's Banana Macadamia Nut Cake? Here are some more delicious recipes from my friends: