Caramel Apple Bundt Cake is the perfect apple cake for breakfast, dessert or any time in between! Packed with apples, cinnamon and brown sugar, it's finished with a caramel frosting that's truly the "icing on the cake."
Love today's cake recipe? Our applesauce cake was created using this recipe as a base. SO good and easy, and topped with a delicious cream cheese frosting!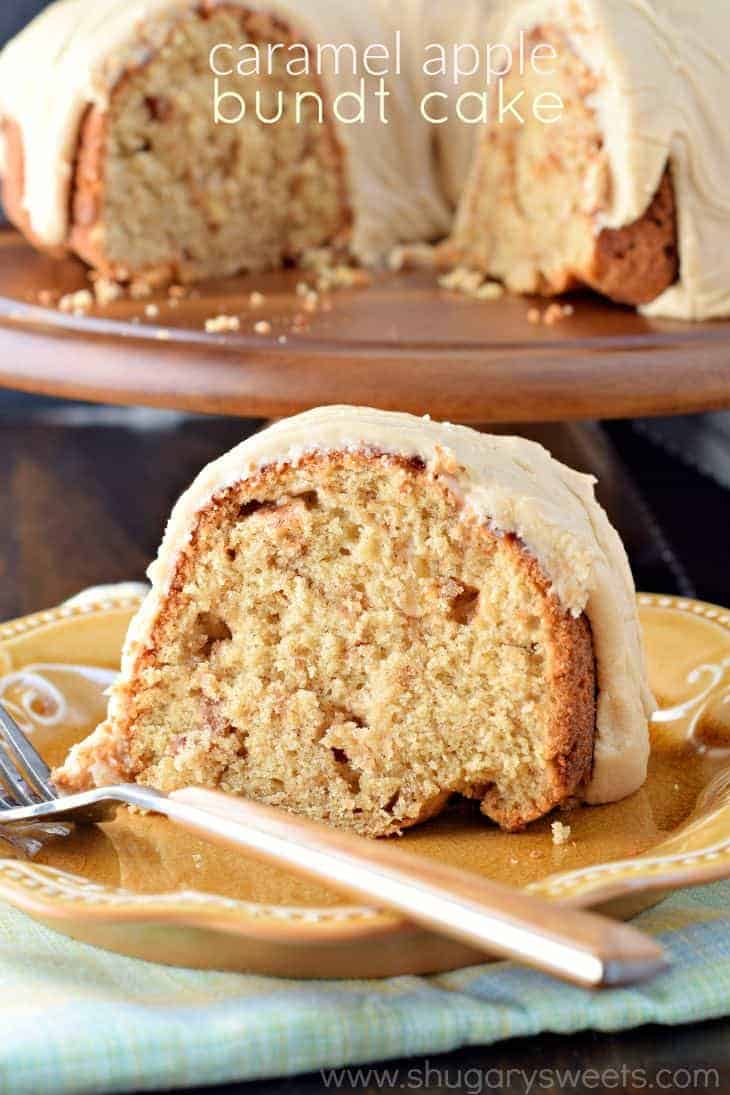 Why this Cake is Best
Are you an apple dessert person or a pumpkin desserts person in the fall? I'd have a hard time choosing!
This recipe packs all the flavor of a caramel apple into one easy breakfast cake.
It has real apple chunks and caramel flavor in every bite.
It's easy to make. Perfect with your morning coffee!
You'll love serving this Caramel Apple Bundt Cake for dessert then enjoying leftovers for breakfast the next day.
The apple cake part is tasty enough to enjoy on its own but the caramel icing makes it over-the-top delicious.
Love today's recipe? Be sure to try our caramel apple cupcakes or our caramel apple cheesecake bars next!
Ingredient Notes
Dry ingredients – For the cake, you'll need flour, salt, and cinnamon along with baking soda AND baking powder.
Sweeteners – The cake batter is sweetened with granulated sugar. You will also need brown sugar and powdered sugar for the apple filling and caramel glaze.
Butter – We used unsalted butter in this cake to give it a rich, tender crumb.
Apples – We like a combination of sweet and tart apple varieties for best flavor.
Cinnamon – The hint of spice enhances and complements the apple flavor in this bundt cake recipe.
Easy Instructions
Make the batter. Combine the dry ingredients in a large bowl. Add butter and beat to form a crumbly dough. Next, beat in eggs, vanilla extract and milk. Mix until the batter is fluffy.
Add apples. Combine diced apples with brown sugar and cinnamon. Fold this into the prepared cake batter.
Bake. Pour the batter into a prepared bundt cake pan. Bake the cake for about 1 hour or until the top is browned. Let the cake cool for 10 minutes in the pan. Then flip it out onto a serving plate.
Make caramel glaze. Heat the butter, brown sugar and 4 tablespoons of the milk together on the stove until boiling. Let it boil for 2 minutes while stirring constantly. Add vanilla extract and let this mixture cool for 15 minutes.
To complete the glaze, add the cooled brown sugar mixture to a bowl with powdered sugar and the remainder of the milk. Whisk to combine. Pour the caramel glaze over the cooled bundt cake.
Tips and Tricks
Let the icing on the Caramel Apple Bundt Cake set for 10 minutes before slicing and serving.
Store this cake covered at room temperature to keep it fresh and moist.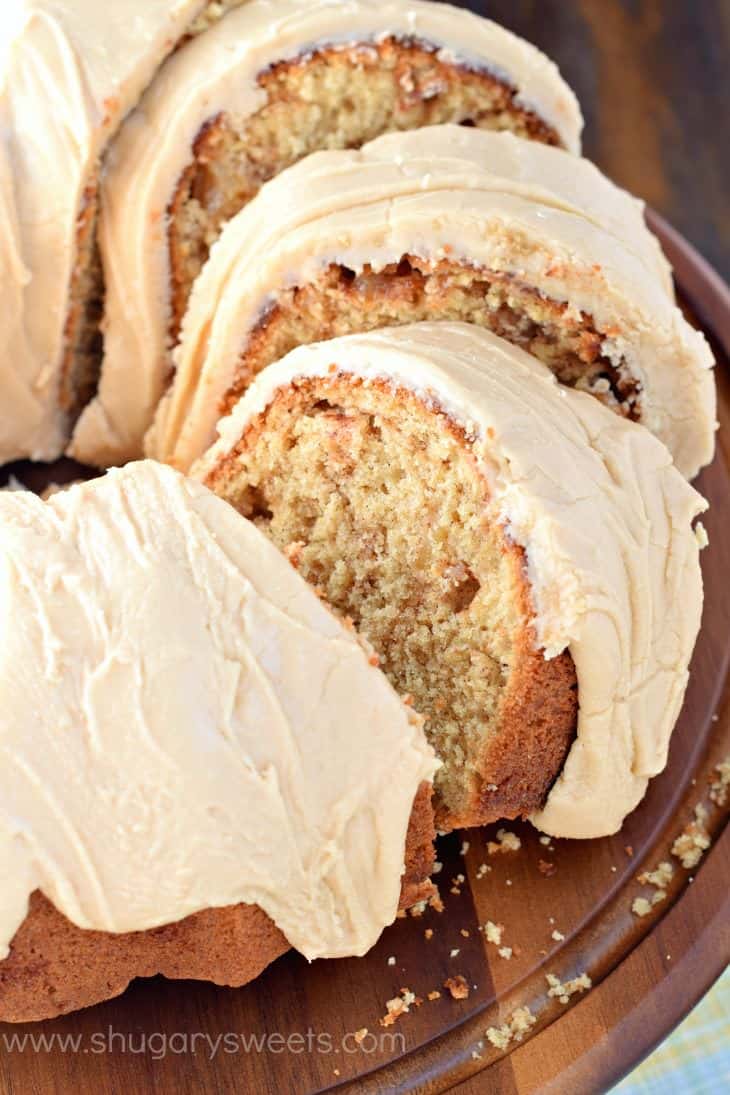 Recipe FAQs
What kind of pan do I need for this bundt cake recipe?
We tested this recipe in 9 inch flute tube pan (also called a bundt pan). It can be made in any tube pan of similar size.
What apples are best for this cake?
You can use any kind of apples. Apples with a little tartness are my favorite. They balance out the sweet flavors in this caramel apple bundt cake.
Can I make this as a layer cake?
I have not tested this recipe as a layer cake. If you try it, you will need to reduce the baking time. Round layers are thinner than bundt cake and will bake more quickly.
My icing is too thick to pour. What can I do?
If the icing is thicker than you'd like, whisk in more milk. Add 1 tablespoon of milk at a time until the icing reaches the consistency you want.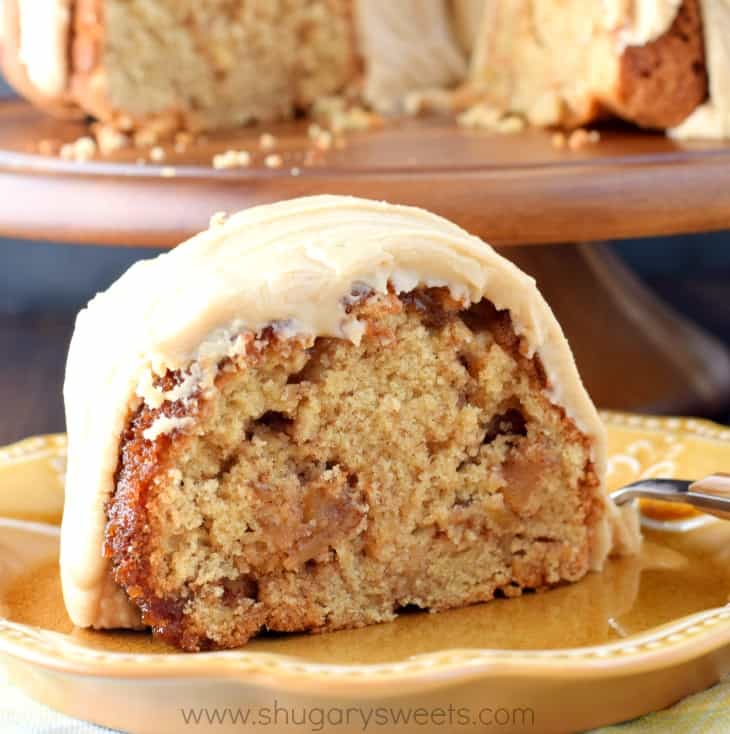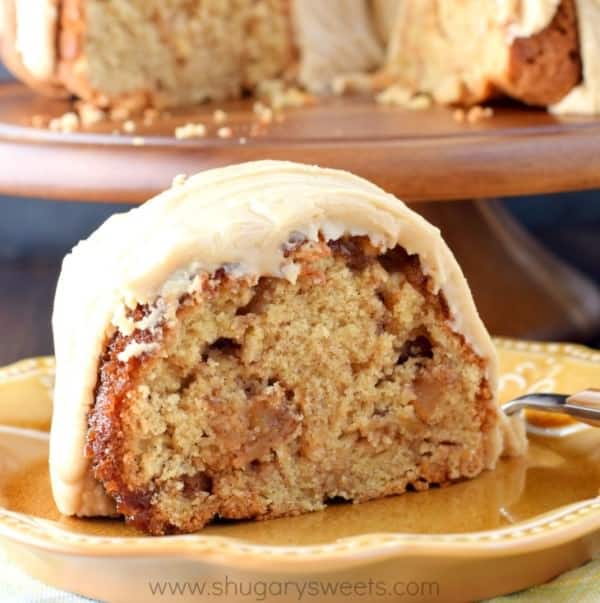 Love caramel apples? Give this easy apple bundt cake with caramel frosting a try!