Caramel Apple Coffee Cake
Looking for the perfect breakfast? I've got you covered with this Caramel Apple Coffee Cake recipe!
Love this recipe? Sign up for Shugary Sweets email subscription and never miss out again! As a special thank you, you will also get a FREE ebook with my 10 Best Recipes!
**I am part of the Ambassador program with Crunch Pak apples. While I have been compensated for this recipe, all opinions are 100% my own**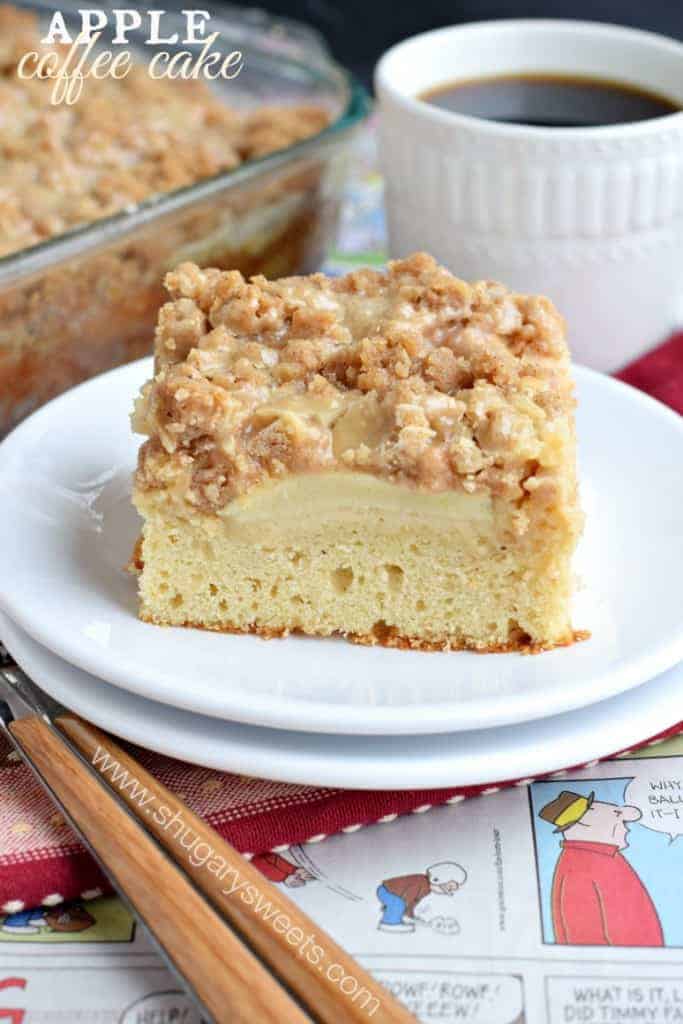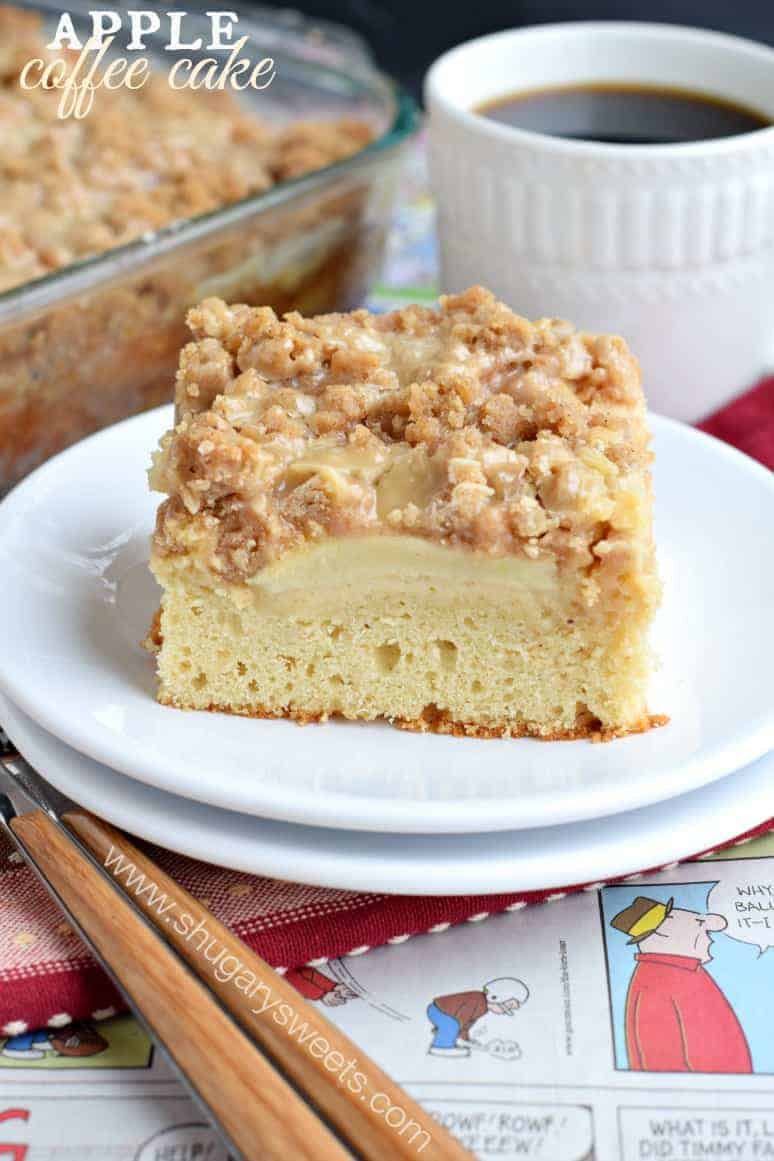 This week we celebrated April Fool's Day. By celebrated, I mean we played pranks ALL. DAY. LONG.
Like seriously guys, it was exhausting. I started off the pranking by making my kids some "BrownEEE's" for breakfast and filling the ice machine with candy. Pure harmless jokes.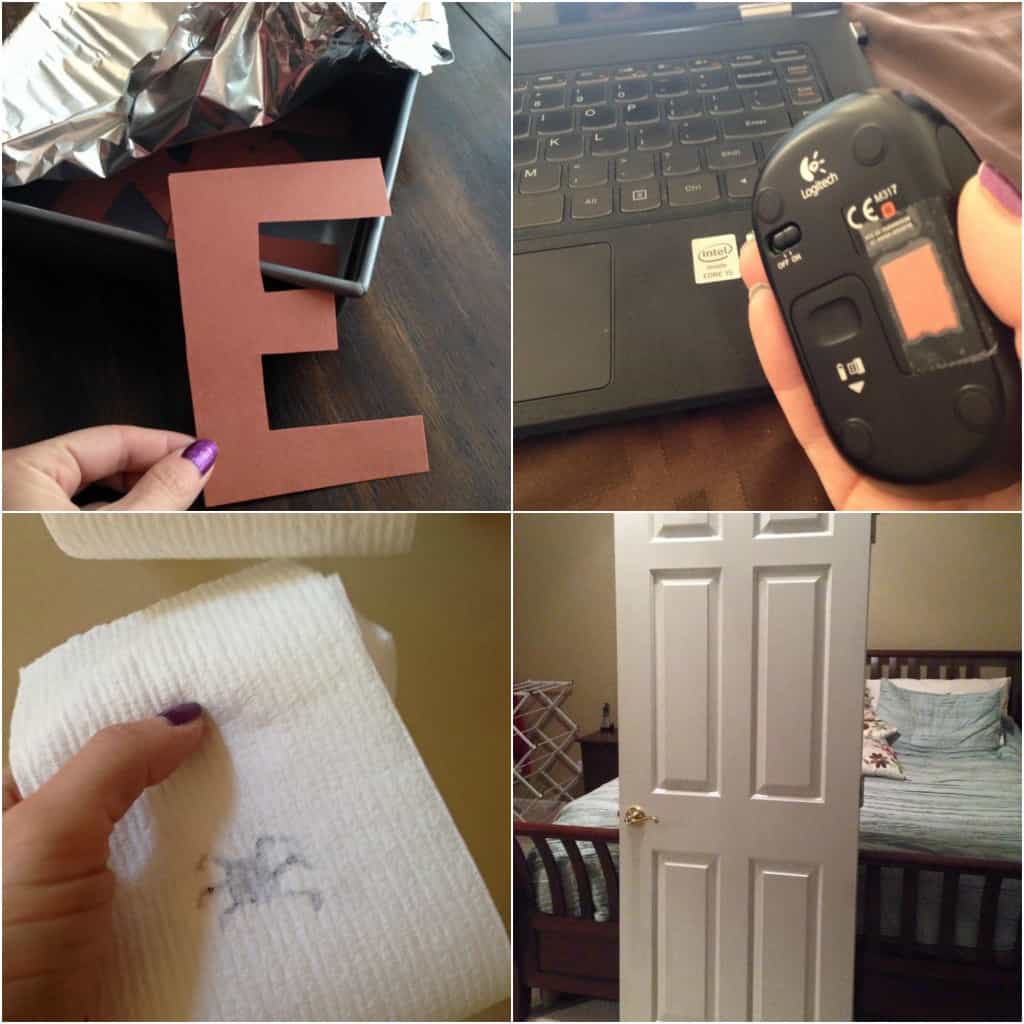 Then my family retaliated by putting fake spiders on the toilet paper, filling the toilet with chocolate syrup (which by the way is quite disgusting looking), taping the bottom of my computer mouse. By the end of the day, I was exhausted. I just wanted to go to my room, close the door, and watch TV. Alone. But, my daughter had taken everyone's doors off and put them on their beds. Seriously.
Did you do anything for April Fool's Day? Next year I'm stepping up the game and getting them all good, LOL!!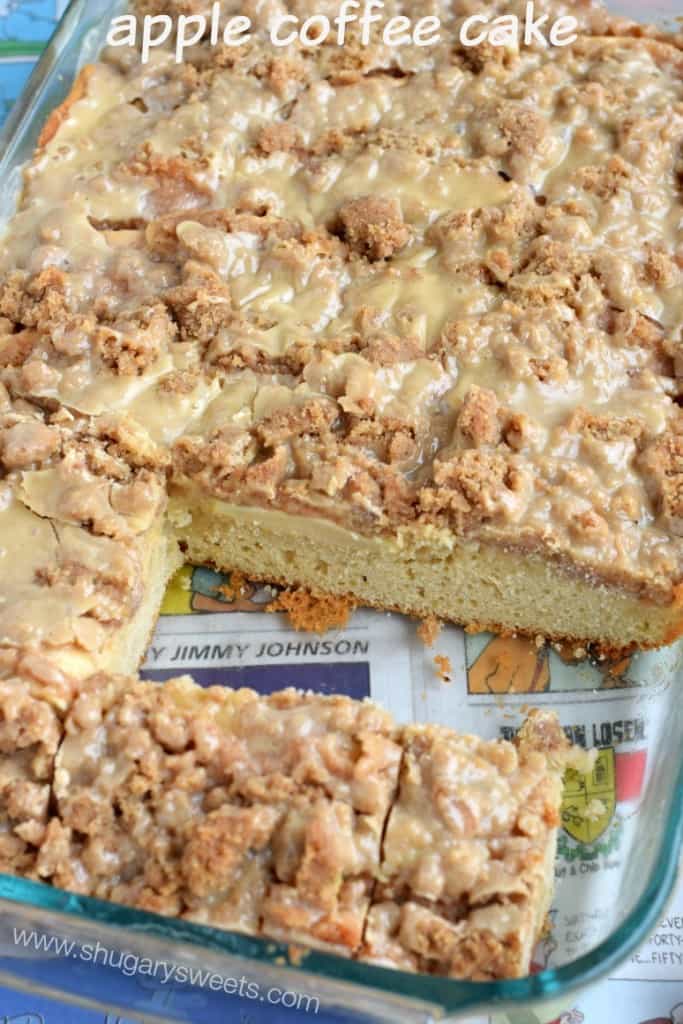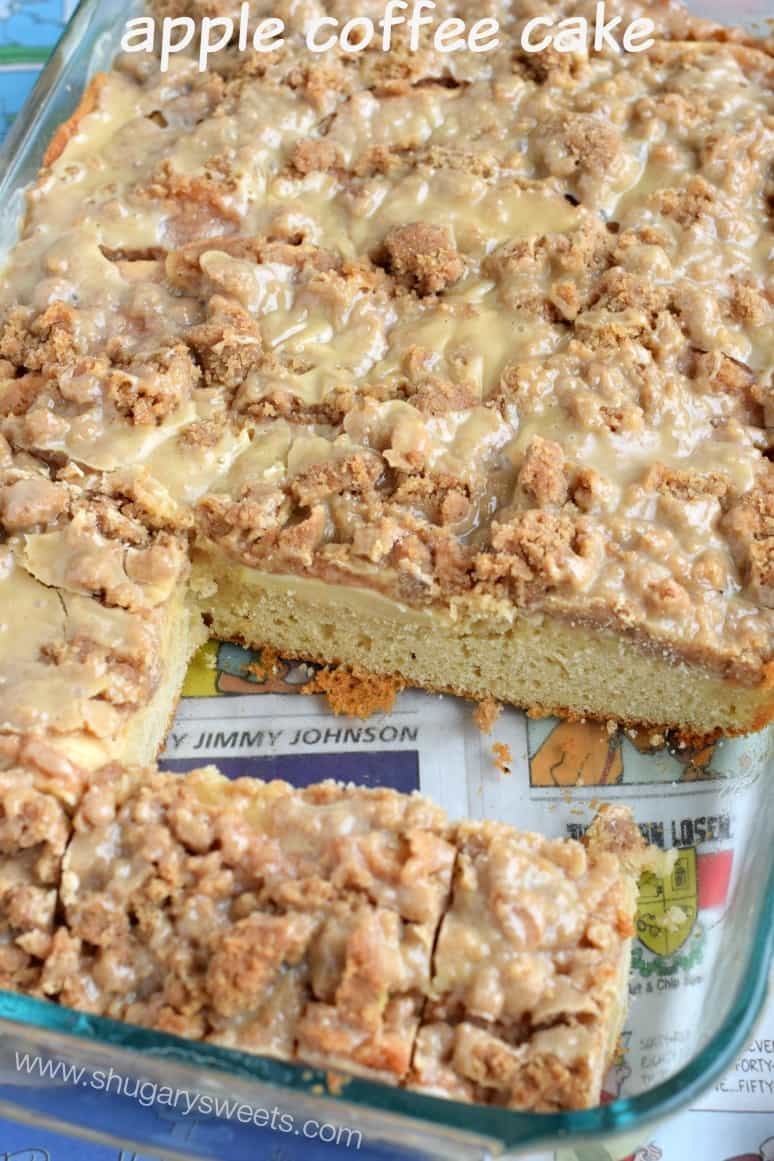 One thing that is NO JOKE, is today's Caramel Apple Coffee Cake. This is serious stuff here. This is what breakfast SHOULD be, complete with a steaming hot cup of coffee.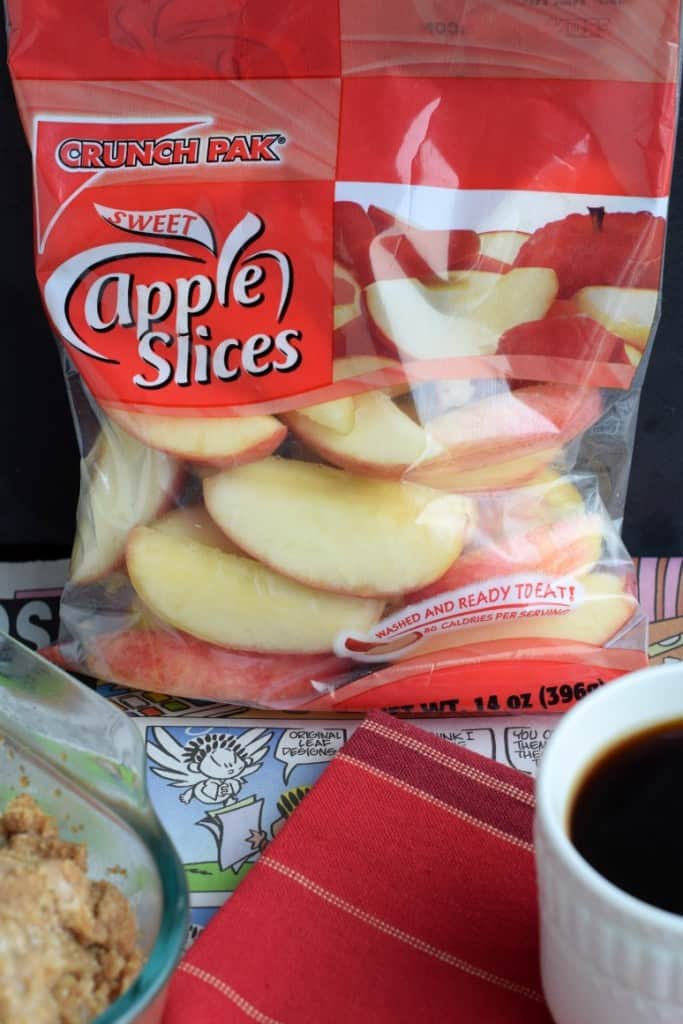 This cake comes together in no time, thanks to Crunch Pak sliced apples. I bought the big bag of sliced apples, used a paring knife and took the skins off. Then just layered those perfectly sliced apples on top of the cake. Of course the addition of a crumble and glaze is a must! This cake is so moist and delicious, I think you will love it. I enjoyed it cold, out of the refrigerator! ENJOY!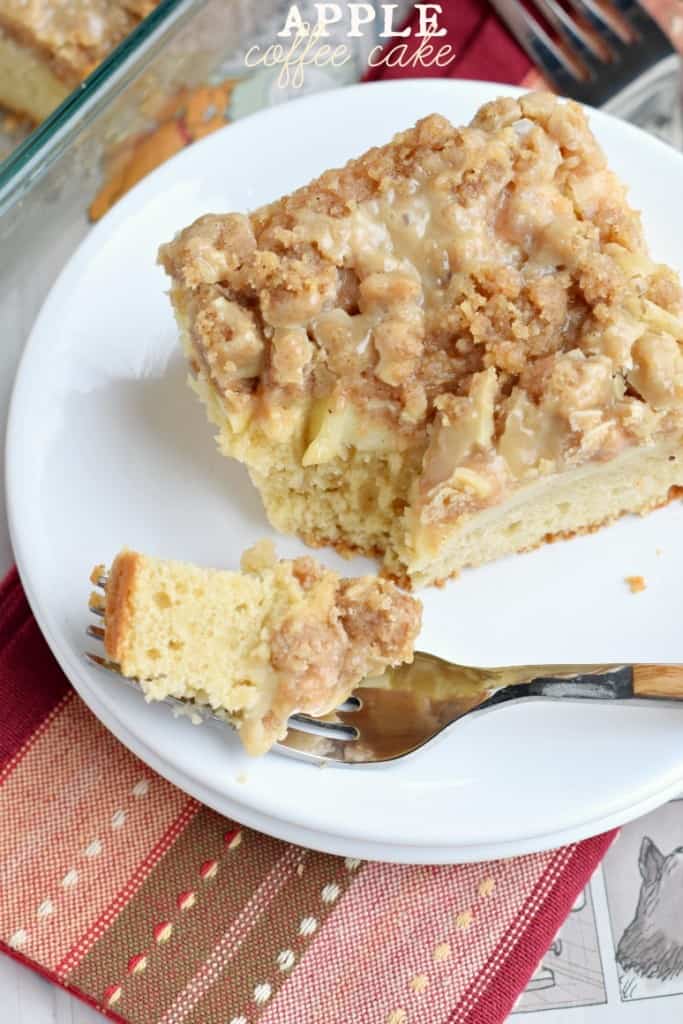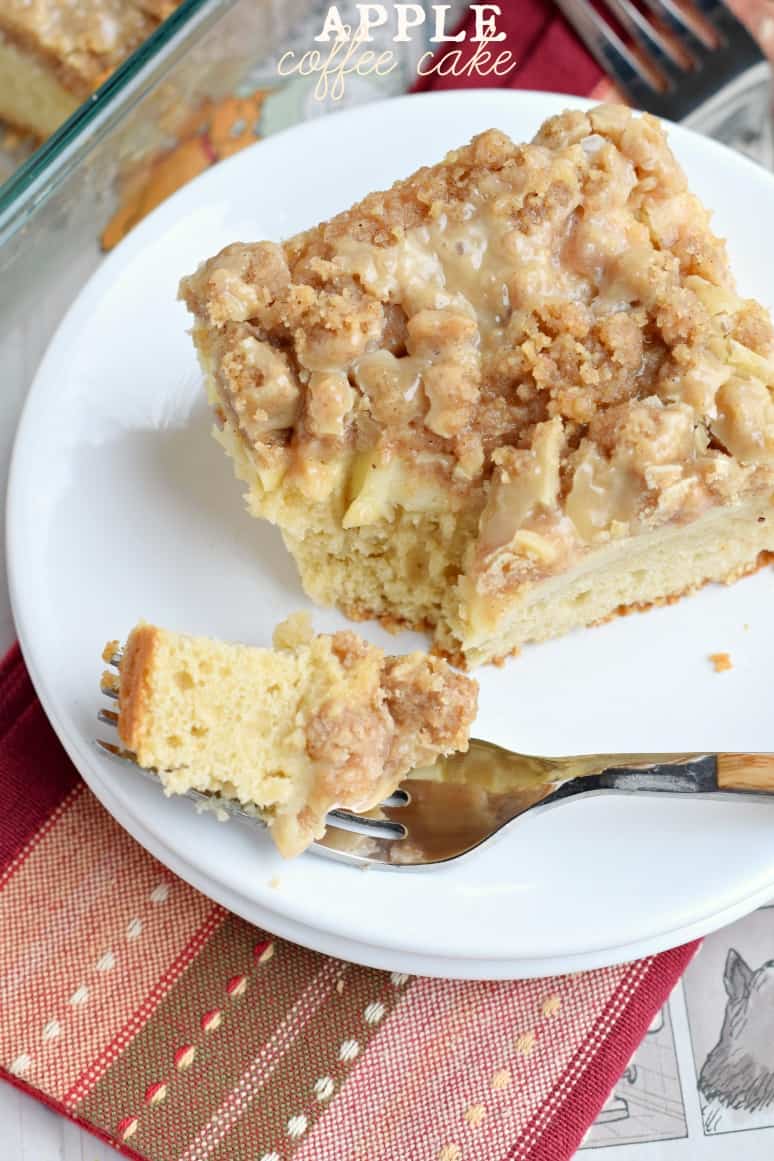 Be sure to stop on over to Crunch Pak for some delicious recipes and ideas!
Sign Up to receive a FREE email in your inbox for each new recipe on Shugary Sweets:
Yield: 16 servings
Caramel Apple Coffee Cake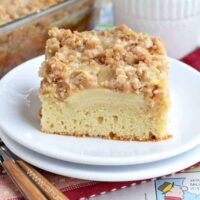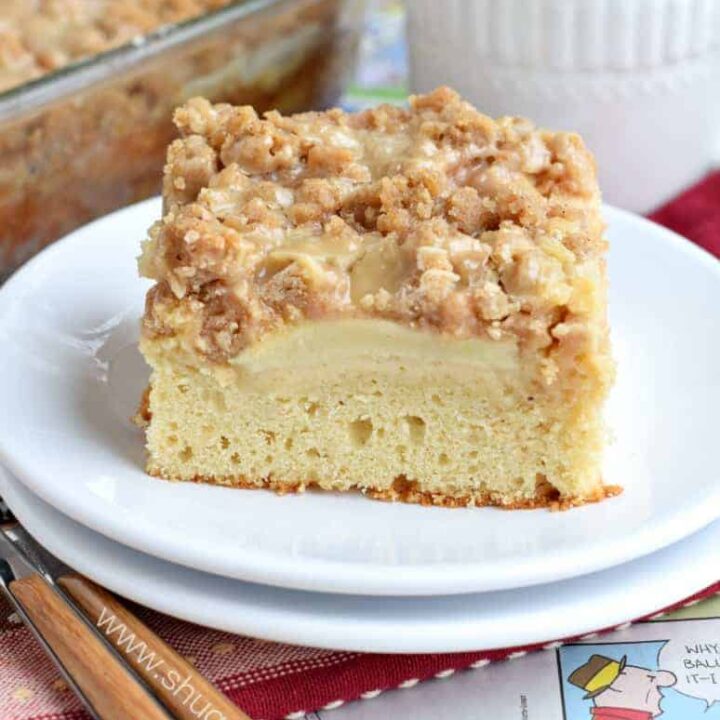 Prep Time 15 minutes

Cook Time 45 minutes

Total Time 1 hour

Tender, moist Apple cake topped with a dreamy cinnamon streusel and glaze!
Ingredients
For the cake:
2 1/2 cup all-purpose flour
1 cup granulated sugar
1/2 tsp baking powder
1/2 tsp baking soda
1/4 tsp kosher salt
3/4 cup unsalted butter, softened
3 large eggs
2 tsp vanilla extract
2/3 cup milk
3 cup sliced, peeled Crunch Pak apples
For the streusel:
3/4 cup light brown sugar, packed
2 tsp cinnamon
1/4 tsp kosher salt
1/2 cup unsalted butter, melted
1 1/2 cup all-purpose flour
1/4 tsp nutmeg
For the glaze:
2 cup powdered sugar
1/4 cup caramel ice cream topping
2 Tbsp milk
Instructions
For the cake:
Grease and flour (or use baking spray) a 13x9 baking dish and set aside. In a mixing bowl, beat flour, sugar, baking powder, baking soda and salt on low until blended. Beat in softened butter until crumbly. Add in eggs, vanilla and milk and beat for several minutes until fluffy and fully combined. Pour batter into prepared baking dish. Top batter with sliced apples.
For the streusel:
Combine sugar with cinnamon and salt. Mix in melted butter, flour and nutmeg with a large fork until crumbly. Sprinkle evenly over apple layer. Bake cake in a preheated 325 degree F oven for 45-50 minutes.
For the glaze:
Whisk the sugar, caramel and milk together until smooth. When cake is removed from oven, pour glaze over warm cake. Allow cake to cool before serving. Store cake covered in refrigerator for up to 5 days. ENJOY.
Nutrition Information:
Yield:
16
Serving Size:
1 slice
Amount Per Serving: Calories: 420 Total Fat: 16g Saturated Fat: 9g Trans Fat: 0g Unsaturated Fat: 5g Cholesterol: 74mg Sodium: 170mg Carbohydrates: 65g Fiber: 2g Sugar: 40g Protein: 5g
Love Crunch Pak apples? Here are a few other recipes using sliced apples: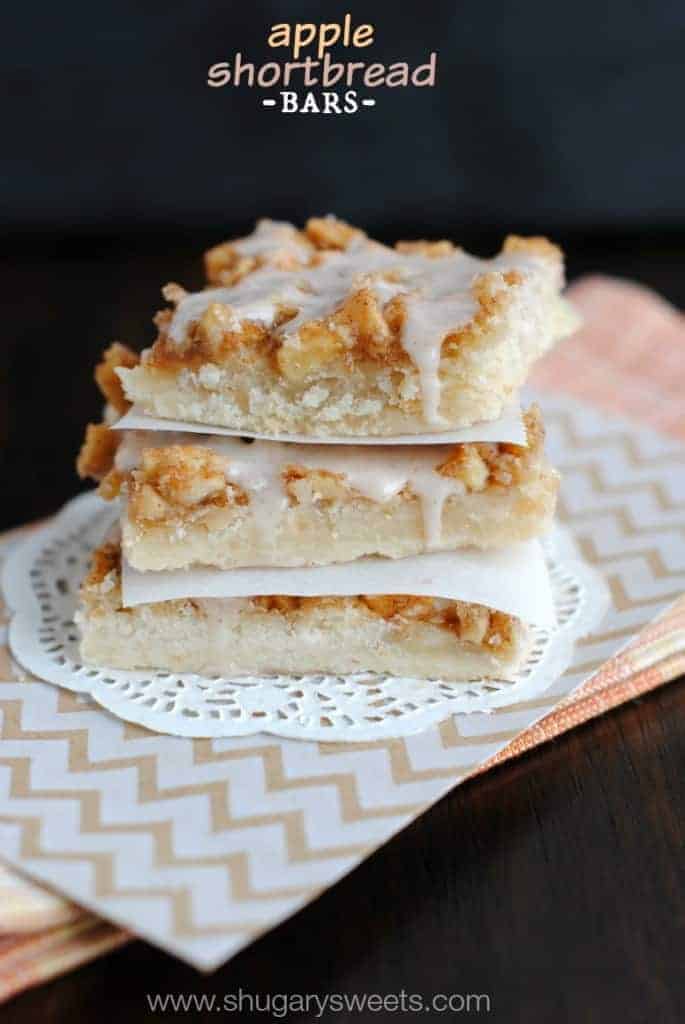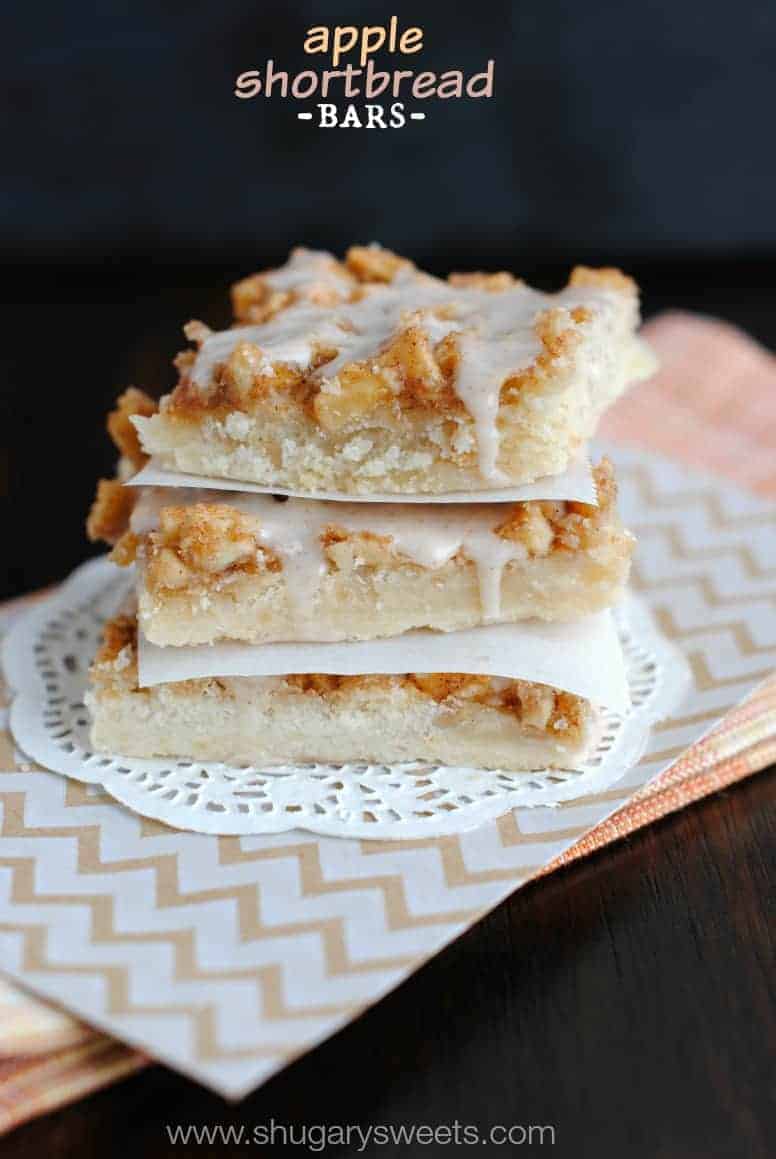 Apple Shortbread bars: delicious shortbread cookie bar topped with a wonderful cinnamon apple topping and cinnamon glaze!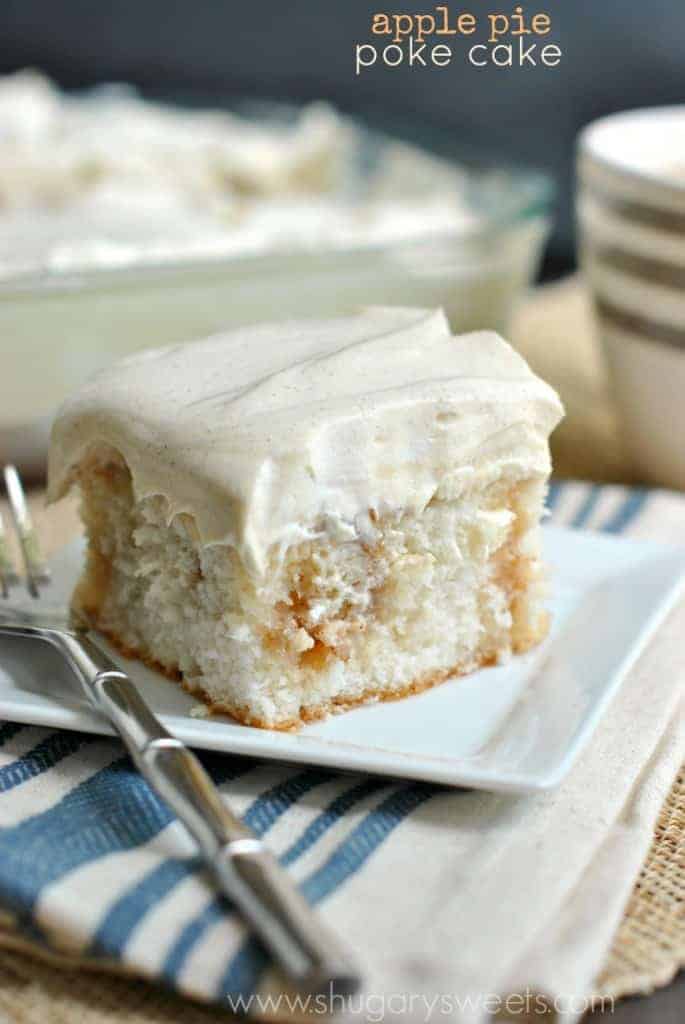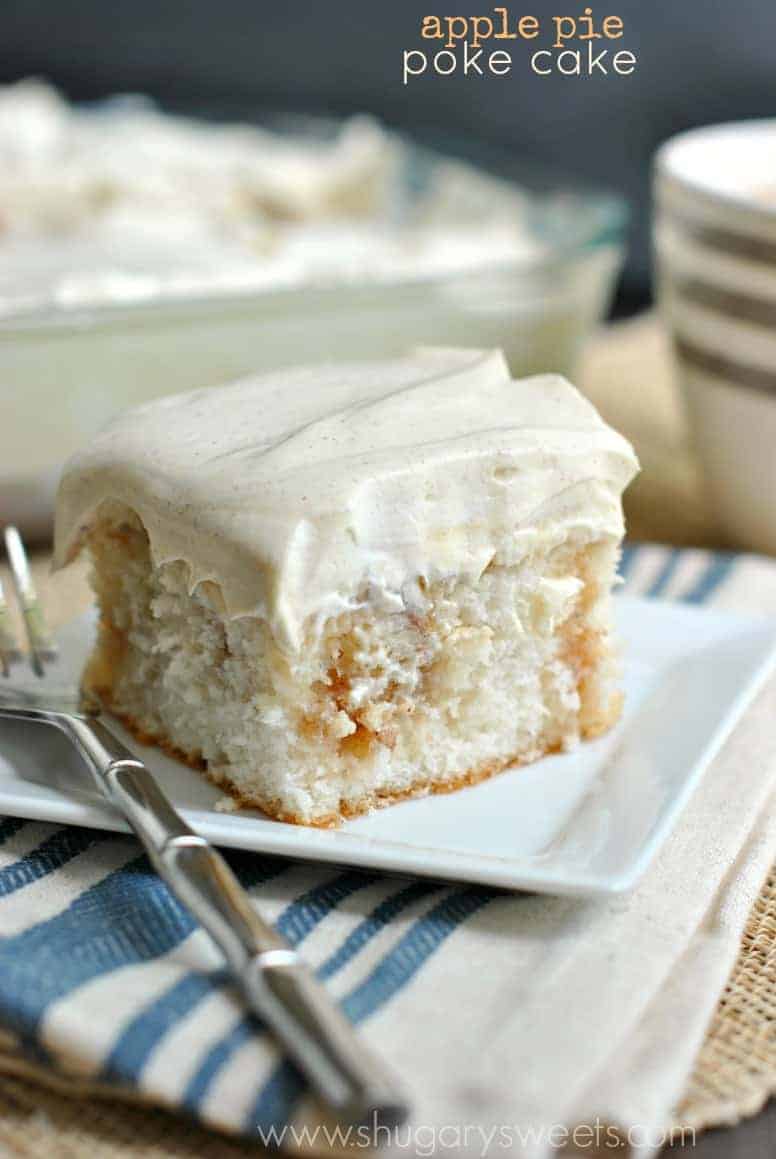 Apple Pie Poke Cake: one of my favorite sweet apple recipes on the blog!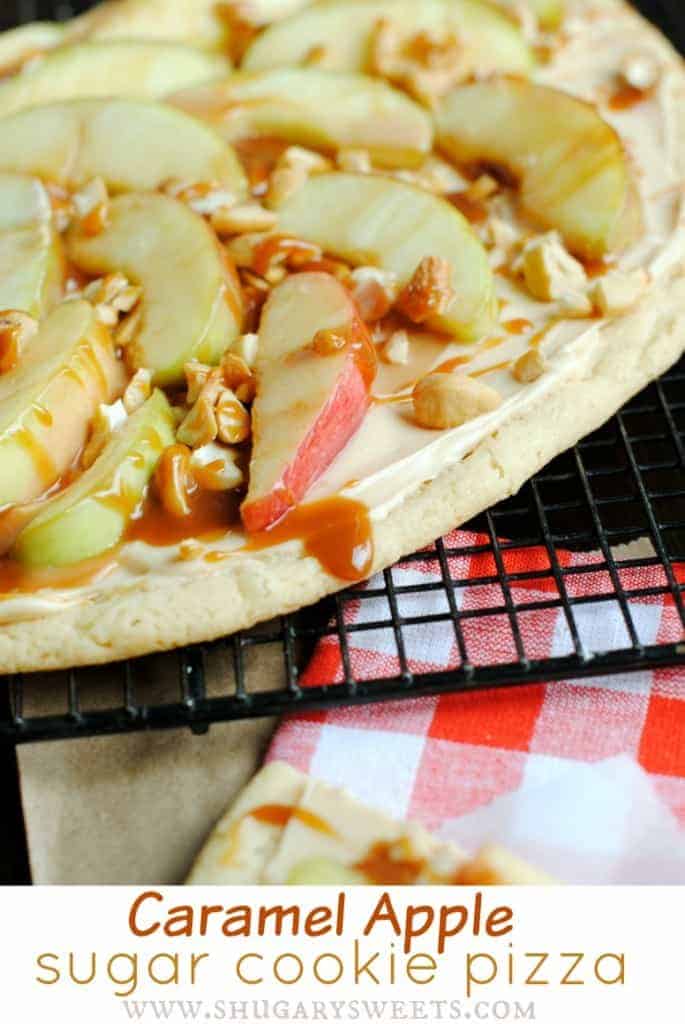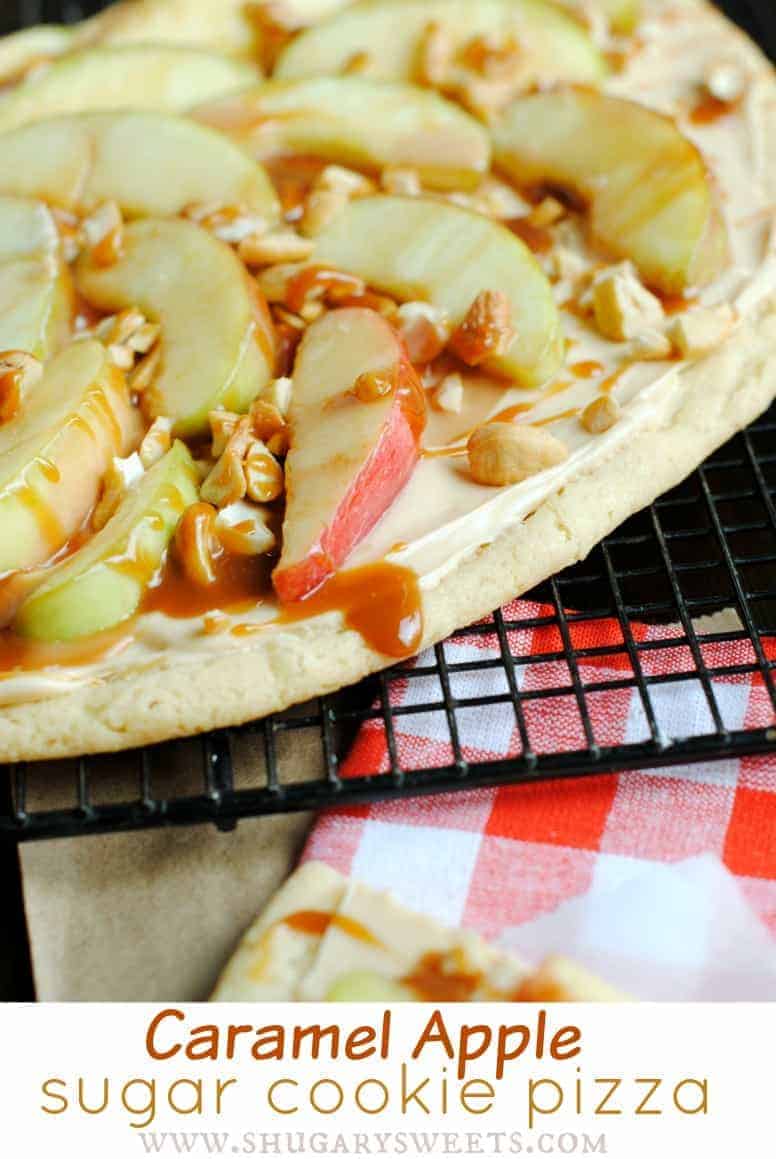 Caramel Apple Sugar Cookie Pizza: this is such an easy weekday dessert idea that feeds a crowd!
If you love this Apple Breakfast Cake….you may also enjoy these Apple recipes from my friends:


 **Today's recipe is sponsored by Crunch Pak apples. While I have been compensated to be a part of their Blogger Ambassador program, all opinions are 100% my own**