Don't let these simple Apple Shortbread Bars fool you! While they are "just a bar" they are quite possibly the most amazing apple dessert you'll ever taste.
Craving shortbread? Try our peanut butter shortbread cookies next. Or give our chocolate chip walnut bars a try for something different.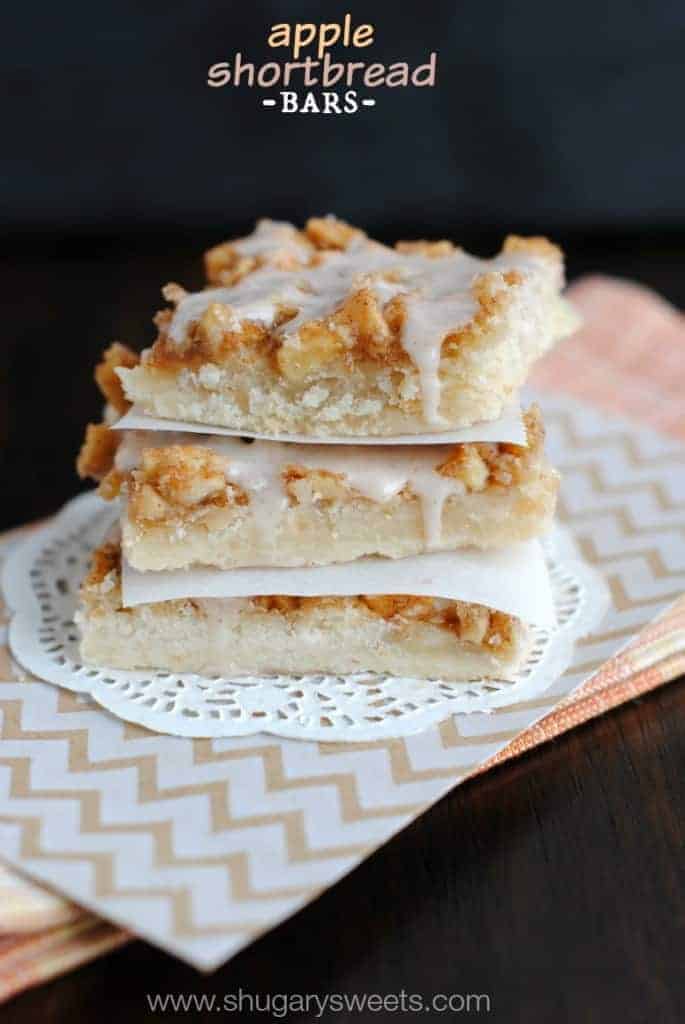 Apple Desserts
These bars start with an easy shortbread cookie crust that you top with a delicious cinnamon apple mixture.
Baked to perfection, add the cinnamon glaze and enjoy a delicious combination of shortbread and apple pie in bar form.
Based on the sheer number of apple recipes and pumpkin recipes on this site, you've probably gathered that fall is my favorite baking season. I can't help but want to bake (and eat) when the days get cooler and the leaves start turning.
Bake sales, Halloween parties, Mondays . .all great reasons to bake some delicious apple bars. And we all know Thanksgiving isn't complete without at least one Dutch Apple Pie.
While I love the classic apple recipes, sometimes you need something just a little bit different.
These Apple Shortbread Bars are the perfect balance of tradition and novelty. With the familiar apple cinnamon flavor at the center, the crispy shortbread makes them different from your typical apple pie bars.
They also happen to be super easy to make!
Apple Recipes: Apple Cinnamon Bread | Apple Hand Pies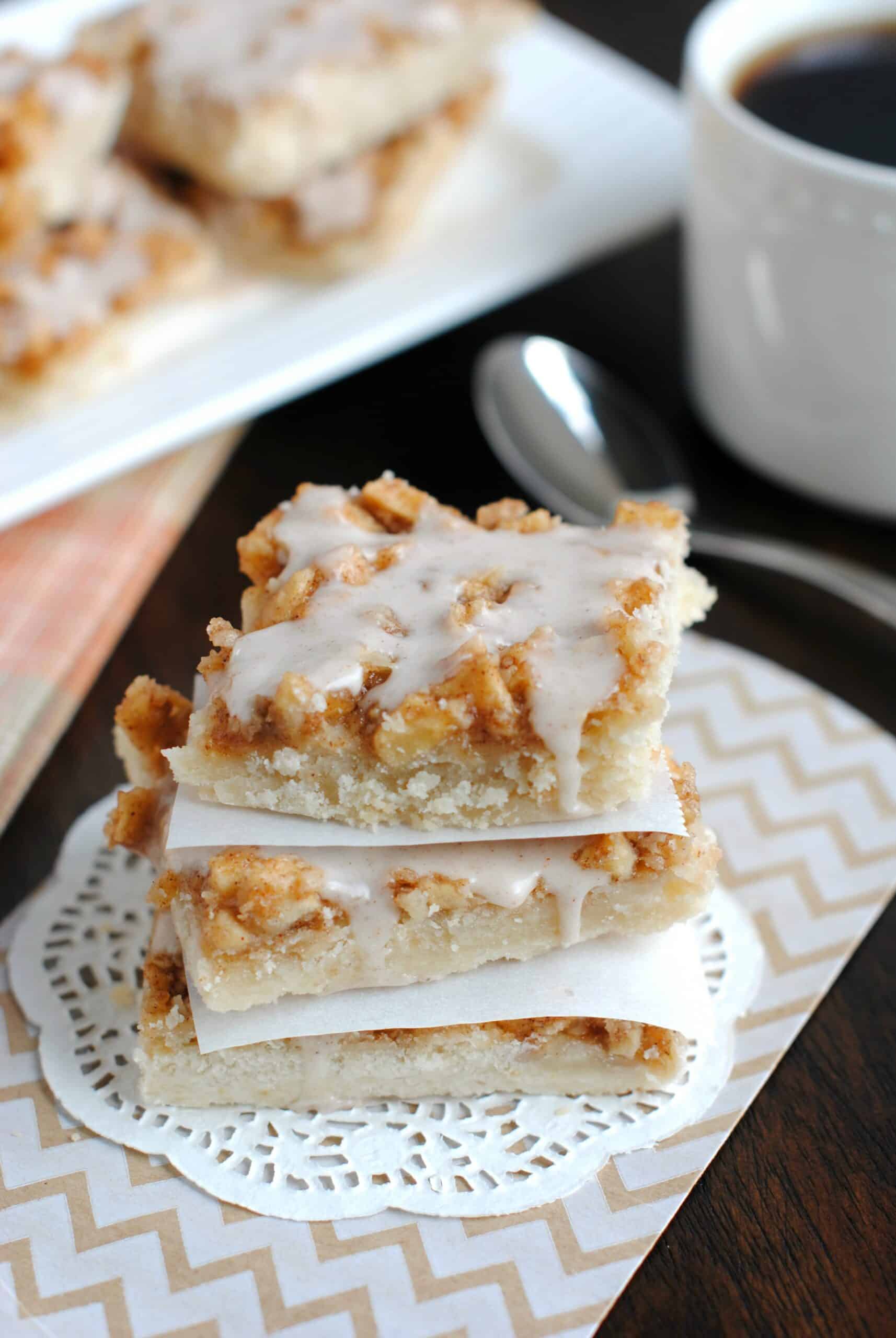 How to Make Shortbread Crust
The key to making shortbread is butter. Lots of butter. More butter than you would expect for a crust this size.
This is dessert we're talking about, after all. Butter is what makes the firm and crispy shortbread crumble in your mouth when you take a bite. It gives it flavor, texture and substance.
Mix the butter with powdered sugar, flour, salt and vanilla, then press it into a baking dish.
Apple Crumble Bars
With your shortbread crust ready to go, it's time to mix together the apple filling. These remind me of my favorite raspberry crumble bars!
STEP 1. Make the crumb
Use your hands to combine brown sugar with butter (yes, more butter), flour, oats and cinnamon. Add the diced apples to the crumb mixture and toss to get them coated.
STEP 2. Bake
Sprinkle the apple mixture over the shortbread crust, coating the shortbread as evenly as you can. Bake for about 25 minutes. Let cool on the counter, then transfer to the fridge to chill for at least 2 hours.
STEP 3. Glaze
For the cinnamon glaze, whisk together powdered sugar, milk and cinnamon in a bowl. When the bars are chilled, cut them into squares or triangles and drizzle the glaze over each one.
Enjoy right away or place them back in the fridge for a few minutes to let the glaze harden a bit.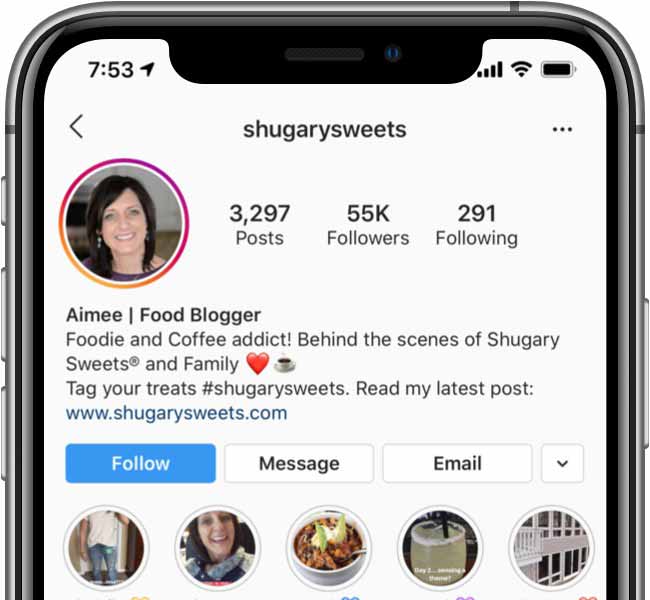 Serving
I found these taste best COLD. Which is odd for me, since I LOVE warm apple crumble! But, having made these a couple times, I can tell you for sure: try them cold. You won't be sorry!
Of course, I like mine with a warm cup of dalgona coffee on the side.
Storing
These bars should be kept in the fridge loosely covered. I store mine in the pan covered with foil. They'll keep well for about 5 days.
Make Ahead Shortbread
If you want to make it even quicker and easier to make these apple shortbread bars and all kinds of other shortbread cookie recipes, you could make a few batches of shortbread dough in advance and then freeze it.
When freezing shortbread dough, wrap it tightly in plastic wrap, then place inside a freezer safe bag. Let the dough thaw in the fridge or at room temperature before pressing into a pan and proceeding with the apple pie bars.
Tips & Tricks
I prefer using from granny smith or pink lady apples. Peel the apples completely and dice.
I recommend dicing your apples into VERY small pieces. The smaller pieces pick up more of that delicious brown sugar crumble and will stay on the shortbread better than larger chunks.
The shortbread crust will still look a little soft or under baked when you take it out of the oven. It will harden as the crust cools!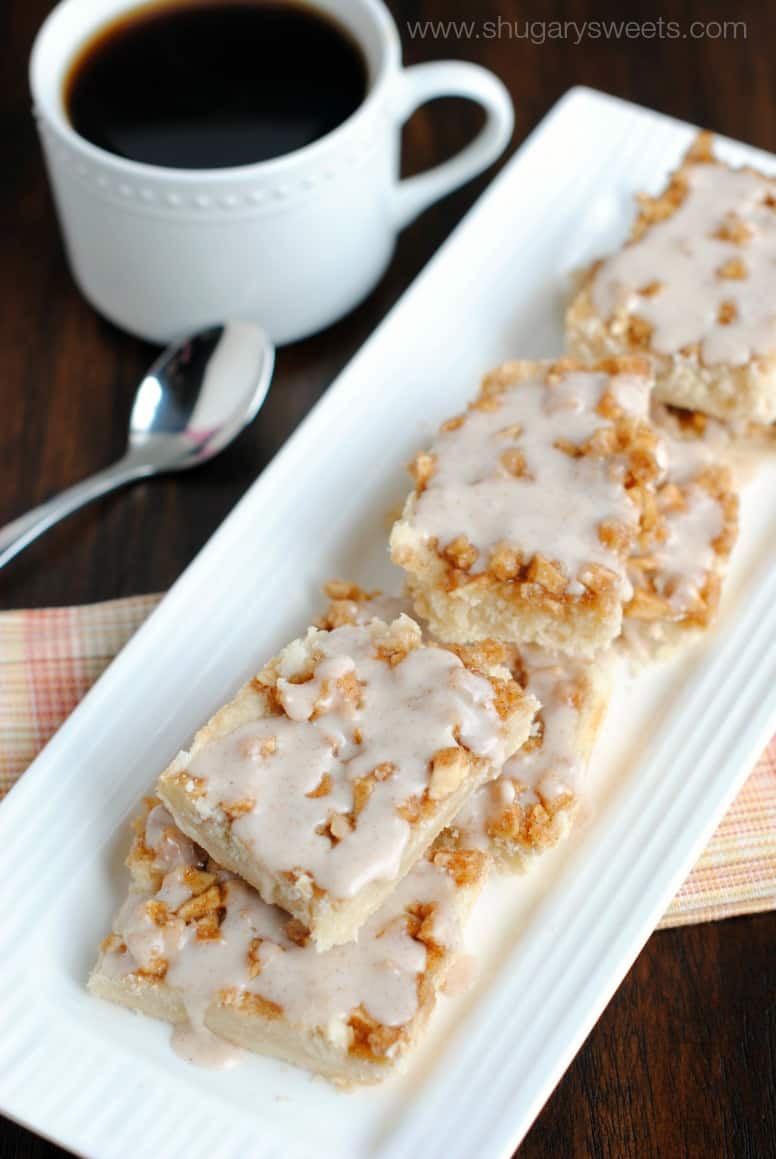 Irresistible apple crumble meets buttery shortbread in these Apple Pie Bars. A layer of sweet cinnamon glaze on top makes these one of my favorite fall treats of all time. You're going to love these bars!