Chocolate Chip Walnut Bars are shortbread cookie sticks full of nutty chocolate goodness. They're so delicious you might want to go ahead and make two batches; they're impossible to resist!
Love nuts in your baked goods? Our Chocolate Walnut Brownie recipe is thick and fudgy and DELICIOUS. Or give our nutty snack mix a try next for an on the go treat.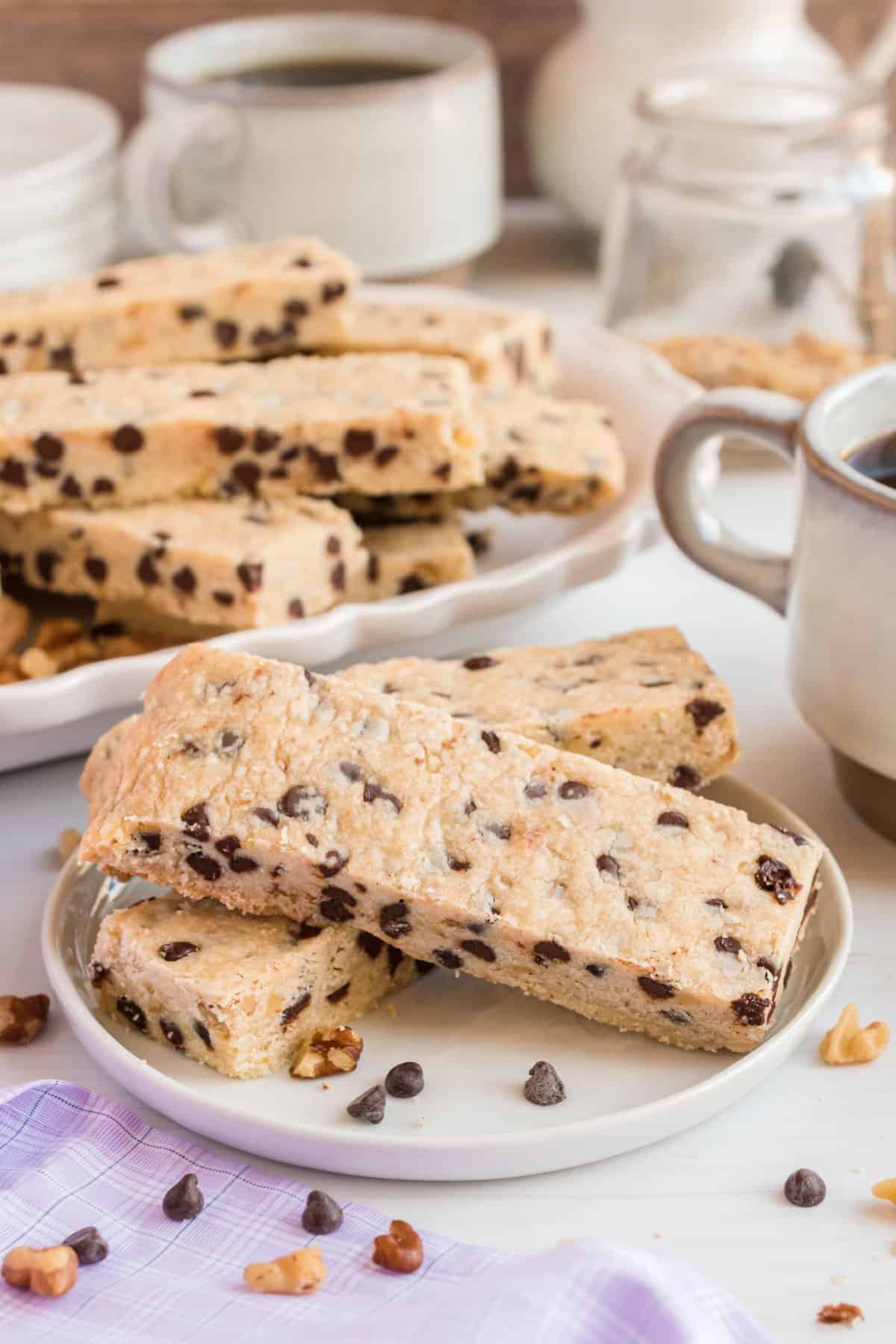 The Best Shortbread
I'm obsessed with shortbread cookies. I love the way they melt in your mouth, all buttery and flavorful.
I've made many shortbread cookies here on the blog, but it's the ones that are in cookie "sticks" that are my favorite. (like these butterscotch shortbread cookies)
And, since I love nuts in my baked goods, I added in some walnuts.
Best decision ever.
Today's shortbread bars are:
Easy to make (no need to slice or roll or scoop)
No chilling the dough necessary
Melt in your mouth shortbread texture
Stock up on chocolate chips so you can whip up a batch of our fudgy chocolate chip brownies next.
Ingredient Notes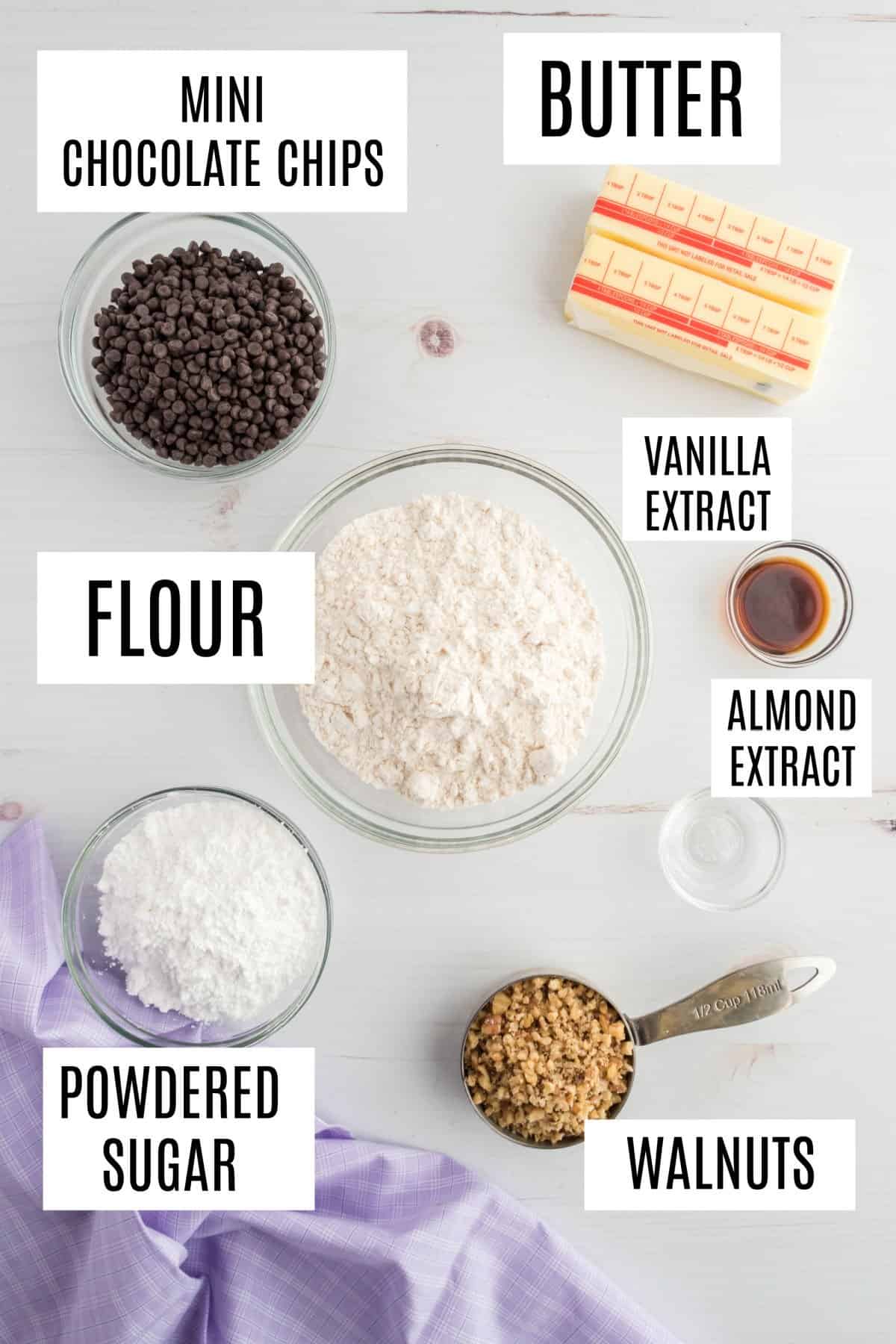 Butter – I prefer the taste of unsalted butter in my shortbread!
Mini chocolate chips – Chocolate chunks chopped into tiny pieces would work as a substitute if you can't find the mini morsels. You could use regular size chocolate chips too, but we love the minis in cookies.
Walnuts – Chop the nuts into pieces that are the same size as the chocolate chips. Toast the nuts for best flavor and texture!
Vanilla and Almond extract- Make your own Vanilla Extract for even richer vanilla flavor!
Along with powdered sugar and flour that's all you need to make the best shortbread. The recipe doesn't require any eggs, so it's a great option as an egg-free treat for those with allergies. (Or when you want cookies but you're out of eggs!)
Easy Instructions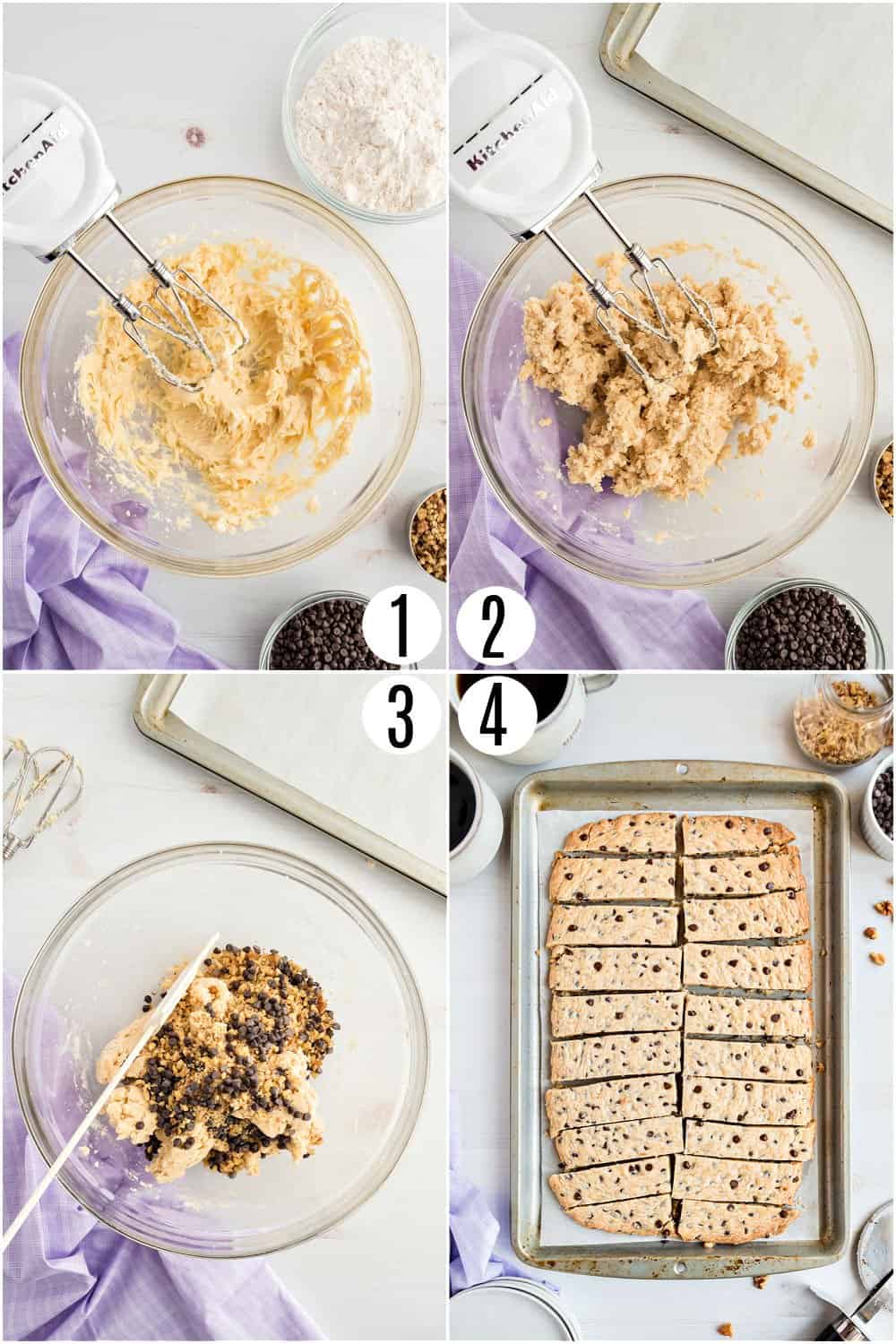 It's so easy to make shortbread bars like these!
Start by beating powdered sugar with vanilla, then adding remaining ingredients. The dough will be dense and thick.
Drop it onto a baking sheet and use the heel of your hand to press the dough into a large rectangle shape.
As soon as the cookies come out of the oven, use a pizza cutter and slice them immediately.
Allow the shortbread bars to cool and enjoy!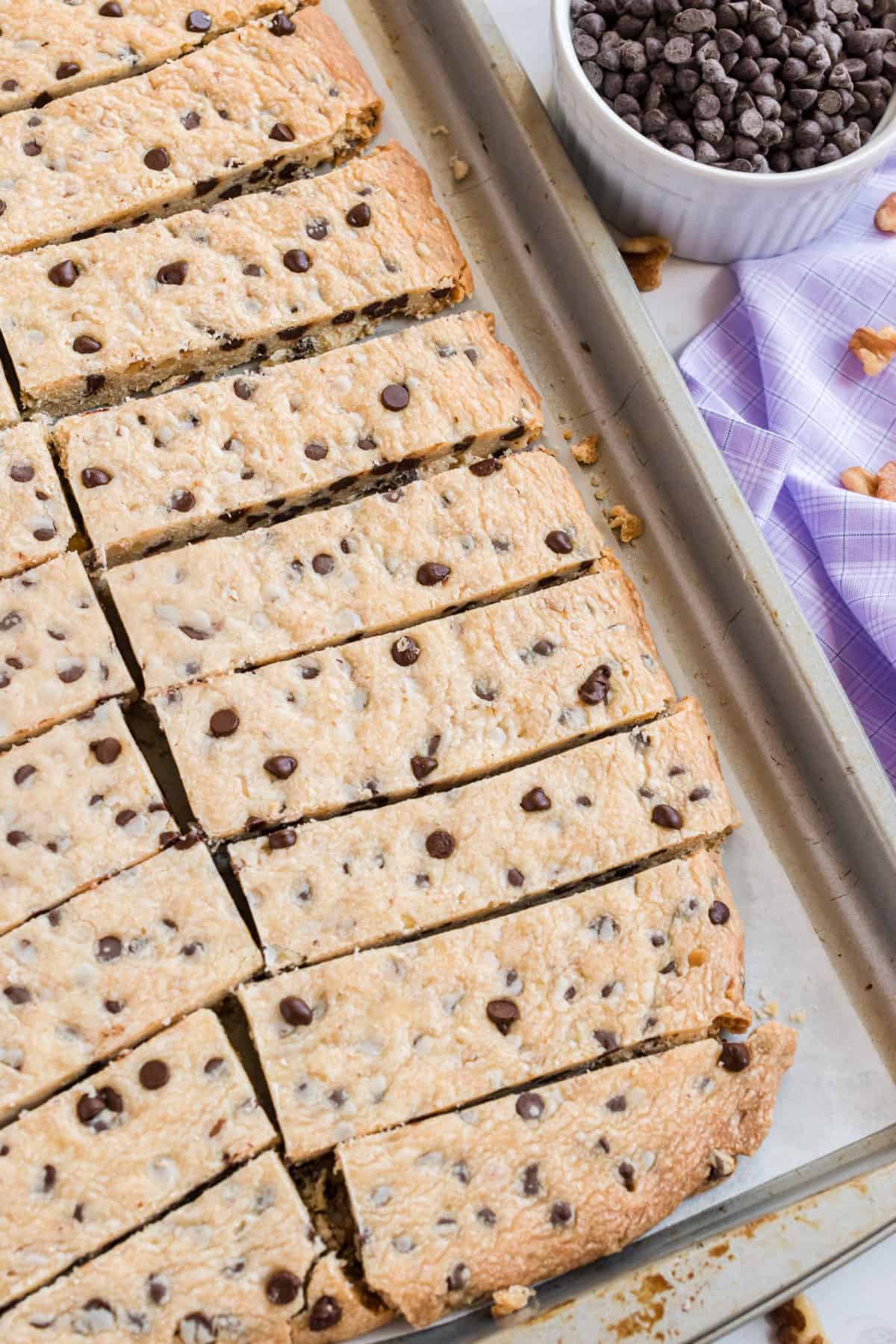 Tips & Tricks
Traditional shortbread cookie option: If you prefer to make these into a classic cookie shape, roll the dough into a log and wrap it with saran wrap. Let it chill for 30 minutes, then slice into thin disks (about 1/4 inch thick). Bake the cookies for about 13 minutes or until the edges are just lightly brown.
Use soft butter. Cold butter is hard to work with and will change the texture of the cookie bars. Leave the butter on the counter for 20 – 30 minutes before making the dough and your cookies will turn out with the perfect melt-in-your-mouth crumb!
These bars come out lightly crispy. If you want crunchier shortbread bars, you can leave them in the oven for an additional couple of minutes. Just keep a close eye on them; there's nothing sadder than burned shortbread!
Freeze Cookies. Use my tips on how to freeze cookie dough for later.
Recipe FAQs
Can I substitute a different kind of nut for the walnuts?
Absolutely! This shortbread recipe will work with just about any nuts you like mixed in. Pecan would be a delicious choice.
How do you store these shortbread bars?
Once fully cooled, transfer the bars to an airtight container and store at room temperature for up to 5 days.
Can you freeze shortbread cookie bars?
Yes–both the cookies and the dough freeze beautifully. You can make the dough ahead of time, press into a rectangle and freeze. No need to thaw, just transfer the dough to the pan and add a few more minutes of baking time.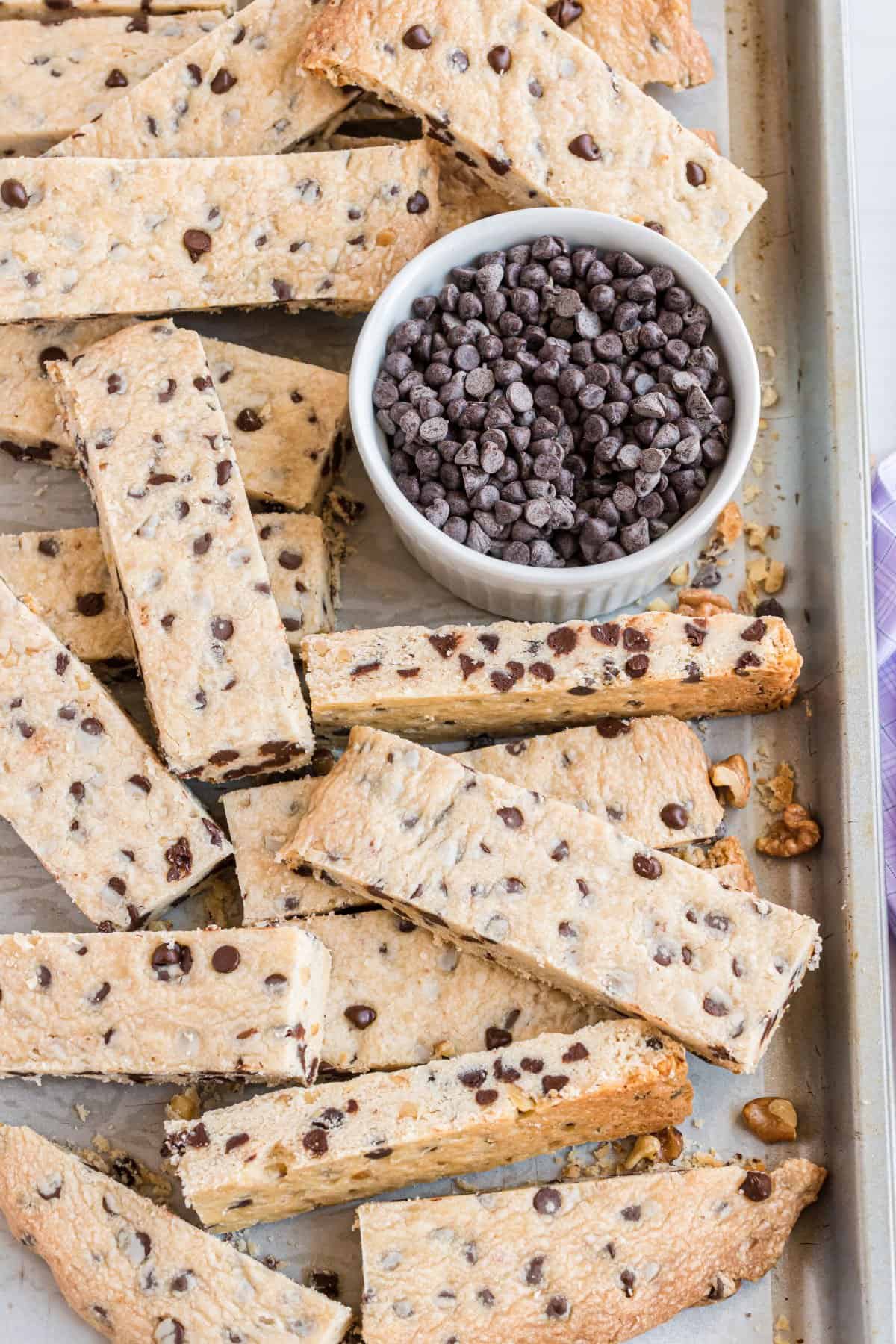 Use the best shortbread recipe to make these amazing Chocolate Chip Walnut Shortbread Bars!