My favorite recipe for Chocolate Chip Cookies. I added in some caramel bits and chopped pecans for a decadent, chewy delight!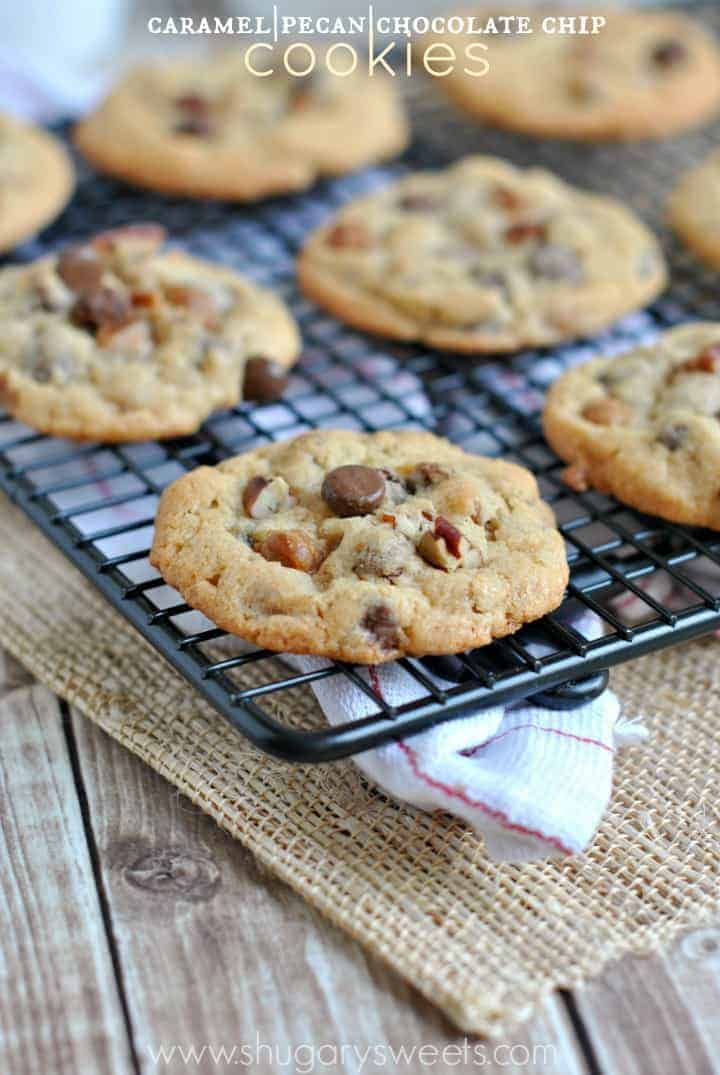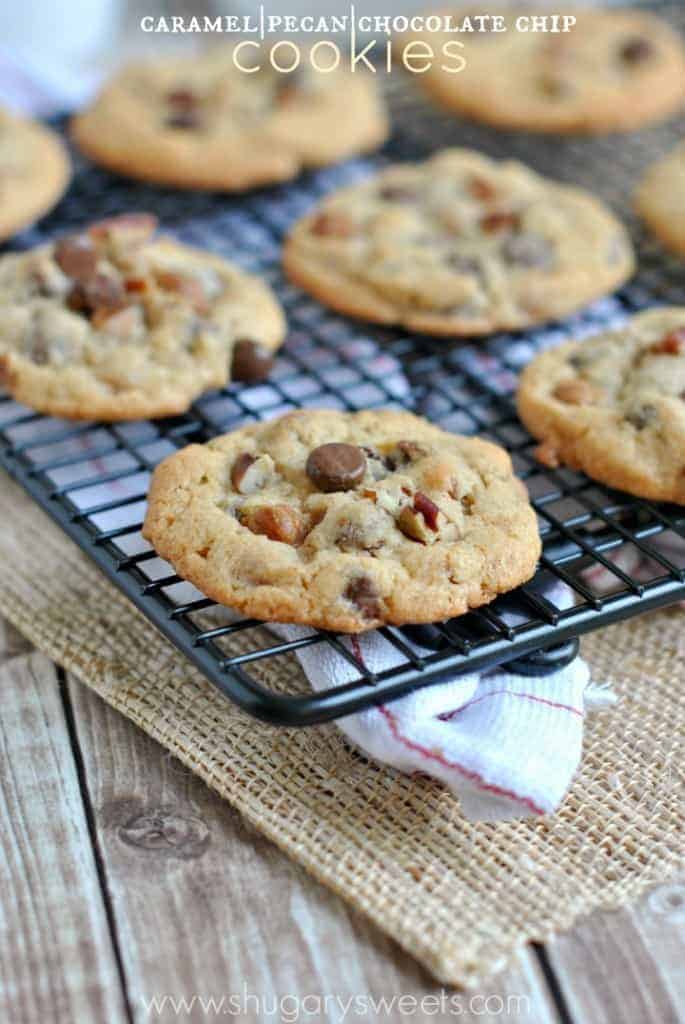 Click HERE to save recipe to Pinterest!
I don't bake cookies very often in the summer. Isn't that strange? It's not that I'm against turning my oven on or anything, I just don't think to do it.
During the school year I try to bake fresh cookies every Monday. This gives my kids something to look forward to when they get home from school, and it also provides a treat for their lunches for the week.
But in the summer, I survive off the fat of the land.
I know, I'm dramatic. What I mean to say is I work through my freezer stash. At any given point you can come to my house and I can bake you fresh cookies in minutes upon arriving. Or, better yet, hot cookies out of the oven right when you walk through the door.
How does that sound to you?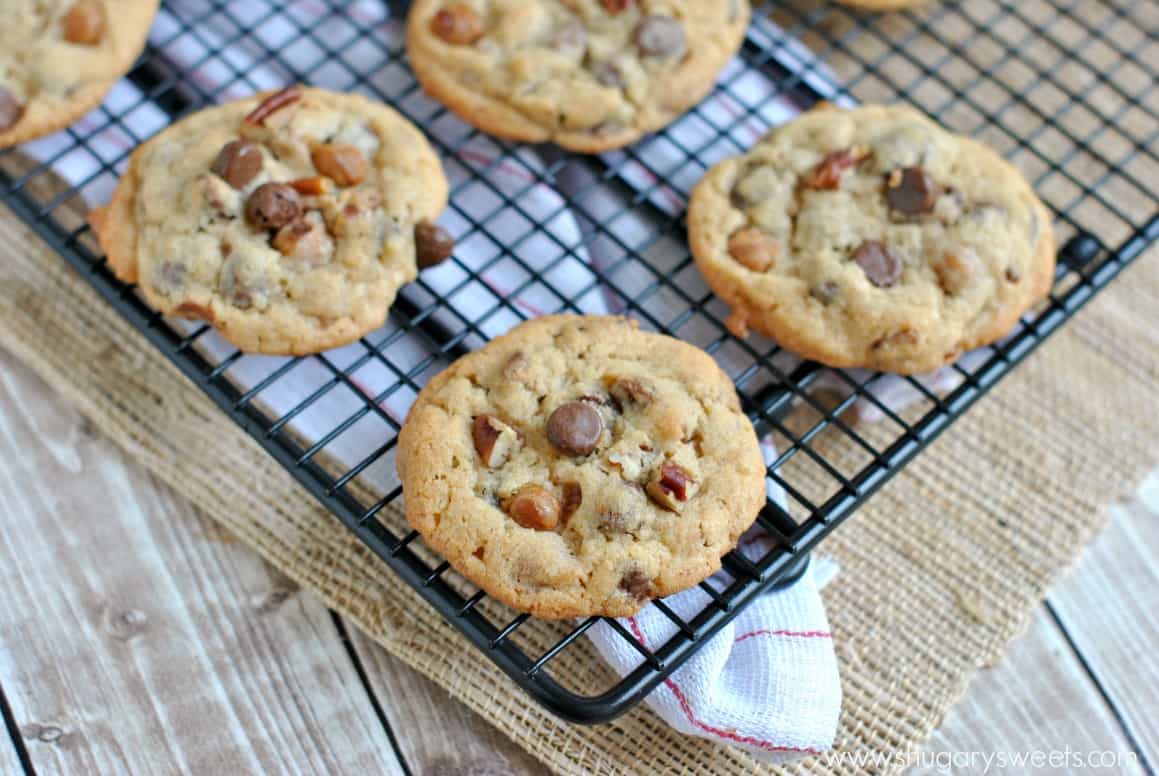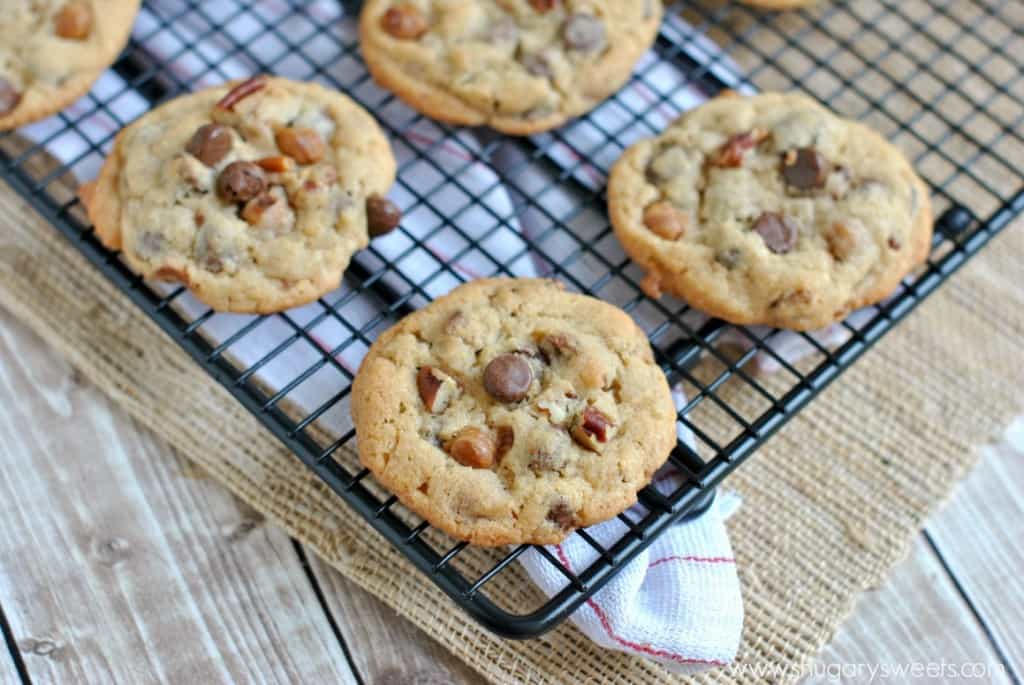 How to bake and freeze cookies:
Last week on INSTAGRAM I shared my secret.
And it seems many of you do this too! I usually bake a double batch of cookies on Mondays (or really any time of make cookies, I double it). Once the dough is made, I scoop a couple dozen (or half the batch) into balls, place them on a parchment paper lined baking sheet and freeze them.
Then I continue baking my cookie dough as normal.
When everything is baked, I grab that cookie sheet of frozen dough out of the freezer, drop all the frozen balls into a freezer safe Ziploc bag, label it, and return it to the freezer for future use.
It's the perfect solution when you want hot baked cookies but you don't want to mess with making the dough. Just take out how many cookies you want to bake, and in minutes you have hot, fresh chewy cookies!
This is the fat of the land I live off of in the summer.
The dozens of bags of cookie dough in my freezer. Although with moving this summer, we didn't have a stash, so I'm working to build it up! Haha. Actually, I don't usually save this until summer, I save them until I have a busy Monday and can't bake cookies. This is an easy way to have my kids help out in the kitchen too. They can bake their own cookies and there's no mess to clean up!
As for today's Caramel Pecan Chocolate chip cookies, I added caramel bits, milk chocolate chips and crunchy pecan pieces to my favorite Chocolate Chip Cookie recipe.. Otherwise known as "turtles." These are awesome fresh out of the oven, chewy and amazing! What's your favorite kind of cookie? I may just have that in my freezer….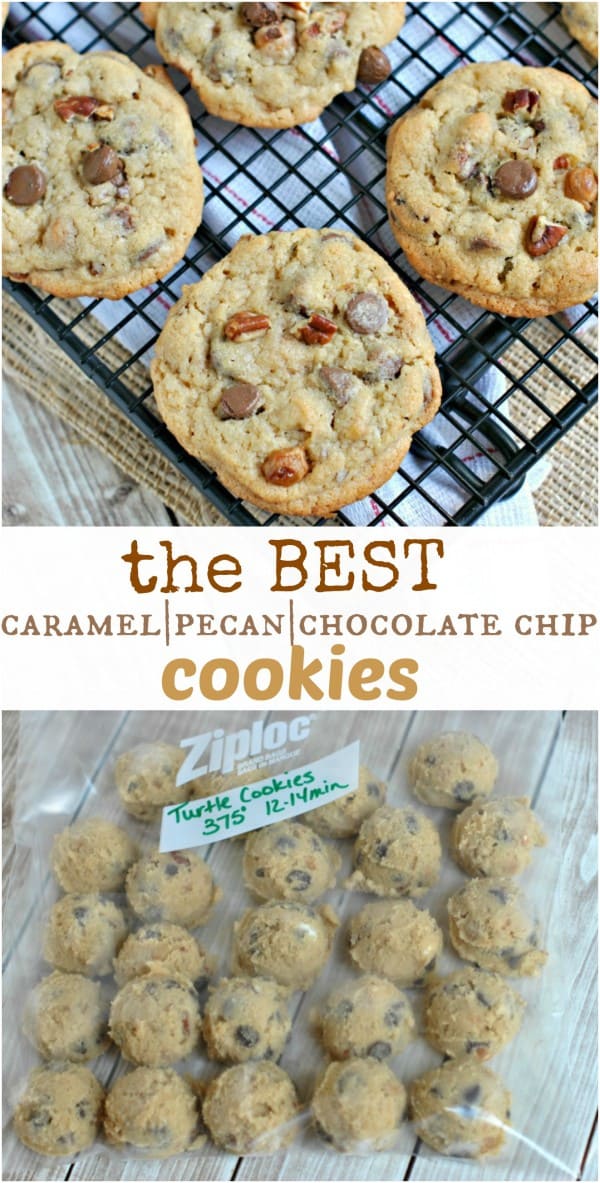 Here are some more great COOKIE recipes:
Caramel Pecan Chocolate Chip Cookies recipe:
Yield: 6 dozen
Caramel Pecan Chocolate Chip Cookies
My favorite recipe for Chocolate Chip Cookies. I added in some caramel bits and chopped pecans for a decadent, chewy delight!
Ingredients
1 1/2 cup unsalted butter, softened
2 cup light brown sugar, packed
1/2 cup granulated sugar
2 large eggs
1 Tbsp vanilla extract
1/4 cup milk
3 1/2 cup all-purpose flour
2 tsp baking powder
1 tsp kosher salt
1 bag (11.5oz) milk chocolate morsels
1 1/4 cup caramel bits (or whole caramels, chopped)
1 cup chopped pecans
Instructions
In a large mixing bowl, beat butter, brown sugar and sugar until creamy, about 2 minutes. Add eggs, vanilla and milk and beat an additional 2 minutes.
Add flour, baking powder and salt and beat another 2 minutes. Fold in chocolate morsels, caramel bits and pecans.
On a parchment paper lined baking sheet, drop cookie dough using a 2 Tbsp scoop. Bake in a 375 degree oven for 12-14 minutes.
Allow to cool on wire rack. Store in a airtight container for up to one week.
Notes
To freeze cookie dough, scoop dough onto a parchment paper lined, freezer safe, cookie sheet. Freeze for about 30 minutes. Remove dough and place in a freezer bag, labeled. When ready to bake, remove desired amount of dough and bake as directed. Add several minutes for frozen dough.
I use a pizza stone to bake my cookies, I find they spread less and don't brown on the bottom as fast. If you are having trouble with your cookies spreading, refrigerate the dough until chilled, this will help! ENJOY!
Nutrition Information:
Yield:
72
Serving Size:
1
Amount Per Serving:
Calories:

107
Total Fat:

5g
Saturated Fat:

3g
Trans Fat:

0g
Unsaturated Fat:

2g
Cholesterol:

15mg
Sodium:

70mg
Carbohydrates:

15g
Fiber:

0g
Sugar:

10g
Protein:

1g
*Nutrition facts are an estimate and not guaranteed to be accurate. Please see a registered dietitian for special diet advice.
Today's recipe for Caramel Pecan Chocolate Chip Cookies was originally published on Shugary Sweets on August 19, 2014.