Caramel Pecan Chocolate Chip Cookies – a decadent twist on a classic cookie! You'll love the infusion of buttery caramel and nutty flavor in these chewy cookies.
Remember this Chocolate Chip Cookie recipe? I changed it up by adding caramel bits and pecans! Our caramel stuffed chocolate chip cookies are equally delicious, and even easier!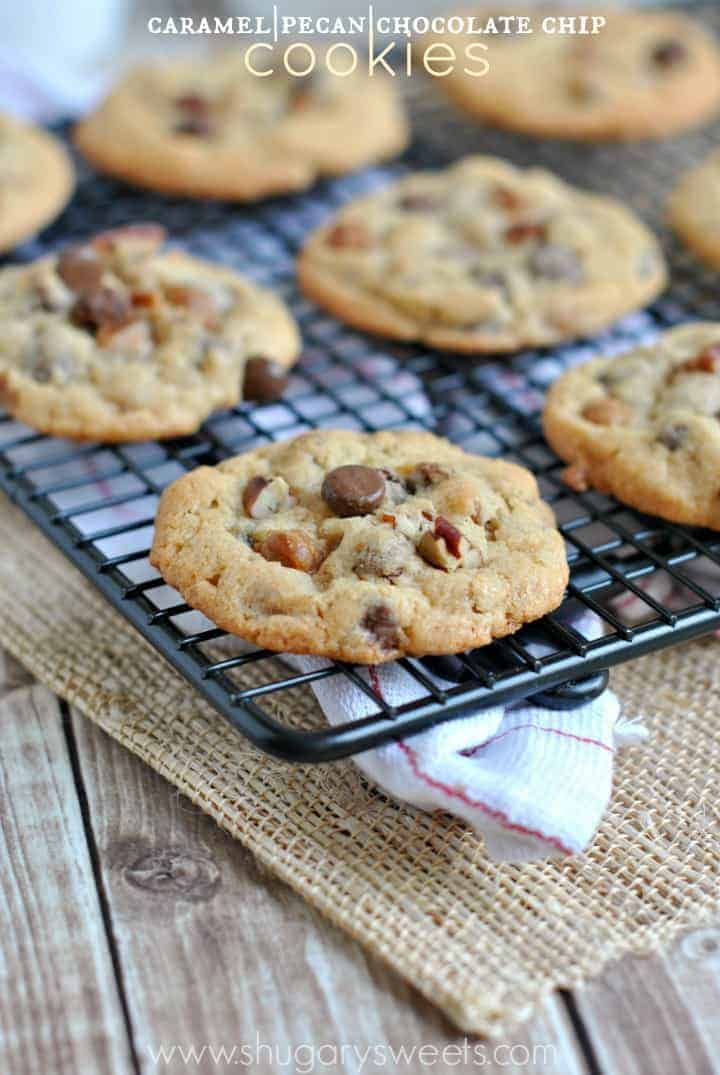 Why This Recipe Works
Once you learn how to make chocolate chip cookies, it's so easy to change up the flavors and mix-ins.
These Peanut Butter Chocolate Chip Cookies are another variation you need to try–especially if you love peanut butter treats.
These Caramel Pecan Cookies are based on my favorite chocolate chip cookies recipe.
It has the perfect ratio of dough to chocolate chips.
Caramel bits make the centers just slightly ooey-gooey.
You'll love the crunchy pecans in these soft baked chewy cookies!
Today's recipe is designed with caramel lovers in mind!
Ingredient Notes
You'll need all the same ingredients you use for regular chocolate chip cookies, with a few additions.
Butter – Softened butter makes cookies soft and chewy without spreading too much.
Sweeteners – We use a combination of brown sugar and granulated sugar in this recipe.
Eggs – Bind the dough together and add moisture.
Vanilla – Pure vanilla extract is essential for flavoring the dough and enhancing the taste of the chocolate and caramel.
Milk – You can use any kind of milk to add more moisture to the dough.
Dry ingredients – You will need flour, baking powder and salt.
Milk chocolate morsels – Feel free to swap them out for semi-sweet chocolate chips or dark chocolate!
Caramel baking bits – Find these in the baking aisle near the chocolate chips; or use chopped up caramel candies instead.
Easy Instructions
PREP- Preheat oven to 350F. Line a cookie sheet with parchment paper. Set aside.
Mix Wet Ingredients- In a large mixing bowl, combine butter and sugar. Cream these together for about 2 minutes, until fully blended. Add in eggs and vanilla extract.
Add Dry ingredients- Add in flour, salt, and baking soda. Beat JUST until fully combined. Fold in chocolate chips, caramel bits, and pecans.
Bake- Using a 3 Tablespoon scoop, drop onto parchment paper lined baking sheets about 2 inches apart. Bake for 11-13 minutes, until outside of cookie is lightly browned.
Remove from oven and allow to cool several minutes on baking sheet. Remove and cool completely on wire rack. The number of cookies is determined by the size scoop you use. I prefer these to be larger…which yields about 2 dozen cookies.
Tips and Tricks
How to freeze: Make the dough ahead of time, then scoop it onto a baking sheet. Freeze scoops of dough for 30 minutes. Now transfer the dough to an airtight container and store in the freezer until ready to bake.
Baking frozen dough: Place frozen cookie dough right onto the baking sheet. Bake in the oven as directed, adding 1 -2 minutes of additional baking as needed.
Use a pizza stone: I find that baking cookies on a pizza stone keeps them from getting too brown and helps them spread less.
Recipe FAQs
How can I prevent cookies from spreading too much?
Chilling the dough before baking works like a charm! If you find chocolate chip cookies tend to spread a lot in your oven, stick the dough in the refrigerator for 20 – 30 minutes, then bake as directed in the recipe.
What can I use in place of caramel bits?
You can unwrap caramel candies and chop them into small pieces. They taste delicious as a substitute for caramel baking bits.
How long does the dough keep in the freezer?
I recommend baking the dough within 3 months of freezing for best taste.
Can I freeze the cookies after baking them?
Yes, the baked cookies can be frozen as well! Store them in a freezer safe container to preserve freshness.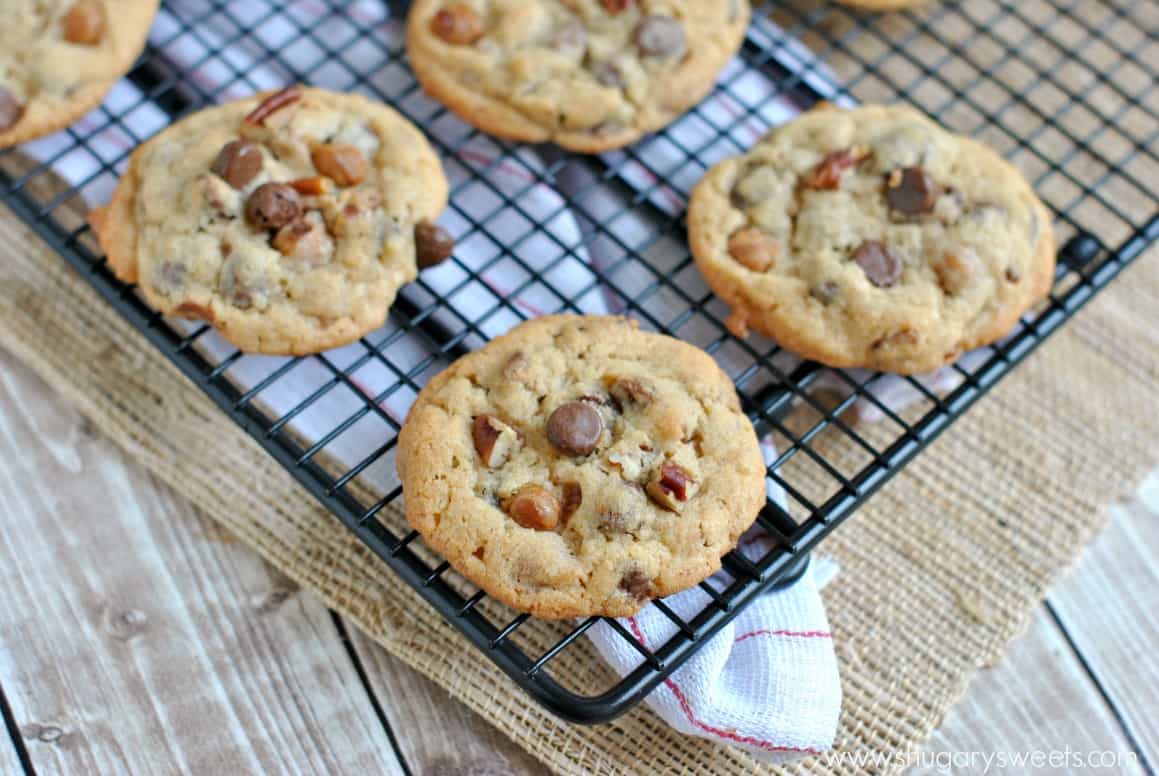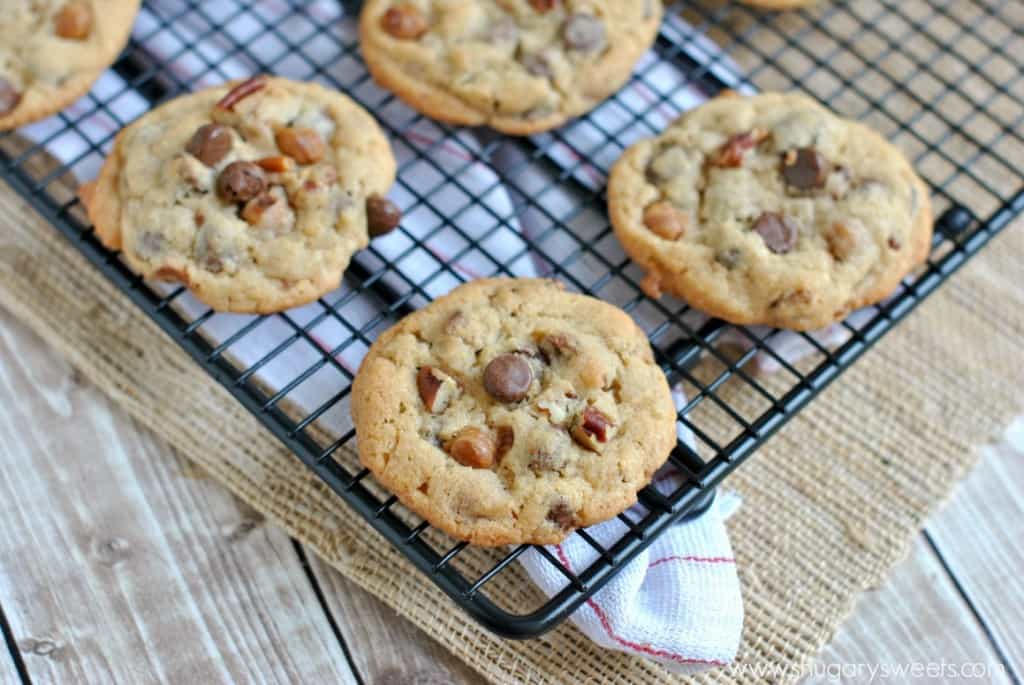 You'll love these decadent and gooey Caramel Pecan Chocolate Chip Cookies! Just as easy as traditional chocolate chip cookies with an extra sweet and nutty twist.