Serve pizza for dessert tonight! This Caramel Apple Sugar Cookie Pizza features juicy apples and chopped nuts baked on a soft cookie crust with caramel cheesecake topping. Drizzled with caramel, it's the perfect easy dessert for fall.
It's finally caramel apple season! Make a batch of this luscious Caramel Apple Dip or these Caramel Apple Empanadas next.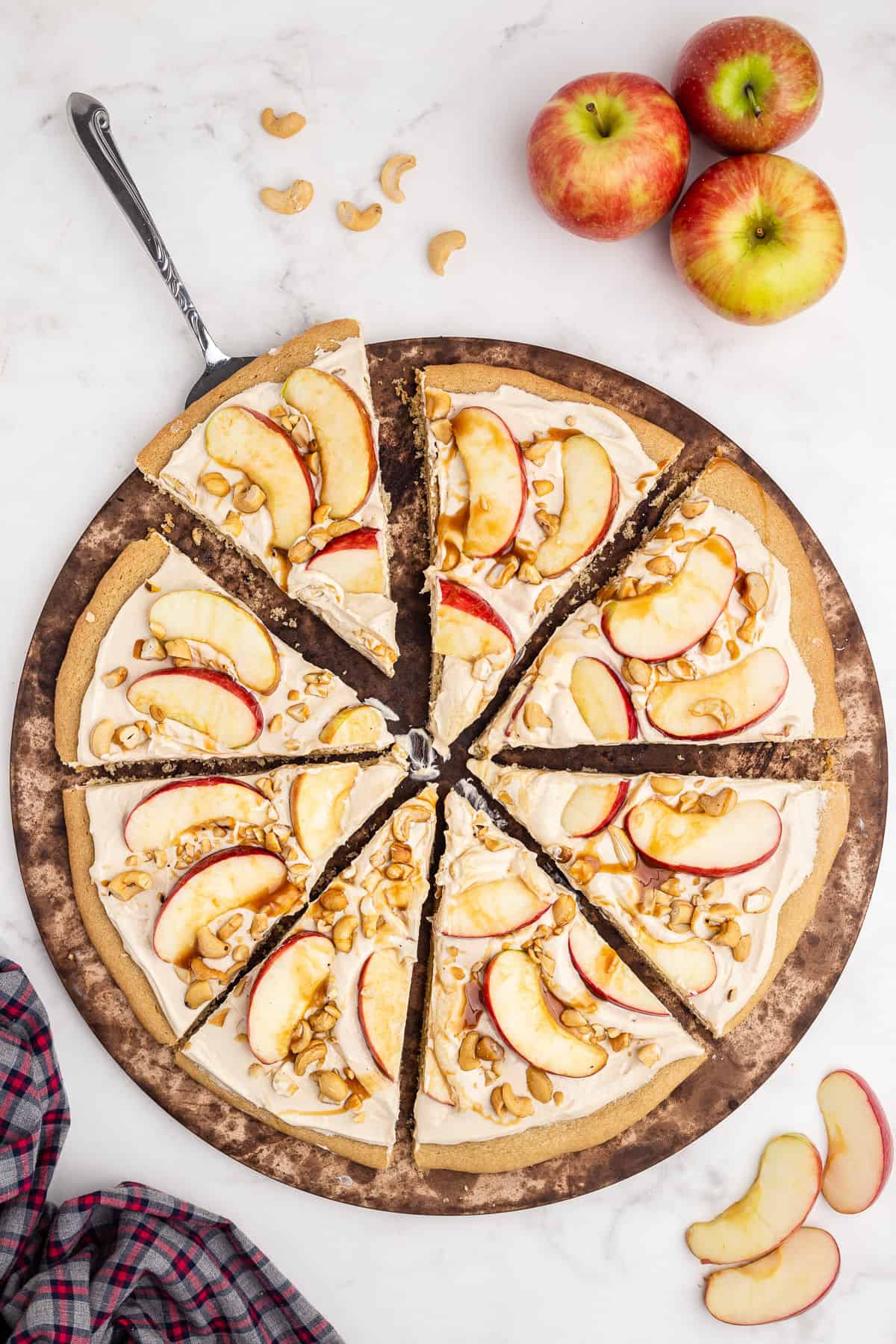 Why this Recipe is the Best
Pizza isn't limited to just dinner. While you may enjoy our Taco Pizza recipe or even our slow cooker pizza soup, finishing up with a dessert pizza is the perfect reward.
Making a cookie pizza is so easy! You may remember this Macadamia Cookie Pizza I shared a couple years ago!
It was the inspiration for today's recipe.
Instead of macadamias, I used cashews in this version. Their natural sweetness is a terrific match for the apple flavor.
A layer of cream cheese holds everything together.
The dessert pizza gets drizzled generously caramel sauce for a decadent touch.
My goal for this recipe was easy. Delicious. Convenient. I think it's been achieved! You'll have to try our easy caramel apple cupcake recipe next!
Ingredient Notes
Sugar cookie dough. I used refrigerated sugar cookie dough. Feel free to use a homemade sugar cookie dough instead if you prefer. Whether you choose a tube of dough or the break and bakes is fine…they will all get pressed into a circle.
Apples. Peeled and cut into slices. You'll need about 4 medium sized apples.
Caramel sauce. We use the bottled sauce that you put on ice cream.
Cashews. Peanuts are also a delicious option, or keep it nut free.
Easy Instructions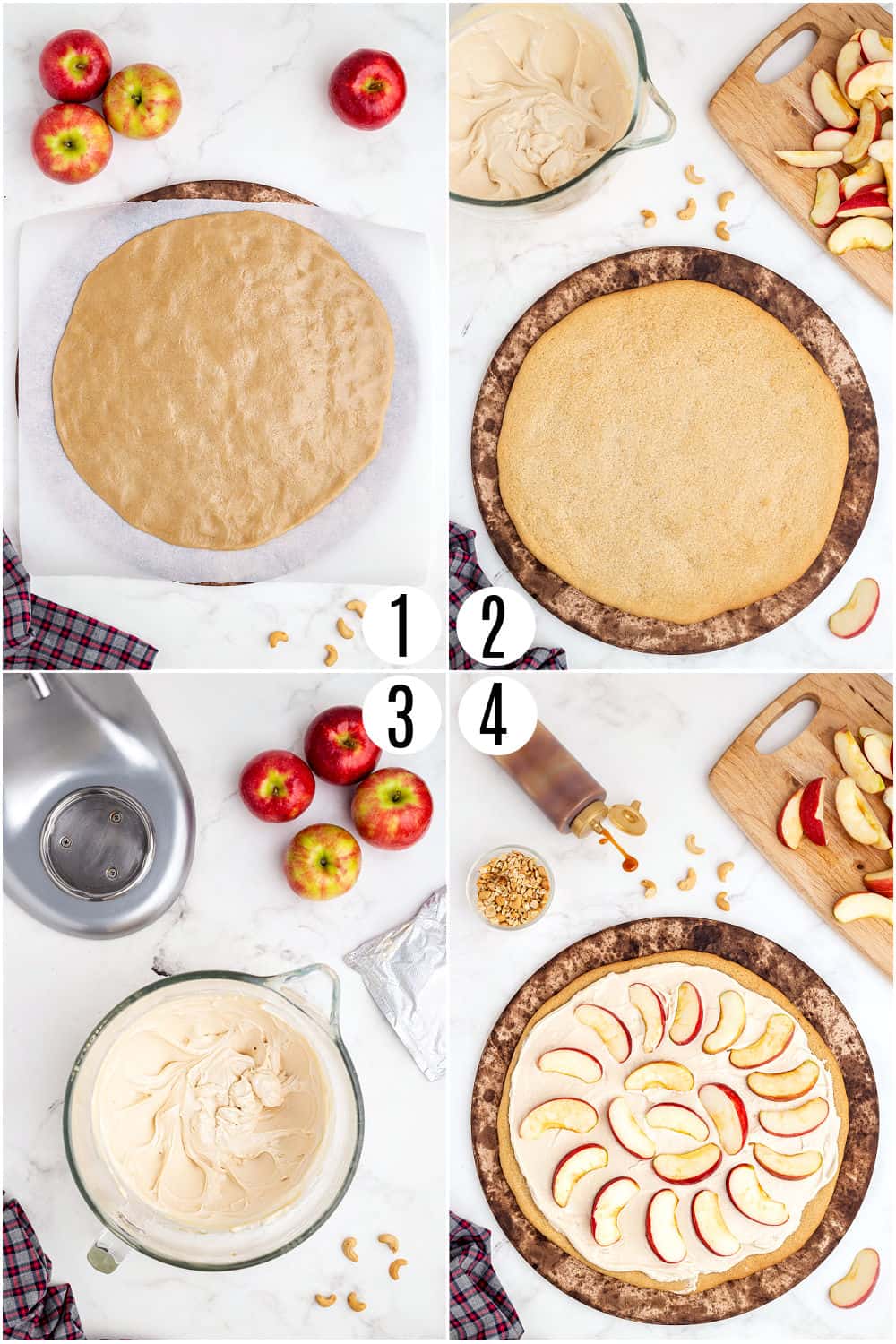 Place the sugar cookie dough onto a round pizza stone. Use the heel of your hand to stretch the dough into a disk.
Bake the cookie dough crust for 15 minutes. Let cool.
While it's baking, beat together the cream cheese and powdered sugar. Beat in 1/4 cup of the caramel sauce.
Spread the cream cheese mixture over the cooled crust. Arrange apple slices and cashew pieces on top.
Finally, drizzle the whole sugar cookie pizza with the rest of the caramel sauce. Slice and serve!
Tips and Tricks
Using pre-sliced apples makes this recipe even easier! Find them already peeled and ready to use in the produce section of your grocery store.
Line the pizza stone with parchment paper before adding the sugar cookie dough. It helps prevent sticking and makes removing the baked crust easier.
Feel free to swap the cashews for walnuts, pecans or peanuts.
Love caramel and apples? Try these delicious caramel apple cheesecake bars next!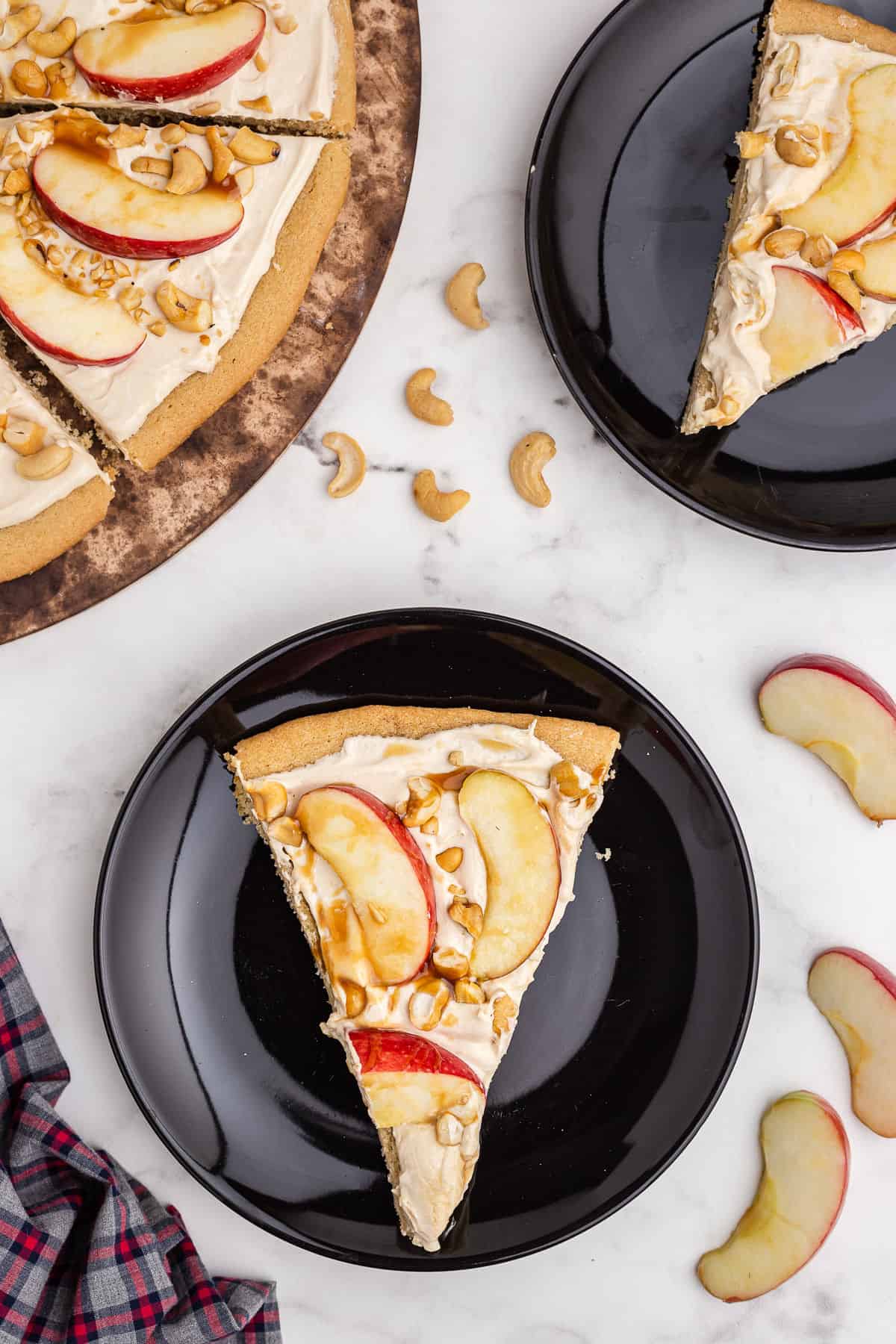 Recipe FAQs
I don't have a pizza stone. What can I use instead?
If you don't have a pizza stone, you can bake this on a cookie sheet. Shape the dough into a rectangle on the cookie sheet before baking. Slice into squares for serving.
What kind of apples are best?
I like apples with a bit of tartness to balance the sweetness of the caramel. Honeycrisp and pink lady apples are delicious choices!
How do you store leftovers?
Leftover Caramel Apple Sugar Cookie Pizza should be covered and stored in the refrigerator. Good luck having any leftovers of this one, though. When I made it, no one could resist coming back for an extra slice (or two)!
More Easy Fall Recipes
An easy dessert pizza recipe with apples and gooey caramel. This Sugar Cookie Pizza will bring big smiles to your table!