Macadamia Cookies you can slice and serve like pizza! This Macadamia Cookie Pizza is topped with a sweet cream cheese layer and fresh fruit for an eye catching easy dessert.
Want more dessert pizza ideas? Check out this Caramel Apple Sugar Cookie Pizza too.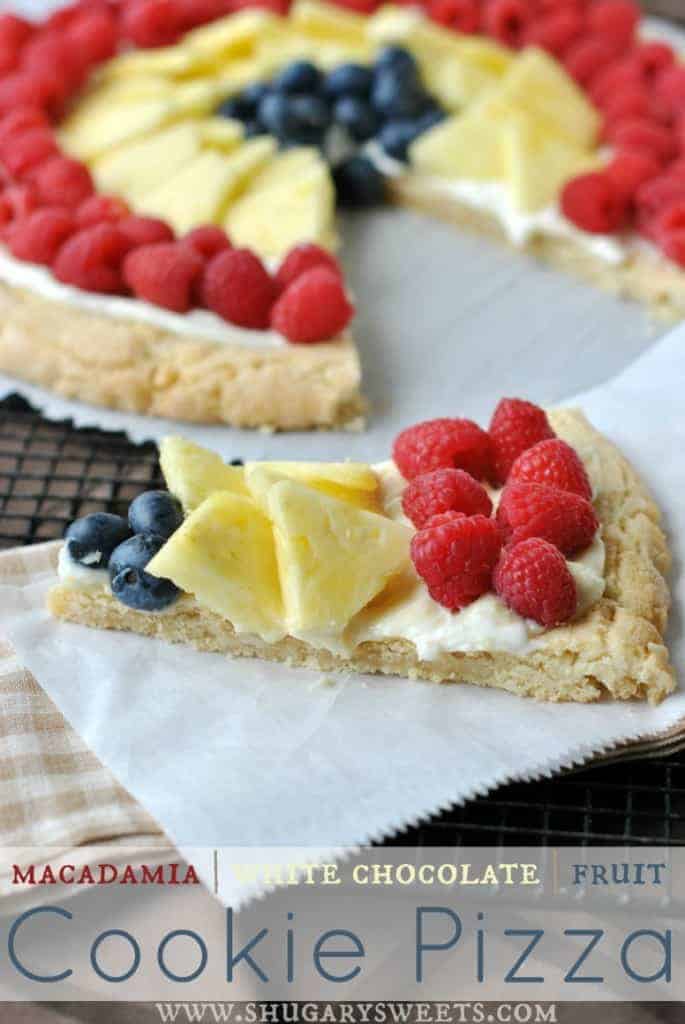 Why this Recipe Works
Buttery cookie crust filled with crunchy macadamia nuts.
Luscious cream cheese frosting on top.
Fresh fruit for a pop of color and juicy flavor.
Cookie pizzas are a genius idea. You take a big ball of cookie dough, bake it on a pizza stone and add just about any toppings you like!
This Macadamia Cookie Pizza is an ideal sweet treat to share. It looks beautiful on a table and slices are easy to grab and eat!
Ingredient Notes
Macadamia nuts. We use dry roasted nuts. Chop them coarsely before adding to the dough.
Butter. Either salted or unsalted butter can be used. If using salted, reduce the added kosher salt in the recipe to 1/4 teaspoon.
Cream cheese. I recommend full fat cream cheese for richest flavor. Let it soften on the counter for a few minutes so it's easier to incorporate with the powdered sugar.
Fruit fruit. This time, I used raspberries, blueberries and pineapple. Strawberries and blackberries make great toppings too.
Easy Instructions
First, make the cookie dough. Fold in chopped nuts.
Place the dough onto a large baking sheet or round pizza pan. Shape the dough into a large circle. Aim to make it abut 12 inches across and 1/2 an inch thick.
Bake the cookie crust and let cool.
Make the frosting by beating all ingredients together until smooth. Spread over the cooled cookie crust.
Arrange fresh fruit on top. Slice into wedges and enjoy!
Tips and Tricks
Use the heel of your hand to help shape the dough into a circle.
Try to make the crust as even in thickness as possible. This helps ensure the crust bakes through evenly.
Keep the fruit topping in place by gently pressing each piece into the cream cheese.
Recipe FAQs
Can I make the cookie dough ahead of time?
You can make the macadamia cookie dough in advance and store it in the fridge or freezer. To freeze, wrap in cling wrap, then place in an airtight freezer bag. Use within 3 months.
Let thaw then follow recipe directions for baking and frosting.
What other fruit can I put on this cookie pizza?
Black berries, apple slices, bananas and shredded coconut are all delicious on cookie pizzas. Avoid watery fruits like citrus or melon. They'll make your pizza soggy.
Can I freeze this?
You can freeze macadamia cookie pizza before adding the cream cheese and fruit topping. Double wrap in freezer bags and place in the freezer for up to 3 months.
When ready to eat, let the cookie crust thaw, add toppings and enjoy.
How can I tell when the cookie crust is done baking?
The cookie crust is done when the edges are just beginning to turn golden brown. The center will still look a bit soft. It'll firm up as the crust cools.
Cheerful and delicious, this Macadamia Cookie Pizza is ready for a party!