These homestyle Maple Iced Oatmeal Cookies are packed with flavor! The wonderful texture and maple flavor guarantees an incredible cookie experience. These disappear fast whenever I bake them!
If you love oatmeal cookies, be sure to give this classic Oatmeal Scotchie Recipe a try soon. Or, skip the butterscotch and make a batch of Oatmeal Chocolate chip cookies instead. You decide!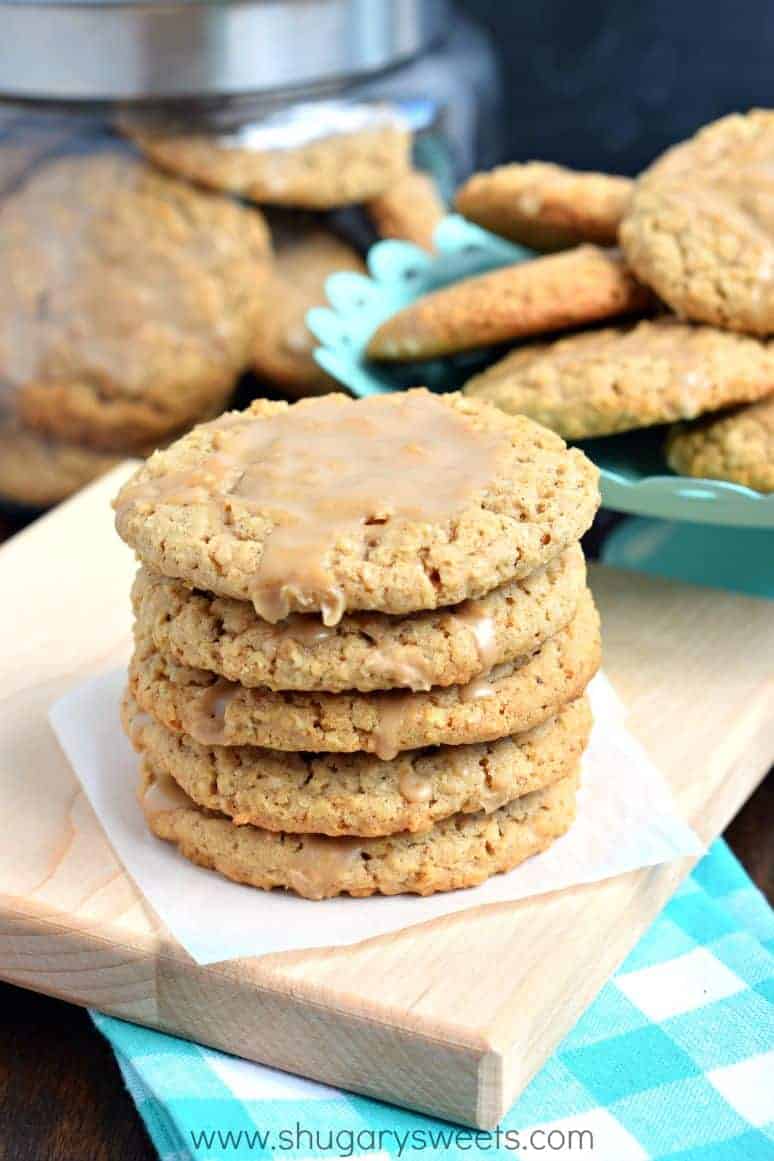 Why this Recipe Works
Have you ever noticed that people who love maple cookies REALLY LOVE maple cookies? If that's you, then I can all but guarantee these Maple Oatmeal Cookies are going to end up at the top of your favorite cookie recipes list.
When I'm in the mood for an oatmeal cookie, I don't want just any old cookie with a few oats mixed in.
I want it to be packed with real oats, soft but chewy and, preferably, topped with some kind of icing.
Maple Oatmeal Cookies check all the boxes:
chewy cookies with a mild toasty oat taste
maple flavoring
mouthwatering maple glaze.
The secret for why this recipe works oh so well? Processed Oats. Instead of folding whole oats into a regular drop cookie, you blend the oats in a food processor to make a very coarse flour.
The results speak for themselves! You're going to love these cookies.
Ingredient Notes
Quick Cooking Oatmeal – Quick cooking oats are processed more finely than rolled oats to help give these cookies the chewy oat taste that makes them so delicious. Do not sub rolled or steel cut oats!
Maple flavoring – I often bake with maple extract which has a more concentrated maple taste than syrup. For this recipe you can use either artificial maple flavoring or real maple extract.
Butter – Unsalted better is my preference to control the amount of saltiness in the finished cookies. If using salted butter, I recommend cutting back slightly on the added salt in the recipe. Use our tips on how to soften butter quickly.
Easy Instructions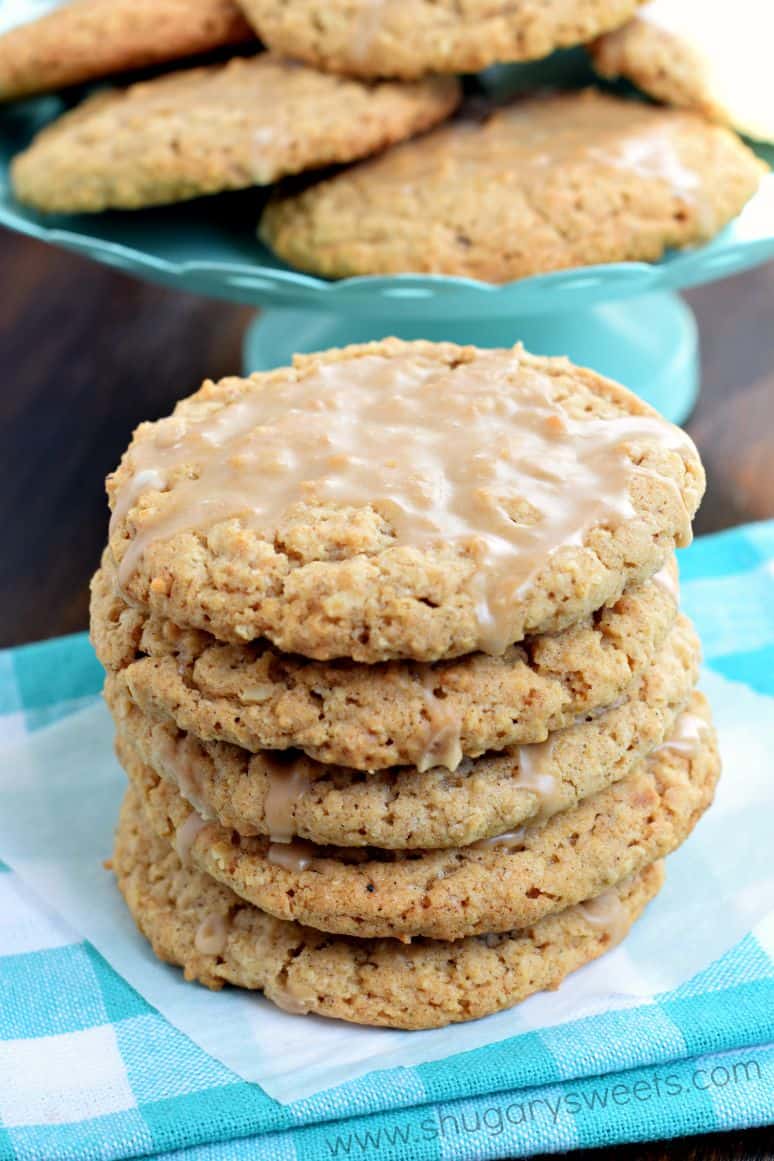 First, you need to process the oats. Toss them in a food processor or blender until just partially grounded. Don't turn them into a fine flour; the oats should still be a little coarse.
Make the cookie batter. Melt butter and add it to a bowl with granulated and brown sugar. Cream together with eggs and the maple flavoring, then mix in the ground oats to the bowl along with spices, baking soda and kosher salt.
Bake the cookies on a baking sheet lined with parchment paper for anywhere from 14 to 16 minutes, depending on how crunchy you like your oatmeal cookies!
Icing. While the cookies cool, make an easy maple glaze by whisking together powdered sugar with milk and a little more maple flavoring.
Drizzle onto the cooled cookies and let them sit for about 15 minutes so the glaze can harden.
Tips and Tricks
Adjust the baking time according to your preference. Less baking time will yield a softer chewy cookie and visa versa. Baking 15 or 16 minutes gives the cookies a light crunch while remaining chewy in the middle.
This glaze is thin enough to easily spread across the top of the cookie, but it's not so liquidy that it will drip off an cause a mess. You can add more or less milk when making the maple glaze depending on your preferred consistency.
Recipe FAQs
Can you substitute maple syrup for the maple flavoring?
No. Maple syrup, while delicious, has far less concentrated flavor than maple extract or artificial maple flavoring. If you don't have maple extract you can try these Iced Oatmeal Cookies instead!
Are these gluten free?
These cookies are wheat free but may not be gluten free, depending on the type of oats you use. Many commercial quick oats are processed using equipment that also processes wheat so cross contamination makes them not safe for celiacs. Check the labels on all your ingredients to make sure they are gluten free.
Can you freeze these cookies?
Absolutely! You can freeze them with or without the glaze but I prefer the taste when I freeze them plain and add the glaze fresh after thawing. They keep well in the freezer for about 3 months.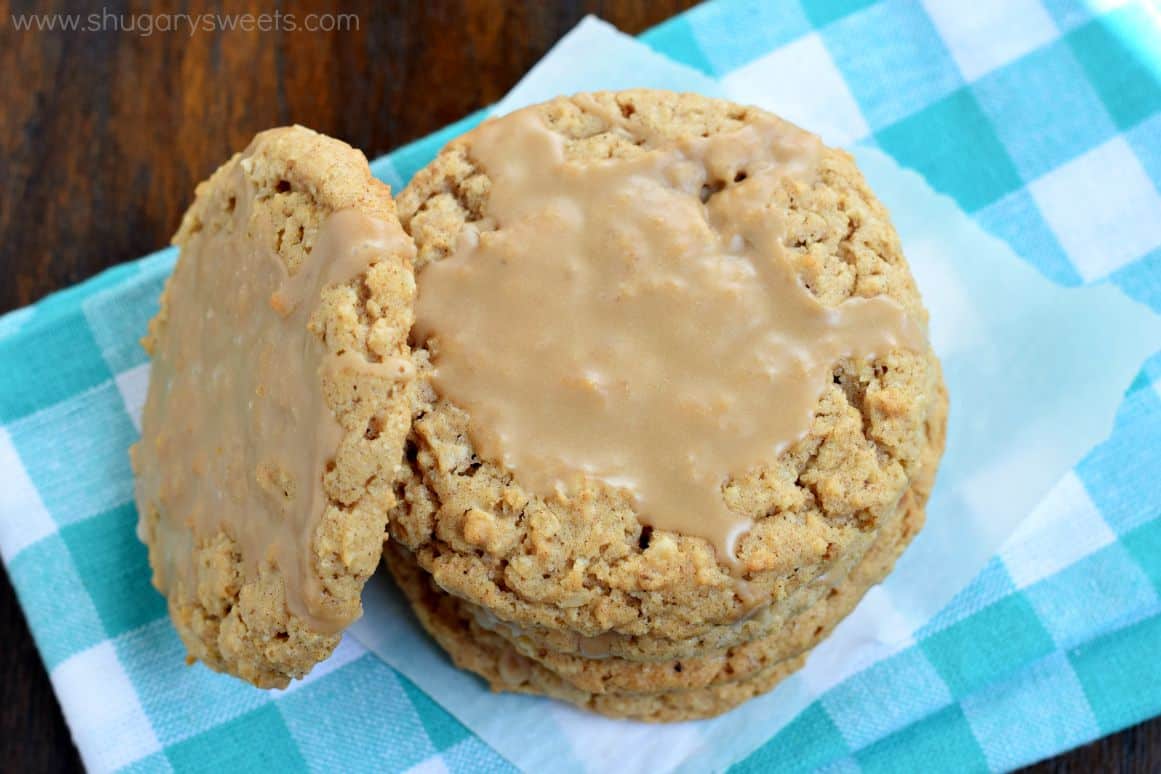 Old fashioned oat treats with a maple twist pair perfectly with an iced cold glass of milk or a warm cup of coffee. Make them for a special occasion or just to stash in your cookie jar.
With wholesome ingredients and a rich maple flavor, you don't want to miss out on these Maple Iced Oatmeal Cookies!
More Cookie Recipes