If you're looking for Perfect Chocolate Chip Cookies, this recipe is the answer. Crunchy on the outside, and chewy and soft in the center!
Be sure to give my Rice Krispie Treat recipe a try if you're looking for another PERFECT dessert idea! Use this homemade dough to make Oreo Stuffed Cookies!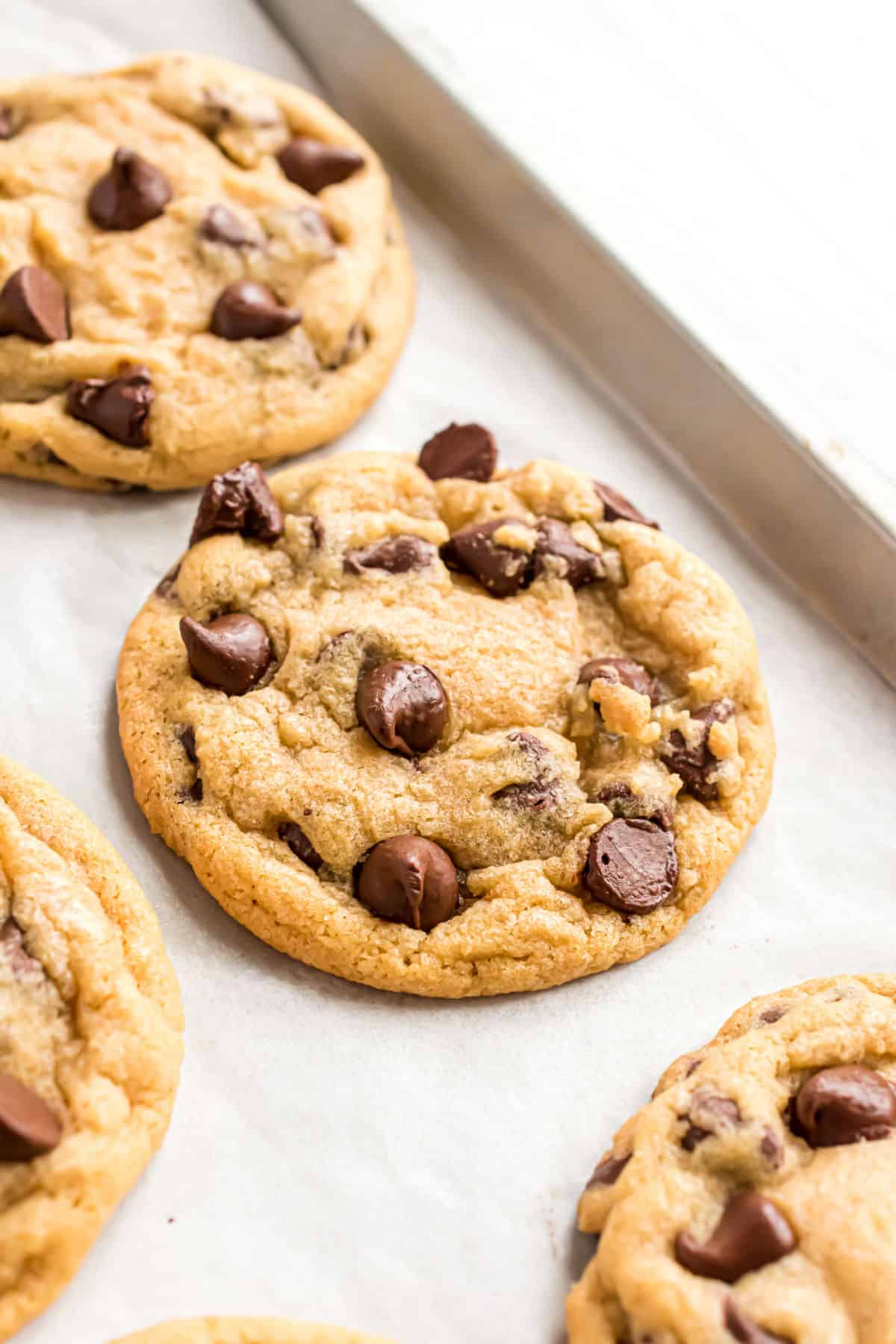 What makes these the BEST
Every household should have the perfect chocolate cookie recipe somewhere in their recipe box.
Whether you love Toll House cookies or Doubletree cookies, you need to decide which cookie team you're on.
And the only way to find out? Keep on baking. Trial and error.
That's exactly how I stumbled upon these. Trying to figure out if I should use Crisco or butter, melted or softened, etc etc etc.
These chewy chocolate chip cookies have the perfect texture. With a crisp out coating and chewy center, I have found MY perfect cookie.
Take these cookies a step further and dunk them in chocolate…like I did with these Double Chocolate Chip Cookies!
Everyone has a favorite cookie, here's why these are the best:
Chilling the dough is optional!
One bowl (no mixing dry ingredients first in a separate bowl)
Bursting with chocolate chips!
BIG cookies!
Ingredient Notes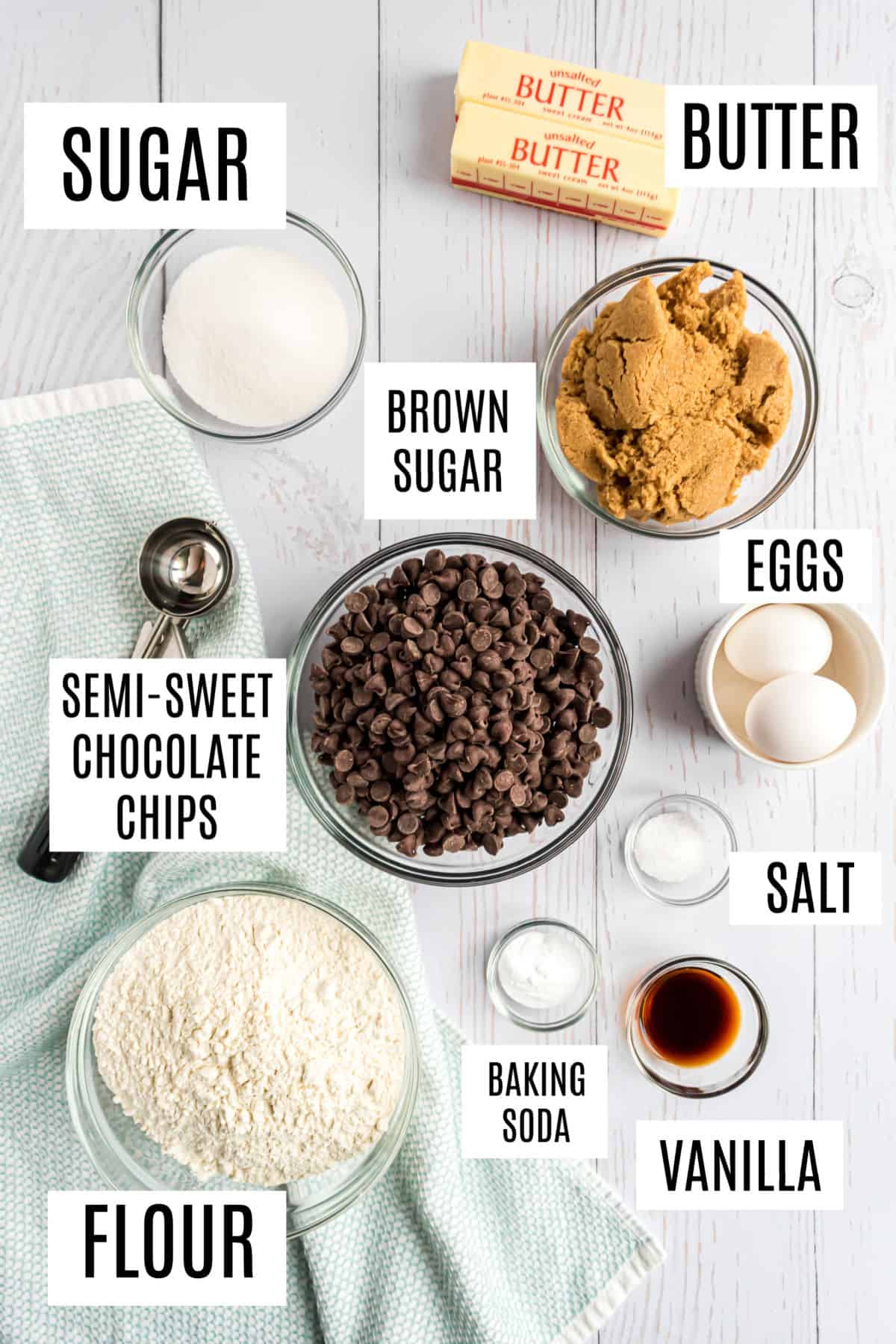 Butter– we use unsalted in this cookie recipe, but you can swap for salted butter. We actually LOVE chocolate chip cookies with that extra salt!
Brown sugar and granulated sugar– a combo of sugars will give you the chewy texture you love!
Extract– Two big teaspoons of vanilla extract in my cookies. You'll love the added flavor! Learn how to make vanilla extract at home with my simple recipe!
Chocolate Chips- you'll want to pack your cookies with chocolate! That's what gives them their gooey flavor. We use semi-sweet morsels, but if you really want to impress, use the mini size chips!
Instructions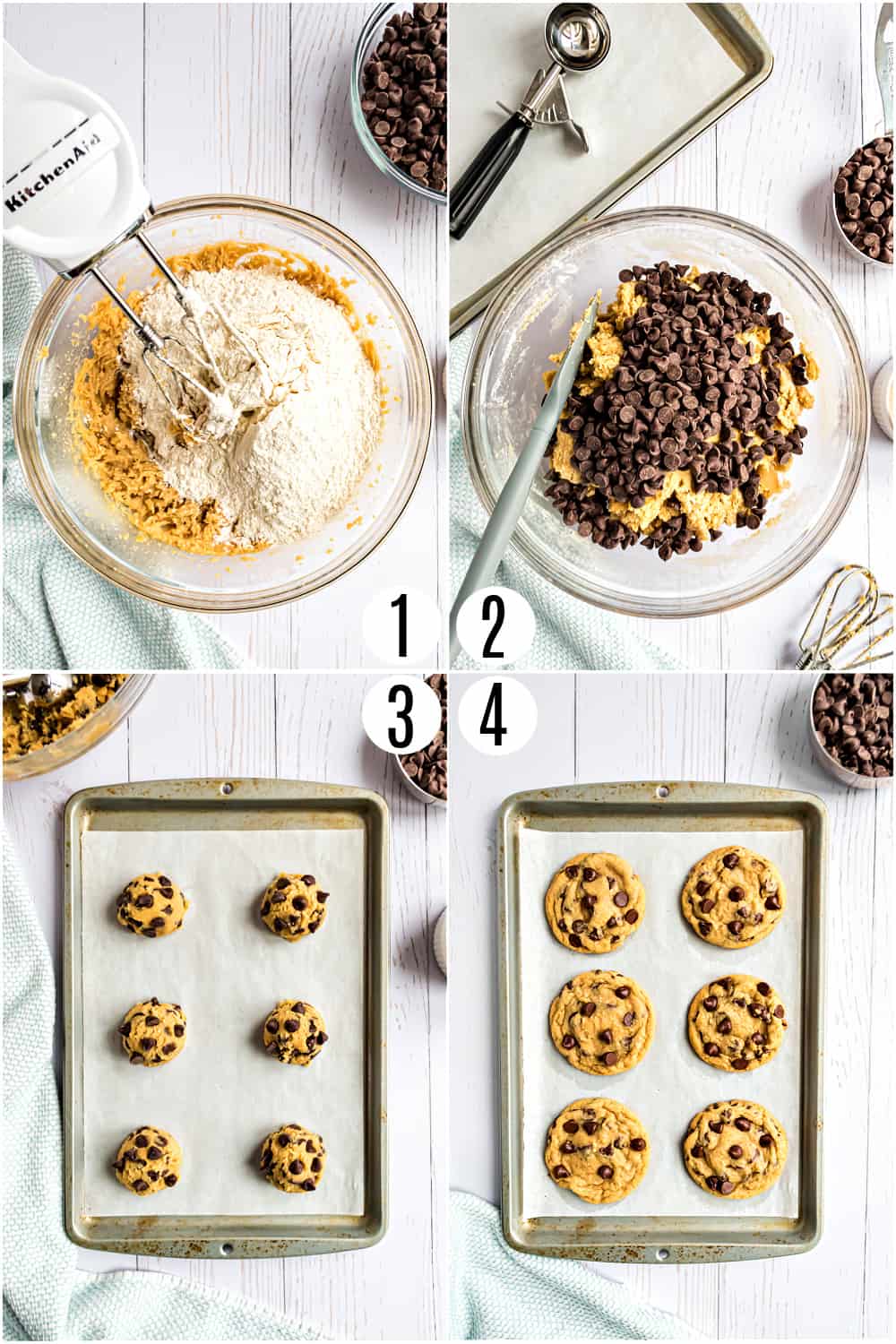 PREP- Preheat oven to 350F. Line a cookie sheet with parchment paper. Set aside.
Mix Wet Ingredients- In a large mixing bowl, combine butter and sugar. Cream these together for about 2 minutes, until fully blended. Add in eggs and vanilla extract.
Add Dry ingredients- Add in flour (be sure you know how to measure flour correctly), salt, and baking soda. Beat JUST until fully combined. Fold in chocolate chips.
Bake- Using a 3 Tablespoon scoop, drop onto parchment paper lined baking sheets about 2 inches apart. Bake for 11-13 minutes, until outside of cookie is lightly browned.
Remove from oven and allow to cool several minutes on baking sheet. Remove and cool completely on wire rack. The number of cookies is determined by the size scoop you use. I prefer these to be larger…which yields about 2 dozen cookies.
PRO TIP: For maximum flavor and chewiness, I do recommend chilling the dough for 24 hours. While it's hard to plan that far in advance, if you can do it, I encourage you to try.
Freeze Cookies. Use my tips on how to freeze cookie dough for later.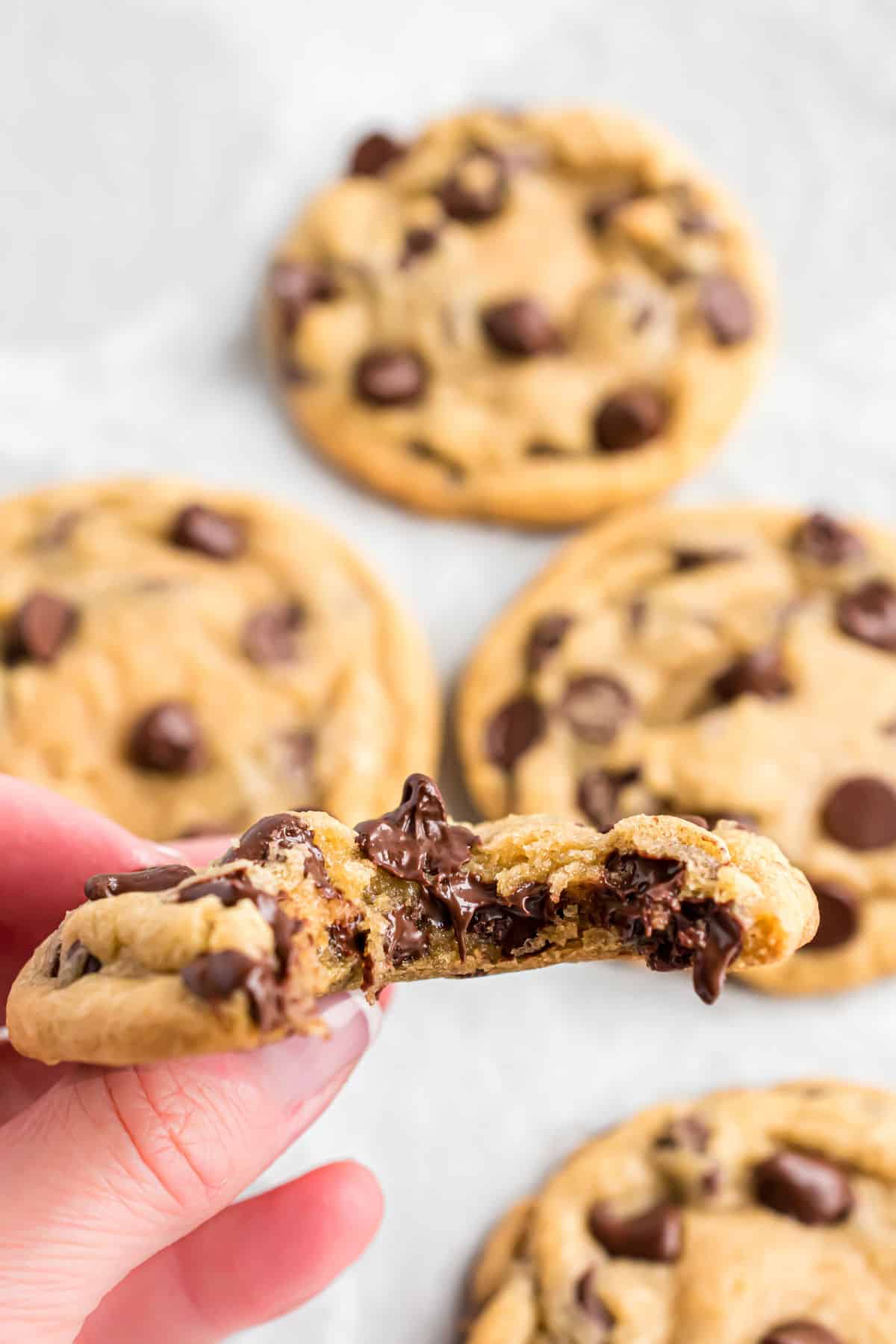 Recipe FAQs
How do you freeze cookie dough?
Drop cookie dough balls onto parchment paper and freeze for 20 minutes. Then take firm cookie dough balls and place in ziploc bag. Freeze until ready to bake. You can bake these from frozen, but add on a few extra minutes to your bake time. ENJOY.
Can you freeze baked cookies?
Yes! After cookies have cooled, slide into a ziploc bag or airtight freezer safe container. Freeze for up to 30 days.
How do you make chewy chocolate chip cookies?
Use brown sugar! Store cookies with a slice of white bread to keep them soft and chewy!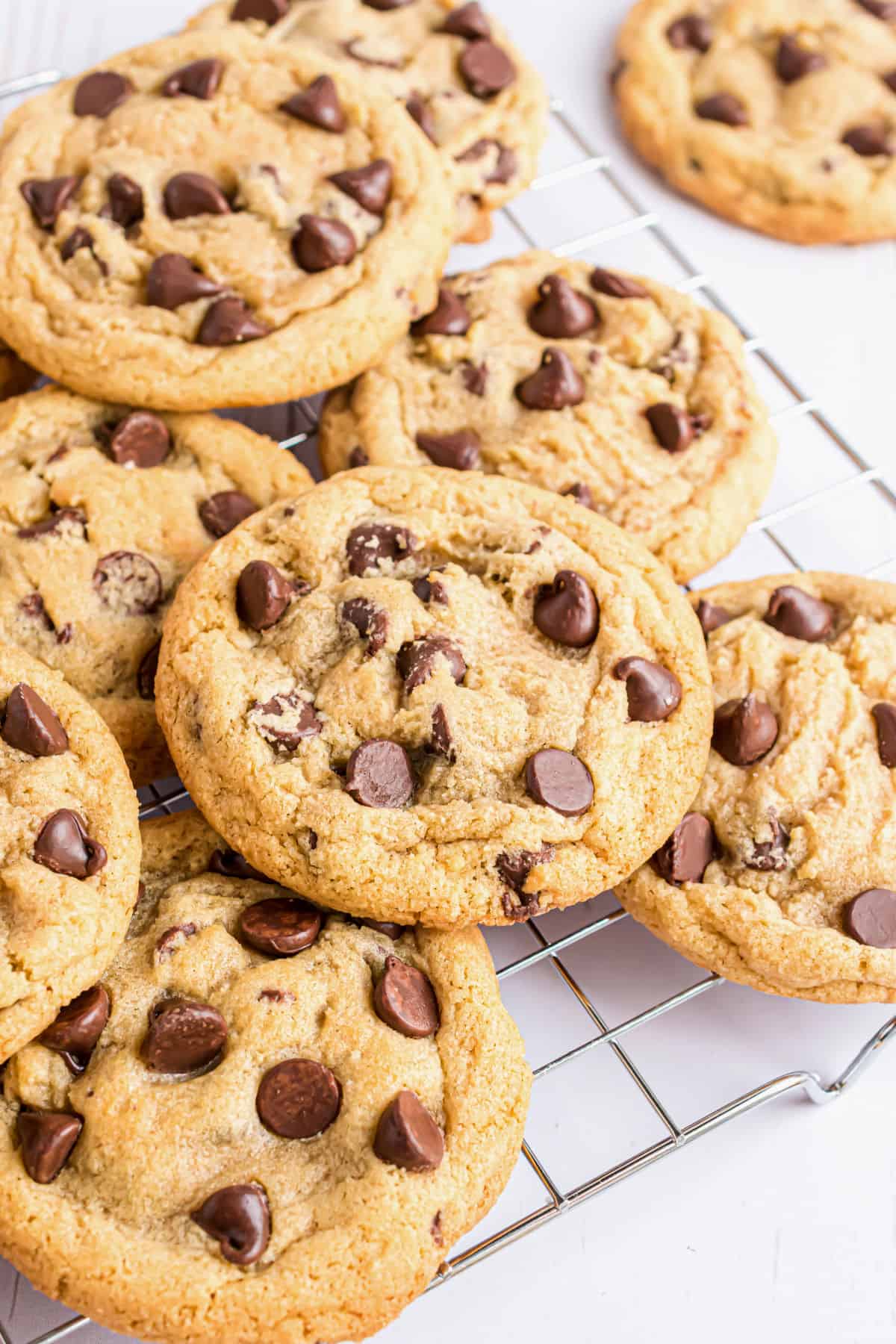 Mix-ins
Whether you like a classic chocolate chip cookie or one fully loaded, this basic cookie dough has lots of stability for all your favorite mix-ins.
Morsels: swap out the chocolate chips for peanut butter morsels, white chocolate chips, dark chocolate chunks, or anything in between.
Candies: you can't go wrong by adding some toffee bits, M&M's, chopped rolos, peanut butter cups, or whatever candy you love to this cookie dough.
Nuts: walnuts go great in chocolate chip cookies. You could also try macadamia nuts with white chocolate chips!
Anything else? Add in craisins, raisins, shredded coconut. The sky is the limit here! A handful of colorful sprinkles for a festive party treat!
Caramel- stuff these cookies with caramel like I did with my Caramel Chocolate Chip Cookies!