Creamy White Chocolate Fudge with a Raspberry swirl. This easy fudge recipe creates a homemade treat that's as pretty as it is delicious. Impress your friends and family with a batch of rich velvety fudge for any occasion!
If you love making homemade fudge recipes, be sure to try our strawberry shortcake fudge next! Or whip up an easy batch of rocky road fudge.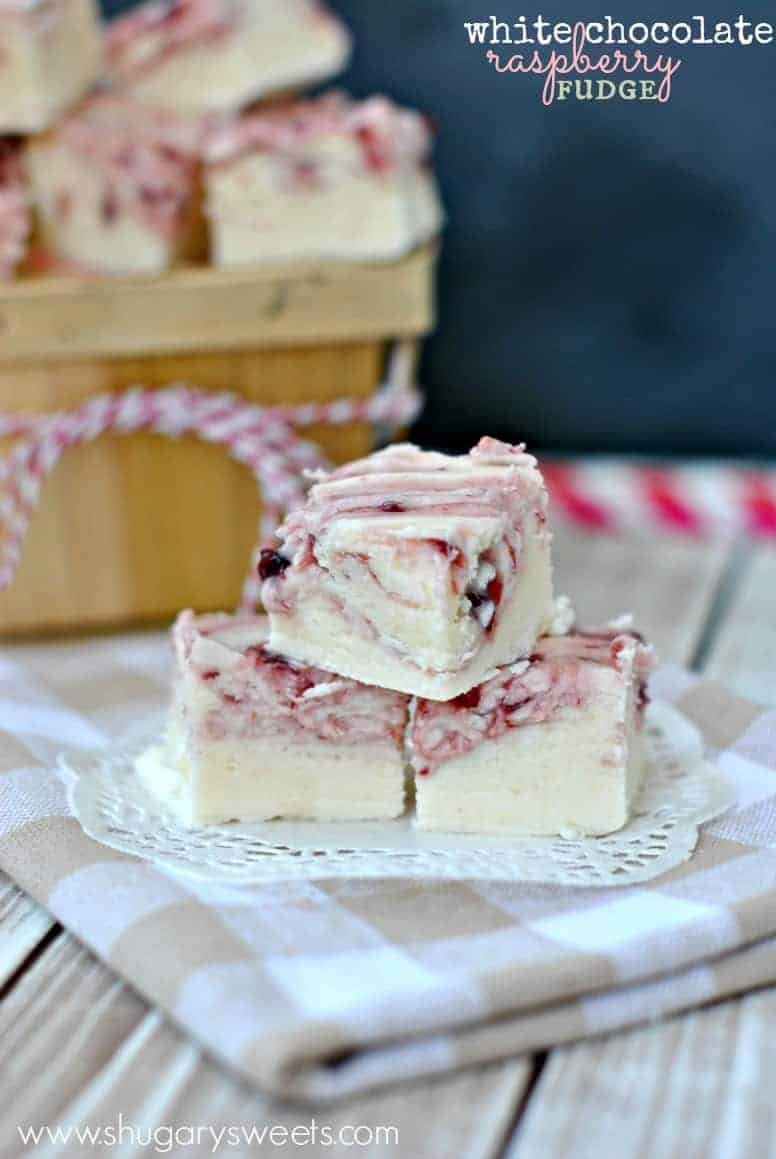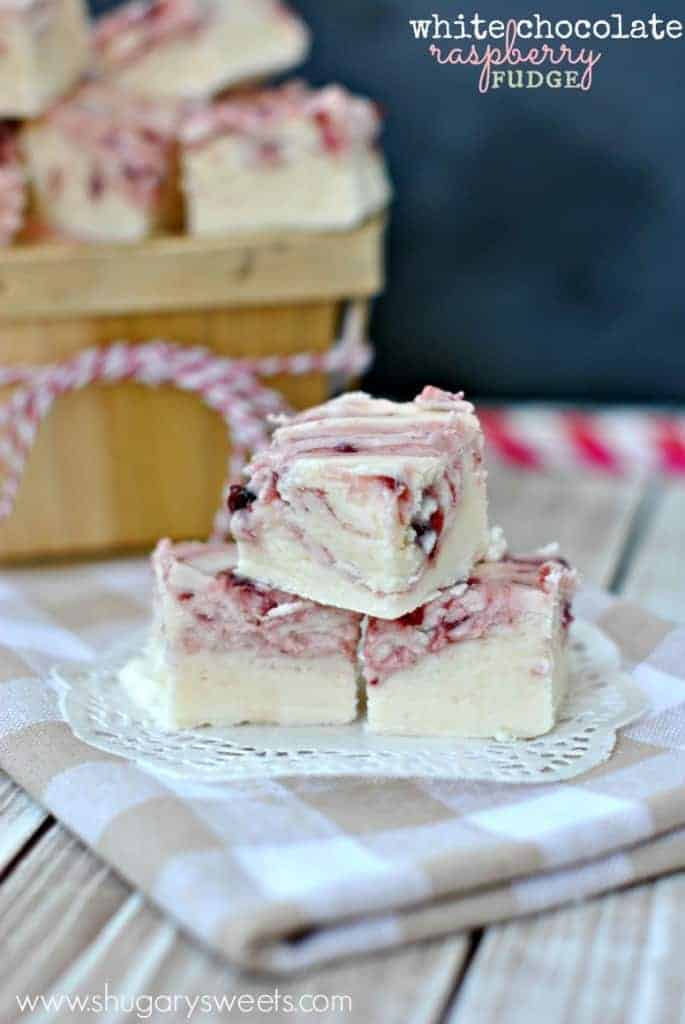 Raspberry Swirled Fudge
This is my basic white chocolate fudge recipe. Once you know how to make vanilla fudge, you can change up the flavors easily!
It's hard to imagine any two flavors that are more perfect together than white chocolate and raspberry so I opted to add a little swirl of raspberry jam to this classic fudge. The creaminess of the chocolate with the bright and juicy raspberries is quite simply a match made in dessert heaven.
If the taste of this fudge weren't enough to make you swoon, let's talk about how pretty it looks. The dark pink swirls of raspberry contrasting with the plain white fudge make this an eye catching treat perfect for the holidays or Valentine's Day!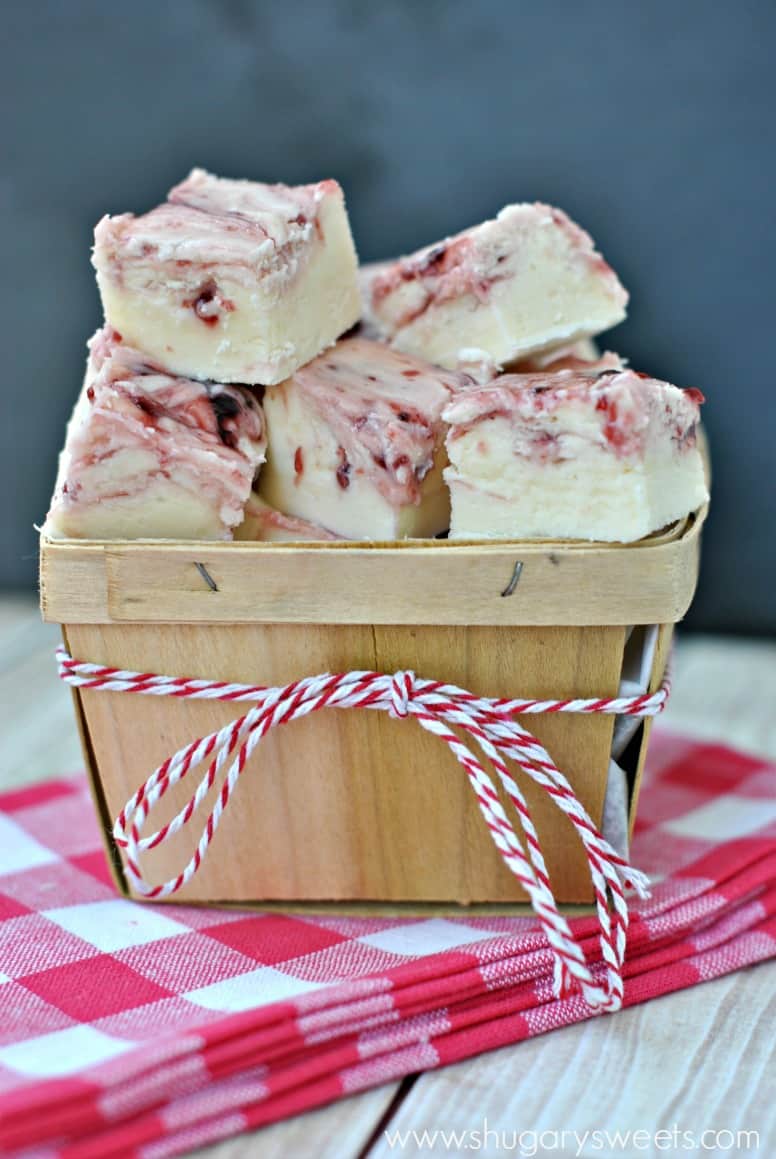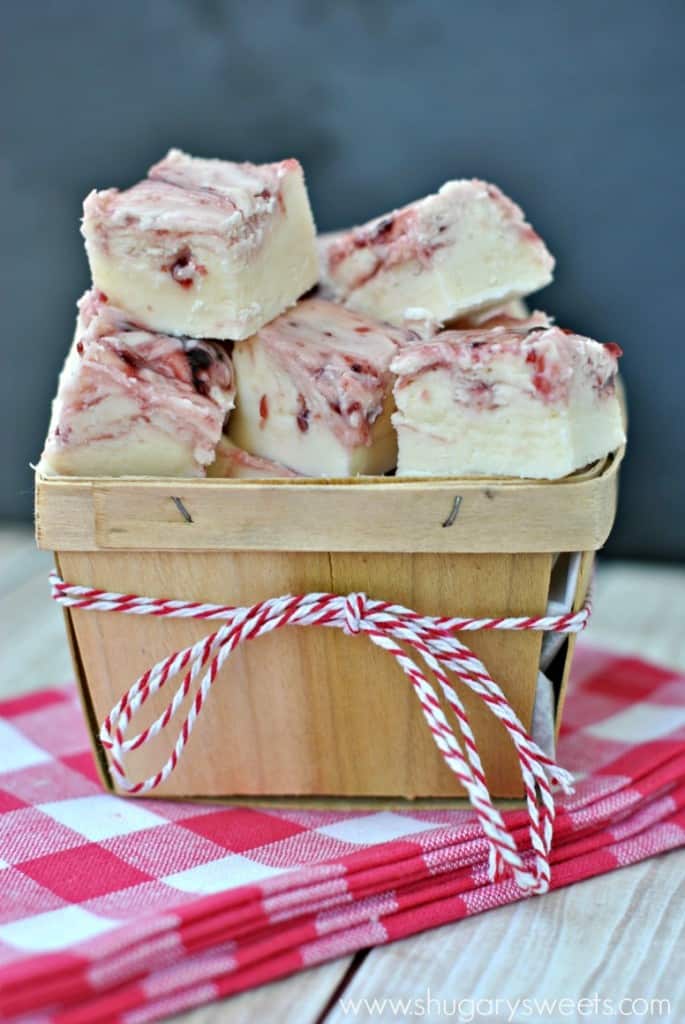 Ingredient Notes
White chocolate morsels – White chocolate baking chips melt quickly and smoothly in this fudge. You can also substitute a white chocolate baking bar chopped into small pieces.
Marshmallow cream – This cream (or "fluff") helps give the fudge its smooth silky texture.
Raspberry Jam – Any brand of jam or preserves made with real raspberries works in this fudge recipe. You could even use our homemade strawberry jam!
Step by Step Instructions
This is my favorite method for making all kinds of different flavors of fudge–it's so easy and nearly fail-proof.
STEP 1. Butter and sugar
Heat the butter, sugar and heavy cream in a sauce pan on the stove. Once it starts boiling, let it boil for 4 minutes while you stir constantly.
STEP 2. Add white chocolate
Pour the hot butter mixture over a mixing bowl filled with white chocolate, marshmallow cream and vanilla extract. Beat with an electric mixture until the chocolate is melted and smooth.
STEP 3. Swirl and Set
Transfer the fudge to a baking pan lined with parchment paper. Top the fudge with the raspberry jam and use the flat side of a butter knife to swirl.
Let the fudge set for 3 hours until firm, then cut into squares and serve.
Tips and Tricks
Alternate method for swirling: You can also make the raspberry swirls by reserving 1 cup of the white chocolate fudge mixture and pouring the rest into the baking pan. To the reserve mixture, add the raspberry preserves and stir to combine. Pour this over the other fudge in the pan and let set.
Keeping fudge fresh: If you won't be eating the fudge right away, store it in block form. Then, cut and serve the fudge as needed whenever you want a piece! This helps keep the fudge from getting dry and crumbly over time.
Love raspberry? Try our raspberry cheesecake cookies or easy raspberry shortbread crumble bars.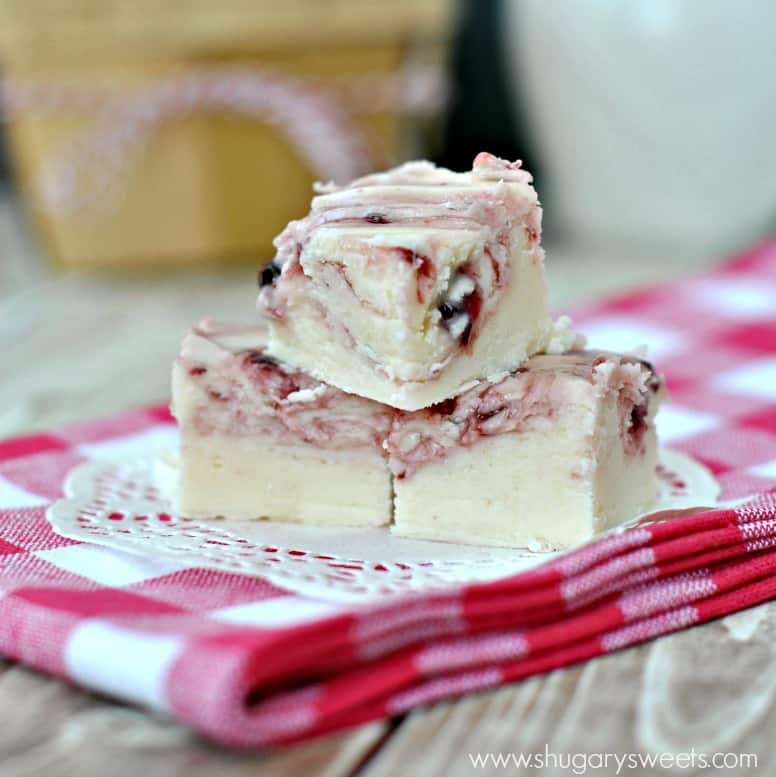 Recipe FAQs
Does this fudge need to be refrigerated?
No, this fudge can be set and stored at room temperature. No refrigeration required.
What's the best way to store fudge?
Transfer fudge to an airtight container. It'll stay good for up to 2 weeks!
Can I substitute a different kind of jam instead of using raspberry?
Sure, feel free to mix up the jam based on what appeals to you. Cherry and strawberry preserves would be delicious choices (although keep in mind they are less tart than raspberry so the flavor profile will be different).
Do I need a candy thermometer to make this fudge recipe?
Nope! Instead of a candy thermometer, just set a timer for 4 minutes once the butter and cream start to boil. Keep stirring it well as it boils and the consistency of the finished fudge will come out perfect!
More Easy Dessert Recipes
This White Chocolate Raspberry Swirled Fudge looks impressive and tastes even better! No one will suspect just how easy it is to make.