Apple Stuffed Pork Chops with Herbed Gravy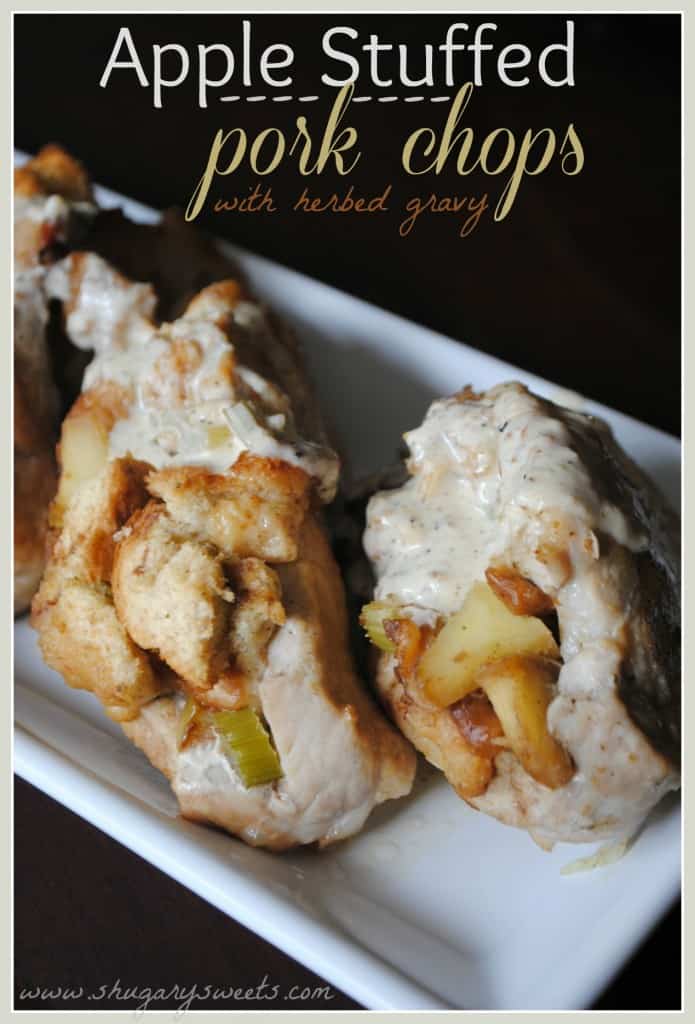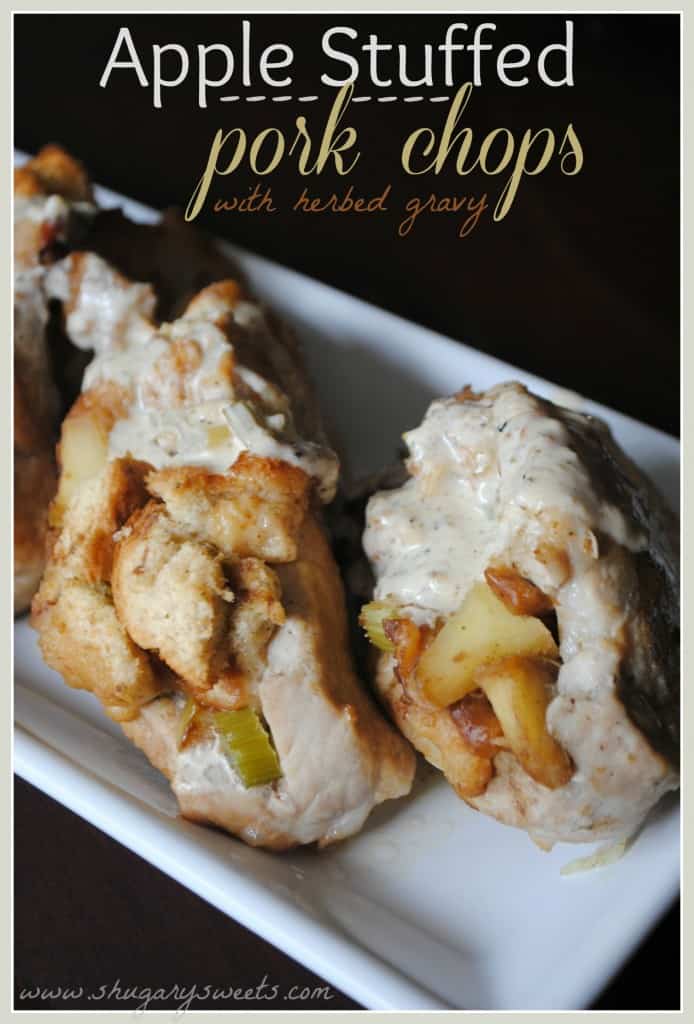 I interrupt this apple week and all my Shugary sweets to bring you this savory dish.

I know some of you might have the same dilemma as I do. What to make for dinner?
This is one fantastic meal. I've always loved a good stuffed pork chop. Years ago, stuffed pork chops are what my mom cooked every year for our Christmas dinner. And we inhaled them.
Guess what? I inhaled this too. The peppery, herbed gravy just completely finishes this dinner.
We served ours with some ROASTED BROCCOLI.


Thick and juicy, this crispy parmesan oven Baked Pork Chops recipe is delicious. The BEST pork chop recipe you'll ever need!
Apple Stuffed Pork Chops with Herbed Gravy
Ingredients:
For the Pork Chops:
5-6 large boneless pork chops, 1 1/2-2 inch thick
1/2 small yellow onion, diced
1/4 cup butter
2 apples, chopped (I used Crunchpak), no need to peel
2 stalks celery, chopped
3 cup soft bread cubes
2 tsp poultry seasoning
1/2 tsp kosher salt
1/2 tsp black pepper
2 Tbsp olive oil
For the Gravy:
1 Tbsp all purpose flour
1/3 cup water
1 tsp poultry seasoning
1 tsp kosher salt
1/2 tsp black pepper
1 cup heavy cream
Directions:
In a large mixing bowl, combine bread cubes with melted butter, apples, onion, celery, poultry seasoning, salt and pepper. Set aside.
Cut a large pocket in each pork chop by making a horizontal cut through the meat. Press a large spoonful of stuffing into each pocket, really PRESS it in there until all stuffing and pork chops are done.
In a large oven safe skillet, heat oil. Brown the pork chops on both sides for 3 minutes per side. Cover skillet with foil and bake for 30 minutes in a 350 degree oven. Uncover and bake an additional 30 minutes, or until internal temperature of the meat is 160degrees.
Remove pork chops from skillet and place on large serving platter. Tent with foil.
With remaining juices in skillet, heat over medium heat. Sprinkle with flour, salt and pepper and stir for one minutes. Slowly pour in water and poultry seasoning, scraping the bits off the bottom of the pan. Bring to a boil and cook for 2 minutes. Add cream slowly and heat until thickened. You may want to season with more salt and pepper to taste. When thickened, remove from heat. Serve with pork chops. ENJOY!
MAKING THIS RECIPE? Share it with me on Instagram using the hashtag #ShugarySweets so I can see what you're cooking up in the kitchen!