Slow Cooker Chicken Taco Chili is the answer to "what's for dinner?" With an abundance of south western spices and tender chicken, this tasty chili is going to be hit in your home. I know it!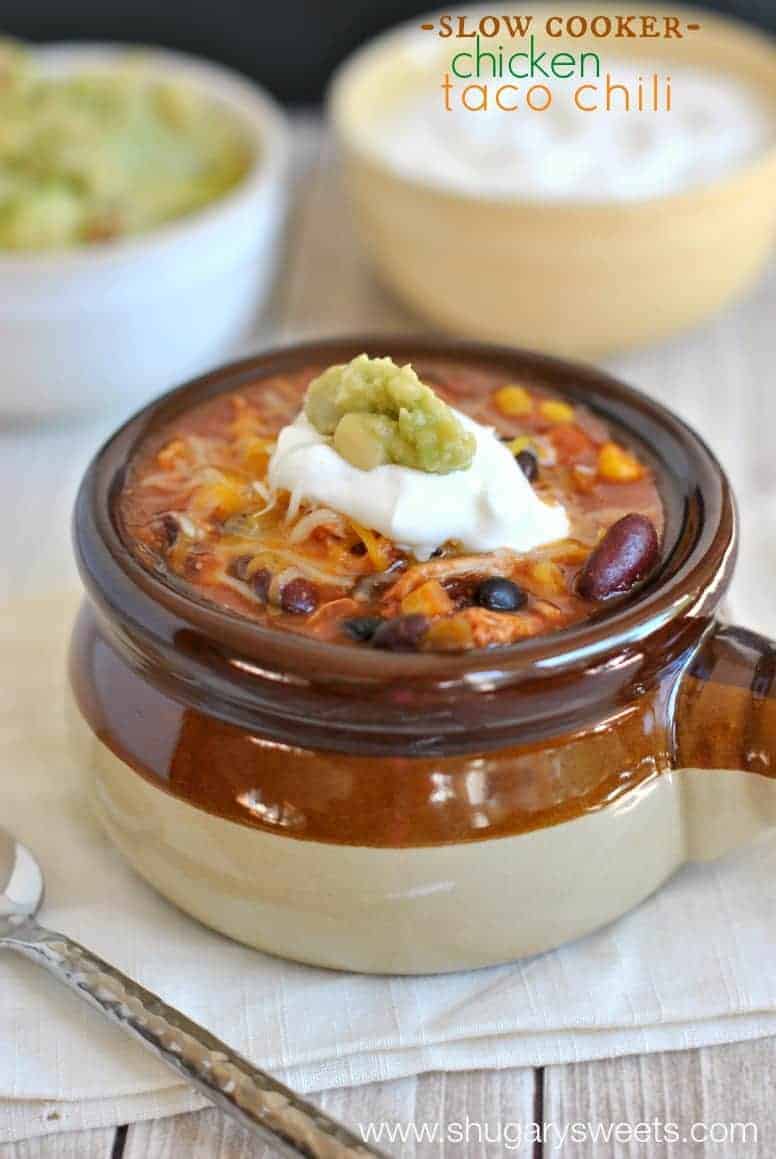 I can't help myself. A second chili recipe in two weeks. This time, though, it's a Taco Chili! Totally different.
But before you all blast me with your "I thought this was a dessert blog" emails and comments, please understand. It's freaking cold here in Chicago. And my family has to eat.
Plus, this dinner is so easy and delicious you're going to blast me with your "Aimee you're a dinner genius" emails after you try it.
Don't worry. I won't sit by my computer waiting for those emails.
Although, if I'd totally have the time to do that when I'm cooking this Chicken Taco Chili in my slow cooker!
Slow Cooker Chili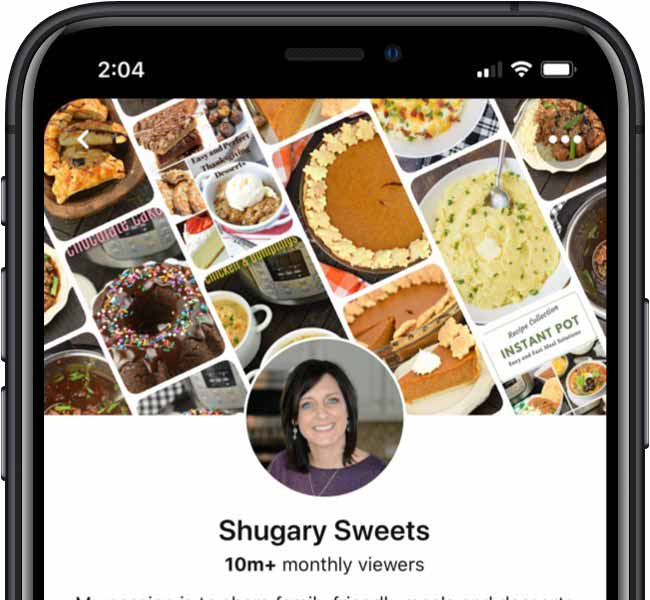 Here's what I love about cooking in the crockpot: I can toss is a bunch of ingredients, and there's a 90% chance it's going to taste amazing.
Partly because I haven't had to slave in the kitchen (easy food tastes better, it's a fact), and partly because chili and soup in the crockpot is always amazing.
The slow cooker is ideal for these kinds of recipes because the longer cooking time means all the flavors have a chance to mingle, meld and marry.
With all its warming spices, Chicken Taco Chili was MADE for the slow cooker!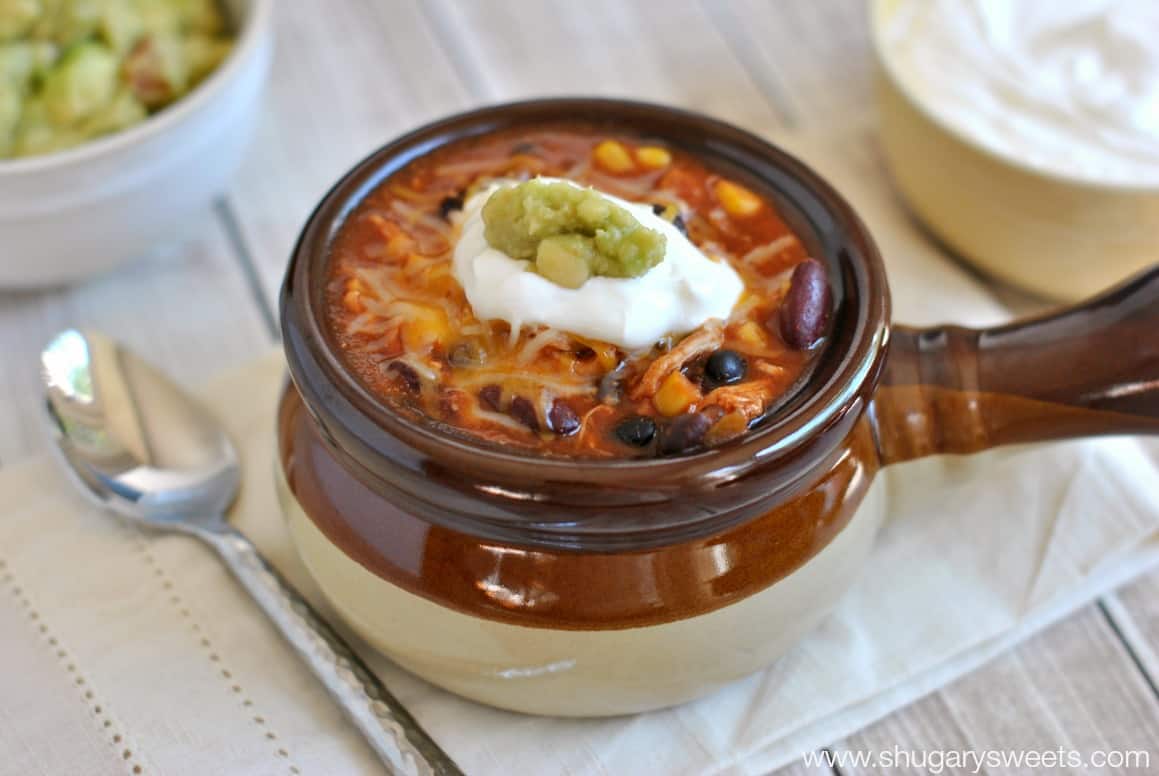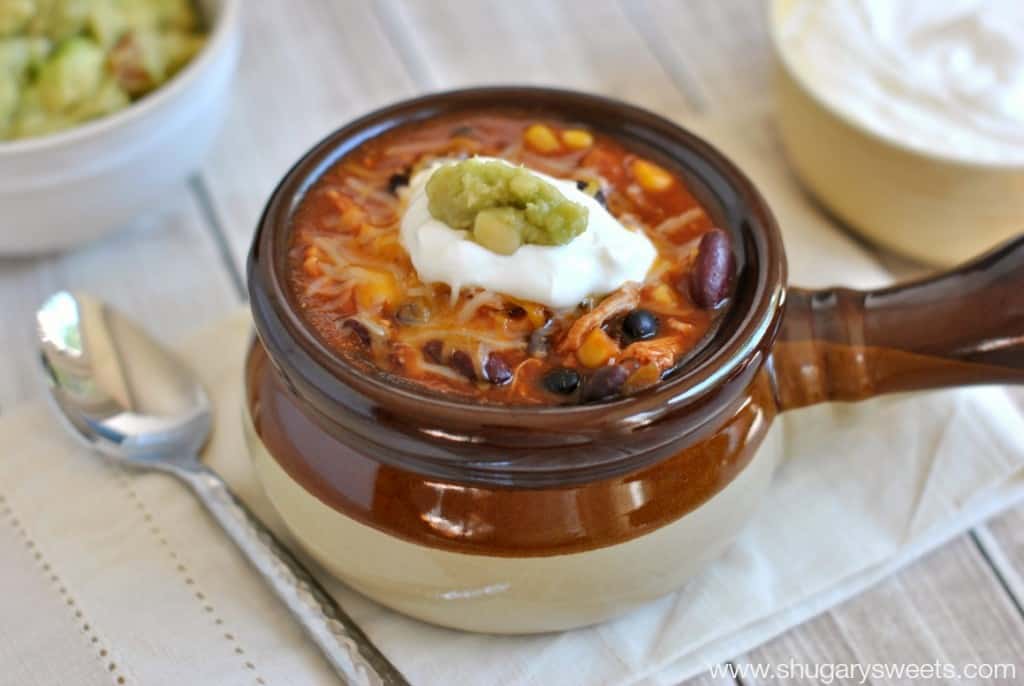 That's the key to amazing food in the crockpot: YOU HAVE TO SEASON IT. You can't just toss in meat and veggies and expect delicious food.
It's going to be bland. It's why some people see "slow cooker or crockpot" in the name of a recipe and think "ugh, that's bland" or "all crock pot recipes taste the same."
It's not bland if you season your food. K?
And speaking of seasoning, have you all started making your own taco seasoning yet? No? You should. It's so easy. Keep a small mason jar in your cabinet at all times people. ALL TIMES.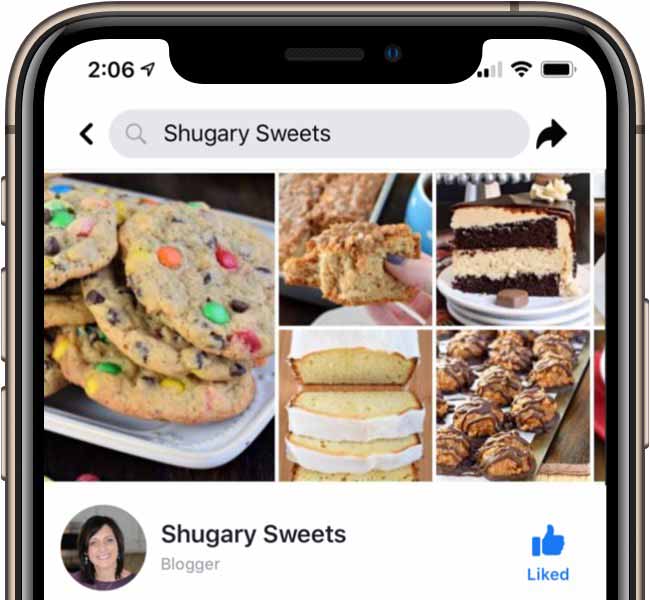 Taco Chili
We love our taco nights in this house almost as much as our chili so a recipe that combines these too AND can be made in the crock-pot is a winner for sure.
This chili recipe calls for very few ingredients in proportion to the incredible flavor it delivers, compared to many similar taco chili recipes.
They're also ingredients you're likely to have on hand in your pantry and fridge already:
Because it used all shelf-stable ingredients (minus the chicken), it's a fantastic choice for winter when fresh seasonal produce is harder to come by.
How to Make Chicken Taco Chili
Writing out directions for making slow cooker chili almost feels laughable because it's just so easy!
STEP 1. Put all ingredients in your slow cooker. Cook for six hours on low.
STEP 2. Shred the cooked chicken with a fork and serve!
That's it. Truly. I can't emphasize enough how nice it is to not have to chop, dice or sautee anything and still have a homemade bowl of delicious warming chili at the end of the day.
Slow Cooker Chili is easier than grabbing take out or fast food and so much more nourishing, too! I love the way the spices make my kitchen smell while this dish is cooking. By the time dinnertime arrives, we're all anxiously awaiting diving into a hot bowl of taco chili.
I've also left this chili in the slow cooker for as many as 8 hours while out and about and it's been great!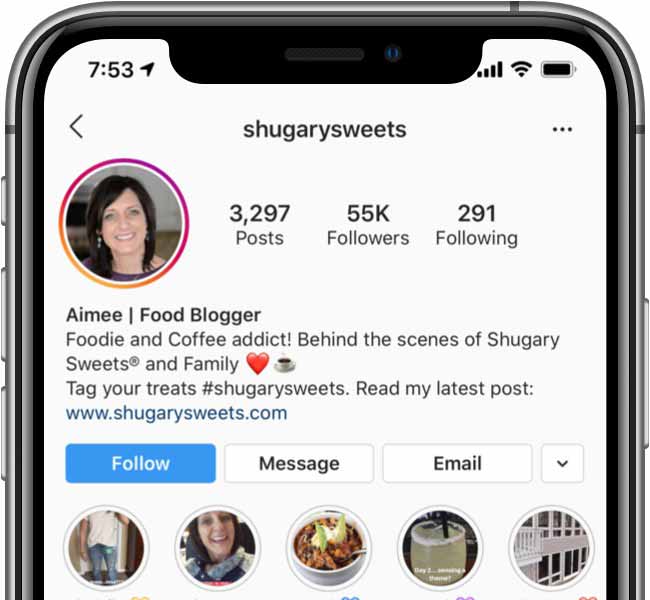 What should I serve with taco chili?
Most of the time I've made Chicken Taco Chili for dinner, I've served it with a batch of corn muffins and a simple side salad. It's also heavenly with this Jalapeno Cheddar Cornbread and Instant Pot Cornbread.
To really emphasize the "taco" in "Taco Chili", serve this with crunchy corn tortilla chips on top! I also like to put diced avocado and a little shredded cheese on each bowl.
A few more fun topping ideas for Slow Cooker Chicken Taco Chili:
Use ground beef instead of chicken for a Beef Taco Chili dinner!
If you're making the chili in advance, be sure to wait until serving to add your toppings!
Tips for the Best Taco Chili
More Dinner Recipes:
Looking for a new slow cooker? This Ninja Slow Cooker is my favorite!