Lightly sweet cornbread is loaded with spicy jalapenos, onion and cheese in this Jalapeño Cheddar Cornbread recipe. It's exactly the side dish you need on your dinner table tonight!
Make a pot of Smoky Sweet Potato Chili to serve with this jalapeno cornbread for the perfect southwestern themed meal. This White Chicken Chili is delicious with cornbread too.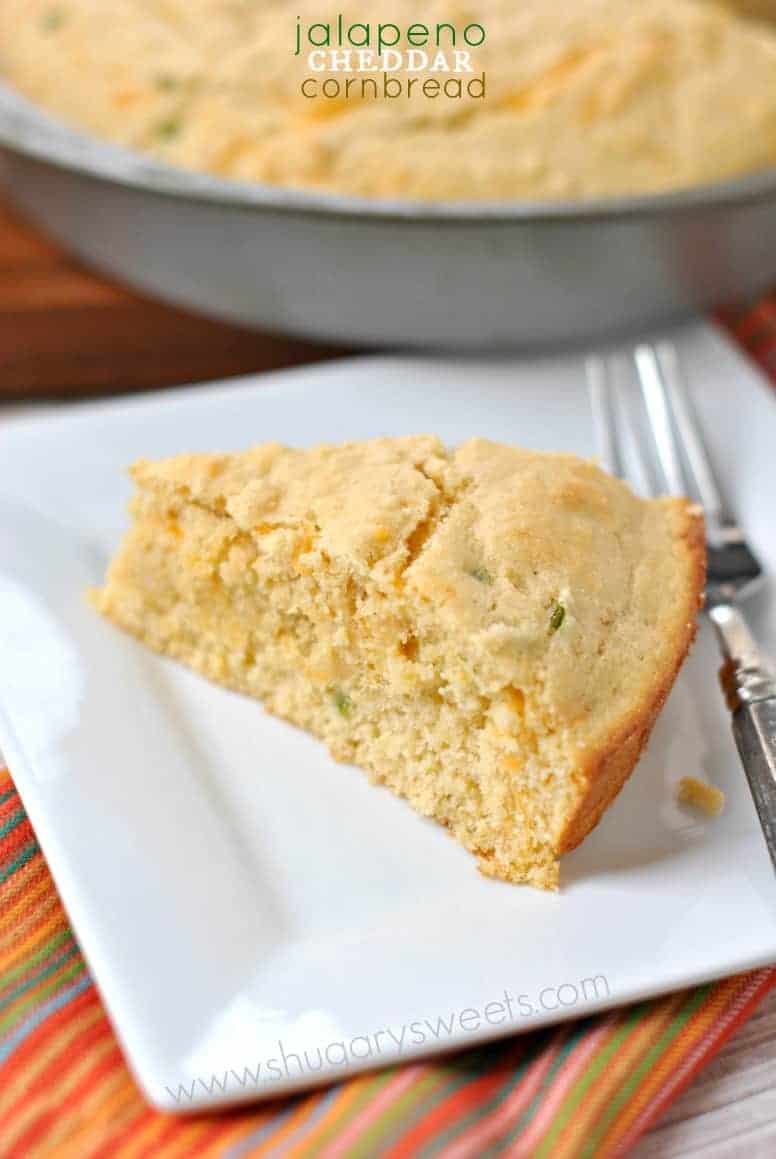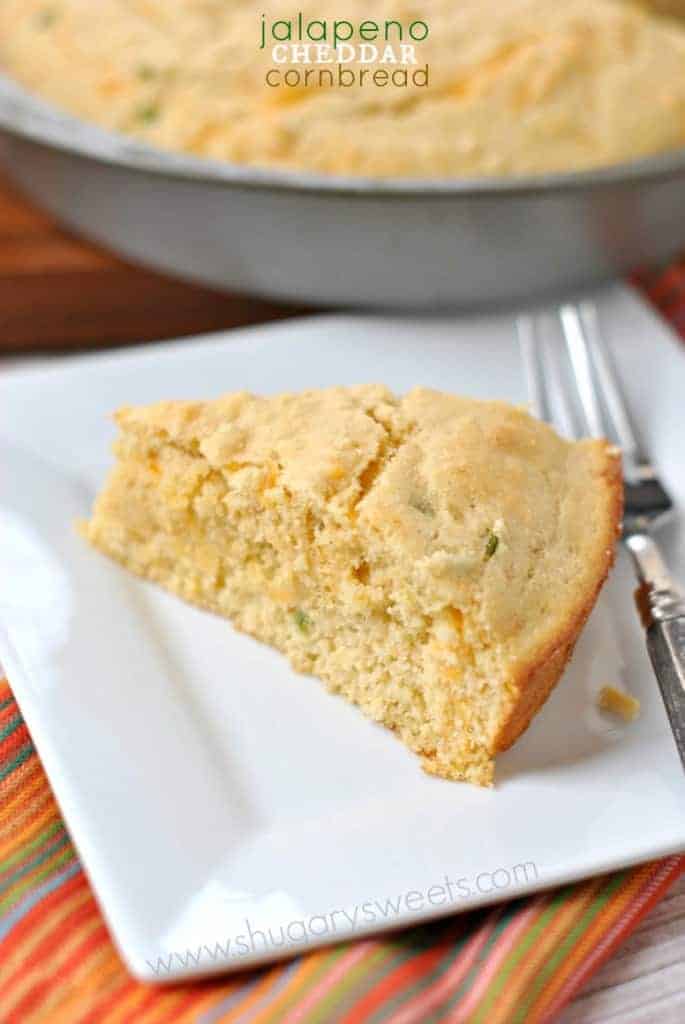 The Best Cornbread
Most cornbread falls into one of two categories: sweet and cakey or savory and crumbly.
This jalapeno cheddar cornbread is the best of all worlds.
Perfect balance of sweet, savory and spicy flavors.
Doesn't fall apart when you slice it!
Easy to make with one bowl and one cake pan.
Serve it with all kinds of southwestern, southern or Mexican dishes!
If you haven't yet found a cornbread you love, this cornbread with cheddar cheese and jalapeños is here to change your mind.
Ingredient Notes
Cornmeal. Ground yellow cornmeal gives the cornbread its recognizable golden color and corn taste.
All-purpose flour. We use just slightly more flour than cornmeal for softer cornbread that doesn't immediately turn to crumbs when sliced.
Vanilla extract. Surprised? The vanilla heightens the sweet corn flavor beautifully.
Cinnamon. Like the vanilla, this spice complements the sweetness of the cornbread.
Milk. I recommend buttermilk or buttermilk substitute for a moister bread. Or use any milk you have in the fridge!
Jalapenos. Seeded peppers give the bread the perfect kick of heat!
Cheddar cheese. Feel free to swap it for your favorite Mexican shredded cheese blend instead.
Easy Instructions
Here's the great thing about making cornbread: you just toss all the ingredients in one big bowl and mix.
It doesn't matter what order you add the ingredients as long as everything gets blended together. After mixing, let the batter rest for about 5 minutes.
Now it's time to pour batter into a greased cake pan and bake your cornbread for 20 – 22 minutes. It's ready to eat right out of the oven!
Tips & Tricks
Serve warm or room temperature. Jalapeno Cheddar Cornbread tastes delicious both ways so feel free to cut up a big slice while it's still fresh from the oven!
Don't make it too far ahead of time. Cornbread tastes best eaten the same days it's made, or up to a day later. After a couple of days it starts to taste stale.
Butter generously. I use a full 2 tablespoons of melted butter to coat the bottom of my cake pan. It doesn't just keep cornbread from sticking—it helps brown the bottom of the bread with rich buttery flavor.
Recipe FAQs
Why do you have to let cornbread batter rest?
Letting the batter rest for a few minutes before baking gives the cornmeal time to absorb the moisture from the buttermilk and eggs. This step is important for making moist cornbread with a tender crumb.
Is this cornbread spice?
Our Jalapeno Cheddar Cornbread recipe definitely has a kick but isn't overwhelmingly spicy. The sweetness of the bread helps offset the heat.
If you want it less spicy, you could use less jalapeno in the recipe.
Can I make this in a different size pan? What about a skillet?
Yes, this recipe makes enough batter for a 9-inch round pan (that's what I used), a standard 8-cup loaf pan or an 8×8 square baking dish.
I have not tested this as a skillet cornbread recipe, but if you give it a try, let me know how it turns out!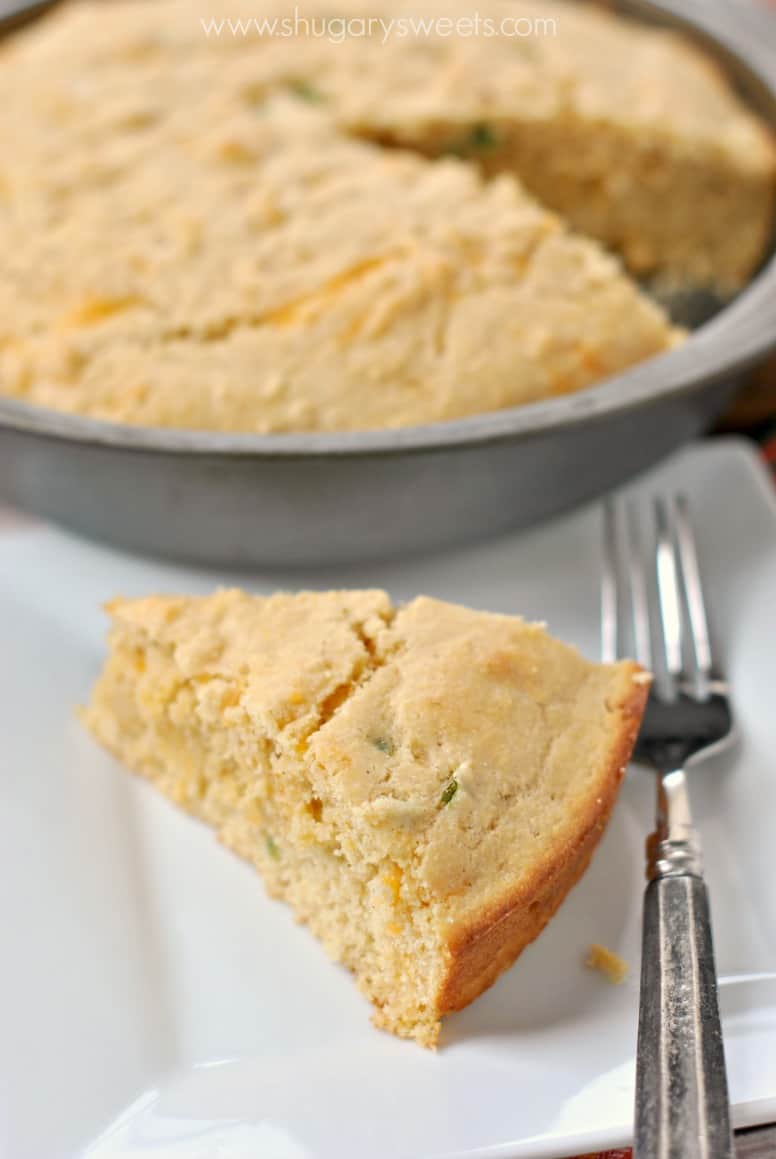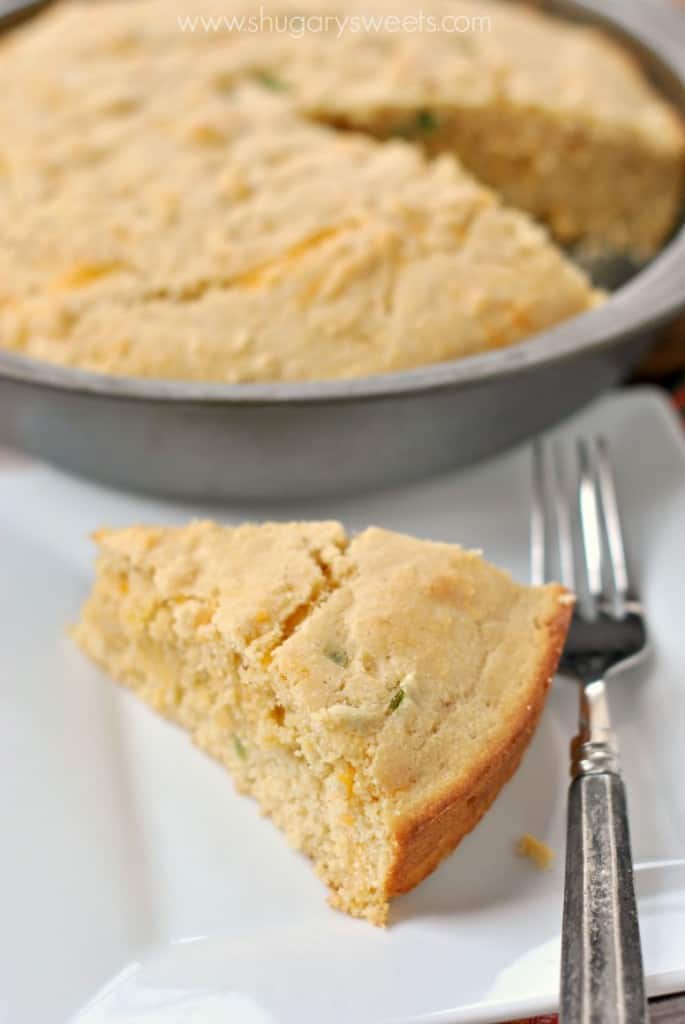 More Side Dish Recipes