Crunchy Roasted Sweet Potato Fries with a spicy kick! Don't forget to pair this with a sweet and spicy Cinnamon dipping sauce! Easy to make and the perfect dinner side dish.
Our readers love potato recipes. From our delicious Baked French Fries (with blue cheese dip) to our cheesy Hashbrown casserole, we have what you're looking for!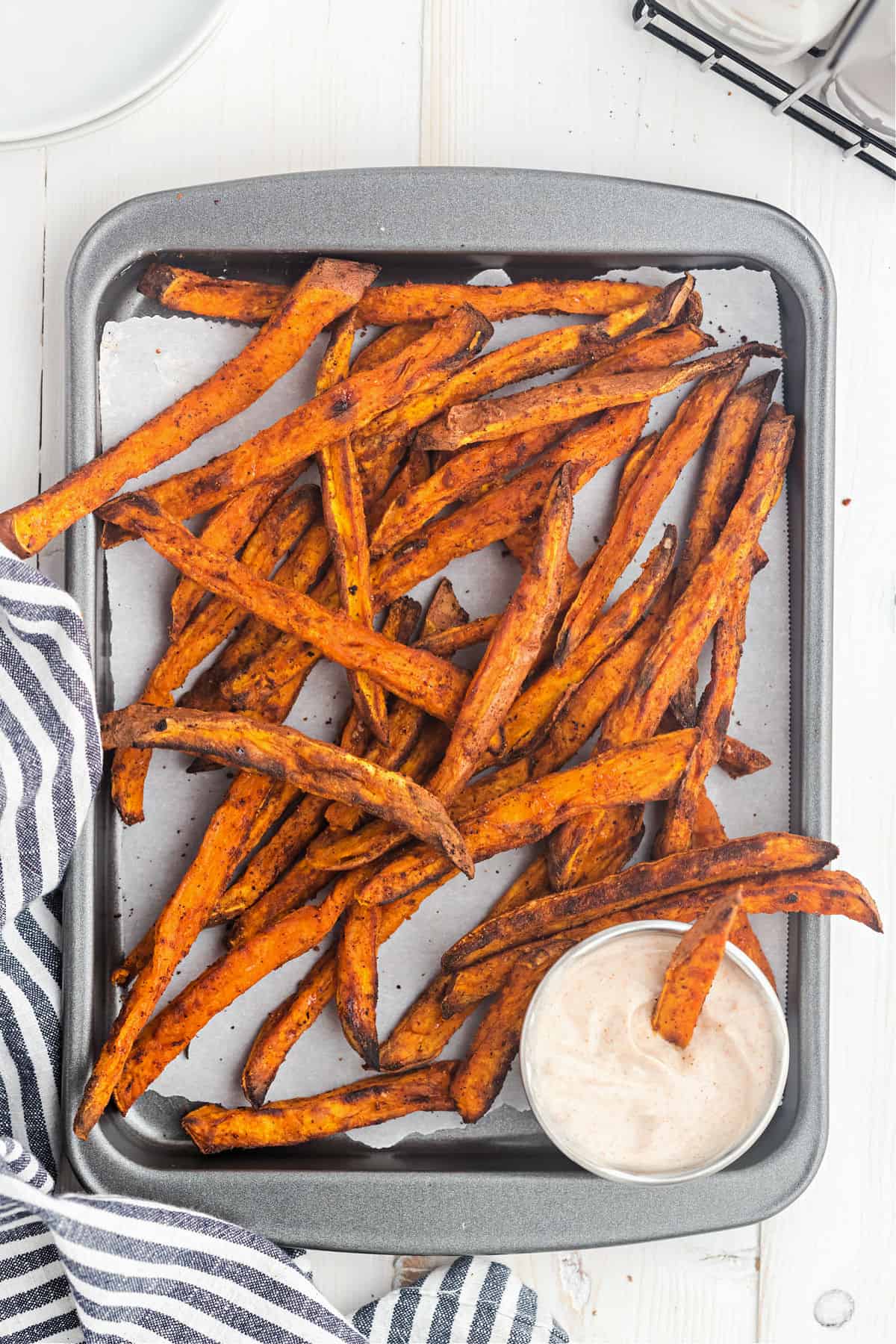 Why this Recipe Works
Looking for an easy side dish with dinner tonight? We love whipping up these easy fries when serving Italian Beef sandwiches or even our classic meatloaf!
Say goodbye to frozen bags of fries. You'll want to make these instead!
Baked to perfection
Seasoned with a savory blend of spices
Served with a sweet cinnamon dip (you've GOT to try it)
Love sweet potatoes? Be sure to give our candied sweet potatoes a try next!
Ingredients Notes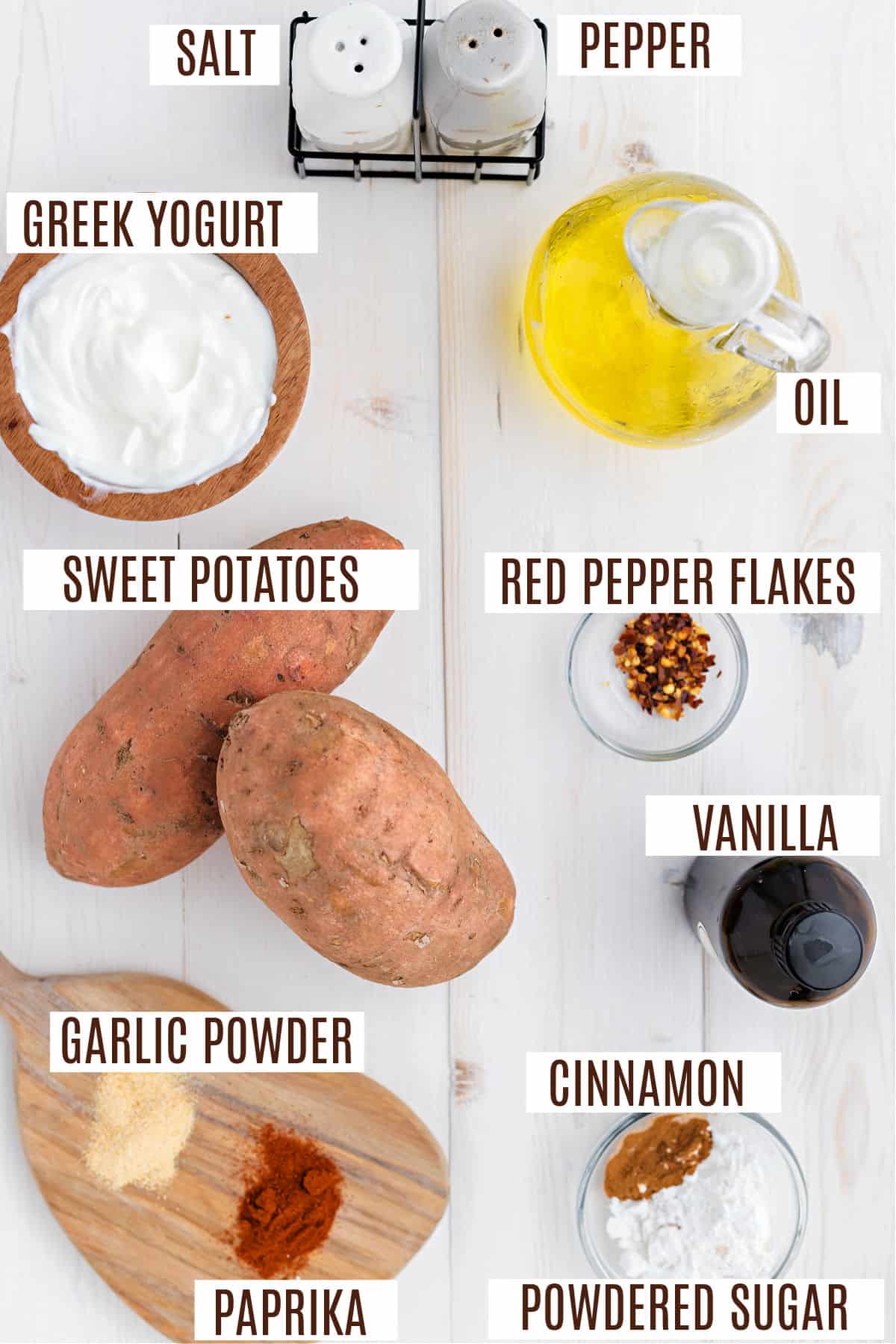 Here's what you need to make oven baked sweet potato fries:
Sweet potatoes– two extra large potatoes are perfect
Olive oil
Red pepper flakes
Paprika
Pepper
Garlic powder
For the cinnamon dip you need:
Greek yogurt
Powdered sugar
Cinnamon
Paprika
Red pepper flakes (optional)
Easy Instructions
Prep the Potatoes. Slice sweet potatoes lengthwise (with skin on) into long strips. The smaller they are the sliced, the crispier they will cook. In a large bowl toss the sweet potato strips with olive oil and seasonings.
Bake. Place on a large baking sheet in a single layer and roast in a 450 degree oven. Turn every 15 minutes. Mine cooked up crispy in 45 minutes.
Dipping sauce. While the sweet potato fries are roasting, make the cinnamon dip. Make the dip by blending all the ingredients together until smooth and combined. Keep the dip in the fridge until you're ready to serve.
Serve. When the fries are ready, serve them with a generous helping of the sweet and spicy cinnamon dip on the side! The hot crispy fries dipped in cool creamy sauce is irresistible.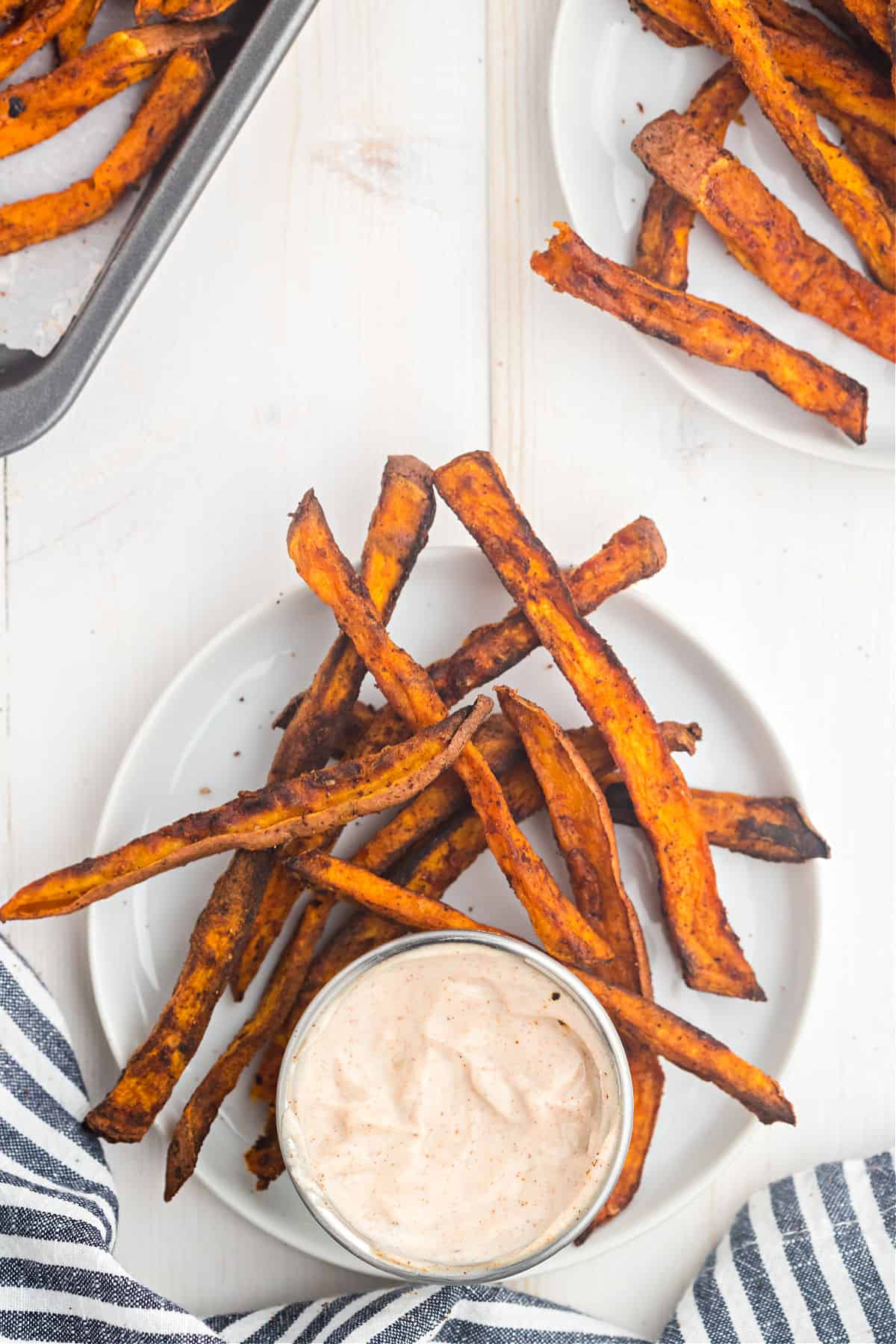 Tips and Tricks
Feel free to adjust the red pepper in the sweet potato fries recipe to your liking. The amount listed is enough to taste a nice zing in each bite, but not too much that children (or spice wimps) won't eat it.
If you like your fries extra crisp like me, roast a few minutes longer, so the edges are super browned! Adjust the baking time for your preference!
This is one side dish your whole family will love! Sweet potato fries with cinnamon dip would also make a great appetizer or party snack.